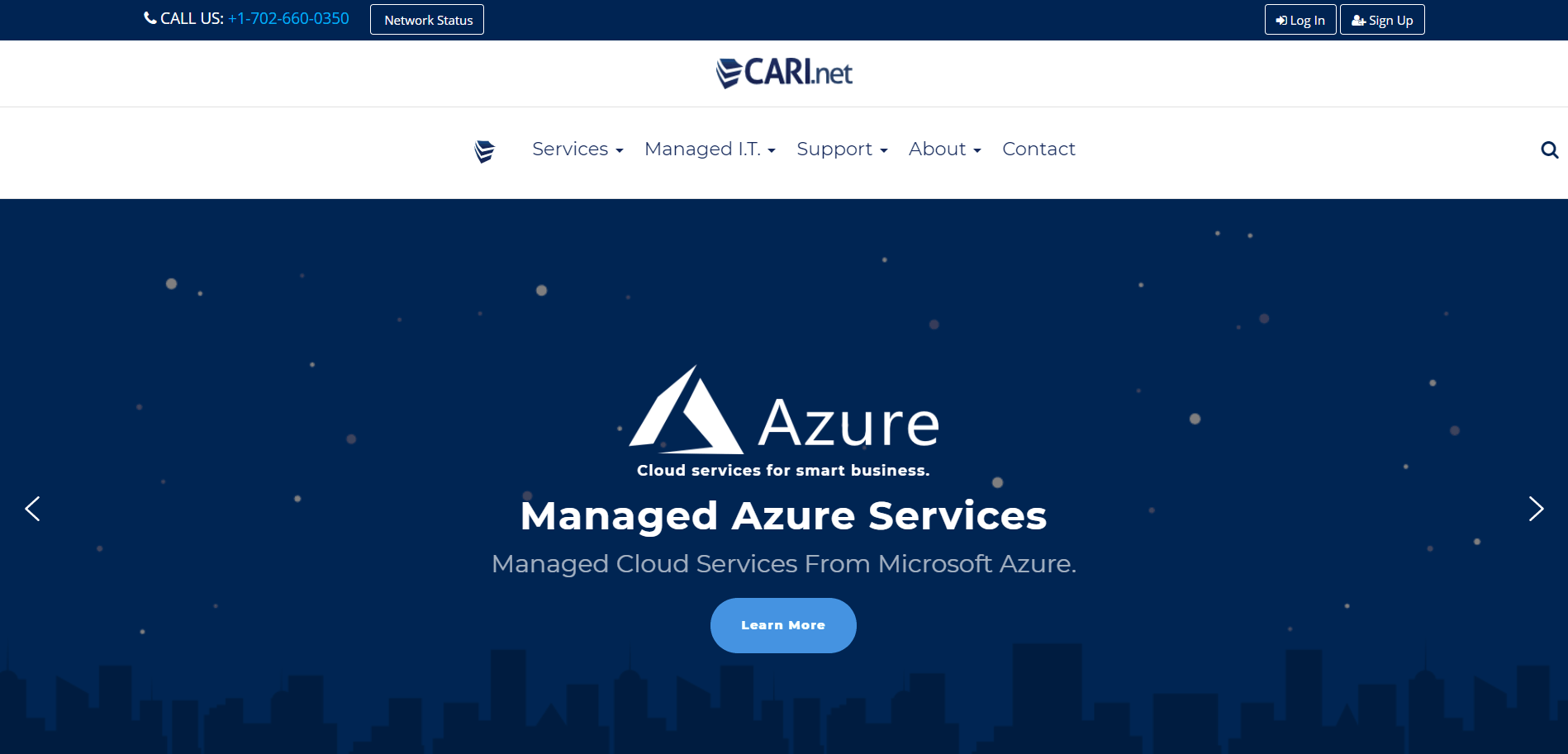 CARI.net is a U.S. based managed cloud server solutions provider that has been in the hosting business since the 1990s. The company has been providing website hosting services to individuals and organizations who want a working hosting solution that delivers on its promises. CARI.net is
backed by hosting professionals
, programmers, and on-site technicians. The San Diego, California
company has its own physical servers
to power its hosting services.
Features and Ease of Use
All CARI.net web hosting plans come packed with many features. Some of these include:
S. based, 24/7 customer service
100% uptime guarantee
Expert security advice
Unmetered bandwidth
Architectural recommendations

Other features you will enjoy as part of CARI.net hosting solutions include:
All flash storage – CARI.net has an unwavering commitment to ensuring that all the websites it hosts record superfast performance. That is why it has invested in all-flash storage to ensure that all database transactions happen fast, significantly improving your customers experience on your website.
Hosting that adapts automatically and scales with ease – CARIcloud is designed to adapt automatically to changing infrastructure and applications in your business process. The hosting platform enjoys noteworthy scalability, allowing users to set their CPU, RAM, and storage needs and scale them over time in line with their growing business.
Microsoft System Center – CARI.net cloud hosting solutions are built in their own servers on Microsoft System Center. Using the Microsoft Hyper-V standard, users can with ease move their workloads from on-premises to the CARIcloud and vice versa. This flexibility is important in finding cloud solutions that will be perfect for your business.
Choose either or both Windows and Linux OS – At CARI.net, customers have the flexibility to choose between running either the Linux or Windows operating system, or even both. For example, you can opt to run applications on Windows and utilize a LAMP stack on Linux.
Pricing and Support
CARI.net hosting has a straightforward billing process. Its hosting solutions are relatively expensive compared to many other hosting companies in the industry. All the same, the company banks on the provision of hosting services that are so high quality that many would choose to work with them even if they are asking for a little more to host your websites every month. Additionally, with state-of-the-art physical servers' architecture powering its solutions, it is not surprising that many people would prefer its services. CARI.net has made it extremely easy to move from one hosting scenario to another based on the flexible design of its hosting solutions.
As you would expect from such a high-end hosting vendor, technical support is one of the best you can find in the industry. Indeed, its support is certified and is available to all its customers 24/7. CARI.net offers several platforms through which you can contact their support team. These include over the phone via a toll-free number, email, a ticketing system, and live chat. My conversation with their support team was extremely helpful and satisfying. It was not hard to understand why CARI.net is one of the most preferred high-end hosting vendors in the United States.