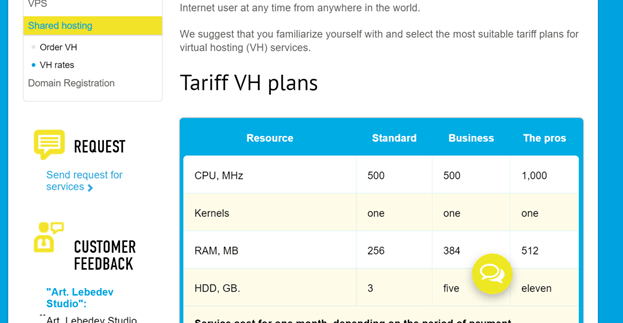 Caravan is a privately held entity established in 1996 focusing on the B2B model. It started as a hosting vendor but since 2017 has gained widespread expertise in building and providing cloud infrastructure. This has enabled its specialists to develop and provide optimal solutions for its over 5,000 customers ranging from small-medium enterprises to large.
The company is based in Russia and it offers services mainly in Russian and English.
Features and Ease of Use
Caravan offers new generation hosting with services in virtual data centers (IaaS), cloud backup, shared hosting, domain registration, and VPS. Its shared hosting features include:
Custom cloud backup
PHP, Perl, Python support
Personal MariaDB servers
SSL support
Unlimited traffic
Unlimited sites
There are three shared hosting plans available with the entry-level plan featuring CPU of 500MHz, 256MB RAM, and 3GB HDD. All of these can be upgraded to CPU of 1000MHz, 512MB RAM, and 11GB HDD in the highest level plan.
All of the shared hosting plans feature a multifunctional Vesta control panel. It is not the typical user-friendly cPanel, but it does come with an easy to use user interface to help you manage your hosting account. Moreover, newer versions of the control panel also feature the Softaculous auto-installer, which is a beginner friendly app that allows you to deploy over 400 scripts and apps with the click of a button.
There are no specific guarantees for uptime but the shared hosting comes with a failover cluster. This means that there are a series of servers that support one another so that when one experiences downtime, another one takes over its workload. This will ensure that your websites are always up and running.
The VPS services have been keenly designed to accommodate every resource that has already outgrown virtual hosting but does not yet need physical or cloud infrastructure. This feature works on both Windows and Linux and you can test it out anytime to practically evaluate the server yourself without paying for a long-term contract.
Pricing and Support
Caravan values its customers' trust and provides all of its incredible products and services at very convenient rates. With them, you not only order and select an appropriate tariff plan but also get dedicated expert help and advice.
The only things that I didn't like about Caravan is that it doesn't offer any money-back guarantee and users aren't given access to the entire disk space specified in the different plans since 1.3GB or more is set aside for administrative requirements. This kind of hosting would best fit the needs of a small project and/or startup.
The plans have flexible billing terms, which include monthly, semi-annual, tri-annual, and annual contracts. As is typical, all contracts other than the monthly contract offer a discount, with the annual contract offering the largest discount. These contracts can be paid for via bank cards online or electronic money systems such as QIWI, WebMoney, and Yandex Money.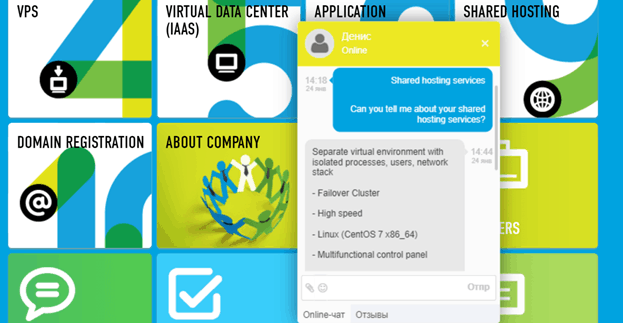 Caravan offers 24/7 customer support through live chat, phone, and email support. I tried out the live chat option and was satisfied with their agent's courtesy and ability to answer questions adequately.
Another advantage is that throughout the entire service period, you will have your own personal account manager who will not only understand your needs accurately but also provide the most prompt solutions.