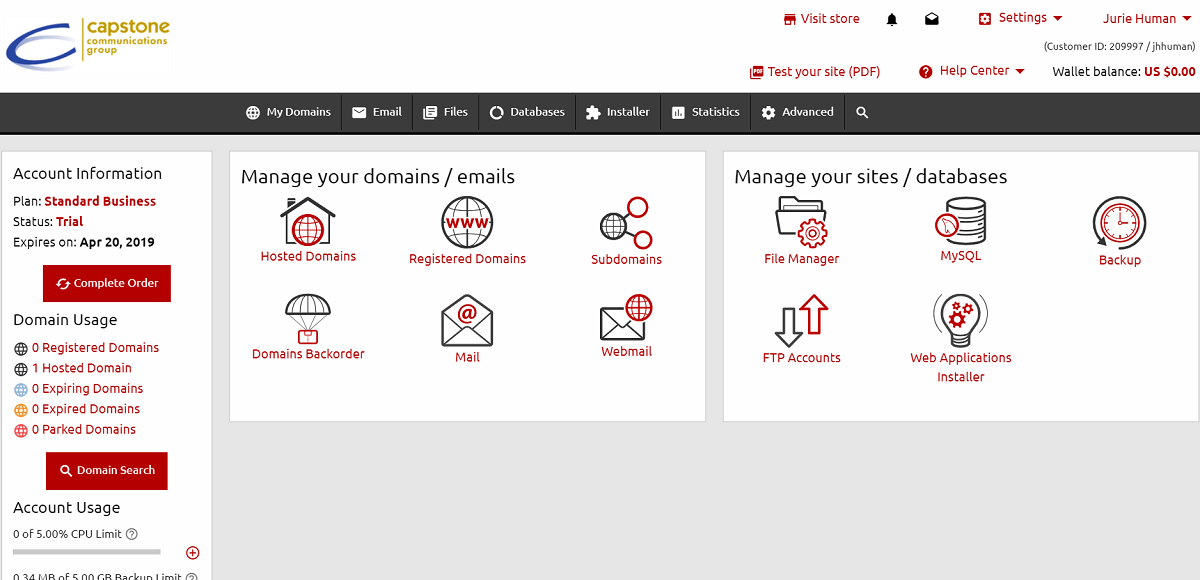 Capstone EasyWeb is a cloud hosting company with plenty of experience, having been around since 2003. It provides a custom-built cloud hosting platform for you to launch and manage a range of different hosting applications. Notably, Capstone EasyWeb has a number of globally-positioned data centers for you to choose from, as well as 24/7 technical support and a 99.9% uptime guarantee.
Features and Ease of Use
Capstone EasyWeb's main selling point is that it offers beginners access to a cloud hosting platform with loads of features. True to its name, the company offers all-inclusive plans with loads of value-added features.
Beginning with the standard features, however, you'll find these with the company's shared hosting plans:
99.9% uptime guarantee

Free domain registration with most plans

Up to 10 hosted domains and 50 subdomains

SSL certificate generator

Automatic daily backups up to one week back
Although a 99.9% uptime guarantee is nothing spectacular, it's still impressive coming from a smaller hosting service.
That said, one downside of Capstone EasyWeb is that it oversells its scalability somewhat: the amount of storage and bandwidth the company offers might be enough for business customers with smaller websites, but not all. You're capped at 15GB storage for the highest-tier "E-commerce Business" plan, so if you've got a large e-commerce website, you may need to look elsewhere.
Other than that, the company provides remarkably feature-rich hosting that's supported by a powerful, user-friendly custom control panel. You can use a website builder template to set up your website in three simple steps, or use the one-click app installer to install a number of other hosting apps like WordPress or Magento.
On top of that, there are a few unique features, like the SSL certificate generator that can create an SSL certificate for your website. It'll  also automatically install any SSL certificate that you buy through Capstone EasyWeb.
You also get pretty decent hardware with RAID SSD storage and the ZFS file system. SSH, Telnet access, cron jobs, and all the developer features you'd expect are also well covered.
Pricing and Support
When it comes to hosting plans, it doesn't get much simpler than at Capstone EasyWeb. The company features four different cloud hosting packages, each named according to the type of website it's suitable for: Basic Business, Standard Business, Full Business, and E-commerce Business. Although the prices here aren't too far behind other U.K.-based hosts, Capstone EasyWeb's hosting is just a tiny bit more expensive than what you'd expect, especially considering the low storage limits.
You also have no excuse not to at least try out its services, as the company generously offers both a 30-day free trial period as well as a 30-day money-back guarantee.
All the plans offered by Capstone EasyWeb have similar features, except for the Basic plan, which has very limited options. Starting from the Standard plan, you'll receive a free domain. However, there are no complimentary SSL certificates, except for the ones generated by the SSL generator, which may not be as secure.
The company also only offers annual billing terms with no month-to-month options. However, you should have ample time to try out its plans before you fully commit. 
Capstone EasyWeb does aim to provide superior customer support than what you might be used to. There's both an email/ticketing system as well as multiple phone lines to register issues. Although only the ticket support is 24/7, there are multiple country-specific phone lines for the United States, United Kingdom, and Australia. You can also request for help installing and administrating a server if you need to. Capstone EasyWeb's support staff reply pretty quickly. I got the response below in under ten minutes: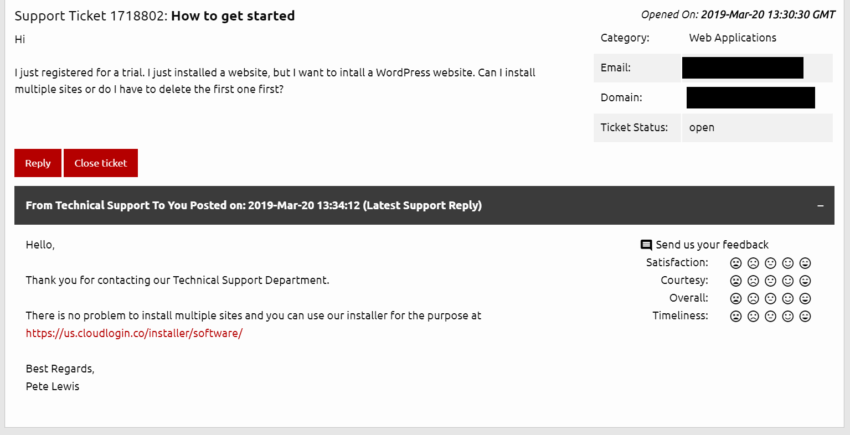 There's also an excellent knowledge base that covers all the most important topics with a few step-by-step and video tutorials.