BlueiTech has been in the industry in one form or another since 1995, making them one of the longest-lasting hosting providers I have reviewed. They are an Italian company but have expanded globally to now have nine data centers in eight countries: Italy, Ireland, Great Britain, Netherlands, France, the U.S.A., Canada, and Singapore. This provider also prides itself on being a completely bilingual company, with English and Italian support technicians and website.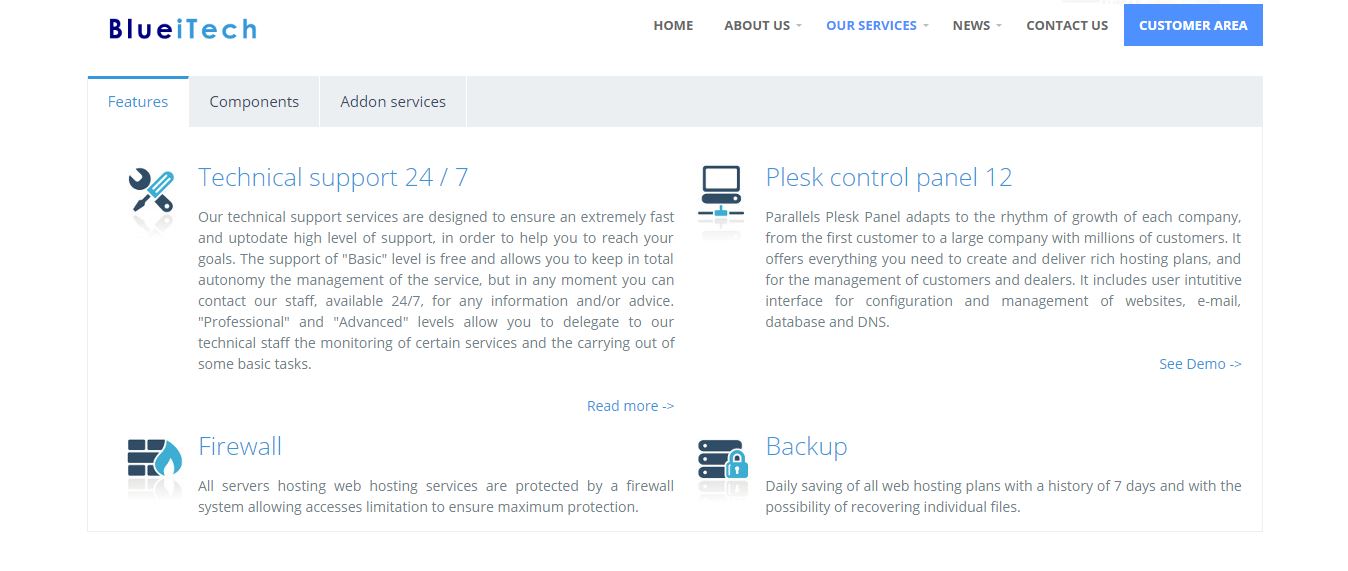 Features and Ease of Use
Most of BlueiTech's hosting products come with all the basics you need, but no more. You can look forward to the following features:
99.8% uptime guarantee

Purchasable SSL certificates by Thawte, Symantec, or GeoTrust

Free SSL certificates from Let's Encrypt

Daily backups with a 7-day history

Unlimited domains

Up to 100 GB storage, configurable for SSD cloud and dedicated servers

Unlimited traffic for dedicated servers and cloud VPS, but limited for web hosting products and SSD cloud servers
The first thing you'll notice about BlueiTech is that they provide quite good resources limits, with Web Hosting plans starting at about 10 GB of storage and 25 GB of monthly traffic. With their Cloud VPS plans, you can get up to 8 CPU cores and 100 Mbps connection speeds. Dedicated Servers can be configured with up to two Intel Xeon E5 processors, 128 GB of RAM, and 8 TB SATA or 1 GB SSD storage. Cloud Server solutions can go to even higher resources levels, with prices potentially running into thousands of dollars, and you can choose any of the nine Tier 4 data centers to house your server.
Every type of hosting supports both Windows and Linux solutions, and there are many operating system distributions to choose from for cloud servers and dedicated servers.
With most plans, you get the essentials such as email boxes with POP3/IMAP support, anti-spam/anti-virus, and the relevant database support: MySQL for Linux; SQL Server for Windows. The most important software and scripts such as PHP, Ruby, Perl, Apache, and Tomcat are also supported. The Plesk control panel includes a script installer with which you can install almost any CMS or web hosting app. This is good, but it doesn't completely make up for the fact that there is no CMS-specific web hosting.
BlueiTech offers many features that other hosts include as standard, but with BlueiTech, they are available as add-ons. I'm referring to advanced email hosting, a variety of SSL certificates, extended backups, and vulnerability assessments.
Pricing and Support
BlueiTech provides a pretty straightforward range of products and pricing plans. The three web hosting options for Windows and Linux conveniently they cost the same. The plans that are aimed at retailers include the Plesk 12 control panel with unlimited domains, which accounts slightly for the high prices. The resources provided are also quite generous.
The Cloud VPS and Cloud Server hosting options are still a bit expensive but follow more expected prices. Once again, Windows doesn't cost more than Linux, but you'll need to pay for a control panel license (Plesk or cPanel).
Billing cycles are monthly, quarterly, semi-annually, and annually, but with no discounts for the longer commitments. Dedicated Server plans have an additional setup fee but most (if not all) other plans do not. You also have to pay extra for domain names and SSL certificates.
Basic 24/7 technical support from certified staff is provided with all hosting products, and there are two levels of premium support that go much further. You can contact the support team via live chat, email, and ticket, and I can tell you that their ticket response time is typically less than 15 minutes. This company also provides self-help support in the form of a knowledge base, but (from what I've seen) this might be more useful to you if you understand Italian.