BlueFish Web Hosting is a small, customer-focused web hosting provider based in Southern Utah, United States. From the day they were launched in 1997, they've put a lot of effort into delivering reliable web hosting services to individuals and businesses in Utah and beyond.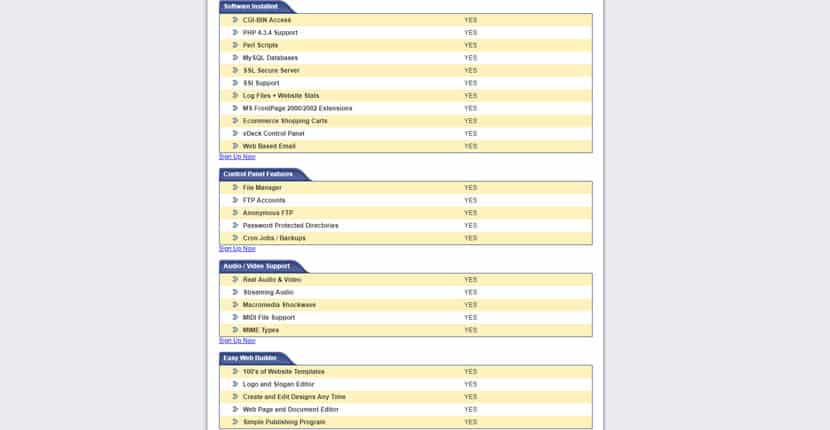 Features and Ease of Use
BlueFish Web Hosting only has a single shared hosting plan available, but they've designed this to target small businesses and startups as well as individuals creating websites for the very first time. Some of the features you'll find included in this lone package include:
Unlimited storage space
Unlimited data transfer
Unlimited email accounts
FTP access
Free domain name with purchase of one or two-year contracts
Shared SSL certificate
MySQL databases
CGI, Perl, SSI, and PHP 4.3.4 support
osCommerce, Agora, and PayPal shopping carts
Detailed website statistics
Frankly, I wasn't at all impressed with this web hosting package. It may be simple and all-inclusive, but the features seem very outdated. For instance, they proudly proclaim that they offer support for MS FrontPage — a software that's been basically phased out and shunned by the industry for over a decade. Their PHP support is also limited to 4.3.4 where most above-average web hosting providers would offer at least PHP 7, and they don't support scripting languages such as Ruby, Ruby on Rails, or Python.
On top of that, there's no uptime guarantee, and all my tests of their server speeds yielded appallingly slow response times: in many cases, it takes over five seconds to load an average webpage (and one that's not particularly media-heavy at that). The overall feel of their website doesn't instill confidence in their platform either: their website isn't mobile-responsive, and it looks as though it hasn't been updated in a decade.
Pricing and Support
BlueFish Web Hosting only has a single all-inclusive package with a relatively fixed rate. I'd say their package is pretty expensive in comparison with other all-inclusive hosting packages on the market. This is especially so when you consider that they lock you into a two-year contract to get their listed rate, and if you choose a term of less than a year, there's a hefty set-up fee added on. That said, they do give you a free domain registration with the purchase of a one-year or two-year contract, which will be renewed for as long as your hosting account with them is active.
The company claims to have a 30-day risk-free money back guarantee, but it's unclear whether they'll actually follow through on this policy. I say this because their customer support was basically non-responsive over the entire duration I tried them out: I sent multiple emails and never got a reply from them.
Additionally, many customers have complained that after signing up, it became increasingly difficult to connect to a support representative. Certain customers have even reported sending the company over a dozen emails to no avail. In addition, while they do have a toll-free number for North American customers, BlueFish Web Hosting has no live chat support or ticketing system. Fast-growing websites that require quick and regular assistance can find this situation truly frustrating. It becomes even more perplexing when you consider that their entire business model was built on providing solid and reliable customer support. However, they do offer a few tutorials that cover topics like domain transfer, file transfer, and vDeck. Nonetheless, their knowledge base could definitely use a lot more improvement.