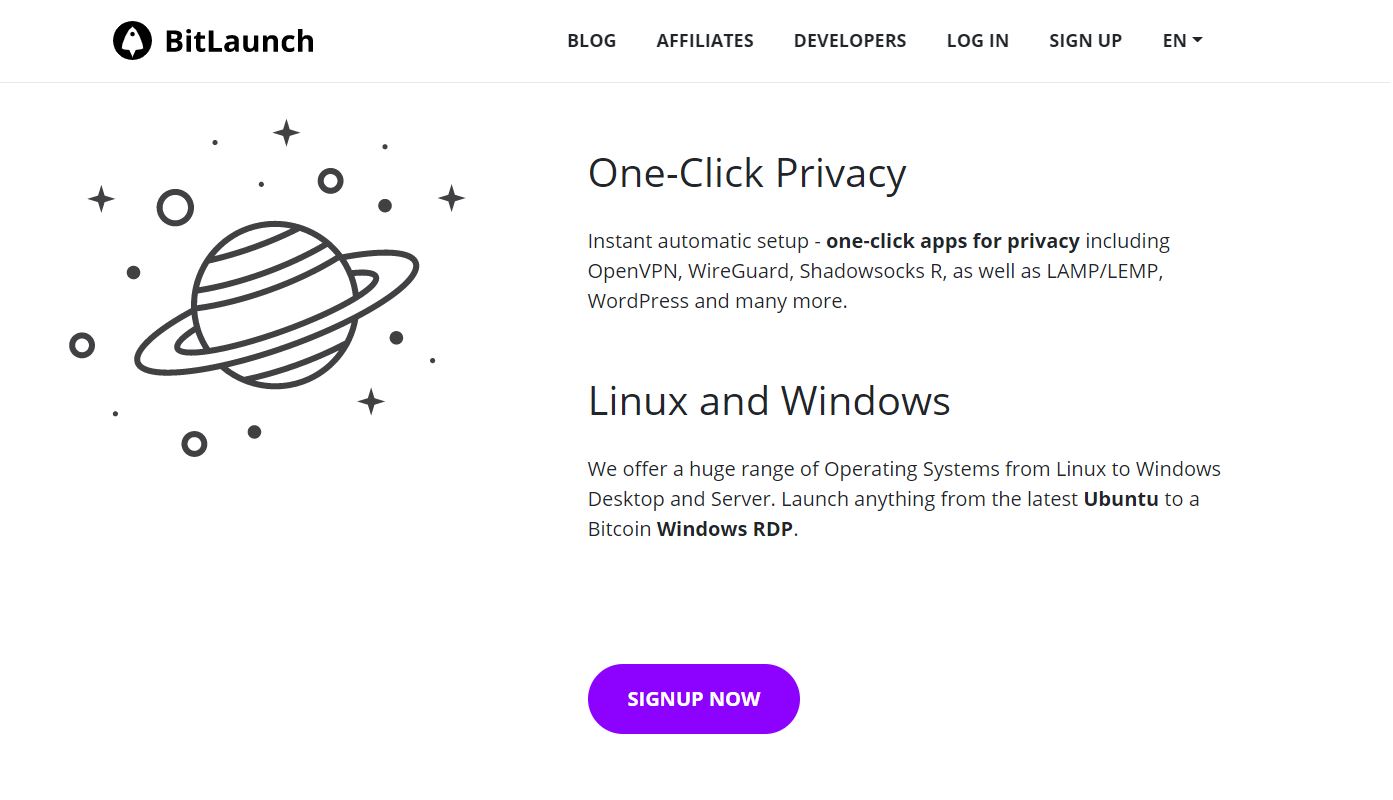 BitLaunch is a Panamá-based company that has been in the market for over two years. It offers anonymous cloud VPS servers for developers to launch via their own servers or other hosting services like Digital Ocean, Vultr, or Linode.
The BitLaunch website is available in English, Russian, or Chinese. However, it's limited in information, and you have to create an account to view its plans. All prices are displayed in U.S. dollars.
Features and Ease of Use
BitLaunch has servers in the Netherlands (Amsterdam), U.K. (London), and the U.S. (Los Angeles). However, you get access to more server locations worldwide when you choose to host your servers with any of its partner hosts (Digital Ocean, Vultr, and Linode).
When you choose to host your server with BitLaunch or its partnered hosts, you can pick your operating system (Linux or Windows), server location, and choice of apps (e.g., LEMP, WordPress, ShadowSocks, or OpenVPN).
You can choose from five standard packages. Some key features include:
SSD KVM storage
From 1 GB to 16 GB RAM
From 1 to 6 CPUs
From 1000 GB to 5000 GB bandwidth
Instant setup
Developer API
Command-line tool
Free inbound usage
Having SSD storage enables faster and more reliable performance when compared to traditional disk drives. You can get from 1×25 GB to 1×300 GB SSD storage, depending on your plan.
BitLaunch offers an open-source command-line tool called blci written in GO and using GO SDK to interact with BitLaunch services. Using blci, you can create or destroy servers not just on BitLaunch, but also with Digital Ocean, Vultr, and Linode. You can also list, create, or delete SSH keys on your account, and more.
If you want cPanel, BitLaunch provides a licensed version through Vultr. Otherwise, you'll need to install it yourself.
Pricing and Support
BitLaunch's prices vary from cheap to expensive, depending on your choice of host. You can choose to subscribe either hourly or monthly. As an anonymous VPS service, BitLaunch offers more than 50 cryptocurrency payment options, including Bitcoin.
Unfortunately, BitLaunch doesn't provide a free domain, SSL certificate, or any refunds. However, there's a free trial provided upon request. You can try out a server or two.
As we mentioned earlier, the website offers limited information. It provides a few tutorials and maintains a blog, but it lacks a comprehensive knowledge base for self-assistance.
To contact BitLaunch's customer support, you can either use the live chat channel or send them an email. I tested the live chat, and the representative was very responsive and helpful.