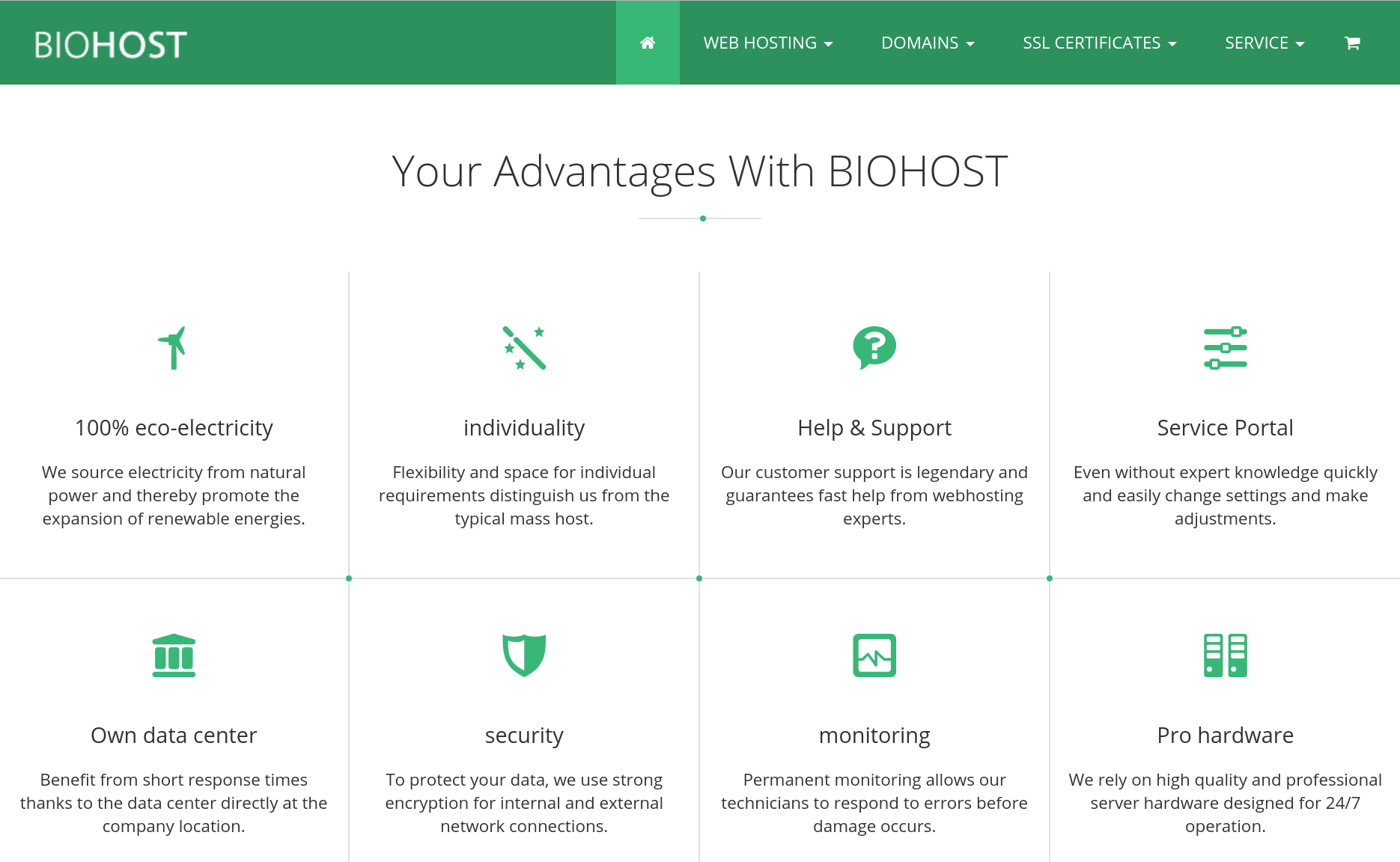 German web hosting company BIOHOST has been in the market since 2006. It specializes in web hosting services that rely on 100% eco-friendly electricity, and since 2011, this company has been operating its own data centers to guarantee sustainability.
Features and Ease of Use
BIOHOST specializes in shared web hosting packages that come with standard features including:
SSD storage
Free SSL certificates
Web-based administration area (custom control panel)
Free domain
Daily backups
MySQL databases
99.0% uptime guarantee
The four web hosting packages offered by BIOHOST are:
bioSPACE 5GB that comes with 5 GB of SSD storage, 1 domain, a maximum of 5 virtual hosts, 10 MySQL databases, 20 email accounts, and 10,000 MB of email space.
bioSPACE 10GB that comes with 10 GB of SSD storage, 2 domains, a maximum of 10 virtual hosts, 20 MySQL databases, 40 email accounts, and 20,000 MB of email space.
bioSPACE 15GB that comes with 15 GB of SSD storage, 3 domains, a maximum of 15 virtual hosts, 30 MySQL databases, 60 email accounts, and 30,000 MB of email space.
bioSPACE 25GB that comes with 25 GB of SSD storage, 5 domains, a maximum of 20 virtual hosts, 50 MySQL databases, 100 email accounts, and 50,000 MB of email space.
BIOHOST has its own user-friendly, web-based custom control panel that provides full control over all aspects of your hosted website and settings, and you don't need any special technical or web programming knowledge to use it. Daily data backups are enabled by default, but you can change the backup frequency from the control panel to meet your requirements. The higher price plans allow Cron jobs to schedule scripts.
Pricing and Support
BIOHOST's hosting plans are slightly expensive compared with European competitors, and the minimum contract period is one year. However, you do get a 14-day money-back guarantee to test the waters.
There are only two ways to contact BIOHOST for customer support: email and support ticket. Unfortunately, I received no response via either contact channel, despite the promise that "You will receive a response from us within one working day at the latest."

If you find yourself needing self-support, you'll be equally disappointed because there isn't a knowledge base available.