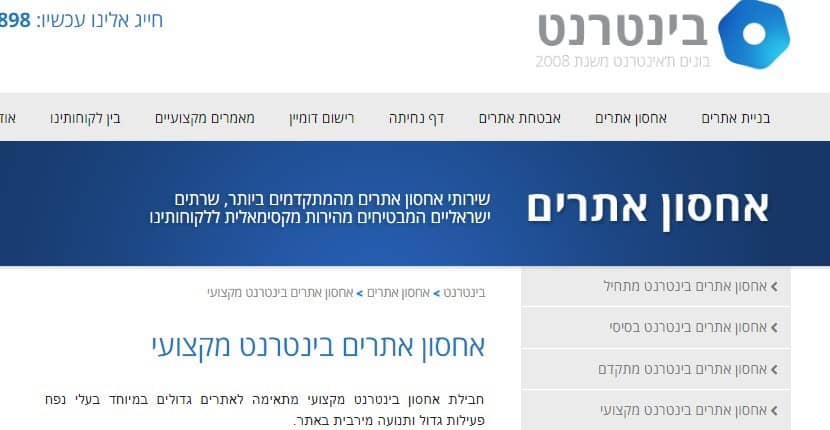 Binternet is an Israeli web hosting provider. It was established in 2002 as a provider of internet services such as web hosting, SEO, storage services, backup services, web design, and web development. The Binternet website is only available in Hebrew.
Features and Ease of Use
Binternet's web hosting solutions include the following features:
Linux hosting
Website builder
phpMyAdmin database
DirectAdmin management system
Full support for HTML5, CSS3, PHP5
RoundCube e-mail system
SSL certificates
Binternet provides its hosting services from servers housed in Israeli data centers. They have invested in modern technologies and hardware for faster and more robust websites, and they offer free daily backups in case of disaster. A standalone WordPress security package includes features like blocking access to the admin system after three unsuccessful login attempts.
While Binternet lists a considerable number of features for each of its hosting packages, it includes few details about the limitations of these features. It is also important to note that users whose websites exceed the agreed resource allocations are deemed to be misusing the vendor's services, which could lead to suspension of services without prior warning!
Pricing and Support
Binternet's hosting prices (in Israeli new shekels) are in line with competing companies. You can choose to pay either six-monthly or annually (with a discount), and they have no setup fees. They offer a lower-than-usual 99% uptime reliability with no refund policy or money-back guarantee.
While Binternet offers SSL certificates, they do not include this feature in any of their hosting plans, which means you'll have to pay for it separately.
Customers can reach Binternet's 24/7 support team by telephone, email or live chat. They have no ticketing system but they do respond quickly and knowledgeably to most hosting questions. There is no knowledge base or FAQ section.