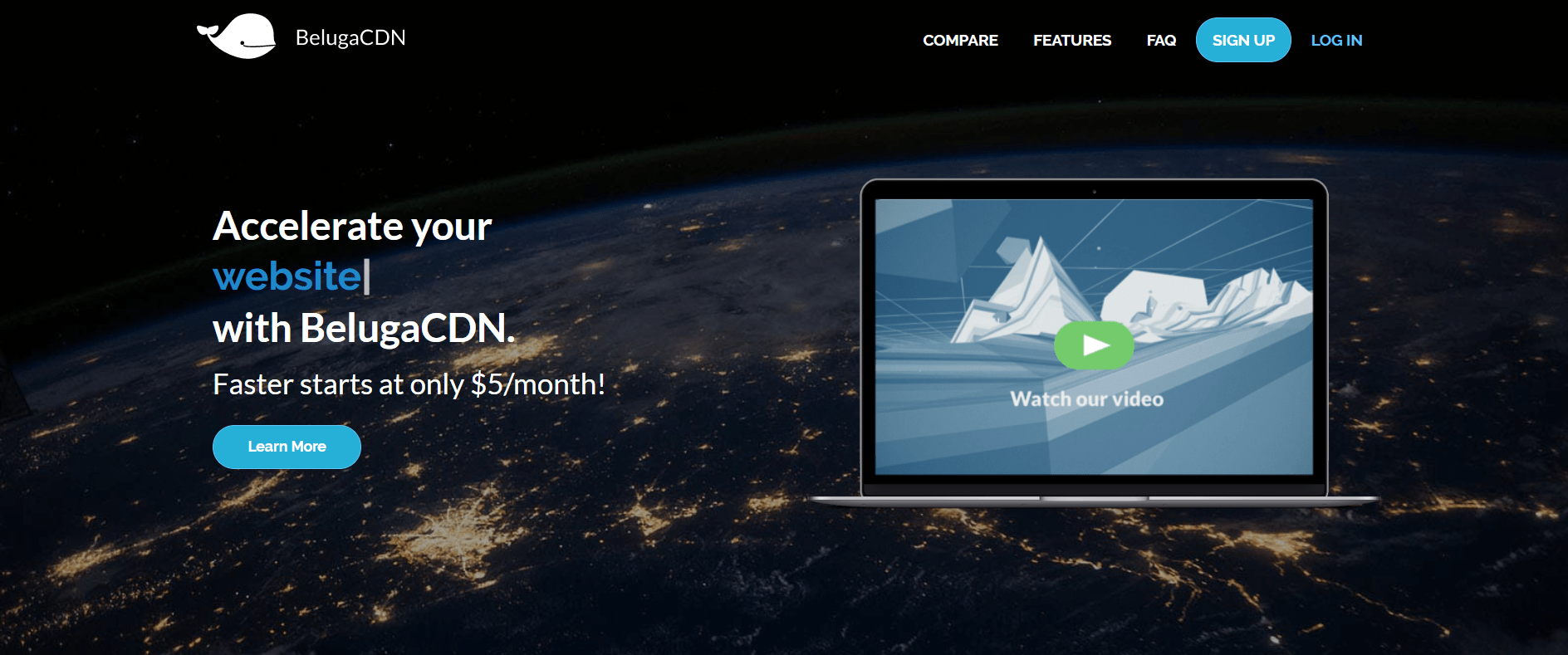 Anyone in the United States looking for CDN solutions at pocket-friendly prices should look into the possibility of using BelugaCDN. Compared to a number of American companies that provide similar services, BelugaCDN is relatively cheaper and often preferred because of the quality of their service offerings. It is therefore not surprising that the company has managed to extend their presence outside the United States. While they're relatively new to the scene with a founding year of 2015, BelugaCDN's team has over 15 years of experience in the industry. It's for this reason that they've invested heavily into setting up a fleet of sophisticated and cutting-edge servers utilizing ultra-fast SSDs.
Features and Ease of Use
BelugaCDN delivers exceptional content delivery acceleration services by not only investing in state-of-the-art CDN infrastructure, but also ensuring that their service offerings have an array of features to meet the needs of businesses from different industries. BelugaCDN's solutions include the following features:
Built-in DDoS & Website Protection
IPv6 Network that uses dual-stack technology to deliver 20-40% faster websites
BelugaCDN Sonar™ that provides real-time traffic insights
An intuitive user interface making it easy to set up and manage website properties
Instant purging that makes it possible to remove content from any edge location in a single click
A host of tools that can help you protect and secure your content, such as Token Auth, Full SSL, Geo-Blocking, and Two-Step Rate Limiting
A dev-friendly RESTful API with automation, fine control, and other advanced settings

It's important to note here that BelugaCDN focuses on performance acceleration, not website hosting: their goal is to complement your existing host and make your website load that much faster and more securely.
Pricing and Support
BelugaCDN's main selling point is that while their service works in the same manner as Amazon CloudFront and MaxCDN, it costs only a quarter of what you would pay for either of these two well-known vendors. Working with BelugaCDN can, therefore, save you an incredible amount of money.
BelugaCDN does not replace your hosting vendor, but instead offers much-needed website acceleration solutions that any business wanting to stand out on the web should seriously consider. With no free trial or free version of this BelugaCDN solution, the only way to experience everything this vendor promises is to buy a subscription.
Since BelugaCDN is not a traditional web hosting vendor, they do not have a 24/7 support team on standby. However, they have simplified the setup process, allowing you to select, make payment, and launch your chosen service in just 45 seconds. While their technical support team is not available around the clock, they are still relatively responsive. In my experience, I received a response from BelugaCDN's support team in less than 24 hours after sending them a message.
How much does BelugaCDN cost?
BelugaCDN offers multiple plans priced highest to lowest. The price depends on which type of hosting plan you choose. You can see the updated pricing table (updated weekly) below.

Which BelugaCDN plan should I get?
My recommendation is to start with a cheaper plan. You can always upgrade later on. BelugaCDN can help you with the migration to a more expensive plan. The increase in visitors many times takes longer than expected and you shouldn't pay a lot of money until the need arises. Of course, your needs may vary, and you can consult with a hosting expert from BelugaCDN here.

How good is BelugaCDN's customer support?
BelugaCDN is not ranked as one of our top web hosts. But that can also be a result of BelugaCDN being a small, under the radar, hosting provider. There are advantages to a small hosting company – as a customer, you are more important to them. You can also check out our comparison of the most popular web hosting services here.