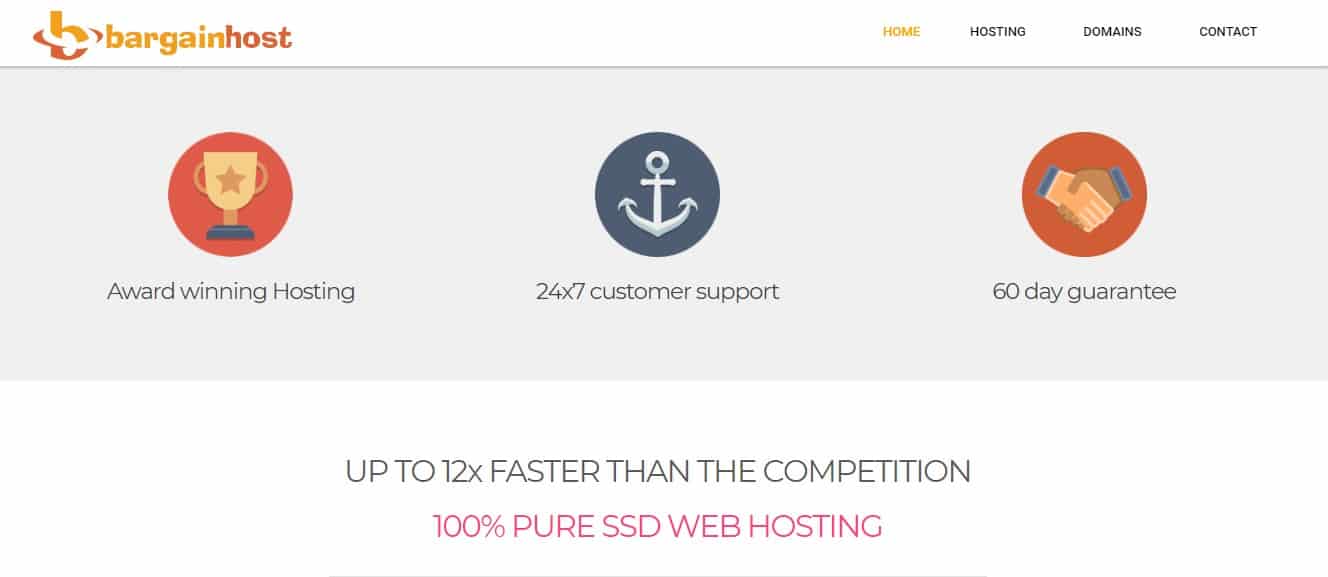 Bargain Host is a small U.K.-based web hosting vendor that's been in operation since 2001. They utilize state-of-the-art hardware powered by lightning-fast SSDs to ensure that all the websites they host sustain optimal performance, including faster page loading times. They've also got a multi-language control panel that supports English, Portuguese, French, Dutch, Norwegian, Ukrainian, German, Spanish, Russian, and Bulgarian.
Features and Ease of Use
Bargain Host is focused on providing exceptional web hosting solutions to small and large businesses alike. Even though they're a small hosting company, Bargain Host has carved out a reputation as a provider of high-quality web hosting solutions packed with a long list of features that streamlines the running of even the most complex websites. Some of the standard features included in most of Bargain Host's plans include:
100% pure SSD storage, ensuring up to 12x faster loading times
Unlimited bandwidth
Free 256-bit SSL certificates for as many domains as you can host
Free one-click app installer
Daily backups
99.9% uptime guarantee
Additionally, some of the features that immediately caught my attention with this vendor include:
Free website builder – Bargain Host offers all their users access to the beginner-friendly RvSiteBuilder, which comes with over 500 fully-responsive business templates.
24/7 monitoring – Bargain Host has employed technicians and experts who do round-the-clock monitoring of their facilities to ensure that everything runs smoothly at all times. What's more, the company has a triple electrical supply that keeps the system up even during those rare occasions of power failure.
User-friendly, multi-language control panel – Bargain Host uses the industry-standard cPanel, so users should have no problem navigating the interface. This control panel supports multiple languages including English, French, Dutch, Portuguese, German, Norwegian, Spanish, Bulgarian, Ukrainian, and Russian.
It's worth noting that Bargain Host has policies that clearly state certain types of content and practices are not allowed, such as file-sharing and pirated media. Violation of these policies may result in the termination of your hosting contract or the suspension of your account. These restrictions are in place to prevent the excessive use of resources, which could have a negative impact on other websites hosted by this U.K. provider.
Pricing and Support
Bargain Host has definitely lived up to their promise of offering incredibly inexpensive U.K.-based hosting. Their cloud web hosting plans, in particular, are extremely affordable. However, their Managed WordPress and PCI-DSS hosting plans are expensive. Given that the features and resources appear no different in these plans compared to their shared hosting plans, it seems odd that the prices would be significantly marked up.
That said, Bargain Host offers a 60-day money back guarantee that outshines most of their competitors — the industry average is 15 or 30 days. This is a testament to the confidence that the company has in their service offerings. Plus, with no hidden charges to worry about, a good number of businesses and individuals in the U.K. prefer this hosting vendor for their transparency in pricing.
Bargain Host has made available several options through which their customers can communicate with their support team. These include phone, an email address, and a support ticket system. They also have a decent knowledge base. Their support staff are available 24/7 and are known for prompt and helpful responses to every query made by their customers. However, they don't have a live chat. My experience with this vendor's customer support was positive. I sought help for a few WordPress errors that came up during installation, and they sorted all the issues out within a day.