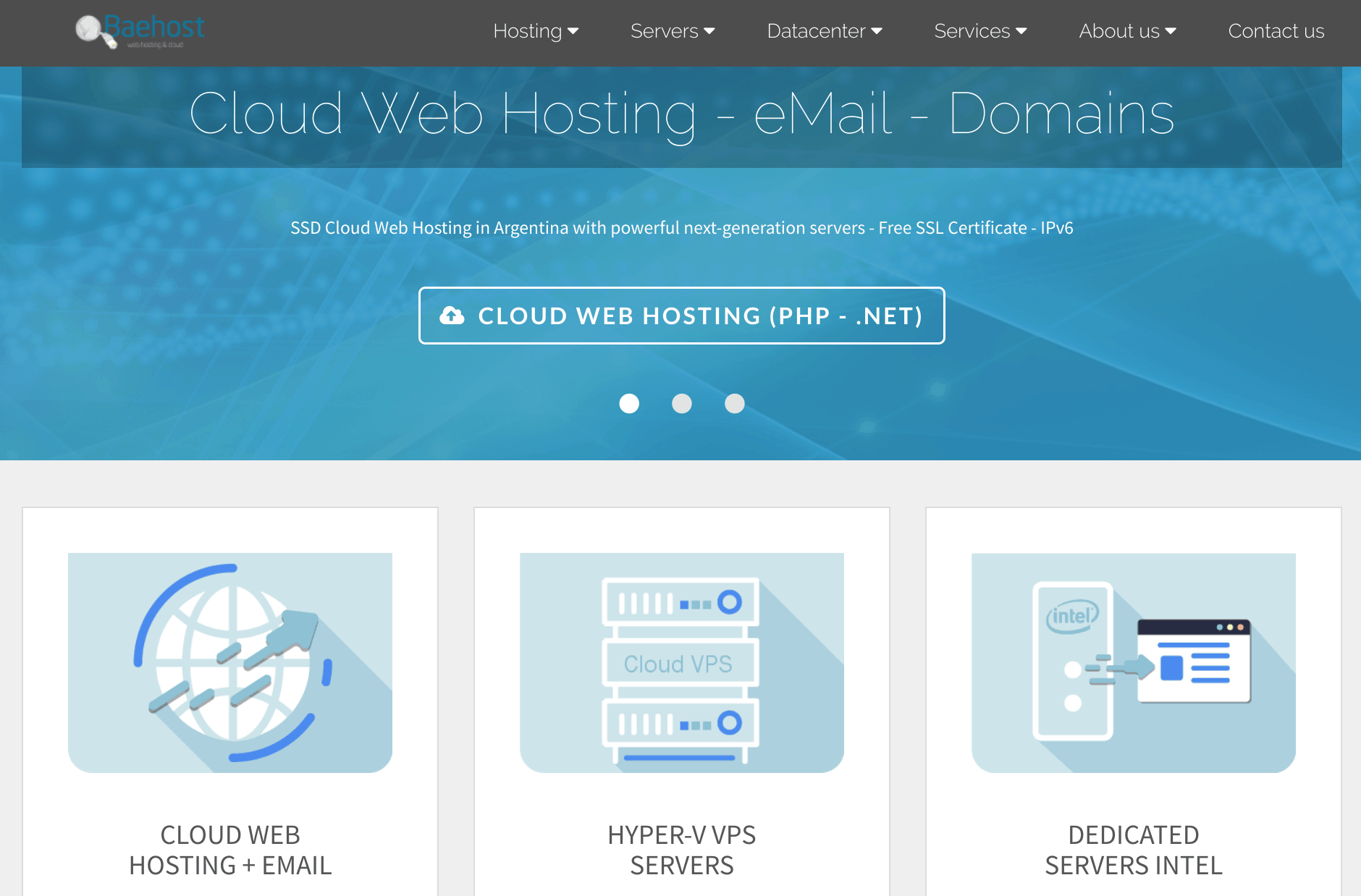 Baehost resulted from the merger of website hosting providers LPDNET and HTTPPROVIDER in 2002. They use multiple data center locations in Argentina and around the world, and as one of the leading Argentinian providers, they have excellent customer service and great infrastructure. Their website and support are available in English and Spanish.
Features and Ease of Use
Baehost offers a full range of website hosting services for beginners and experts. Their services include shared website hosting, corporate website hosting, free hosting, reseller hosting, dedicated hosting, plus SSL certificates and domain registration.
As standard, you can expect the following features with their shared hosting website plans:
99% uptime
Backups configured via the cPanel control panel
Free IDN domain registration
Unlimited subdomains
Free SSL certificates
150 GB SSD disk space
Baehost's infrastructure is top notch. Not only do they have servers located in Tier II and Tier III multiple Argentinian data centers, but they also are fully IPv6 ready and use RAID 10 SSD storage. They boast uptime of over 99.99% backed by a service level agreement that is fully outlined in their detailed terms and conditions.
Whilst it is not obvious from their website, they do have some nice features for beginners. After diving into the website package specifications, I noted a very beginner-friendly WordPress Toolkit plus more than 400 programs that can be installed with one click. They also have some value-adds for experts including PHP 7.2, optional PHP or .NET, remote access, SSH, and FTP access.
Pricing and Support
Baehost's pricing is great. When you compare their packages to those of local and international companies, you'll find that they offer competitive pricing. What's more, their base package includes a variety of features like domain registration and SSL certificates that other providers would charge you extra for.
There are four contract lengths: monthly, quarterly, semi-annually and annually. It's very convenient that they offer both a no-obligation monthly plan and a deeply discounted long-term plan, plus a 12-day free trial. All prices are listed in United States Dollars.
With local numbers for Argentina, Chile, Mexico, Brazil, Spain, and the U.S.A., their customer service options are especially suited to a customer base across North and South America. They also offer customer contact via Skype, Whatsapp, email and live chat. Not only do they have a wide variety of contact options, but they also provide 24/7 support and an in-depth knowledge base. I've contacted them several times via live chat – both morning and afternoon – and have always received a quick, friendly and informed response. The excellent support is provided in both English and Spanish.