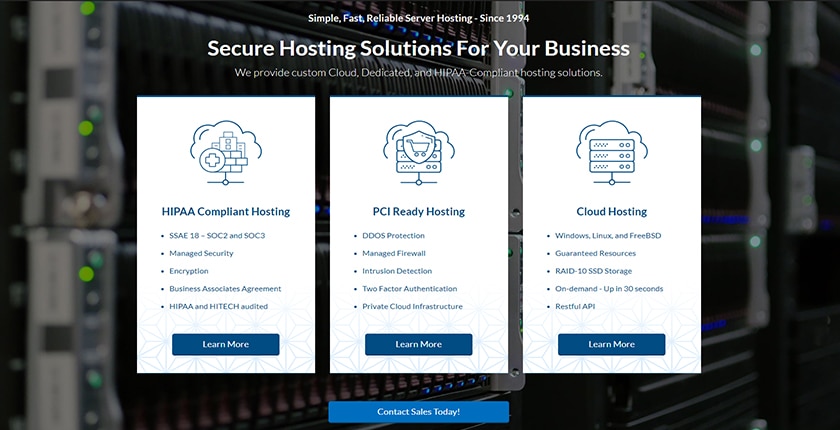 Founded in 2010, Atlantic.Net offers HIPAA compliant hosting, VPS, and cloud hosting services to thousands of clients, companies, and brands. It operates state-of-the-art data centers in the U.S., U.K., and Canada, all optimized for maximum performance and reliability. Behind the scenes is a motivated workforce that's eager to serve customers day and night.
Features and Ease of Use
Atlantic.Net's customized hosting packages come with several features that are designed to help individuals and SMEs get online fast. Here are some of them:
Domain names
SSL certificates
24/7 customer support
100% Uptime SLA
Seven-day money-back guarantee
Offshore backups
Encrypted drives
Unlimited inbound traffic
SSD drives
The crowning glory of this hosting service has to be its HIPAA and HITECH compliant data centers which are spread out in seven locations. Also, the facilities are connected to multiple top-tier networks and backed by redundant cooling, power, systems, and security. I believe the facilities can meet the dynamic and resource-intensive workloads of large organizations, firms, and even E-commerce websites.
Security-wise, customers should feel confident when using Atlantic.Net's services because the company has implemented ironclad security measures to protect websites and user data. For instance, it has a fully-managed network firewall that prevents intrusion and unauthorized access. Its network intrusion detection and prevention also thwarts any specific attempts to breach the networks. Data is encrypted and transmitted to and fro via a virtual private network, which is secured using enterprise-grade SSL and other technologies.
On the personal level, you can password protect directories and enable spam protection, so spammers won't flood your inbox with junk or malicious emails. Daily automatic backups are available too with the option of creating offshore backups for all files and databases. In case your hands are full, I recommend you procure the managed services offered, so you can focus on your business while their server technicians and network engineers help you manage the IT aspect.
Atlantic.Net offers users Linux and Windows hosting options. Both come with one-click installers that let them deploy their favorite CMS apps, LAMP, LEMP and many other apps. I didn't find it hard getting around its website. And since they're powered by cPanel and Plesk, the world's best control panels, even a newbie can get started on a web project within a few hours of signing up.
Pricing and Support
With Atlantic.Net, you get fairly priced packages that are powered by high-grade services. Its plans are also scalable with all the redundancies put in place to ensure maximum availability of services. You can opt for on-demand, yearly, or three-year billing depending on your requirements. Credit cards, prepaid cards, and PayPal are all accepted as forms of payment.
I'm absolutely in love with the 24/7 customer support service this company provides to its customers. You can easily get help by making a phone call, sending an email, or checking out its FAQ section for answers to common hosting questions. Just make sure to use the correct local or international number to ensure prompt assistance. The company is also active on Facebook and Twitter, so you can reach out to their support team through either platform.