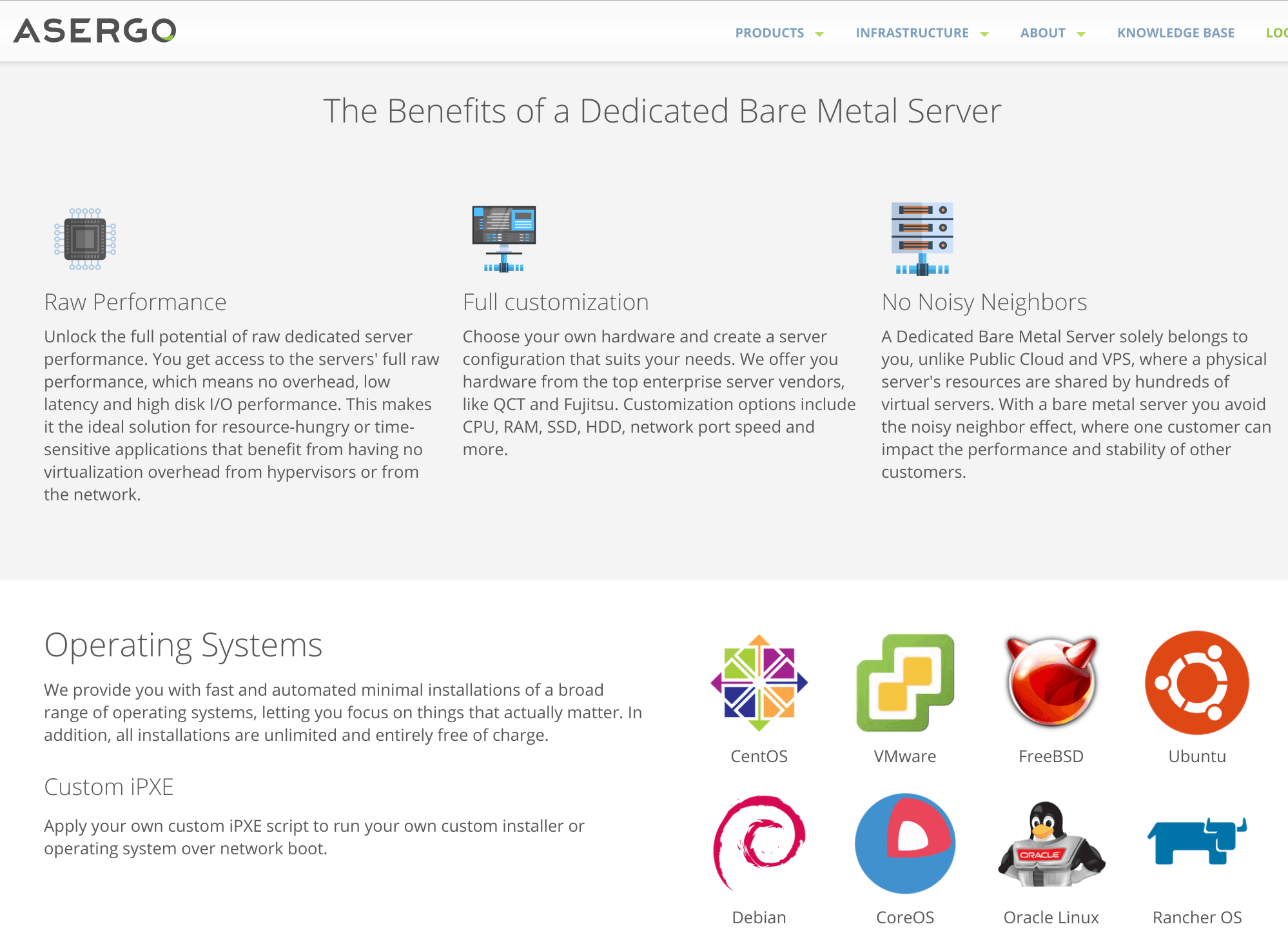 Copenhagen-based Danish company ASERGO specializes in dedicated servers, colocation, managed Kubernetes clusters, and network infrastructure. It was established in 2001, and it sells its services from an English-language website.
Features and Ease of Use
ASERGO's servers come with an easy-to-use dashboard running on separate hardware, which means you can use it even when your server is unreachable.
With the storage servers, you can also look forward to these features:
Fixed public IPv4 and IPv6 addresses

Scalable volumes from 8 TB

Storage accessible via your private network

Super-fast SSD or NVMe storage

Data replicated at least three times
With the bare metal servers, you will also benefit from:
30 TB traffic

A choice of Linux distributions or Windows
ASERGO has three data centers: two in Copenhagen (Denmark), and one in Berlin (Germany). These data centers house cloud-based hardware, power and cooling systems, and tight security measures to provide ideal conditions for running your server resources. They also combine Layer 2 and Layer 3 networks, with servers connected by 1 Gbps ports by default (and up to 100 Gbps available by request).
Pricing and Support
Although some server solutions come at preset prices, you can be quoted for a particular combination of server location, RAM, storage, CPU, and IP addresses. Prices are displayed in euros, but you can switch to other currencies at the checkout.
We don't offer an uptime guarantee and a money-back guarantee, though the latter is quite common for dedicated servers. You can only cancel your service up to 24 hours before your renewal date.
ASERGO's support team can be contacted by telephone, email, or live chat, but there is no ticket system as far as I know. Unfortunately, my pre-sales support approach seemed to fall on deaf ears. For self-support, the knowledge base covers Kubernetes and bare metal servers: