Introduction
Argentina Virtual Networks has been in business since 1998, making them one of the pioneers of web hosting. Despite this, they've managed to retain their small size and currently only serve a customer base of over 5,000. Since they host their servers in Argentina, local customers have a great advantage in terms of improving their regional search engine rankings as well as using the services in their native Spanish language.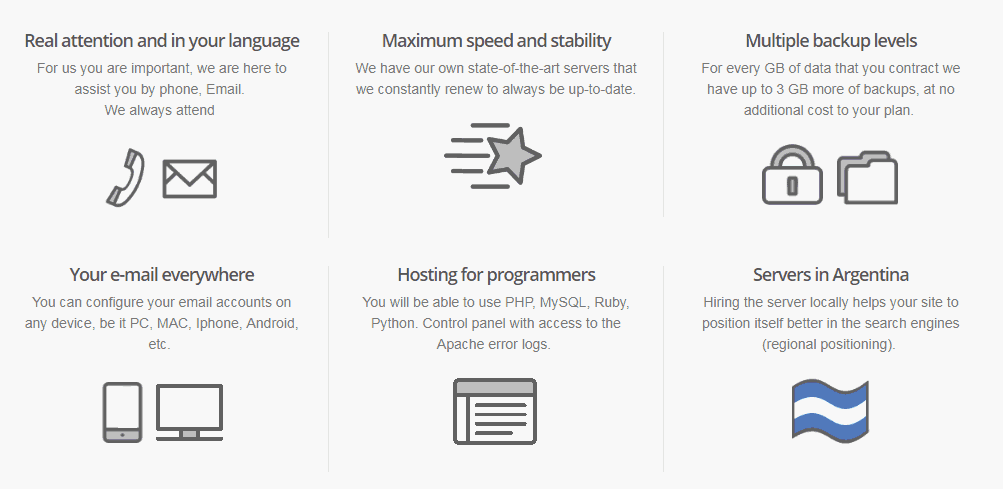 Features and Ease of Use
Argentina Virtual Networks only has three regular shared hosting plans available, though they have several other WordPress, Linux VPS, and Windows VPS plans as well. Their shared hosting plans tend to be rather barebones, however; they're generous with secondary features like FTP accounts and POP3 emails, but not so generous with more important features such as SSL certificates or even the option to host multiple domains. At best, you can only host two domains on their shared hosting plans, which will prove complicated for businesses with multiple websites.
These are the standard features included in their shared hosting packages:
FTP access with thousands of logins available
POP3 mail accounts
Backups
Antivirus and antispam filters
Pre-installed applications
Support for PHP, MySQL, Ruby, and Python
They also offer an SEO tool to help you with your online presence, but once again this isn't included in your hosting plan and needs to be purchased separately.
People who don't want to bother with the programming part of website making can opt for the website builder. However, just like many other services they offer, this one has to be bought separately as well.
If backups are vital to your business, Argentina Virtual Networks may have a good enough solution for that. They claim that for all the data you have on their servers, they maintain three different backup copies. This, of course, ensures safety in the rare event of any catastrophic incident and saves you a lot of trouble when things go wrong. However, it's not clear whether these copies are easily accessible for users or whether it costs extra to restore a copy of your website, so make sure to check with their sales representatives before going through with the purchase.

Pricing and Support
When it comes to their hosting plans, they disappoint due to a number of factors. I've already mentioned the add-on domain issue above. You can only host a single website with the Standard and Full shared hosting plan. Only the Premium plan allows two domains, which means they've basically shut out owners of multiple websites from using their service.
Bandwidth is limited, though the storage is more than adequate. To make things worse, they charge way more than the plans are worth for the limited features offered. Unfortunately, the features and the pricing leave a lot to be desired.
They accept a number of local payment methods in Argentina and even accept Bitcoin. You have to pay for the hosting packages for the whole year upfront, and there's no money back guarantee or trial period.
At first, it seemed like they're only reachable by telephone and email. The absence of live chat and social media channels doesn't portray the best image of a web hosting company, as both have become an integral part of hosting services these days. However, they do have a help section as well as a TeamViewer remote support option. That said, these options aren't readily accessible; I had to go to the FAQ section to discover these services.

Summary
Argentina Virtual Networks leaves a lot to be desired in almost all aspects of website hosting. It's hard for me to see any value in their hosting packages, and unless you're looking specifically for Argentina-based servers, this isn't the ideal host for you.
Pros:
Premium website builder available
Remote support through TeamViewer
Generous with FTP and POP3 email accounts
Reliable backup service
Cons:
Expensive packages
At best you can only host two websites