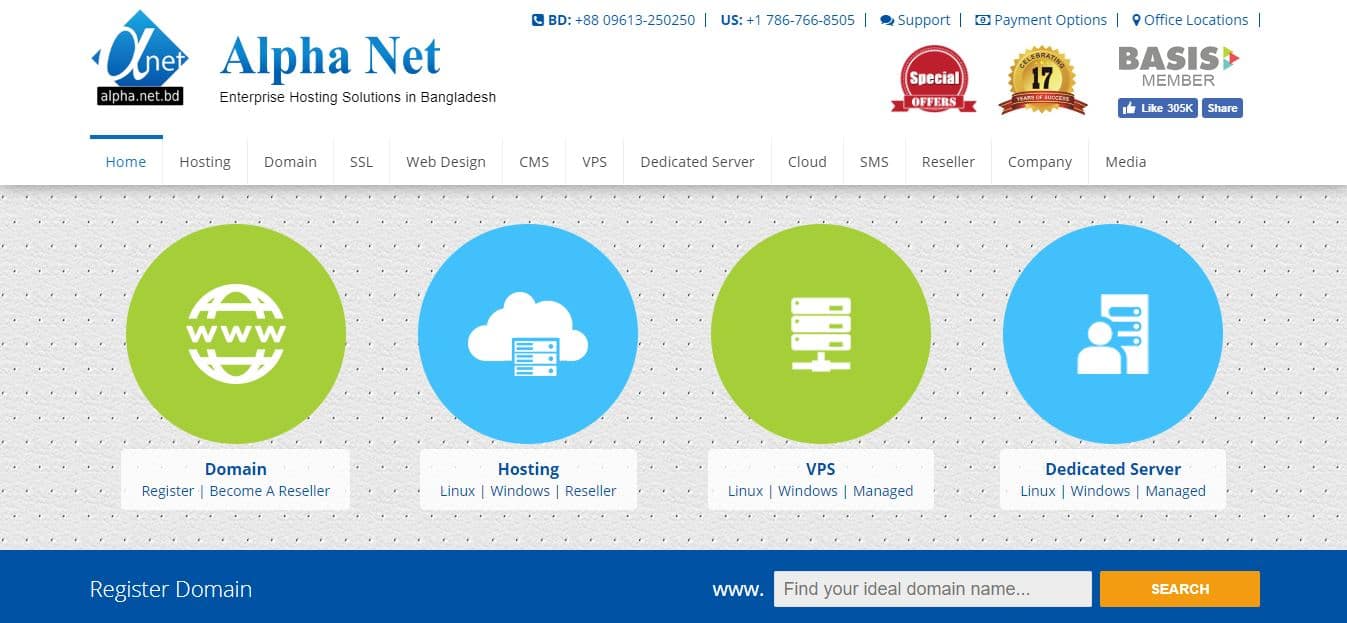 To compare the best web hosts, we hosted the same WordPress website on each one and tested performance, customer service, and value for money.
Check out the results here.
Alpha Net is a web hosting company that provides fast and reliable enterprise web hosting and domain registration services to local and international customers. With data centers in the U.K. and the U.S., they are one of the few Bangladeshi hosting companies that own and manage their own infrastructure.
Features and Ease of Use
Alpha Net has a robust infrastructure that consists of powerful Dual Quad-Core Xeon servers with SSD storage hosted in modern datacenters with redundant power supply from independent grids all backed by UPS and Standby generators. Some of the other features you can also expect from Alpha Net include:
Unlimited bandwidth
99.9% uptime guarantee
TLDs and country domains
SSD Storage
Add-on domains & Sub-Domains
Free and premium SSL certificates
RAID 10 SSD Storage

Starting with the shared hosting, you can choose between Linux hosting and Windows hosting plans with RAID 10 SSD storage space. Though you can create up to ten MYSQL databases, you can only host one PHP & MySQL website in your account. Your subscription includes access to web-based POP3/IMAP email accounts.
If you want to host multiple database-driven websites, I encourage you to sign up for their corporate hosting plans. They come with SSL, a dedicated IP address, and dedicated app pool including large email storage space. Fully scalable, their hosting can grow with your business organically. You can start with their basic corporate package (just to test the waters) then scale up to the premium corporate plan which comes with more storage, bandwidth, databases, and email accounts.
cPanel is the primary control panel for all of their hosting accounts. From the admin panel, you can create and manage email accounts, add sub domains, import web files, create databases, and do so much more. Using their script installer, you can deploy more than 275 scripts with a few clicks.
ASP.NET hosting with PHP and MYSQL support is also available to web developers or companies that are looking for developer-friendly hosting for all of their ASP or ASP.NET apps. Users can create virtual directories via the control panel and run multiple apps. It comes with a dedicated IP address and app pool. If you want to host mission critical apps, go for their robust application hosting.
If you operate a business than needs dedicated resources or more configurations, you may want to consider their SSD powered VPS solutions, notably Windows VPS hosting and Linux VPS hosting. Dedicated servers are also available on both platforms. The best thing about Alpha Net is that they offer managed and self-managed plans under their VPS. If you're a hands-on person, you can take charge of your servers, but if you want to focus on your core business, their on-site technicians and engineers will be happy to handle server management for you.
Alpha Net also provides low-cost dedicated servers for complex IT projects and traffic heavy websites. They're powered by Xeon E3-V3 processors with up to 128GB RAM. You can install your preferred OS (Linux or Windows) and partition it to host multiple websites. Designed with performance and security in mind, their servers can handle massive traffic without any issues. You'll get full root/administrative access. Thanks to their enterprise control panel, you will be able to manage all of your hosting services from a central place.
Their hosting plans are all e-Commerce ready, too. You have the option to set up your own online store with a product catalog using popular open source apps like Zen Cart, CubeCart, or OsCommerce. You can integrate it seamlessly with your preferred payment gateway, whether it's PayPal or a local bank transfer. And to ensure secure online transactions, you can protect them all with a private SSL.
Pricing and Support
When the guys at Alpha Net say they are affordable, you'd better believe them. They have some of the cheapest web hosting and unmanaged VPS plans in Bangladesh.  For now, you can only sign up for annual hosting plans and longer. You can also scale up your hosting resources, specifically storage space and RAM, to ramp up your performance. They're so confident about the quality of their hosting solutions that they back each plan with a 30-day money-back guarantee. When you place an order, you can pay via PayPal, bKash, DBBL mobile banking, or bank transfer.
Alpha Net maintains a very good tech support team who are available 24/7 to deal with customer queries and issues. To reach out to them, submit a support ticket. Other than the support ticket system, they are also available via email and on call via U.S. and Singaporean telephone numbers respectively. If you have the grit to handle problems on your own, their knowledge base will come in handy when troubleshooting and resolving issues.