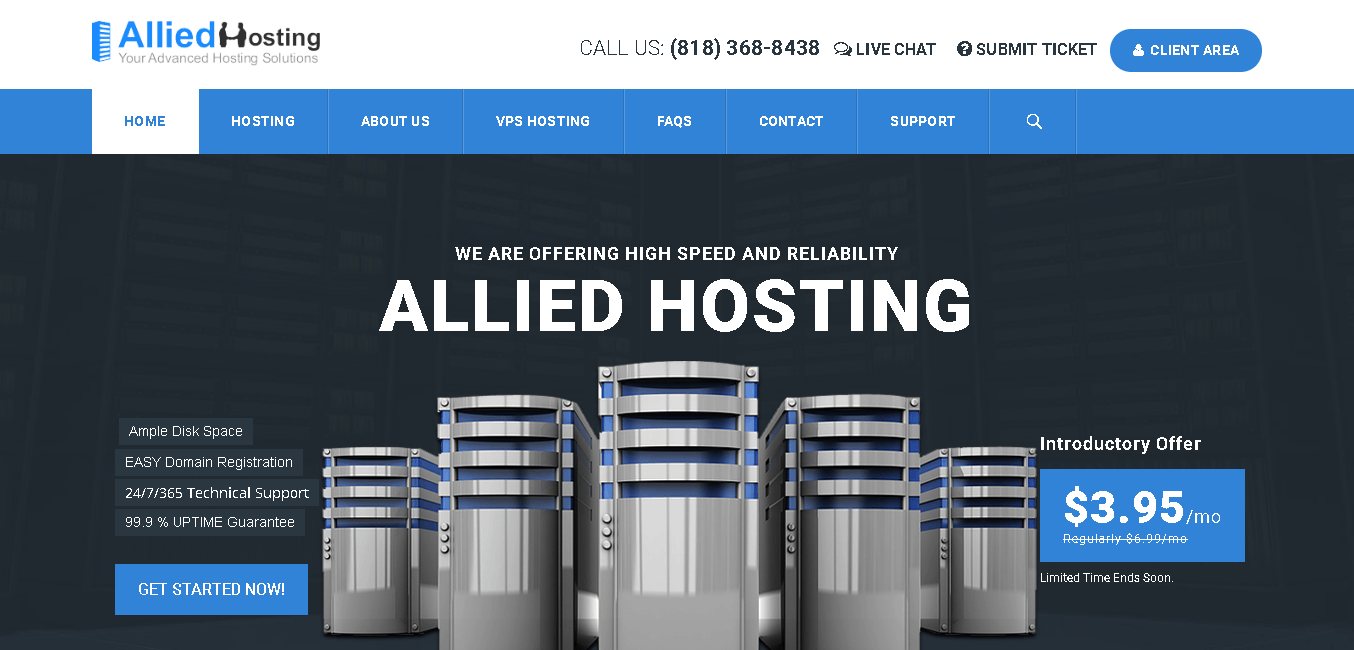 Allied Hosting is a U.S. based business with servers located in a
Tier IV data center
. They've worked with almost
30,000 customers, hosted more than 45,000 domains, and won 90 awards for their work
. Their website and support are provided in English only.
Features and Ease of Use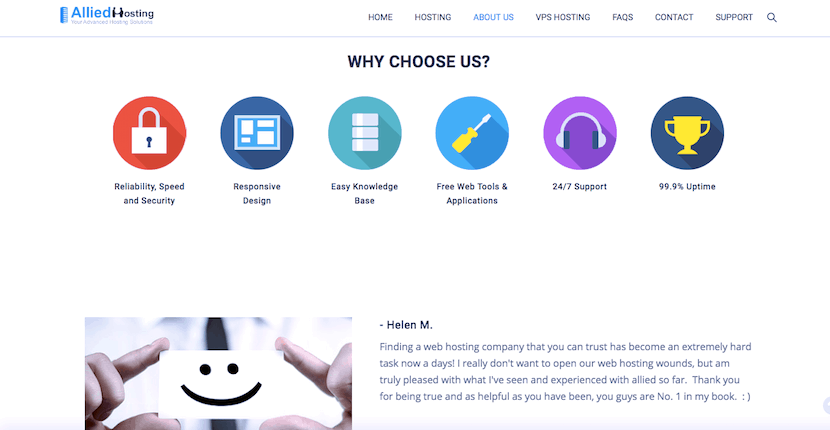 Allied Hosting are a full service hosting company providing a wide selection of services. To give you an idea, their shared hosting plans come with the following features:
99.99% uptime guarantee
Free periodic backups
Free domain registration (some plans)
One, twenty-five, or unlimited websites
Optional SSL certificates
From 5,000MB to 50,000MB disk space
From 250GB to 100GB bandwidth
Allied Hosting own their own servers, which they colocate in a Californian, U.S. Tier IV data center. While it's always preferable to see hosts that own their own data centers, it's very good news that they use a Tier IV location. This means that the center gets less than 26 minutes of downtime per year and has more than 96 hours of power outage protection. They commit to a 99.9% uptime guarantee, which is in their terms and conditions, however there is no compensation detailed in their terms in the event they have excessive downtime.
They offer three shared hosting plans: Economy, Deluxe, and Ultimate, which come with the following resource levels:
Economy: One website, 5,000MB web space, 25 email accounts, five MySQL databases, and 20GB bandwidth
Deluxe: Twenty-five website, 15,000MB web space, unlimited email accounts, unlimited MySQL databases, and 50GB bandwidth
Ultimate: Unlimited websites, 50,000MB web space, unlimited email accounts, unlimited MySQL databases, and 100GB bandwidth
In terms of value added features, they vary between the plans. The Personal package is quite limited, however, the two upper plans include a free app store and a one-click installer for hundreds of apps, while the highest package comes with a free domain. All plans enjoy instant setup, search engine optimization, periodic backups, and cPanel for the control panel. The more advanced features are a little sparse, however, all plans support CGI/Perl scripts, MySQL, and phpMyAdmin.
While the shared hosting plans provide a comprehensive offering, they also have a good selection of more enterprise-level plans available. When you're ready to expand your online business, you can opt for virtual private servers and reseller hosting, along with dedicated servers and cloud hosting (coming soon).
Pricing and Support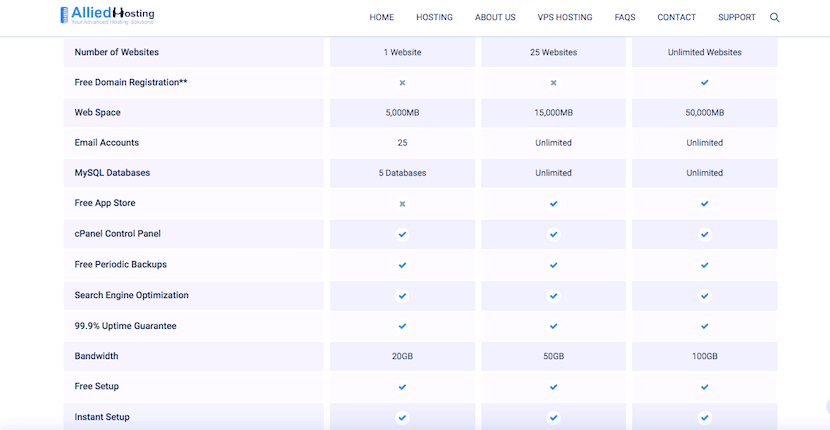 The monthly prices are good and come with a heavy discount compared with their "regular" price, which is also listed. Upon checking out it becomes apparent that the discounted price will be charged ongoing for all future payments as well, which is great, and not some gimmicky discount which is immediately increased on renewal.
Domain registration is free in the highest plan, while optional SSL certificates are included in all plans. The plans can only be purchased in one month terms, which is nice and risk-free, and they also offer a thirty-day money-back guarantee.
Regarding customer service, they offer 24/7/365 support. While they advertise a phone number and live chat on their website, they seem to prefer support requests to be submitted by ticket, and I could not get the live chat window to open. They also have a substantial knowledge base on the website.