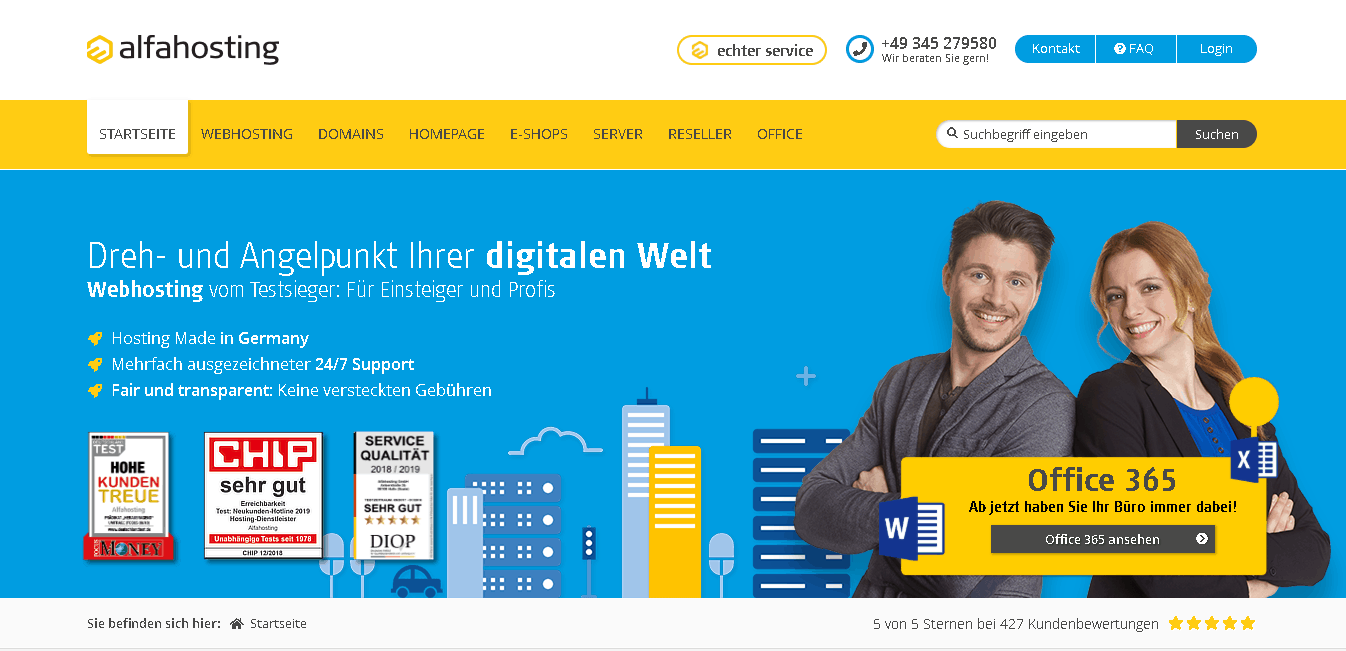 To compare the best web hosts, we hosted the same WordPress website on each one and tested performance, customer service, and value for money. Check out the results here.
Alfahosting is based in Ankerstraße, Germany, and has been in business since 1999. As one of Germany's leading hosting providers, it has expanded its catalog to offer a huge range of hosting services including basic shared hosting, dedicated servers, and enterprise platform solutions. Alfahosting has over 200,000 customers, which is not surprising since this vendor backs up its services with good guarantees and SLAs.
Features and Ease of Use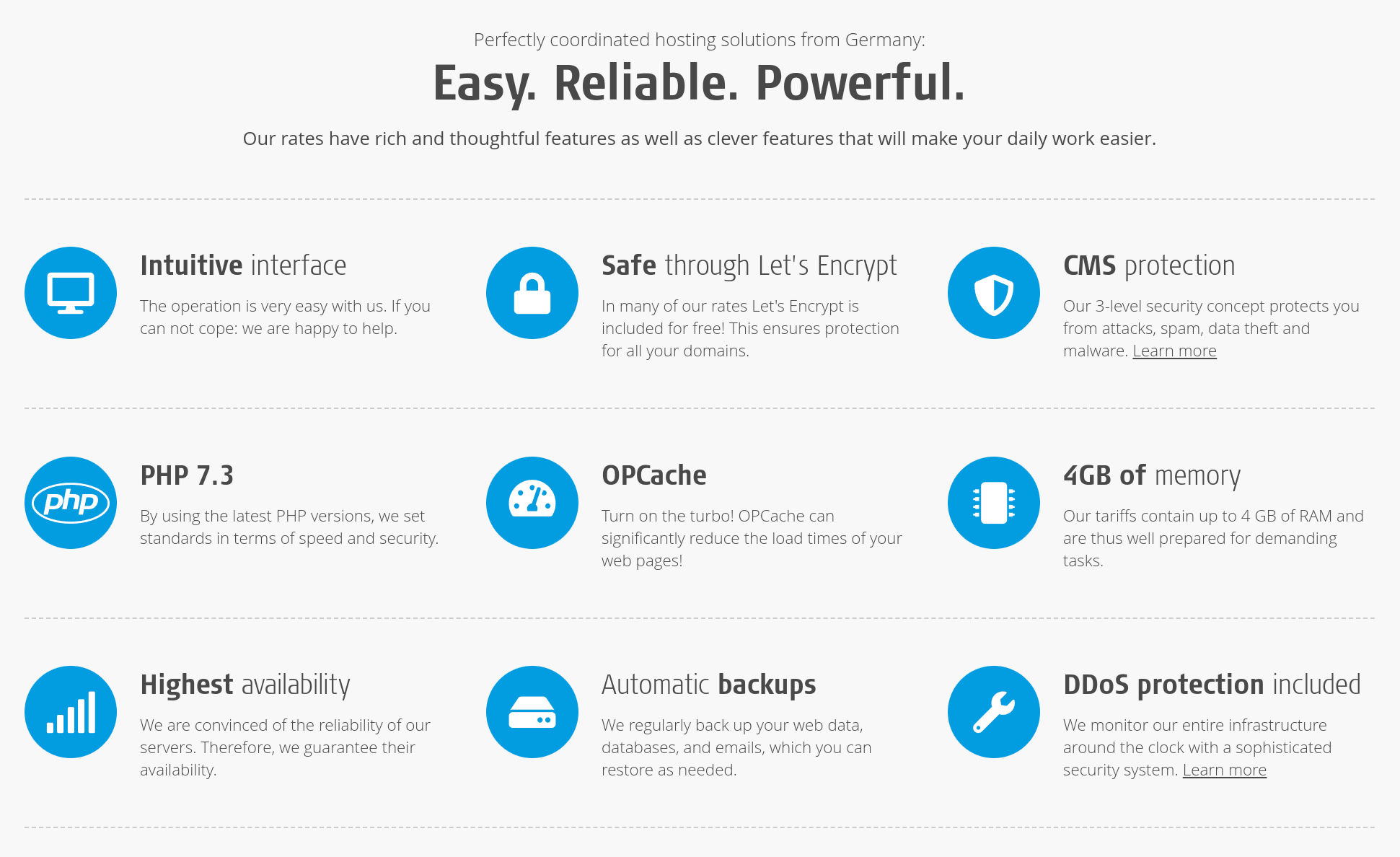 At Alfahosting, you'll find most hosting features in one form or another, including:
99.9% SLA-backed uptime guarantee

Domain registration with up to four free domains

An unlimited number of add-on or parked domains

Free Let's Encrypt SSL certificates and premium SSL certificates

Weekly automatic backups

Up to 600 GB of SSD storage for shared hosting

Unlimited bandwidth
Server products allow you to choose Linux or Windows as the operating system. All servers come with the Plesk control panel, but the Linux shared hosting also comes with the lesser-known (and now discontinued) Confixx control panel.
All hosting products provide a massive amount of SSD storage and RAM plus generous numbers of databases, email accounts, and FTP accounts. It means you can build a bigger website for the same price compared with another host.
With SSL certificates, support for all the essential programming languages, automatic backups, email hosting, and unlimited bandwidth, you'll find it hard to find a feature that Alfahosting doesn't offer. The only exception is that there is no CDN as far as I can see.
Pricing and Support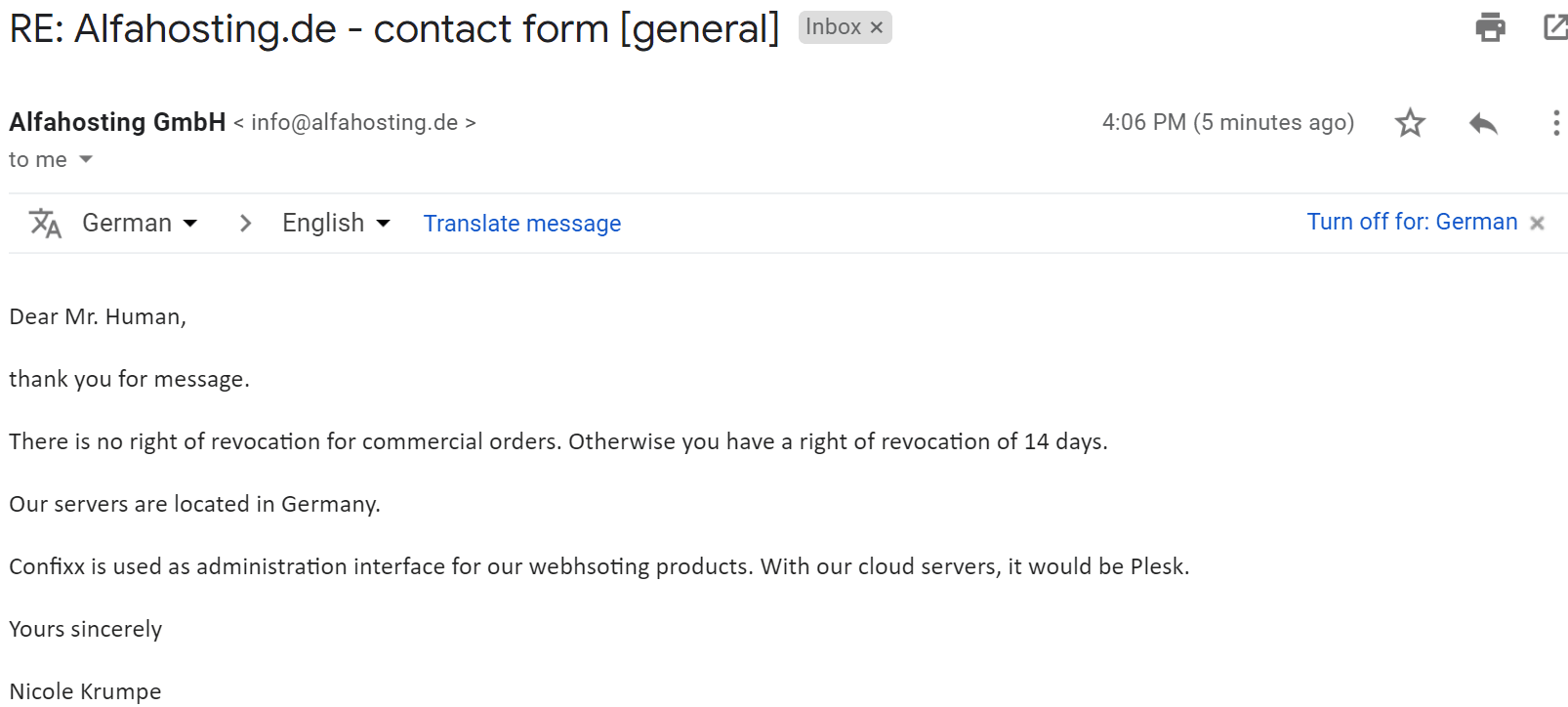 Although Alfahosting's hosting plans are not the cheapest you'll find, they are some of the best value packages among the European providers.
This company is soon keen to let you try before you buy that it offers a generous 45-day free trial of most of its web hosting products. However, you do have to pay from the very first day if you want the cheapest shared hosting plan, an e-commerce hosting plan, or a dedicated server. You do still get a 14-day money-back guarantee, though.
Alfahosting is very generous when it comes to giving you up to four domain names for free, depending on your hosting plan. And its hosting prices are great value for money when you consider all of the other features and resources you get.
Since so much is offered out-of-the-box, you won't find many upsells at the checkout apart from an SLA upgrade. You can choose between monthly billing (with a setup fee) and slightly discounted annual billing.
No matter which package you select, you'll have access to 24/7 support via email/ticket and a free support hotline (although it's not available 24/7). I must say, the ticket support was impressively responsive, even when addressing my numerous inquiries.
While not a comprehensive as I would like, Alfahosting does provide a pretty decent knowledge base and a set of step-by-step tutorials.
How much does Alfahosting cost?
Alfahosting offers plans from $4 to $135. The price depends on which type of hosting plan you choose. You can see the updated pricing table (updated weekly) below.

Which Alfahosting plan should I get?
My recommendation is to start with a cheaper plan. You can always upgrade later on. Alfahosting can help you with the migration to a more expensive plan. The increase in visitors many times takes longer than expected and you shouldn't pay a lot of money until the need arises. Of course, your needs may vary, and you can consult with a hosting expert from Alfahosting here.

How good is Alfahosting's customer support?
Alfahosting is not ranked as one of our top web hosts. But that can also be a result of Alfahosting being a small, under the radar, hosting provider. There are advantages to a small hosting company – as a customer, you are more important to them. You can also check out our comparison of the most popular web hosting services here.