To compare the best web hosts, we hosted the same WordPress website on each one and tested performance, customer service, and value for money.
Check out the results here.
Alentus is a web hosting vendor based in Alberta, Canada. The company has been in operation since 1997. They specialize in web hosting solutions that revolve around ASP, PHP, ASP.NET, and Microsoft FrontPage. For a long time, this company dominated the North American hosting space because of their reliability, ease of use, and security. However, it appears that their standards of service have gone downhill in the last decade: many of their existing customers report non-responsive support and intermittent downtime.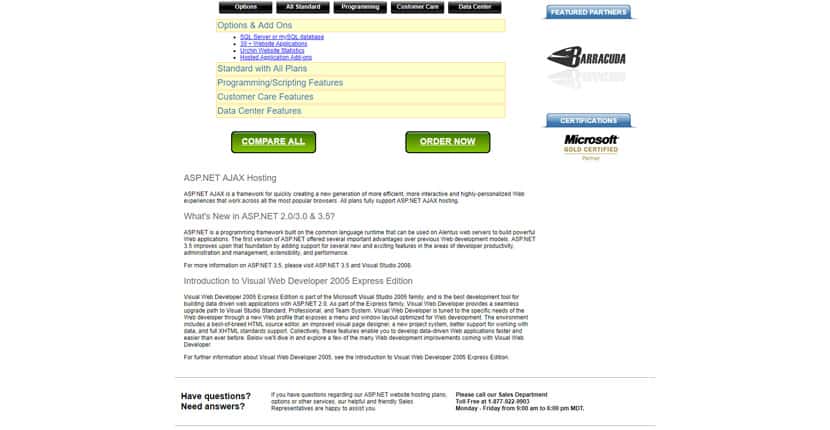 Features and Ease of Use
Alentus specializes in Windows web hosting plans with their expertise primarily in ASP, ASP.NET,  AJAX, CGI, Flash, Perl, and SilverLight. Their hosting packages include the following standard features:
Daily website and database backups
Anti-spam/anti-virus protection
Email admin console
Free shared SSL (except with Value.NET plan)
Microsoft FrontPage extensions
Website statistics and raw logs
Unlimited FTP and HTTP access
Network monitoring and notifications
Alentus owns and operates the two data centers out of which they host all of their customers. These data centers have Cisco routers, their own power distribution system, and are monitored 24/7 by on-site security guards and CCTV surveillance.
Alentus typically records high uptime all year long with a 99.999% network uptime guarantee. However, in my experience, this guarantee may not be rock-solid: my websites went down quite a few times in the last year, with no advance notice and zero response from their staff when I tried contacting them.
In addition, this vendor's control panel lacks functionality and user-friendliness, making it hard for novice webmasters to navigate. But perhaps more than anything else, Alentus's greatest failures revolve around their email exchange feature. The company provides this service through a third party, and with no direct control of this, troubleshooting a problem becomes extremely hard. The email spam feature does not always work as it should and some customers have reported losing their emails.
Pricing and Support
Alentus provides a number of hosting plans, most of which are pretty expensive considering their low resource caps. Users who subscribe to the yearly plans get a discount, albeit a rather insignificant one. While the price tags on their hosting plans are not prohibitive, they are quite limited, and may prove to be a problem for fast-growing websites.
Alentus has a 30-day money back guarantee on their shared and SharePoint hosting plans with no questions asked. However, Alentus has neglected to update their hosting plans for many years. They continue to provide certain hosting features that were relevant back in the early 2000s but hold no relevance for today's users.
Alentus has contact numbers for customers in the United Kingdom and the United States. That said, these phone numbers will only get you through to the vendor's customer support team during their office hours. What's more, the team will not address any issue directly related to hosting support over the phone, meaning you'll still have to open a ticket. The ticketing system is available around the clock seven days a week.
Alentus doesn't provide any email support or live chat, but they do have guides and tutorials for their users. Contacting this vendor's support team can sometimes be a frustrating experience, even when the issue that needs to be addressed is a server-related emergency. Users with websites that require fast support to avoid losing money might find themselves grappling with losses they could have avoided had Alentus responded promptly to their concerns.