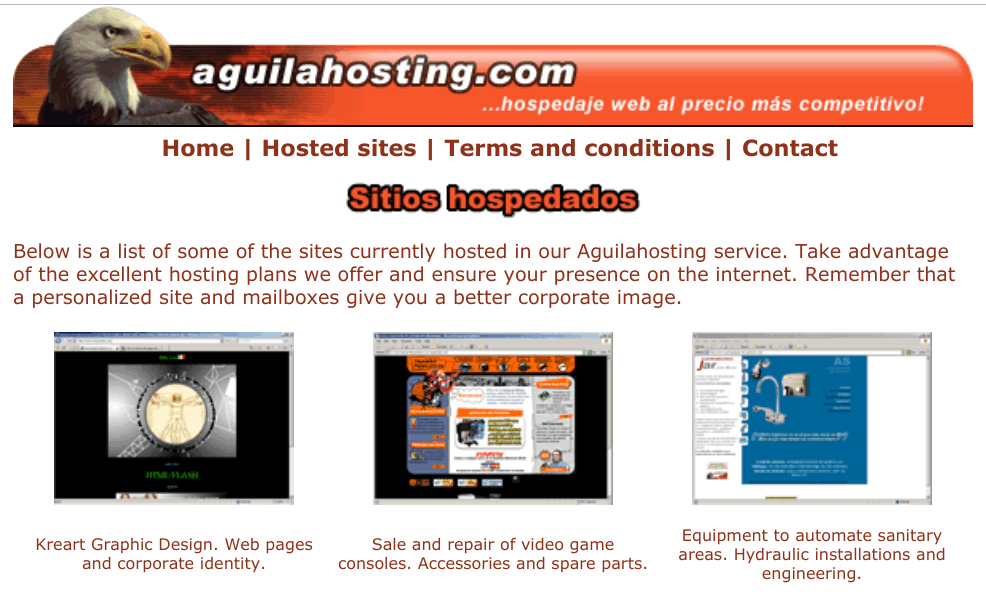 From the retro look of its Spanish-language website, Mexican web hosting provider Aguilahosting seems to be stuck in a time warp.
It's not easy to find information about the company itself, except that its telephone number is for Mexico City, and it "serves the entire Mexican Republic and Latin American countries."
Features and Ease of Use
Aguilahosting's website says that it offers domain registration, web hosting, and web design services. Its hosting plans run on Red Hat Linux, with Apache web server, and they support Perl, PHP, and MySQL databases.
The only advertised hosting plan is the Micro package that includes 100 MB of disk space, 3 GB of monthly bandwidth, five email accounts, and PHP. Other listed features include:
cPanel control panel
Fantastico installer
Website statistics
Email/Webmail
FTP
A web design service is offered to personal and business clients, and this company claims to be able to provide a good search ranking at a competitive price. The vendor's website includes a small gallery of a few of the sites it hosts, which are presumably the ones it designed for customers. The problem is that some of the links the live sites don't work, and many of the thumbnail images don't look anything like the current live sites, which suggests that this gallery is pretty old.
Aguilahosting's data center features high levels of security, UPS, fire suppression, and climate control systems. It has redundant connections to several internet backbones, and professionals monitor critical services and ports on a 24/7 basis. Server hardware includes Pentium III and Pentium processors that are not exactly cutting edge.
Pricing and Support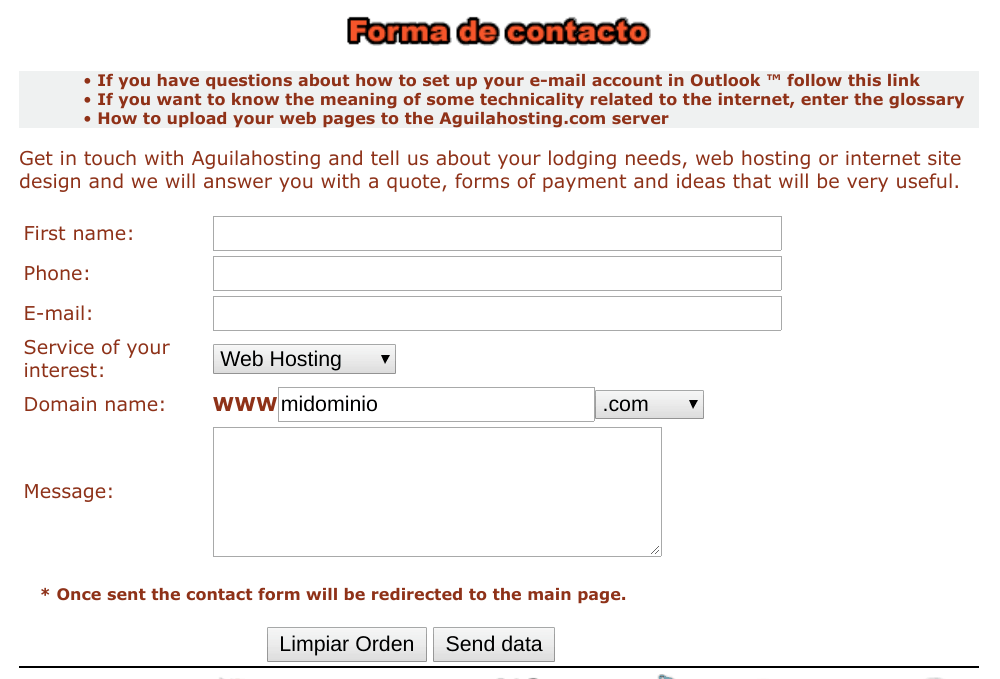 Aguilahosting's Micro plan is pretty cheap, which is hardly surprising since it includes such a small amount of web space. Compared to other Mexican hosting providers, this offers a relatively affordable entry point, but you can get much more feature-rich hosting with higher data allowances from other Mexican or international hosts.
According to the website, you have to sign up for hosting for at least a year, and you can pay by bank transfer or PayPal. However, you can't purchase hosting plans online, so you have to contact the company via its contact form, email, or telephone. Unfortunately, my contact form submission received no response.
Aguilahosting's website lacks a knowledge base, and the three help links direct you to a glossary of internet terms as well as some "old school" information on Outlook mail and uploading web page files via FTP.