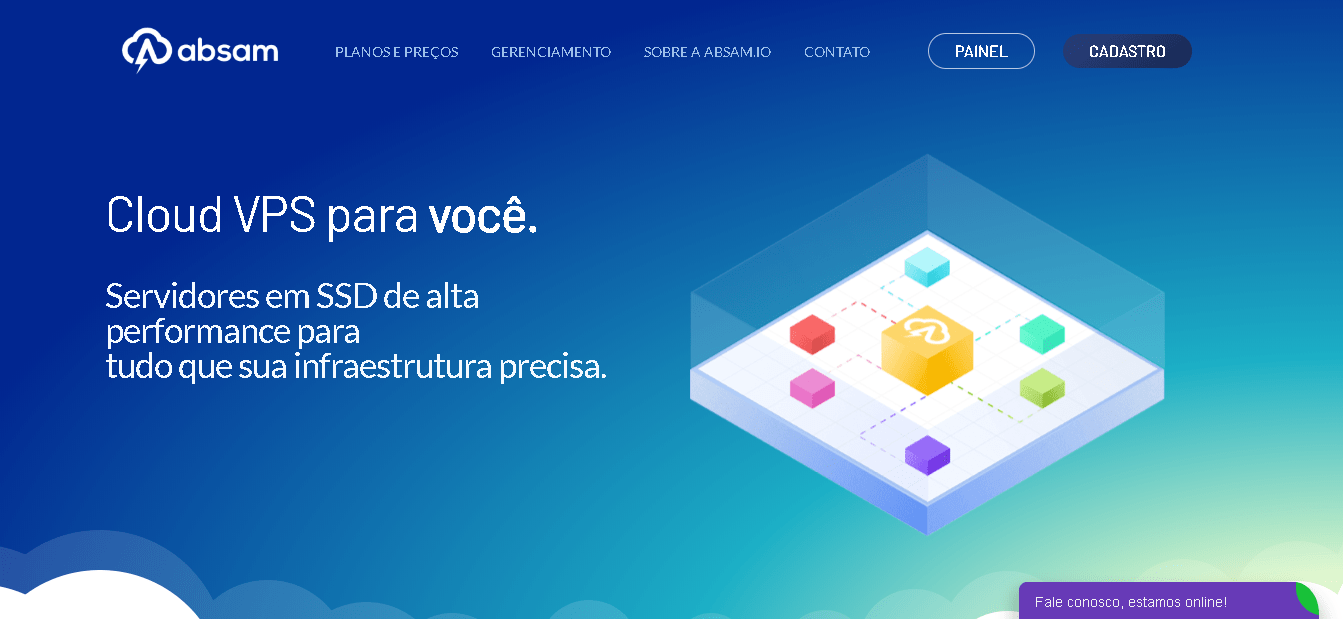 Absam.io is a cloud computing provider based in Brazil. The hosting company was founded in 2013 with a goal to make it among the largest cloud computing companies worldwide. Today, it has multiple data centers located in five countries across America and Europe. Its offerings include cloud server solutions as well as server management. The Absam.io website is only available in Portuguese.
Features and Ease of Use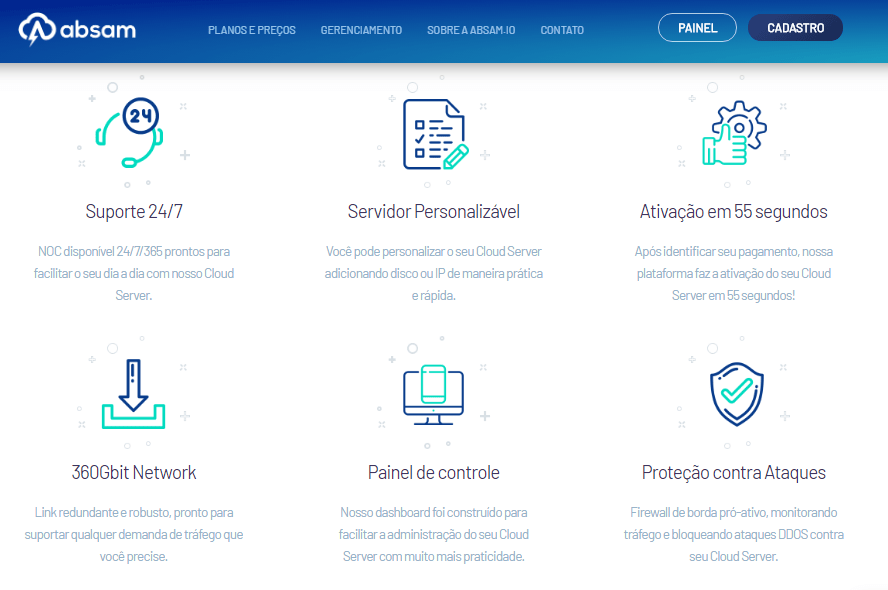 Absam.io is not your typical shared web hosting provider. Instead, it focuses on the provisioning of server solutions as well as server management services. Some of the standard features you can expect to find with these hosting solutions are:
Unlimited monthly bandwidth

Public IP addresses

WHM, cPanel license

100% SSD-based servers

DDoS protection

24/7 customer support
Absam.io 100% SSD-based servers are hosted in Tier III data centers located in several countries, such as Brazil, the United States, France, and Canada. The data centers are equipped with top-of-the-line hardware components as well as redundant network infrastructure with up to 360Gbps of fiber optic cables. This helps boost performance to meet the demands of any website traffic.
Absam.io hosting solutions are powered by both Linux and Windows OS platforms. Its cloud servers are offered based on server location. They include RAM ranging from 1GB 64GB, one to 16 CPUs, and up to 950GB SSD disk storage.
All of the cloud server plans come with DDoS protection for protecting them from online threats and DDoS attacks. Besides, you can set up your servers in just a few minutes and customize them using the user-friendly VPS control panel. Users can also manage their entire VPS cloud servers, including formatting, creating backups, and turning on/off, as well as firewall creation, all from the same console.
Pricing and Support

Although at first glance, Absam.io hosting solutions seem affordable, they can turn out to be quite expensive, especially when you factor in the fact that they don't come with a lot of freebies. You'll have to pay for add-on features like a control panel license and public IP address.
However, given the hosting solutions run only on 100% SSD-based cloud servers, this is good news to customers who value excellence over cost. The hosting plans come with flexible monthly billing cycles and their prices are listed in Brazilian real. The vendor's VPS cloud servers guarantee an uptime of up to 99.97%. That said, the plans don't seem to offer a refund policy.
Its customer support desk is available via live chat or contact form. The vendor has an email, but it's only available on its Facebook page. All the same, there is no telephone or ticketing system. The technical staff is available 24/7 to offer real-time customer support.
Although it has video tutorials, the hosting firm has yet to add a knowledge base section to its website.