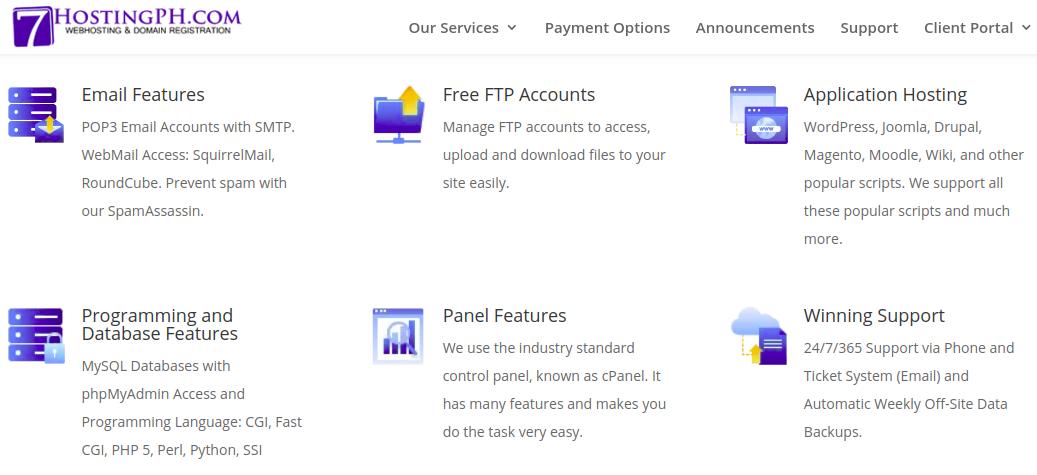 To compare the best web hosts, we hosted the same WordPress website on each one and tested performance, customer service, and value for money. Check out the results here.
7HostingPH is a Philippine-based web hosting company that markets its affordable hosting solutions targeting SMEs in the Philippines and beyond. Founded in February 2011, the hosting vendor operates a data center located in the Philippines from where it offers its shared web hosting solutions as well as domain name registration services.
Features and Ease of Use
The standard features included in 7HostingPH web hosting services are:
cPanel control panel
Free FTP accounts
Daily/weekly automatic backups
PHP support
99.99% uptime guarantee
MySQL databases with phpMyAdmin access
SSL certificates
7HostingPH operates its cPanel servers in a data center located in the Philippines. The servers are built on open source technology that offers a more flexible technology and innovation providing the best end-user hosting experience.
7HostingPH 4-in-1 shared web hosting solution include, Student, Standard, Business, and Business + hosting plans. The student plan is the starter plan and comes with 500MB disk space, 5GB monthly bandwidth and hosts up to five email accounts. Business + is the vendor's advanced shared hosting plan and comes with 5GB disk space, 50GB monthly bandwidth, and unlimited email accounts.
The hosting solutions run only on Linux operating system, and include the industry standard cPanel control panel. Moreover, the shared hosting plans are compatible with MySQL databases and programming languages such as CGI, PHP 5, Fast CGI, Perl, and Python.
7HostingPH automatically performs backup services of its client's website data. These backup services include a Site Backup and Restore tool that makes a daily backup copy of the user's website, ensuring the safety of their website files and protecting them from data loss.
Pricing and Support
7HostingPH hosting plans are low-priced, yet only come with long-term billing cycles with a minimum subscription of one year. The prices of these hosting plans are listed in Philippine pesos.
7HostingPH offers a 45-day money-back guarantee, which is a bit higher than what other hosting companies are offering. In addition, this vendor has a reliable uptime guarantee of 99.99%.
7HostingPH 24/7/365 customer support is available via telephone, contact form, or through their Messenger live chat. The vendor also offers a ticketing system through its support email. My email to this vendor's support team went unanswered.
The link to the 7HostingPH knowledge base section seems invalid and unsecured, and the vendor's hosting tutorials page has no tutorials. The vendor says that the page is under construction. All the same, it has an FAQ section that answers a number of questions for its users.