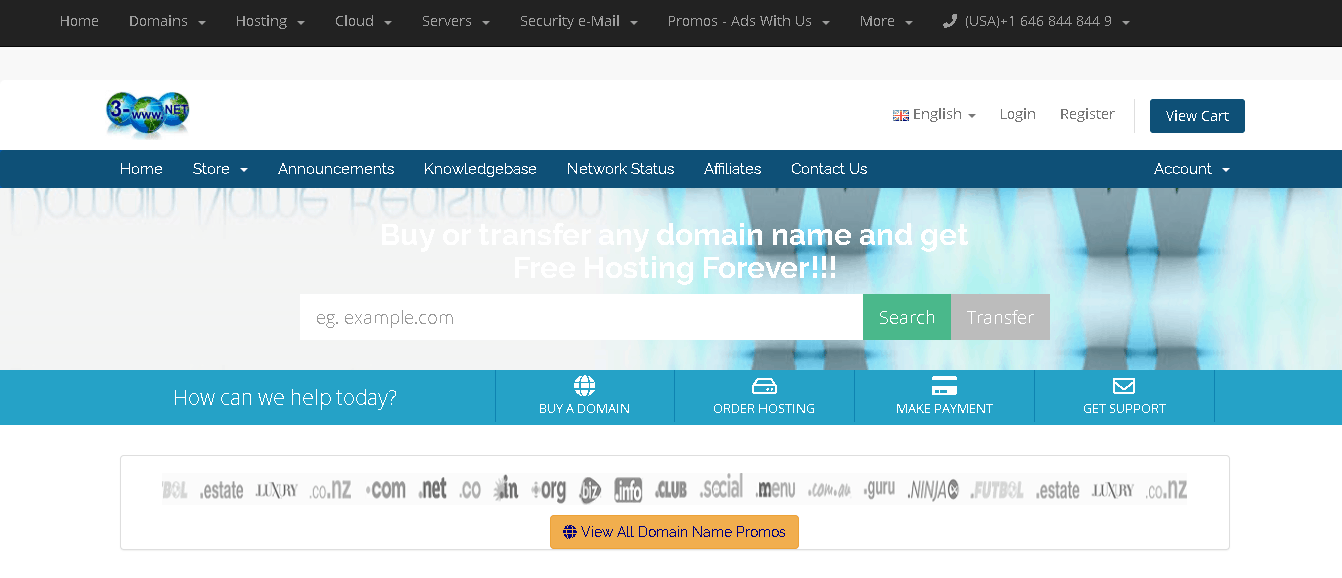 3-www.NET is a subsidiary of Vast Euro1 Ltd, a company that traces its roots to Greece. Based on its copyright footer (that reads 2009-2019) the hosting company seems to have been established over a decade ago and it operates from Greek and U.S. offices.
It provides a range of hosting services, including free web hosting, shared web hosting, reseller plans, dedicated servers, VPS, cloud hosting, and domain registration services, among other IT services.
Features and Ease of Use

3-www.NET offers an easy-to-work-with hosting platform that comes with the latest control panel for easy setup and modification of your site's resources. At the standard level, its hosting solutions include the following features:
Free ModSecurity 

Free RVSiteBuilder

350+softaculous pre-installed scripts

Dedicated IP addresses

Ruby, Perl, and PHP support

MySQL databases

Free domain name

Free SSL certificate

Cron jobs for scheduled tasks

phpMyAdmin for managing databases
Furthermore, this hosting company insists that it places no limitation on the amount of disk space or data transfer pertaining to your website account. This means that you get access to all of the server space required to create and maintain your website and you can upload all of the content you want with no cap.
You also get more advanced features, like free Cloudflare CDN, DDoS protection, ClamAV with ModSecurity, a free virus scanner, and an option to add SSL certificates for a fully protected website.
As stated on its website, 3-www.NET has data center facilities in multiple locations: India, the United States, the United Kingdom, Germany, Hong Kong, and the Netherlands.
Its servers support both Linux and Windows operating systems, use Intel processors, and use cloud resources from industry-leading brands like Supermicro, providing you with the highest quality of your services.
Additionally, its three-mirror servers with Varnish caching is powered by the leading Ceph-based storage system with automatic failover, ensuring three copies of your website data are stored in distinct locations, across different drives and servers.
Pricing and Support

3-www.NET web hosting solutions are low priced and come with no hidden charges or ads, to completely offer customers the satisfaction they need. There are seasonal discount coupons, sometimes going as high as 46% off.
The plans are available with flexible billing cycles starting from a three-month price-point going all the way up to 36-month subscriptions. Prices are listed in U.S. dollars, but at checkout, users can also change the currency to euros or British pounds.
While some of its hosting solutions offer a 15-day refund policy, others come with a 30-day money-back guarantee. The hosting provider also offers a zero to five-day refund for domain names. And at all account levels, this hosting company offers up to a 99.9% server uptime guarantee.
To contact this vendor, customers can use its dedicated telephone support, email, or ticketing system. All the same, the vendor does not seem to have a live chat.
I sent an email, but the vendor's support team did not respond to my email query.
Self-support resources include a fairly detailed knowledge base and an FAQ section.
How much does 3-www.NET cost?
3-www.NET offers multiple plans priced highest to lowest. The price depends on which type of hosting plan you choose. You can see the updated pricing table (updated weekly) below.

Which 3-www.NET plan should I get?
My recommendation is to start with a cheaper plan. You can always upgrade later on. 3-www.NET can help you with the migration to a more expensive plan. The increase in visitors many times takes longer than expected and you shouldn't pay a lot of money until the need arises. Of course, your needs may vary, and you can consult with a hosting expert from 3-www.NET here.

How good is 3-www.NET's customer support?
3-www.NET is not ranked as one of our top web hosts. But that can also be a result of 3-www.NET being a small, under the radar, hosting provider. There are advantages to a small hosting company – as a customer, you are more important to them. You can also check out our comparison of the most popular web hosting services here.