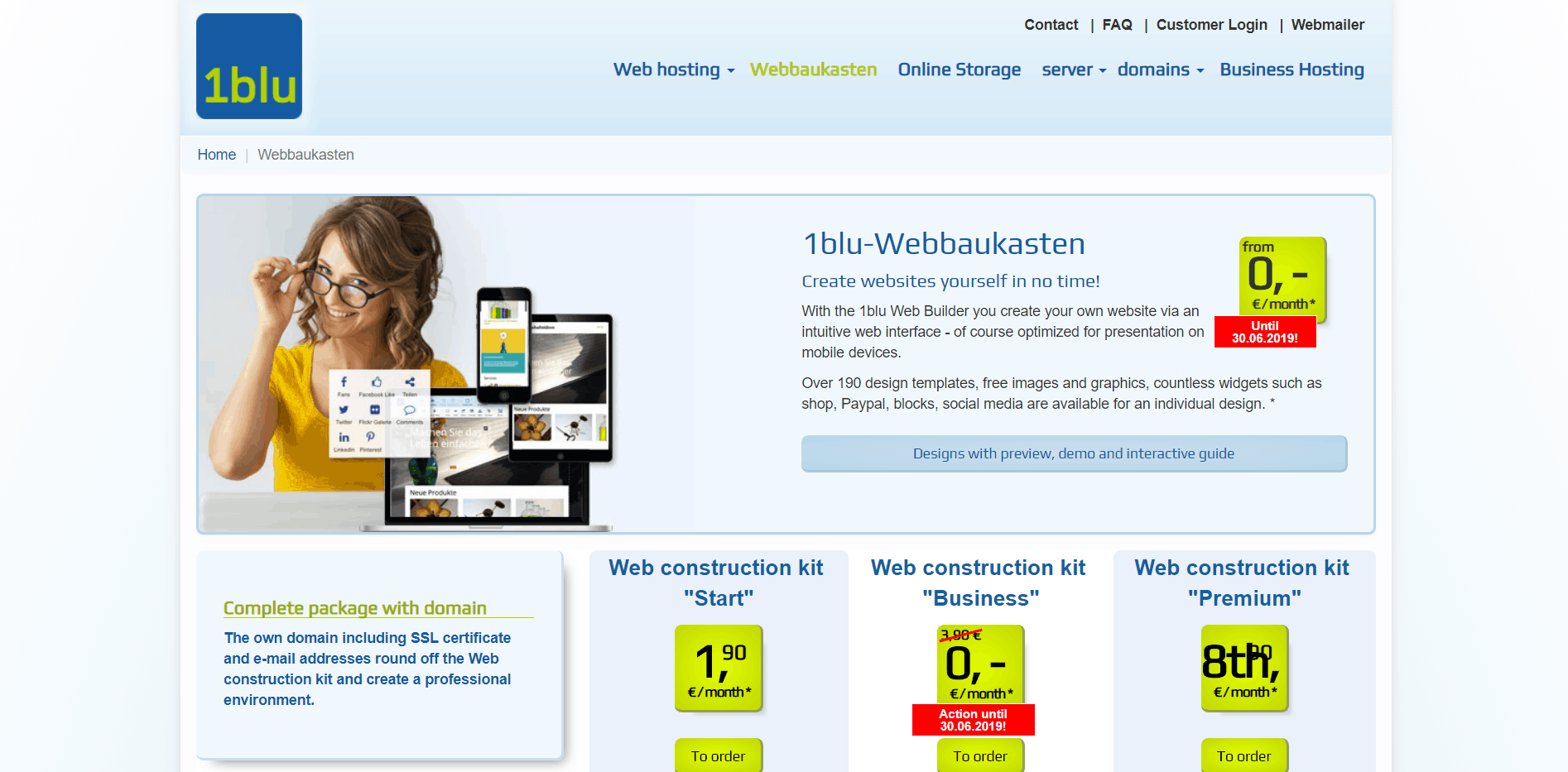 While 1blu might initially seem like the right website builder for your needs, it's no match for more popular website builders like Wix.
If you are in a hurry, and just want the bottom line: for the same price as 1blu you can get much better servers with 24/7 support with Hostinger, so why even bother?!
Founded in 2005, 1blu is one of the largest website hosting companies in Germany. With over 300,000 customers, 1blu offers a comprehensive suite of services including website hosting, a website builder, cloud storage, virtual servers, dedicated servers, SSL certificates, and domain name registration. Their website and service is available in German only.
Features and Ease of Use
1blu caters to a wide range of customers. They have basic packages for new website owners all the way to enterprise-scale dedicated servers. As standard, their shared hosting plans all come with these features:
Backups via client access to webspace
At least one free domain registration
Unlimited traffic
Free SSL certificates
Separate email storage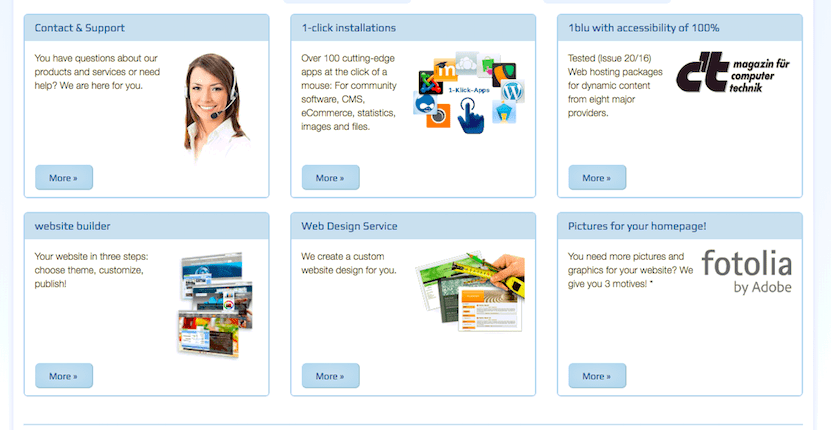 There's nothing particularly spectacular about 1blu's packages, but their array of features is fairly comprehensive for those looking for all-inclusive solutions. First of all, they offer some great features for beginners. With all of their plans, they include over 100 applications that can be installed with a single click. Most of their plans also feature a free three-month subscription to a website builder that comes pre-loaded with ready-made templates. You can build and customize your website with just a few clicks and zero coding knowledge.
Note that unless you opt for their higher-tier plans, you may find your account's scripting capabilities extremely limited. Their most entry-level package doesn't support any MySQL databases or even PHP, so you won't be able to install a CMS like WordPress. You'll have to go for at least their Homepage A package to get MySQL databases hosted on an SSD-equipped server along with support for Perl, Python, SSI, and PHP 5.6 – 7.2.
Another downside is that 1blu doesn't seem to advertise an uptime guarantee, which makes their standards of service a bit suspect. They proudly proclaim that they achieved 100% availability, but the test they conducted was back in 2016 and only over a two-week period, which doesn't instill that much confidence.
Pricing and Support
1blu's prices are very affordable when compared to both German providers and international providers. They offer a variety of price points for beginner users all the way up to large-scale professional plans with significantly better features, although as previously mentioned, their entry-level plans are extremely limited in developer capabilities.
1blu offers a low price per month, which increases after 12 months if you renew. However, they don't force you to take up a contract longer than 12 months. All contract lengths and terms are the same: 12 months paid upfront, with a one month cancellation period. Contracts are automatically renewed for a subsequent 12-month period unless cancelled by the client. They don't offer monthly contracts, nor do they offer free trials or money back guarantees.
Sadly, I was disappointed with their customer service options as they don't offer live chat. They provide email, phone, and fax support from 8 AM to 8 PM on weekdays. Despite sending several emails for support, I didn't receive a timely response. Ideally, I would prefer to have the option of contacting support through live chat for instant responses to my questions.