100WebSpace has grown enormously since it was established over a decade and a half ago, in July 2004. To date, it has served over half a million customers worldwide and it leverages its global data center locations to target individuals and businesses at the international level.
Besides offering website solutions on a budget, it also registers domain names and you can start your online journey with its free hosting offering.
Features and Ease of Use
Its website sells a range of online products, such as cloud hosting, VPS, and dedicated servers and the services incorporate the following basic features:
Multilingual control panel
One-click app installer
24/7 customer support
Dedicated IP address
Shared SSL IPs
MySQL databases
PHP selector: versions 4,5, and 7
Let's Encrypt SSL certificates
phpMyAdmin for database access
100WebSpace hosting solutions are hosted on the cloud, and aside from the free hosting plan that is offered at no cost, the other budget-friendly hosting solutions come with increasing resources and include Bannerless, Personal Package, Personal Pro, and Business package.
All of the hosting services are assigned quite a list of advanced security features: ModSecurity firewall to detect and prevent online attacks, IP blocking for blocking connections from specific IP addresses that are considered hostile, and hotlink protection that allows you to protect your bandwidth by disallowing other domains from linking to your CDN content.
Its servers are equipped with SSD data caching technology as well as website accelerators to help boost the performance of your website for faster access by your visitors.
The servers are offered in multiple locations across several continents, in the U.S., the U.K., Australia, Finland, and Bulgaria.
Pricing and Support
As alluded to earlier, 100WebSpace web hosting solutions are somewhat budget-friendly and before you purchase, you first sign up for a 30-day free trial.
Unfortunately, the hosting solutions are only offered with 12-month payment options but as a compliment, you can request a refund within 30 days if you are dissatisfied. Prices are listed in U.S. dollars but you can convert to other currencies: Australian dollars, Canadian dollars, euros, or British pounds.
The apparent uptime guarantee of  99.9% seems to match the industry-standard uptime.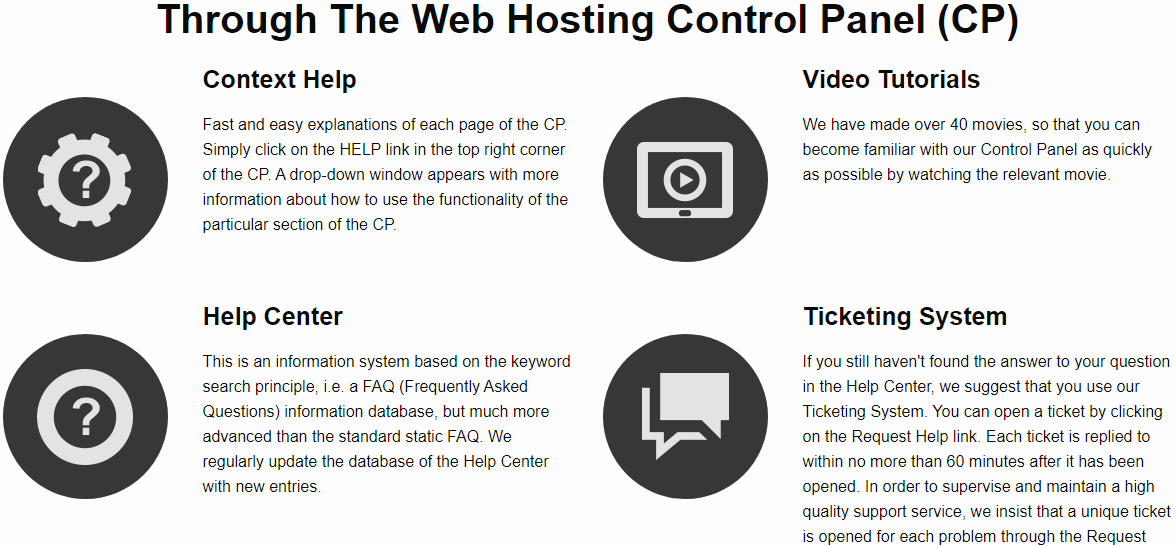 If you need assistance, reach out to this vendor's 24/7 support desk by using the contact form and calling them (limited to inquiries regarding dedicated and semi-dedicated accounts). While the vendor provides support through email and a ticketing system, these options are exclusively accessible to current clients. Live chat support is not provided by the vendor. Feel free to connect for any help you require.
Alternatively, on your control panel, you can access FAQs, video tutorials, and help documents.
It has a knowledge base, but with only four articles available.