While not too much information is publicly available on 0-Ring, they've been around and providing hosting services since 2013. They are based out of Cyprus, but through their own infrastructure and partnerships can provide hosting out of data centers in global locations with support for a number of languages. Their offering mostly revolves around cloud and dedicated server space with high security.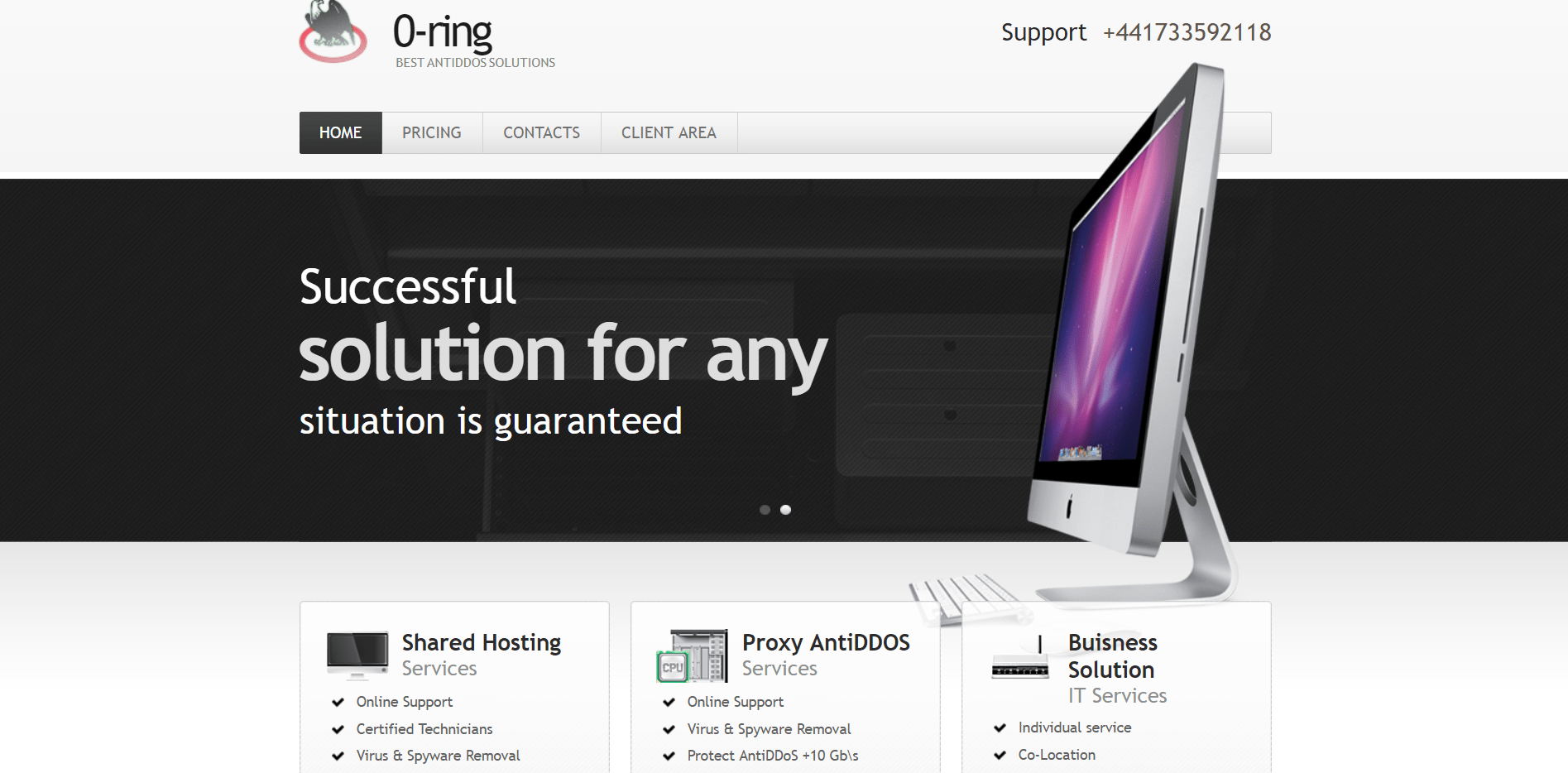 Features and Ease of Use
While they don't provide the most comprehensive list of features and services, 0-Ring certainly covers the basics:
Domain registration
SSL certificates
Backups
Anti-DDoS attack protection
Note that none of these are included as part of their hosting packages, however.
Their wide range of server options also cater to a broad audience:
Co-location: Through partners and their own infrastructure, they provide backups and co-located servers across a number of international locations.
IT Services: 0-Ring provides a number of business-related IT services to support customers using their hosting to audit or improve performance.
The 0-Ring website is almost too basic, which can make it hard to navigate and find what you want. However, they do present their wide range of products in an easy-to-digest manner. Signup is also a very straightforward process. 0-Ring doesn't provide too much in the way of pre-installed software, so you might need to do a bit more of the legwork yourself.
They're also not terribly beginner-friendly, given their slant towards offshore hosting to appeal to tech-savvy, security-conscious customers. There are no value-added features for novices, such as website builders or one-click app installers.
Pricing and Support
0-Ring provides a decent range of hosting solutions for shared web hosting and VPS hosting in specific locations. Their billing terms range from monthly, quarterly, biannually, annually, biennially, and triennially with discounted prices and free domains sometimes included with longer billing periods.
Note that you'll be charged a small setup fee for your hosting account. They also offer a 15-day refund policy, though this isn't readily advertised and you'll have to contact them in writing to request for it. In line with their status as an offshore host, you can pay using a number of methods, including Bitcoin.
Shared Hosting: All packages come with unlimited traffic and databases.

Shared-DorWay: 1 GB storage, 15 domains, and 15 FTP accounts.
SatelitPlan: 3 GB storage, ten domains, and 15 FTP accounts.
White 10G: 10 GB storage, 15 domains, and 15 FTP accounts.
White Unlimited: 25 GB storage, and unlimited domains and FTP accounts.

Linux VPS: For this, you can choose a configuration using a slider that ranges from 1 to 4 GB RAM, 40 to 160 GB storage, 1 to 4 TB bandwidth, and one to 20 IP addresses. Data centers are located in the U.S., Germany, or the U.K.
Windows VPS: There are two products located in the same data centers as the Linux hosting and with Intel Xeon processors:

VPS – Windows XEN-1: 1 GB RAM, 40 GB storage, and 1 TB bandwidth.
VPS – Windows XEN-2: 2 GB RAM, 80 GB storage, and 2 TB bandwidth.

Servers: They provide a number of server options for specific purposes, such as adult content. There are 13 options to choose from with very different configurations and prices.
Offshore Servers: 0-Ring also offers a number of international servers hosted in different countries such as Russia, Chile, Costa Rica, and Cambodia.
Support by 0-Ring is only offered via a ticketing system or the phone. While not great, their support isn't terrible either. Their response times are usually within the same day, which is not too bad. Unfortunately, they provide very limited self-help resources that appear to be updated at a slow pace. Additionally, their announcements and social media accounts aren't very active.