Zoho Projects is dedicated solely to online project management, and it does a good job of helping you organize tasks and keep track of your clients
. It's a very affordable option that's well suited to small and medium-sized teams. But it's not necessarily the best option for larger teams or more complex tasks.
monday.com is much more versatile. It's equally well equipped to deal with simple and complex projects, and it has the features to accommodate a team of any size.
It also offers broader functionality than Zoho Projects. For example, aside from managing projects, monday.com can help with day-to-day business tasks like fixing technical bugs and answering customer queries. After thoroughly testing both platforms for myself,
I found monday.com to be a better project management software overall
, even if Zoho Projects is a worthy competitor.
Try out monday.com's 14-day free trial
or read on to find out more about each software's pros and cons.
Features
monday.com Has a Wider Set of Features To Help You Streamline Your Work
Zoho Projects has a rock-solid set of project management features, but monday.com provides more tools to optimize your workflow and boost your productivity. For example,
Zoho Projects offers just two ways to visualize your tasks: the Gantt chart and Kanban view
. The Gantt Chart displays every step of your project in a timeline, while the Kanban view shows your tasks as cards that you can categorize as open, in progress, in review, etc.
With monday.com, you get many more visualization options – enough to suit every preference. There are 9 different ways to see your tasks
, including Kanban, Gantt Chart, Workload view, Map view, and more. These views let you digest project data in different ways, with each team member able to switch to the view that works best for them.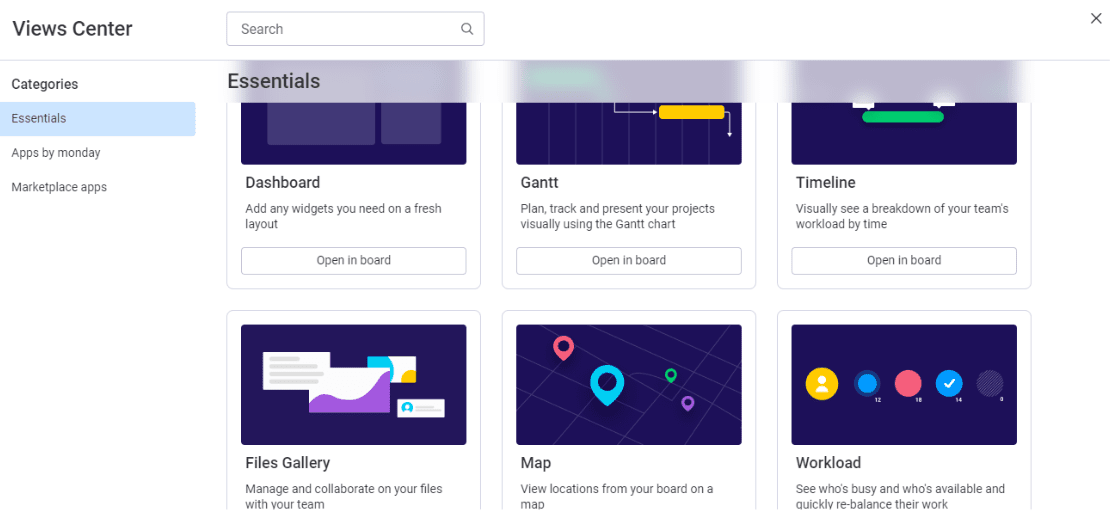 Unfortunately,
Zoho Projects doesn't provide project templates on the free plan.
If you want access to templates for creating tasks and projects, you'll need to upgrade to the Premium plan to get access to 20 unique templates. If you opt for the Enterprise plan, you'll have 30 project templates to choose from. In contrast,
monday.com's free plan offers 200+ templates to help you get started
. These templates cover several niches, such as portfolio tracking, campaign planning, and team tasks.
Project templates by monday.com are also more functional and better-looking than those offered by Zoho Projects
– just look at the colorful designs below.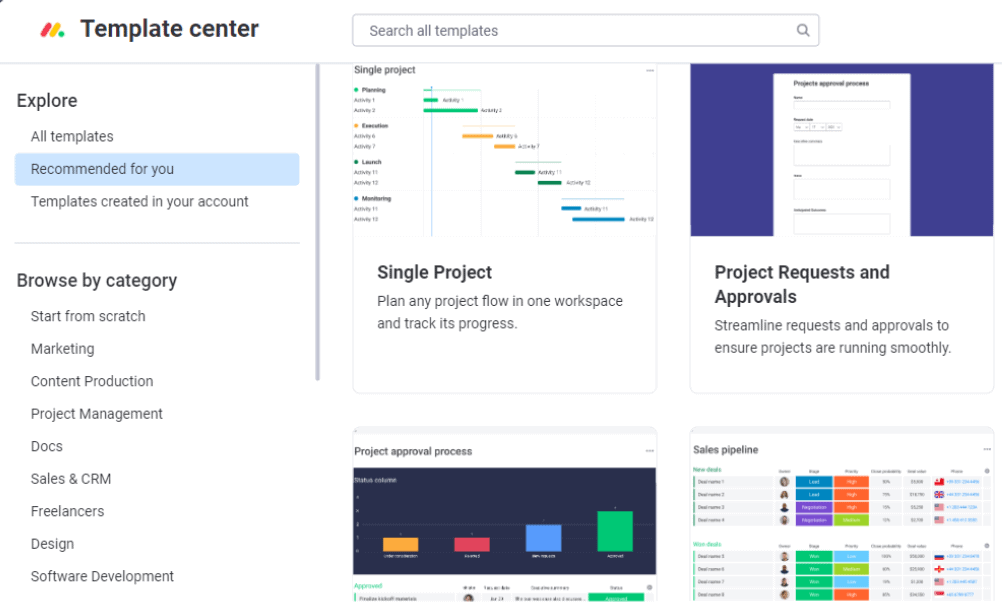 The ability to create automations with your project management software can save you a ton of time spent on tedious tasks, as well as reducing the risk of human error. On this front,
Zoho Projects offers the blueprint feature, which lets you define every step of a particular work process
. You only need to create a blueprint once, and you can then apply it as needed. However,
monday.com takes automation to the next level with the ability to set advanced rules for creating tasks, sending notifications, updating statuses, and more.
If this sounds intimidating, don't worry – many automation options come with common triggers and actions already built-in, so setting them up is surprisingly simple. Both Zoho Projects and monday.com let you add third-party apps to get more functionality, with each offering 40+ apps for popular tools like Slack, Dropbox, and Google Calendar. That said,
monday.com has integrations for some big names that Zoho doesn't, including Stripe, Mailchimp, and Spotify
. Overall, though Zoho Projects' features blend together really well (and can certainly help to improve your team's efficiency),
monday.com offers more diverse and more advanced ways to manage your projects
. You get more templates, task views, and automation features, so you can optimize your team's workflow in no time.
Ease of Use
Zoho Projects Is Pretty Easy to Use, but monday.com Is More Beginner-Friendly
While
setting up a Zoho account is quick and simple
, its interface can be a bit tricky to navigate. Basic functions like creating tasks and switching views are easy to execute, but more advanced tools like blueprint can take some time to find because they don't always have their own section. All too often, you'll need to click through various submenus to find them.
In contrast,
monday.com's clean and intuitive interface
makes it easy to find what you're looking for, even if you've never used project management software before
. You can access all the main features, such as your inbox and tasks, straight from the left-hand panel menu. Prominent icons and big buttons mean you'll never have to look long to find what you need.
You also get better in-app support with monday.com
. If you get stuck, there are plenty of built-in tutorials to help you get back on track. You can also click the
Help
button on the left-hand panel to quickly access the Help Center.
When it comes to customization, both platforms give you plenty of creative freedom.
For example, you can create custom dashboards to ensure that the most important information is prominently displayed for each project. You can also drag-and-drop widgets wherever you like. The main differences lie in the way each platform helps you organize tasks.
Zoho Projects uses the milestone system, which lets you break down every project into smaller chunks
– milestones, list tasks, tasks, and subtasks.
monday.com takes a different approach, using workspaces and boards to help you keep track of projects
. Boards are composed of groups (for segmenting information), columns (for displaying data), and items (which are individual tasks).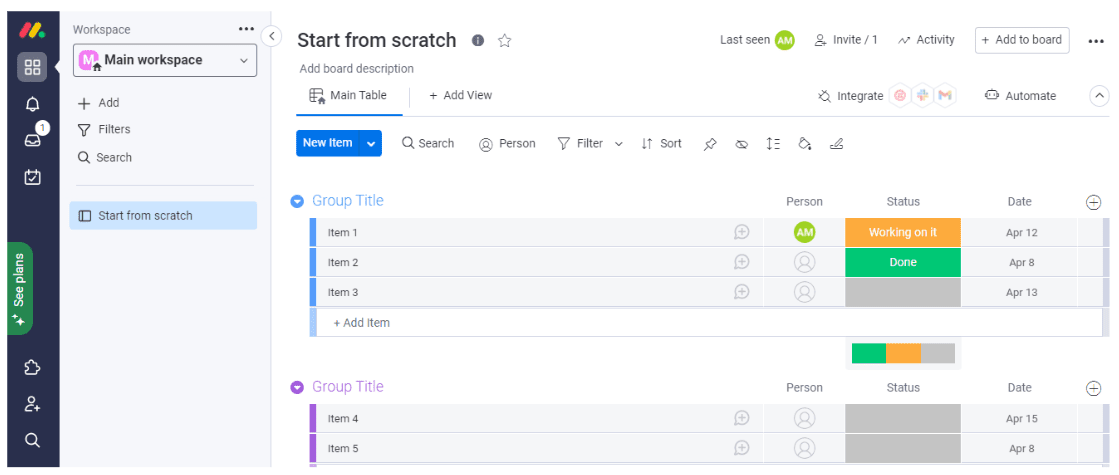 Both methods allow you to get very specific, which helps in visualizing both the big picture and smaller details. Which you like best will come down to your individual preferences. Overall, both platforms allow you to organize every detail of your project with impressive ease. However,
monday.com offers superior navigation and has better in-app support to help you get started
.
Collaboration Tools
Zoho Projects Offers More Communication Channels but monday.com Has a Better Mobile App
For real-time communication,
Zoho Projects offers a built-in chat function
. This lets you communicate with individual users or entire groups within your team. For long-form discussions, you can create forums where team members can ask questions, post comments, and tag each other. You can also
connect with your team members via the Zoho Meeting app, available in Zoho Projects' App Market.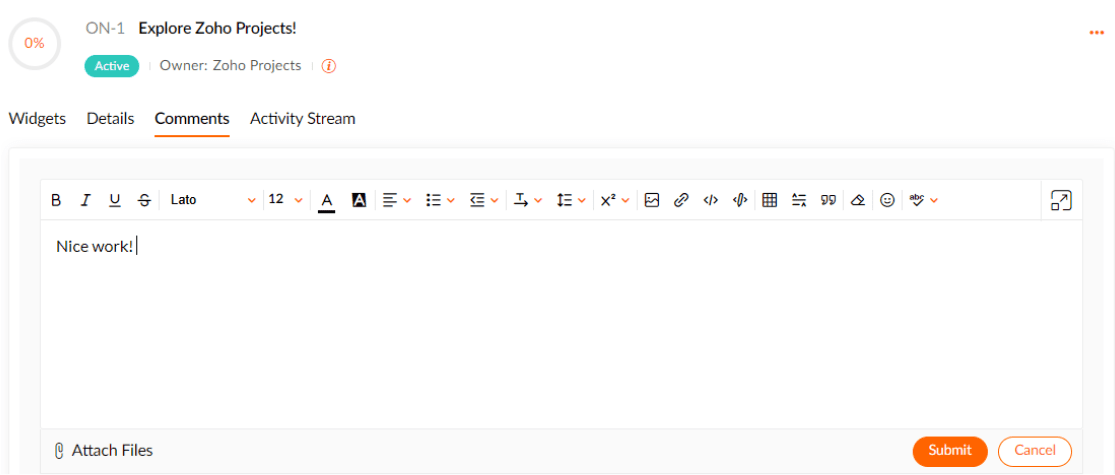 monday.com doesn't have a built-in chat feature
, so the majority of communication is done through discussion threads. You can comment, give thumbs up, and mention individuals or entire teams. You can also invite clients to view information about their projects. And if you want to enable direct messaging, you can always integrate a third-party app like Slack.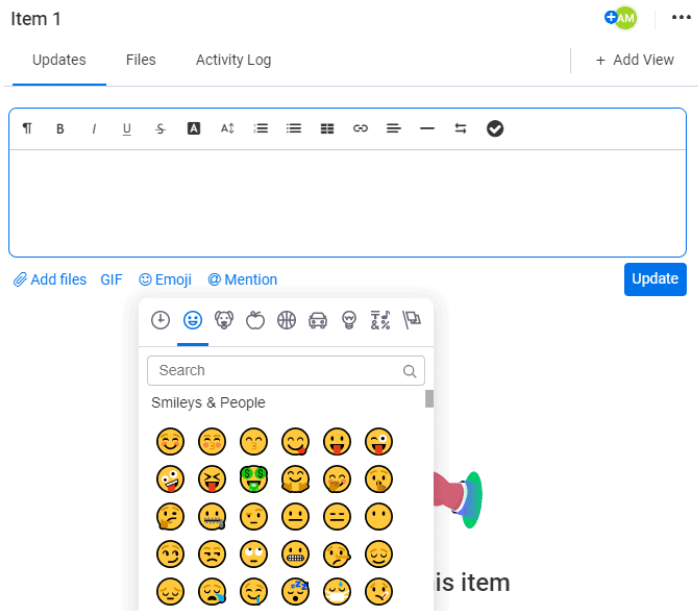 Both Zoho Projects and monday.com allow you to upload files from your desktop or online storage services like Google Drive and Dropbox. You can attach files to almost anything, including tasks, projects, forums (in Zoho Projects), and statuses (in monday.com). Still,
monday.com makes it easier to communicate via file sharing
. Thanks to its annotation feature, you can add and reply to comments on any document. Zoho Projects offers a mobile app that lets you edit tasks and log work hours, but that's pretty much all the functionality you'll get.
You can do so much more with monday.com's mobile app,
like accessing inbox and dashboards on the go, editing project columns, creating new tasks, and more. Though both platforms offer strong collaboration tools,
monday.com's fantastic mobile app and greater file storage help to give it the edge.
Pricing
Zoho Projects Is Cheaper, but monday.com Provides Better Value
Zoho Projects is among the most affordable project management software out there
, especially when you consider the quality of its service and the number of available features.
Zoho Projects offers a free plan
 and two paid plans – Premium and Enterprise. It's no secret that monday.com is more expensive than Zoho Projects, but you also get more features off the bat.
monday.com also offers a free plan
 alongside its four paid plans – Basic, Standard, Pro, and Enterprise – any of which you can try out with a 14-day free trial.
Here's What You Get for Free
Zoho Projects' free plan is designed for teams of up to 3 people, although it's a good option for freelancers as well. That said,
the features are definitely more restrictive
: you can only create 2 projects, you can't access project templates, and you can't edit your project in the Gantt Chart. However, you do get all the basic tools, such as task management, document sharing, and a messaging app. monday.com's free plan supports up to 2 users and includes some impressive features, like a huge template library, two project views, and a powerful mobile app. You'll also get unlimited boards and documents. Even so,
the free plan still lacks most of the coolest features that make monday.com stand out
.
Here's What You Get When You Pay
Zoho Projects Premium and Enterprise plans offer plenty of functionality for mid-sized teams. For example, you can create unlimited projects, get advanced task and issue reports, and access more advanced features like blueprints and time tracking. What's more,
Zoho's most expensive plan, starting at

$

9.00

, is still cheaper than almost any other similar software
. monday.com's Basic plan comes with up to 5GB of file storage and prioritized customer support, but
at
$
10.00
, the Standard plan probably offers the best balance between price and features
. This unlocks three additional task views, as well as automations, integrations, and guest access. The Pro plan gives you access to up to 25,000 automation and integration actions per month, all project views, formula columns, and time tracking. Though monday.com is more expensive than Zoho Projects, it's still very much affordable, plus you get a wider selection of tools for your money. All things considered,
monday.com is easily worth the extra cost if you manage a larger team or deal with more complex projects
. Here's a comparison of Zoho Projects' and monday.com's comparable Premium and Pro plans, so you can see the differences for yourself.
Zoho Projects Premium Plan
monday.com Pro Plan
Starting Price

$

4.00

$

16.00

Max number of users
50
Unlimited
File storage
100 GB
100 GB
Types of task view
Calendar/Kanban/Gantt view
Calendar/Kanban/Gantt/Timeline/Map/Chart view and more
Project templates
30
200+
Time tracking

✔

✔

Number of dashboards you can create
Unlimited
Unlimited
Support
monday.com Has More Responsive Live Support
Both Zoho Projects and monday.com offer extensive support documentation on their websites that includes articles, tutorials, and webinars on all sorts of topics. That said,
monday.com's knowledge base is better structured, so it's easier to find what you're looking for.
When it comes to live support channels,
Zoho Projects offers live chat, email, phone, and Twitter support
. I sent an email with a question about user permissions and got a reply in less than two hours, which isn't bad.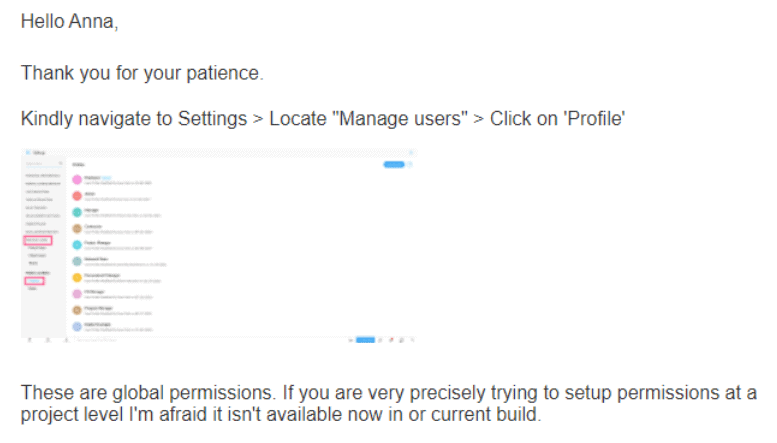 When it comes to live support,
monday.com only offers a ticket/email system
. I was disappointed by the lack of live chat support at first, but the response I got via email arrived in only a few minutes and was extremely helpful.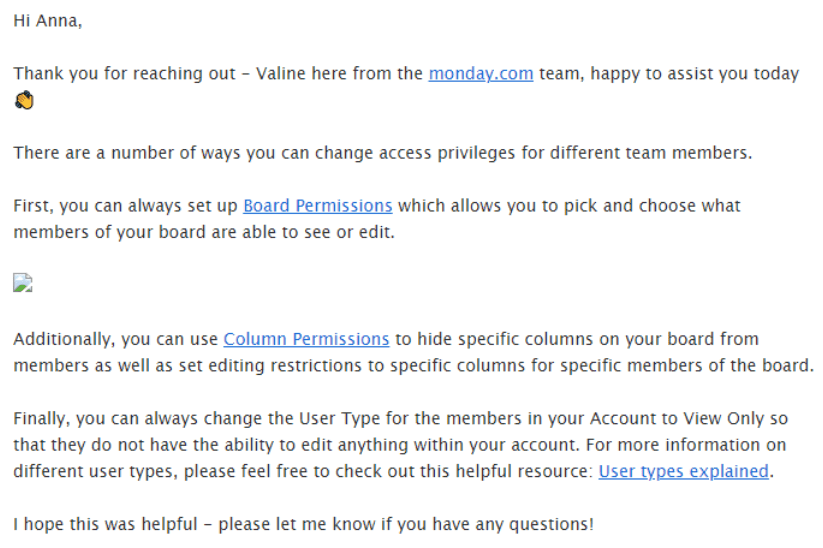 Based on my interaction with both customer support teams, it seems that
monday.com is more responsive and its agents provide more detailed answers
. It's always nice to see someone put genuine effort into answering your question fully.
Zoho Projects Put Up Good a Fight, but monday.com Is the Clear Winner
monday.com is a customizable and versatile tool
that can help optimize your workflow whatever your team's size. It's also a great option for managing projects of any size and complexity, whether that's just organizing your personal work tasks or managing a multi-pronged marketing campaign. However, if you have a small- to medium-sized team or a limited budget, Zoho Projects remains a solid option. It offers most of the essential project management and collaboration features you're likely to require at a reasonable cost.
Features
Decent set of project management tools
Extensive set of project management tools
Ease of Use
Easy to set up, but it takes some time to get used to the interface
Clean interface, easy to use even if you're a beginner
Collaboration Tools
Multiple ways for teams to collaborate, including chat and forum; basic mobile app
Communication via discussion threads and file sharing; fully-featured mobile app
Pricing
A basic free plan and two affordable paid plans
An impressive free plan and four great value paid plans, each with a 14-day free trail
Support
Support documentation

Community forum 

Live chat support

Email support

Phone support
Support documentation

Ticket/Email support
FAQ
Is Zoho good for project management?
Zoho Projects has a strong set of project management features that are well-suited to smaller teams. If you run a larger team or deal with more complex tasks, monday.com is a better option due to its broader set of features.
Is monday.com good for large projects?
Monday.com is easy to use and is a great choice for larger teams or anyone dealing with complex projects or workflows. You get a ton of tools to automate workflows – more than almost any other project management software.
Does monday.com have Gantt charts?
Yes, monday.com offers Gantt chart view on its Basic plan and up. You also get several other visualization options, such as Kanban, File view, Timeline view, and more.
Iz Zoho Projects easy to use?
Zoho Projects isn't difficult to use, but its interface isn't the most intuitive either, so it can take some time to learn. If you're looking for a more beginner-friendly alternative, check out our list of the best project management software in 2023.