Embarking on the journey of forming a Limited Liability Company (LLC) can be an exciting yet daunting task for any aspiring entrepreneur. As someone who owns my own business, I understand the importance of selecting the right LLC formation service that aligns with your unique requirements. In this in-depth comparison, I'll look at two prominent players in the industry: ZenBusiness and Northwest Registered Agent.
Both offer similar services, but with different add-ons and varying price points, it can be challenging to know what's best for you.
I break down the differences between these two in some key areas like features and pricing. While both are solid choices,
I found that ZenBusiness is ultimately the best for most new businesses.
Its free plan comes loaded with a ton of great features, and the ability to add on even more makes it a great value to suit any budget.
Features
ZenBusiness' Extra Features Go Above and Beyond to Make Starting Your Business Painless
Both ZenBusiness and Northwest Registered Agent offer a range of features to help you form your business with ease, though not all those features will be included in the standard packages.
ZenBusiness provides a range of filing times from the free standard option of 2–3 weeks to the rushed option of 1-2 days if you need an LLC formed quickly.
On the other hand, Northwest Registered Agent's same-day filing comes standard, although there's no free package available. Just keep in mind that the actual processing times depend on the state you're in, and the times mentioned don't include the duration taken by state authorities, which can vary.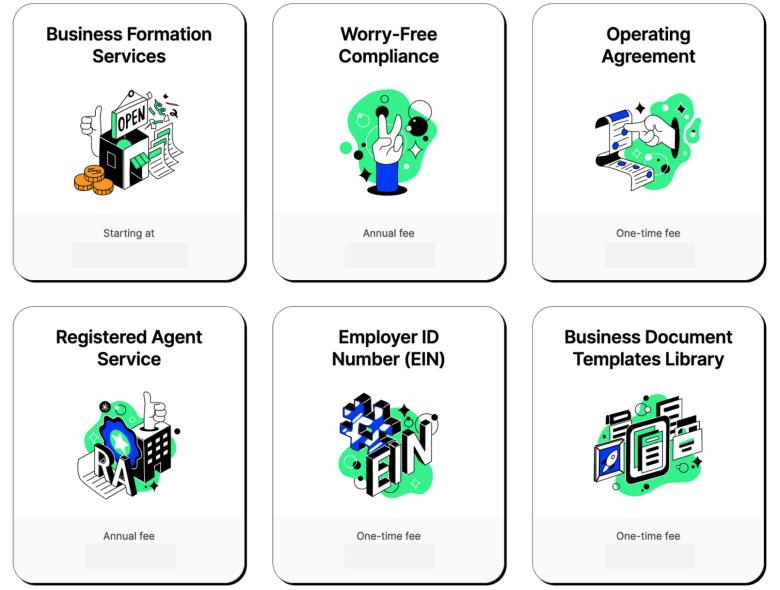 Beyond
 filing times,
both have options to enhance your LLC formation process such as helping you receive your Employer Identification Number (EIN)
.
ZenBusiness includes this with both of its paid plans, while Northwest Registered Agent offers it as a paid add-on.
Plus, both ZenBusiness and Northwest Registered Agent offer Registered Agent services, which means you'll have someone reliable to handle all the important legal documents for your LLC. But here's where ZenBusiness takes it up a notch: It offers a free tax consultation service included in all packages, which I think is incredibly valuable. Having expert advice and guidance can make a world of difference, especially if this is your first business. You also receive a Worry-Free Compliance service with all plans, at least for the first year. (The Starter plan only includes the service for the first year, after which you'll have to pay.) This service sends you automatic filing reminders to help keep your business compliant. We'll discuss this more in a bit. Additionally,
ZenBusiness also provides domain registration services
,
along with business email services, so you can seamlessly establish your online presence
. While this is an additional cost, it's really convenient because you can take care of both forming your LLC and securing your online identity in one place. Finally, ZenBusiness also offers a grant program for its small business customers. It gives out 40 grants worth $5,000 each per year. It shows ZenBusiness' true dedication to helping small businesses get ahead.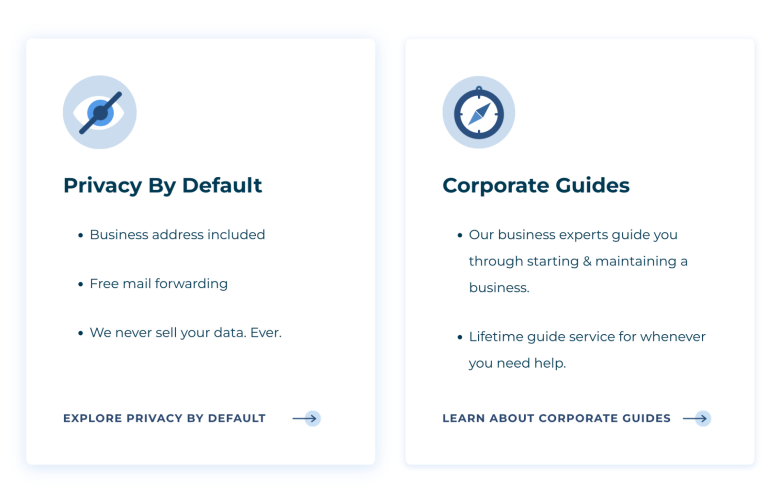 Northwest Registered Agent isn't as feature-rich but does have several helpful add-ons. First, it has an office in every state, which means it can offer state-specific support and expertise and can act as your Registered Agent, if needed.
Additionally, Northwest Registered Agent promotes Privacy by Default,
ensuring it will never sell your data and setting standards to protect your privacy.
In the end, it's important to consider your specific needs and preferences when choosing between ZenBusiness and Northwest Registered Agent.
Both have their strengths, but I was particularly impressed with ZenBusiness for its business-friendly features.
Even its feature-rich free plan is a good option for new businesses looking for more than just the typical free, no-frills service.
Ease of Use
Both are Easy to Use, but ZenBusiness' Step-By-Step Guided Process Is Ideal for Simplicity and Accuracy
For user-friendly experience and simplicity when forming an LLC,
I found that while Northwest Registered Agent isn't complicated to use, ZenBusiness overall is much simpler.
Right from the start, the website is easy to navigate and has a clean, visually appealing design.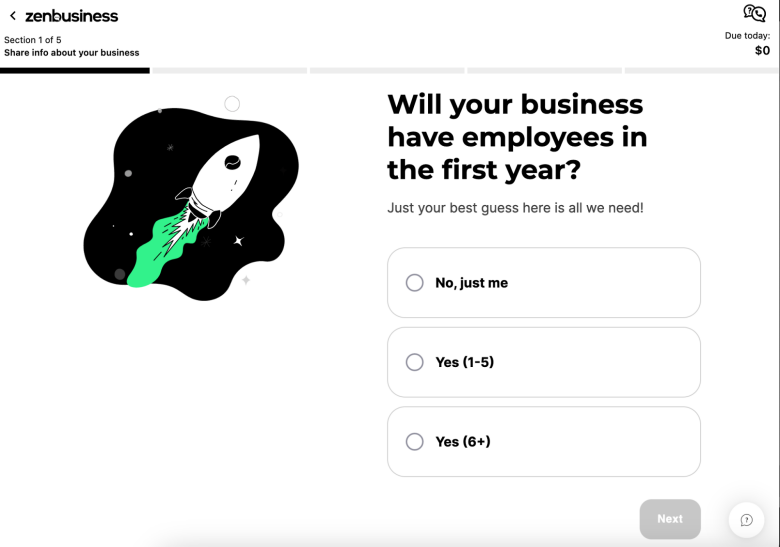 But what really sets
ZenBusiness apart is its engaging sign-up process
.
It uses an interactive questionnaire that guides you through a series of prompted questions while gathering all the important information about your business. For each question, the site provides helpful info, including a video, to help you decide if you need a specific feature. While this often consists of upsells, I didn't find it too annoying. Additionally,
ZenBusiness goes the extra mile by offering a Worry-Free Compliance service
. This feature helps you stay on top of important compliance requirements and deadlines, saving you valuable time and ensuring that your LLC remains in good standing. It's a time-saving feature that takes the stress out of managing compliance matters.
ZenBusiness also offers a user-friendly mobile app
that allows you to track your formation status, manage your business documents, and access a variety of other features like tax management. Being able to check your information on the go is a huge advantage and one of the reasons ZenBusiness shines. Comparatively,
the Northwest Registered Agent sign-up process lacks the same level of interactivity and engagement as ZenBusiness,
without much guidance from the site
.
This may work if you're relatively knowledgeable about LLC formation, but newer businesses may prefer the prompt help from ZenBusiness. It also pre-selects additional features like EIN services, which may be unnecessary, so if you don't want this, you'll have to manually deselect it before the final checkout.
What truly impressed me is Northwest Registered Agent's personalized Corporate Guides approach.
With physical offices in every state, it offers specialized and state-specific assistance. This localized support ensures that you receive accurate and relevant information tailored to your specific state laws and regulations. While ZenBusiness is definitely knowledgeable, Northwest Registered Agent's state approach goes further.
Another advantage for Northwest Registered Agent is that it offers LLC formation support in both English and Spanish.
It's a thoughtful feature that adds convenience and inclusivity, particularly if you're an entrepreneur who may not be a native English speaker and wants extra guidance when completing your online form. This was a difficult category to decide on. Both services are very easy to use and offer different benefits that may suit some businesses more than others. However, while Northwest Registered Agent's state-specific offices and Spanish language support are great features,
ultimately ZenBusiness' guided process and mobile app integration make forming an LLC much easier if you're a new business owner.
Pricing
ZenBusiness' Free Plan Offers a Lot of Value for Budget-Conscious Businesses
ZenBusiness has an attractive pricing structure with three subscription plans: Starter, Pro, and Premium.
The ZenBusiness Starter plan is free
 while still providing all the essential features for LLC formation, making it incredibly appealing if you're a budget-conscious entrepreneur.
If you need additional services like an Operating Agreement, a business website, or expedited filing, you can choose the Pro or Premium plan, which offers more advanced features, starting from
$
199.00
. It's worth mentioning again that
ZenBusiness' free plan offers more than your typical bare-bones free service and includes a guarantee of 100% accuracy,
 so if you're on a tight budget, it's a fantastic value.
Northwest Registered Agent operates on a different model with no free plans available.
Instead, it offers one basic plan that costs
$
225.00
with the ability to add on extra features, as needed. These add-ons can increase the overall expense, and it's important to evaluate if they're necessary for your specific needs. However, it's not one of the most expensive options on the market, and the ability to include Registered Agent services and a state-specific Corporate Guide may make the price tolerable for some.
The pricing options from ZenBusiness, especially with its free Starter plan, offer the best value for the price (or lack thereof).
The inclusion of essential features and the ability to customize with add-ons ensure that you receive a cost-effective and tailored solution for your LLC formation needs.
Northwest Registered Agent's one-off fee model
 can be attractive for its simplicity, but with no free option available, it can't compete with ZenBusiness. Check out the side-by-side comparison below comparing ZenBusiness' free plan with Northwest Registered Agent's basic plan:
ZenBusiness
Northwest Registered Agent
Price of the cheapest or most comparable plan (minus state fees)

$

0

$

225.00

LLC filing time on entry-level plan
2–3 weeks
Same-day
Registered Agents?

Paid add-on

✔

Compliance Assistance

✔

Paid add-on

Expedited option?

✔

✔

Operating Agreement

✘

(paid add-on)

✔

EIN Application Support

✘

 (paid add-on)

✘

 (paid add-on)
Additional Services
Domain registration, business license report, annual filing, business email address, and more
Mail forwarding, VoIP number, annual filings
Support
ZenBusiness Makes Support a Priority, With Plenty of Channels to Use
Both ZenBusiness and Northwest Registered Agent receive high reviews for the level of professional customer support they offer customers.
ZenBusiness provides reliable customer support via email, phone, and live chat during regular business hours from 8:00 a.m. to 8:00 p.m. CT, Monday to Friday.
It also offers weekend support, available on Sundays from 9:00 a.m. to 6:00 p.m. CT.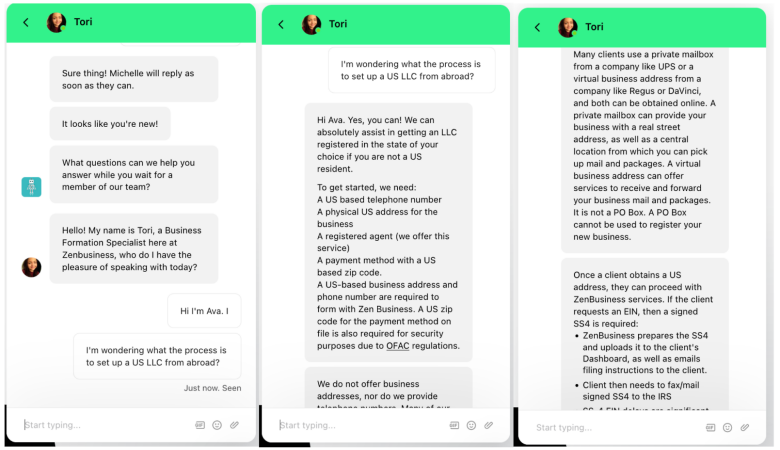 I started with ZenBusiness' live chat and was impressed with the level of detail the customer service agent provided in response to my question. I asked the agent if I could form a US-based LLC from outside the US, and she sent me an extremely detailed response. Additionally, I called and asked the same question. A different customer service representative gave me a similar answer on the phone and was extremely friendly.
She asked me about my business goals and offered suggestions as to which services I really needed, without being pushy.
At the end of the conversation, she said she'd send through some details by email. While I never received this, her guidance was great regardless. Northwest Registered Agent offers similar email or phone support, available from 6 a.m. to 4 p.m. PST, Monday to Friday.
There's also a live chat function, but it seemed unavailable much of the time, even during business hours.
I was able to access it only once and asked the same question about forming an LLC from abroad.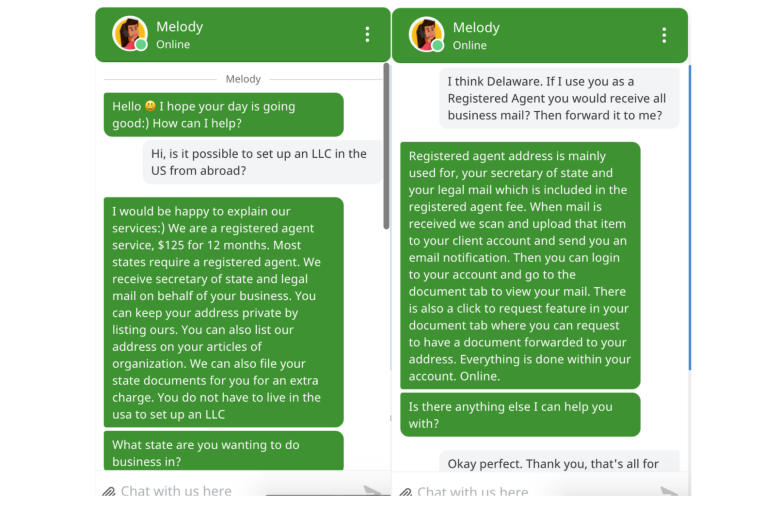 The response I got wasn't nearly as helpful or as quick as ZenBusiness' response.
However, the service representative still provided me with general information and answered all my questions in a timely manner. Outside of specific support,
both services also have a knowledge base and tutorials for self-help.
ZenBusiness offers a helpful Help Center on the website with a wide range of articles and resources that address common questions and provide guidance. However,
I found that Northwest Registered Agent excels in this area.
Its knowledge base is comprehensive, featuring detailed articles, FAQs, and an abundance of free templates and guides you can use. Based on my personal experience,
I believe that ZenBusiness surpasses Northwest Registered Agent in terms of customer support.
With multichannel support and exceptional responses, I felt confident in using its LLC formation services.
ZenBusiness' Robust Features and Affordable Plans Beat Out Northwest Registered Agent's
Neither ZenBusiness nor Northwest Registered Agent is a bad choice for your LLC formation.
Both are trusted, reliable services that offer convenience and accuracy when filing for the first time.
However, in my opinion, ZenBusiness is the better of the two. ZenBusiness' free starter plan is perfect if you're on a tight budget, plus you can always add any of the additional features if you're looking for a more robust business formation service.
While the free version takes a couple of weeks, it's a helpful step-by-step guide to ensure that your filing is filled out correctly, without hassle.
Northwest Registered Agent does have offices in every state,
plus DC, which is a huge plus. However, in the end,
that doesn't outweigh the abundance of features that ZenBusiness offers
. To see how the two companies stack up, check out this side-by-side comparison:
ZenBusiness
Northwest Registered Agent
Features
A plethora of add-ons to make your business formation easy
Some add-ons to boost your formation services
Ease of Use
Straightforward, interactive sign-up process with step-by-step guidance
Simple online form without much additional guidance
Pricing
Free starter plan with optional upgrades
One-time flat fee with add-on services
Support
Phone, email, live chat
Phone, email, live chat
FAQ
Is ZenBusiness a one-time payment?
No, ZenBusiness doesn't offer a one-time payment option for its LLC formation services. It operates on an annual subscription model where you pay for its services yearly. There are some one-time fees for certain add-ons or services, but the core LLC formation services are part of the annual subscription, including a free option.
Is Northwest Registered Agent more expensive than ZenBusiness?
Yes, Northwest Registered Agent is generally more expensive than ZenBusiness for LLC formation services. ZenBusiness offers a $0 Starter plan (excluding state fees), while Northwest Registered Agent has a higher starting price. Northwest Registered Agent's pricing structure includes a one-time fee for their services, which is typically higher than ZenBusiness' annual subscription plans.
Does Northwest Registered Agent or ZenBusiness offer a faster turnaround time for LLC filing?
Both Northwest Registered Agent and ZenBusiness offer expedited filing options for LLC formation, allowing for a faster turnaround time. With Northwest Registered Agent, expedited filing comes standard, though the actual formation times will depend on the state you file in.
Does ZenBusiness or Northwest Registered Agent offer better customer support?
Both ZenBusiness and Northwest Registered Agent are known for the great customer support they offer. Each company offers phone, email, and live chat support during normal business hours. However, I found that ZenBusiness is much more responsive and provided more detailed information.