As magical and brilliant as the Yoast SEO plugin is, it can't optimize your website content for searchability on its own.
(We wish!) Many WordPress site owners download Yoast SEO and simply let it sit in their plugins collection, just waiting and wishing it could go to work
for
them. Sound like you? Don't worry – we built this guide just for you. We're going to show you how to
use Yoast to improve your WordPress website's discoverability and relevance.
Let's jump in!
What Is the Yoast Plugin?
The Yoast SEO plugin is a WordPress plugin that helps search engines find your website content. It does this by
analyzing aspects of your WordPress content and offering suggestions
on how you can optimize it for searchability. The Yoast SEO plugin is available (and free!) for Business or e-commerce WordPress plans only. Unfortunately, Yoast isn't available for websites not on WordPress.
Yoast SEO is one of the
top plugins on WordPress
.
It's been around for more than ten years and literally has millions of active site installations. If you're feeling alone in your quest for better SEO — don't. There are tons of WordPress users out there on the same journey. Yoast also offers Yoast SEO Premium, a more advanced version of the Yoast SEO plugin. Yoast SEO Premium costs a relatively affordable one-time payment for use on a single WordPress website. If you have two or more websites, you can save a percentage by buying in bulk.
This article will focus mostly on how to use the free version of Yoast SEO.
Now, let's talk about how to install and activate the plugin. (If you're just starting out with WordPress, you may want to read our
expert review
 first.)
Installing the Yoast SEO plugin
There are a couple of ways to install the Yoast SEO plugin (if you haven't already). On your WordPress dashboard, open the Plugins page and click
Add New
at the top.

Search for the Yoast SEO plugin or look for it under the Popular section.

Click
Install Now
to add the Yoast SEO plugin to your WordPress site.

Once installed, click
Activate
. You should then see the Yoast logo added to your top and left-hand side menus.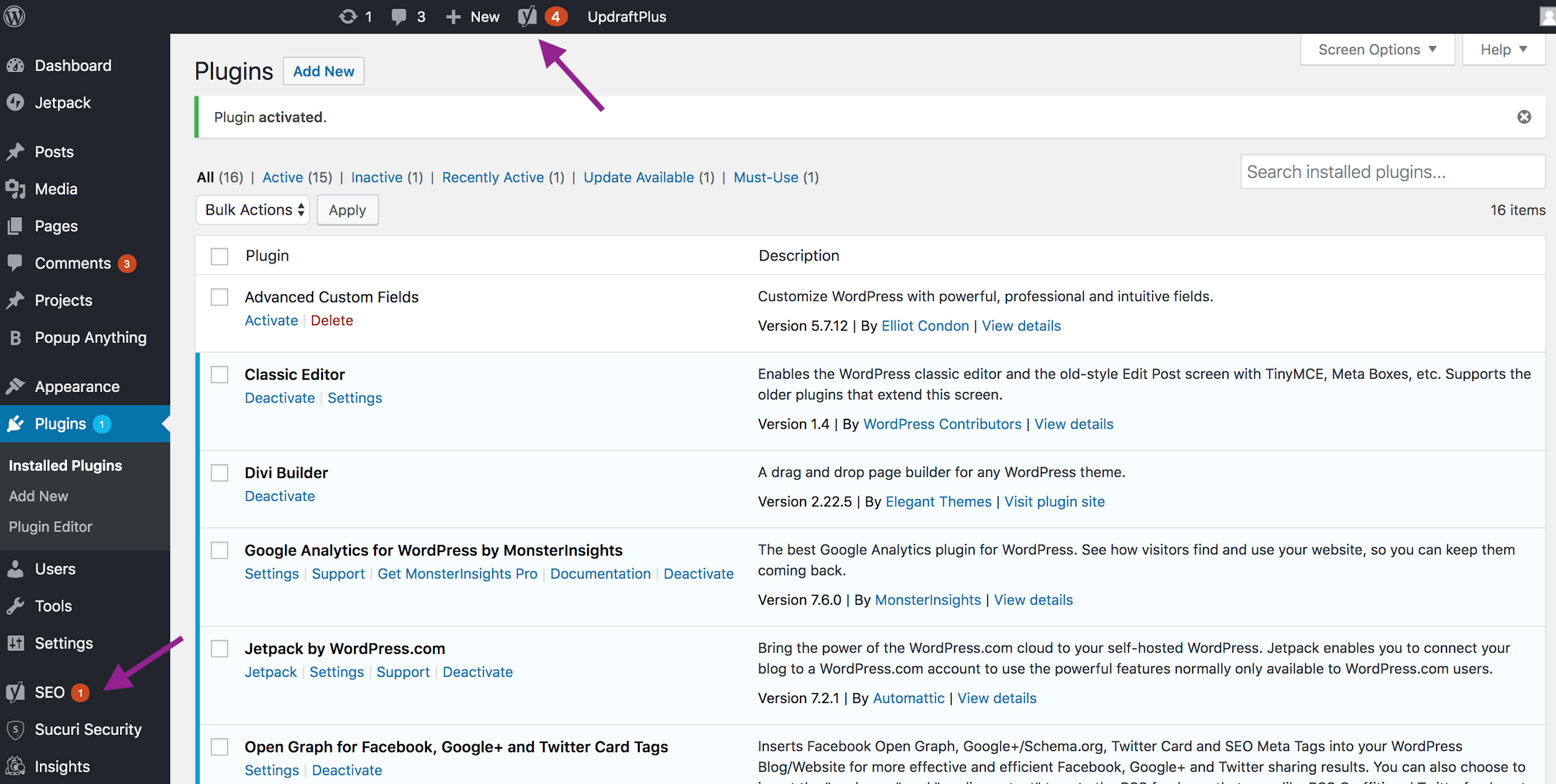 Activating the Yoast SEO Plugin
After you install and activate the Yoast plugin, head to either menu to access the Yoast SEO settings. Here, you'll be directed to start the Yoast SEO Configuration Wizard.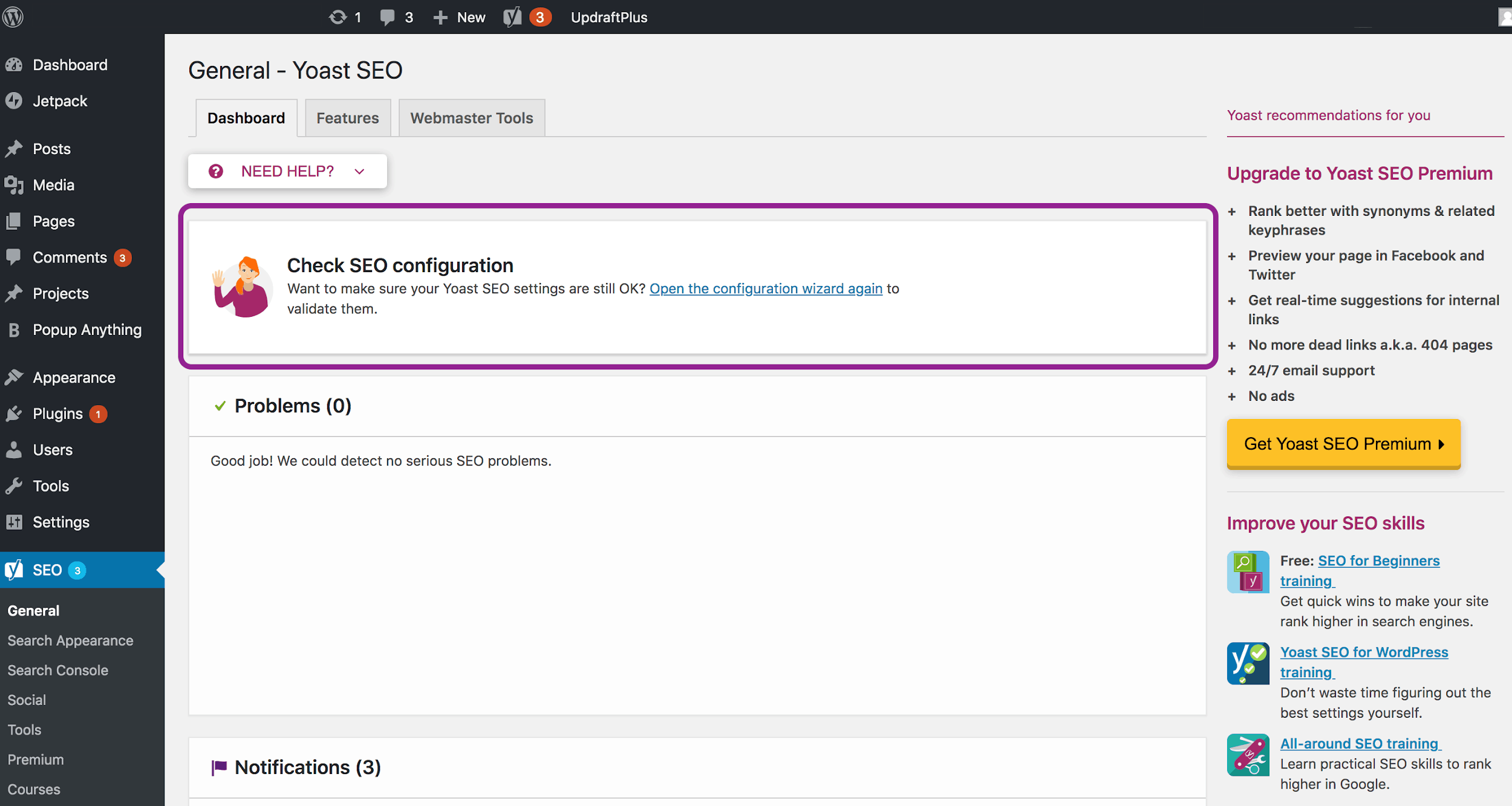 We highly recommend you walk through the Configuration Wizard
— Yoast provides a simple 12-step process to prepare and configure your website and Yoast settings for optimal SEO. (You can also choose to complete the Yoast SEO for WordPress training, which will give you the ins and outs of how to use the plugin.) That's how you install, activate, and configure the Yoast SEO plugin. Next, we'll dive into how, when, and why to use the plugin.
How to Use the Yoast SEO Plugin
Simply put,
the Yoast SEO plugin only works as hard as you do,
meaning that the more you learn about and master the plugin, the better your website's SEO will be. I'd say that's worth putting in the time and effort, wouldn't you agree? This section will give you a basic Yoast tutorial so you can better understand how to navigate the plugin as you create your website content. The first and most common use of Yoast is for on-page SEO. To see the Yoast SEO plugin in action, create a new post (or open an old one) in WordPress. Scroll down the page the see the Yoast SEO box displayed underneath the Visual Editor.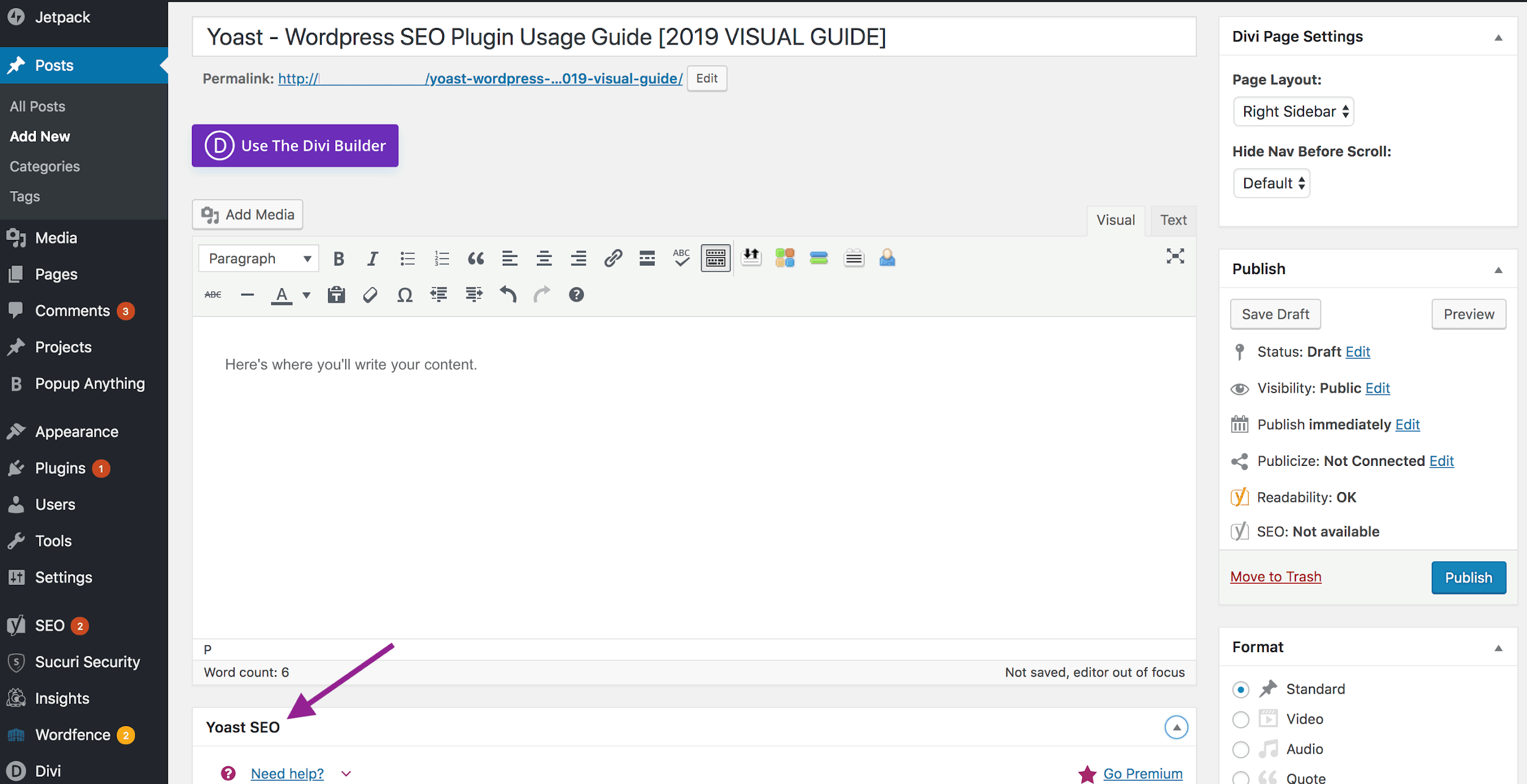 In this box, you'll see three menu tabs: Content Optimization, Social, and Advanced. We'll go over each in detail.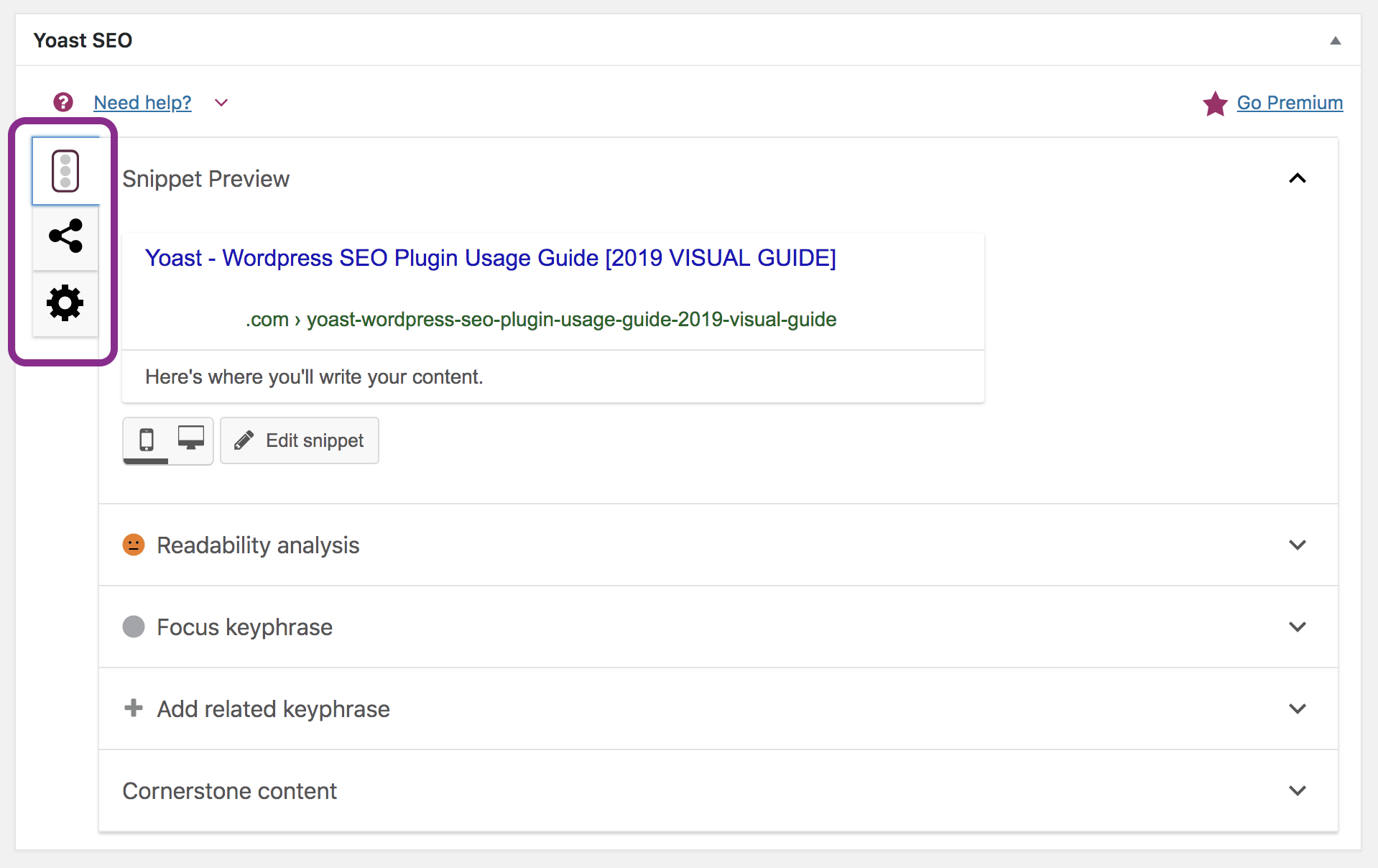 Content Optimization
Under the Content Optimization tab, you'll see four main sections: Snippet Preview, Readability Analysis, Focus Keyphrase, and Cornerstone Content. (You'll also see the option to add a related keyword, but that feature is reserved for Yoast SEO Premium users.) Let's take a look at what each section does. The Snippet Preview section
shows you how your content will look on search engine results pages
(SERPs) and social media shares. Click on
Snippet Preview
to open and edit your page snippet. Here's what you can change:
SEO Title: The title of your blog or webpage. Yoast will pull the title based on the settings you've chosen; you can update these settings or change the title within the snippet editor by clicking Insert snippet variable.
Slug: The URL for that specific blog or webpage. Yoast will use the title to create the slug, but you can change it to something shorter and sweeter.
Meta Description: A brief description of your blog or webpage shown on SERPs and social media. Yoast will pull an excerpt of your content based on the settings you've chosen. Again, you can change these settings within the snippet editor by clicking Insert snippet variable.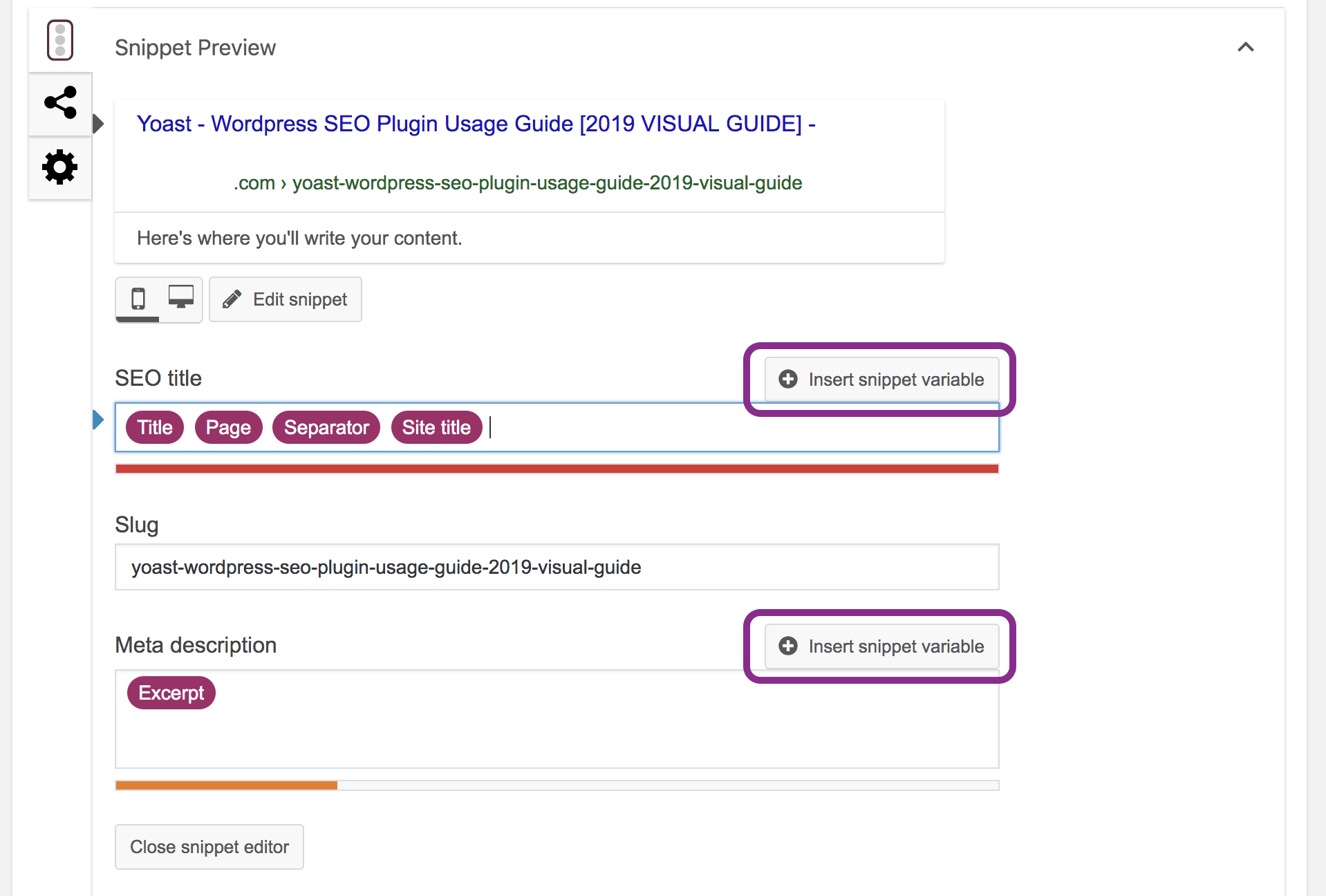 The Readability Analysis section is Yoast's "checkup" of your content.
It analyzes your page content for readability,
grammar
, and length.
Yoast populates this section as you write, so you don't need to refresh or check back for a new analysis if you change or update your content. (This example isn't reflecting a good score because I've only written sample content in the WordPress Visual Editor.)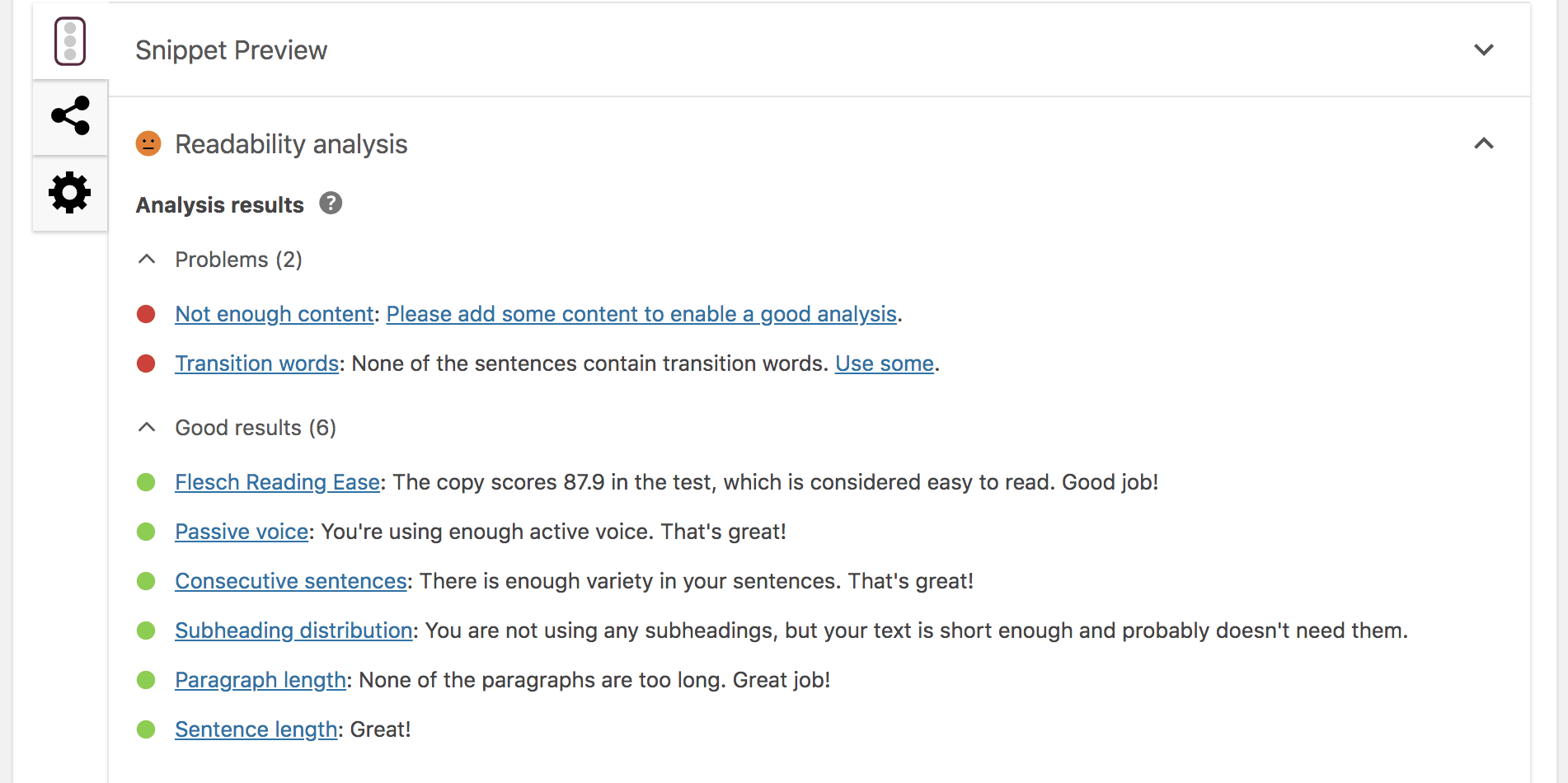 The Focus Keyphrase section is where you input the keyword or keyword phrase for which you're attempting to rank with that specific blog or webpage. This field isn't required, but we highly recommend you make use of this feature.
Yoast will analyze this keyword based on your content and tell you where you can use the keyword to improve your page's discoverability.
Yoast also checks your inbound and outbound links, image alt text, and snippet information, too. (Again, my content isn't scoring well because I've only written sample content in the WordPress Visual Editor.)
Note: If you want Yoast to analyze synonyms, plurals, past tenses, and related keyphrases, consider upgrading to Yoast SEO Premium.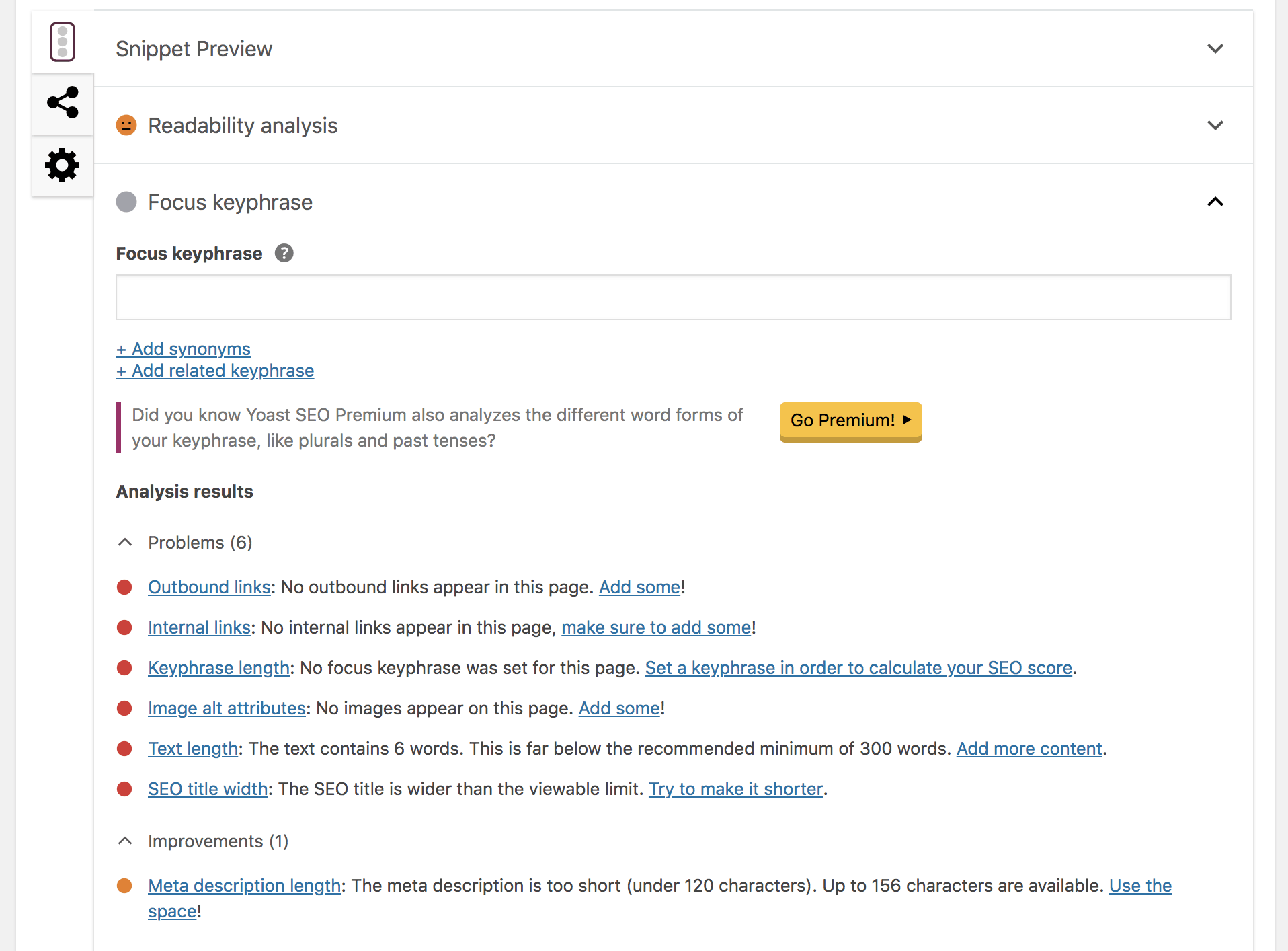 The Cornerstone Content section allows you to mark whether or not the page you're writing or editing is considered "cornerstone content."
This setting should be reserved for the most important, evergreen, and extensive content on your website, like ultimate guides.
Yoast uses this setting to structure your website's internal linking and ultimately make your articles easier to discover on search engines. Marking a piece of content as "cornerstone content" will also change how Yoast analyzes and scores your content.

Social
Under this menu tab,
you can edit or change how your post will show up when shared on Facebook.
If you don't want to use the post title, meta description, or featured image from the original WordPress content, you can change those settings here. You can also add your Twitter and Pinterest previews in the Yoast SEO settings under
Social
.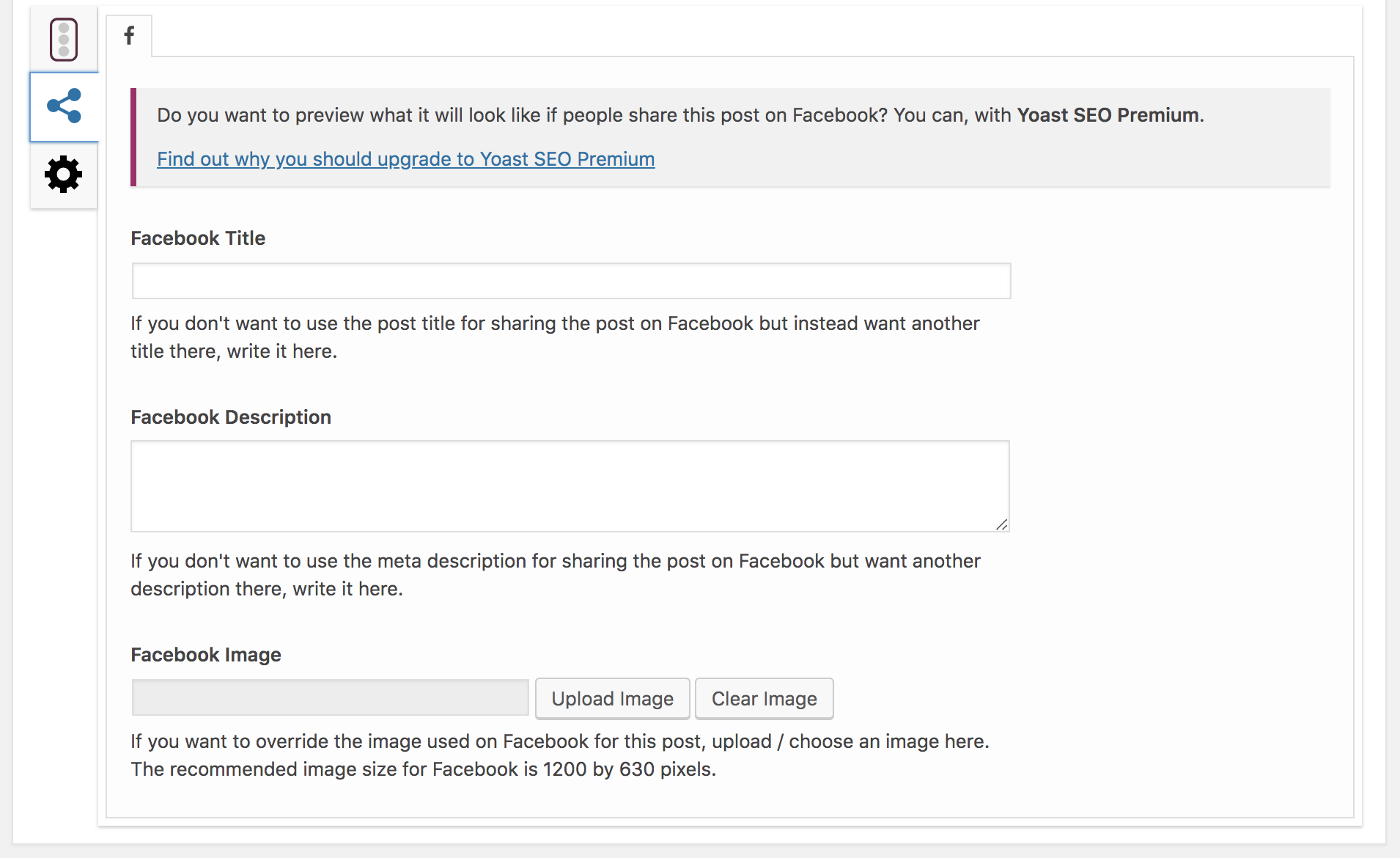 Advanced
Under this last menu tab, you'll find a few important SEO settings for your page. Here's a quick breakdown of your options:
Allow search engines to show this Post in search results? Basically, this is just asking whether or not you want that specific page to show up on SERPs. (Hint: You probably do.)
Should search engines follow links on this Post? This is where you can say whether or not you want search engines to reward backlinks to the pages to which you've linked on that specific page. (Hint, also probably yes.)
Meta robots advanced. This section is where you can indicate any specific meta robots for that page. This includes noimageindex, which prevents search engines from indexing image(s) on the SERPs; nosnippet, which prevents engines from showing a text or video snippet on the SERPs; or noarchive, which prevents engines from showing a cached copy of the page on SERPs.
Canonical URL. This section is where you can insert a canonical URL, which is a preferred URL that helps search engines know what page to pull when multiple pages share the same URL. If you leave this blank, search engines will default to the page permalink.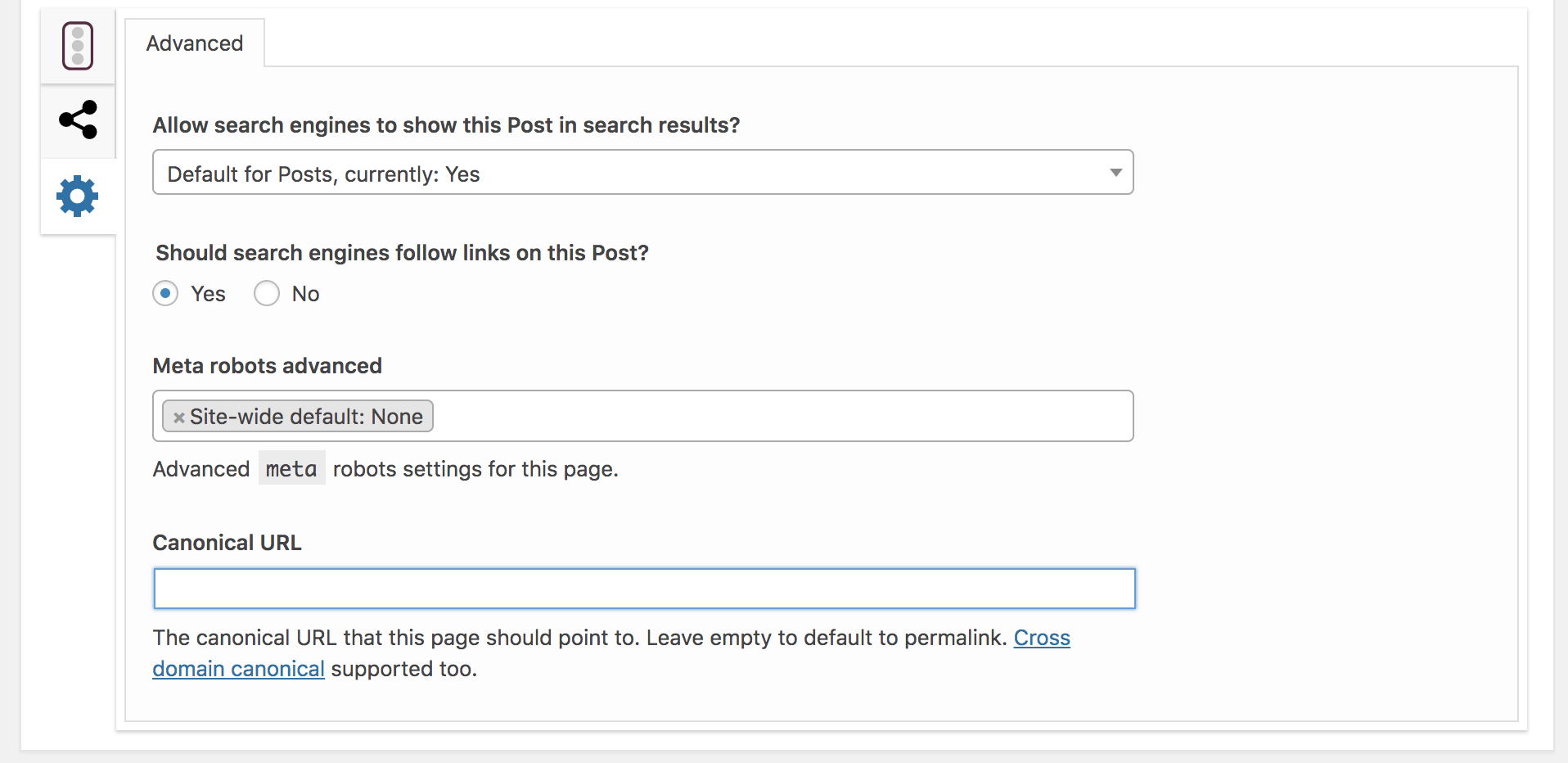 That's how you use the free Yoast SEO plugin to improve your on-page SEO when creating and editing your WordPress content!
When Should You Use the Yoast Plugin?
Like I said above, the Yoast SEO plugin has many uses and purposes. While improving your on-page SEO for new and existing WordPress content is a common use of the plugin, it's not the only one. You can also use it for:
Monitoring your (and your team's) writing skills, grammar, and overall content readability.
Checking and improving how your pages look when shared on social media.
Creating a strong site structure with cornerstone content, breadcrumbs, and internal linking.
Seeing how your site is performing on search engines and locating any crawl errors. (Connect the Yoast plugin to Google Search Console to do this.)
Organizing the responsibilities of your SEO and content teams by assigning different sections of the plugin to different team members.
Changing how your content looks on SERPs.
Editing lots of content at once (using the Bulk Editor tool).
Learning new things about SEO, keywords, structured data, and more (in the Yoast SEO settings under Courses.)
Benefits of Using the Yoast Plugin
The Yoast SEO plugin is
awesome
. If you're not already convinced that Yoast SEO is something you and your team should be using, let's summarize the benefits quickly:
Instead of saying, "Hey, improve your SEO," Yoast does a great job of telling you exactly how to do this in its Readability Analysis and Focus Keyphrase sections.
It runs its SEO analysis while you write. You don't have to click refresh or wait around for Yoast to complete a report.
There is a ton of help available within the plugin, which is accessible through a simple drop-down menu, so you don't even have to leave the WordPress page you're working on. There are also lots of free courses for you to improve your understanding of SEO, keyword research, structured data, and more.
It's free to use for WordPress users with Business or Enterprise plans. And if you want Yoast SEO Premium, you'll just need to pay a relatively low one-time cost per site, which is even cheaper if you buy in bulk.
The plugin allows you to easily add canonical URLs to avoid duplicate content.
You'll enjoy incredibly in-depth content and SEO analysis to make your content as relevant and discoverable as possible.
Yoast shows you exactly how your content will look on SERPs. With Premium, you can get social previews, too.
Improve your site navigation for visitors and search engines alike, by easily setting up clear and intuitive breadcrumbs.
Yoast SEO is truly an all-in-one SEO solution, which is great for both beginners and SEO veterans alike.
Now, let's compare Yoast with some of the other leading SEO plugins on the market.
Yoast vs. Other SEO Plugins
WordPress boasts a wide array of plugins, with literally tens of thousands available, including hundreds dedicated specifically to SEO. Certain plugins, like Yoast, provide comprehensive all-in-one solutions, while others concentrate on individual aspects of SEO, such as managing your meta description, handling URL redirection, or optimizing images. Within this section, our attention will be directed towards the all-in-one SEO plugins. How does Yoast stack up next to others? This table will help you easily compare your SEO plugin options.
| | | | |
| --- | --- | --- | --- |
| WordPress SEO Plugin | Cost | Benefits | Drawbacks |
| Yoast SEO | Free & Paid Options (Yoast SEO Premium requires a one-time fee for a single site license) | A true all-in-one SEO solution | Settings can be complex for a beginner, and you might need an extension or additional plugin to work with your site |
| All in One SEO Pack | Free & Paid (Pro version requires a one-time fee for a single site license) | Very beginner-friendly | Most functionalities are reserved for the paid, Pro version |
| The SEO Framework | Free | Free support for WooCommerce and other custom sites | Complex setup, not very beginner-friendly |
| SEOPress | Free & Paid (SEOPress Pro requires a relatively low cost per year for unlimited sites) | You don't need more plugins for it to work with other sites or media | Lacks a lot of functionality found in other plugins |
| Rank Math | Free | Very clean and easy-to-navigate interface | Young plugin with lots of bugs and repairs |
Yoast: Your Partner in SEO
If SEO is equivalent to the health of your website, then consider the Yoast SEO plugin your on-call doctor. By actively monitoring and analyzing your content, Yoast SEO helps keep your website healthy, discoverable, and relevant, which – if you put in the hours and effort – will lead to more traffic, followers, and conversions. More importantly, this is a tool that can
help you learn exactly what you need to do to keep your site healthy and active.
Sure, you can always turn to it for guidance, but after spending some time mastering the plugin, you'll be making stronger, more relevant content on your own, from the beginning.