Both Wrike and Smartsheet have powerful features to help you schedule and track work, but there are some important differences between them. The best option for you will depend on your individual needs. After testing the two platforms, I'd say that
Wrike is best suited for individuals and small teams
. It also has a clean and simple interface that gives you plenty of control over how your data is displayed. On the other hand,
while Smartsheet doesn't have as many visual customization options, it provides stellar efficiency.
It easily outperforms Wrike when it comes to creating reports and automating workflows, for instance. Smartsheet also lets you hold more information in a single place, making it a great fit for larger teams. I'd say that
Smartsheet is the overall winner, but Wrike put up a good fight
.
Try Smartsheet's 30-day free trial now
, or read on to learn more about each platform's pros and cons.
Features
Wrike Is a Versatile Tool, but Smartsheet Is Better Equipped for Large Projects
Wrike makes it easy to keep track of projects.
It's nicely organized around themed "Spaces" that contain nested folders, projects, and tasks
. Each space comes with tools designed for different types of teams, so you're sure to find something ready-made for you. However,
if you deal with a lot of information, Smartsheet has the ability to help you organize literally everything
. It offers an Excel-like experience with advanced reporting and workflow automation features that will make your life much easier.
One benefit of Wrike is that it includes pre-purposed spaces for various niches
,
such as marketing, IT, and resource management.
Each space offers ready-made templates, and every template comes with projects, sample tasks, dashboards, reports, and request forms. I found this massively sped up setting up a project and assigning work.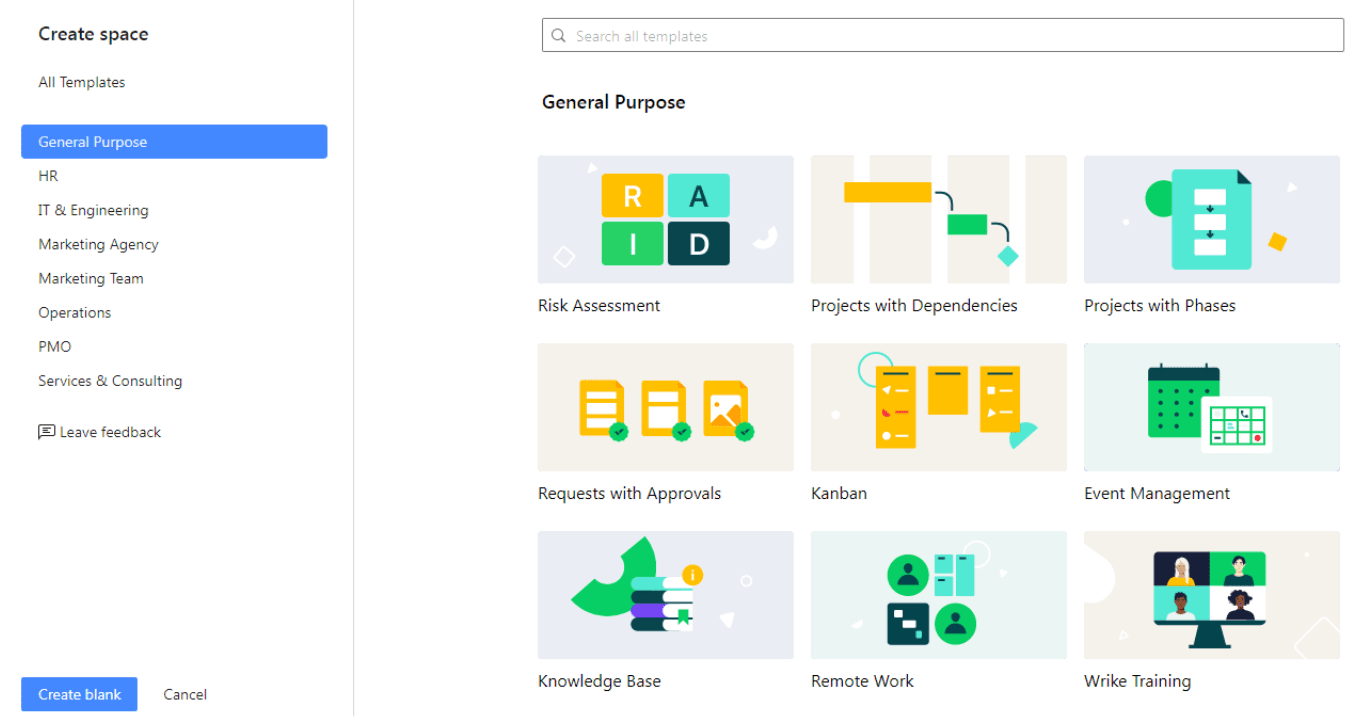 While Wrike's templates are arguably prettier, Smartsheeet's templates are clean and professional, and there are tons more to choose from.
Smartsheet includes over 480 templates
 and template sets
covering everything from social media monitoring to vaccination tracking.
This dwarfs the 60 templates you get with Wrike.
Smartsheet has more advanced workflow features
. You can create workflows that send an alert to someone on your team, request approvals on changes, or send forms automatically. Speaking of forms,
Smartsheet also has a built-in forms feature
that lets you send out forms, collect data, and automatically input that data into desired columns. You can even set up conditional logic to get different questions to appear depending on previous answers.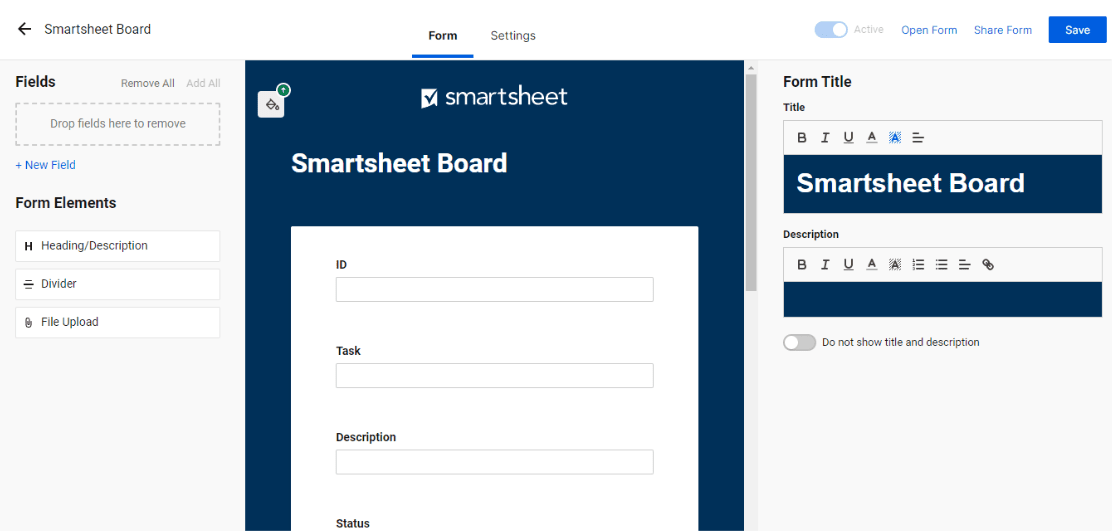 Smartsheet also has excellent reporting features.
Reports allow you to display specific information from several sheets. For example, if you want a document that shows only grids of inventory or contact information, all you have to do is create a report, specify your source grids, and select what you want to display. All information then updates automatically – if you make changes to the report, it's saved in the source grid and vice versa.
Both Wrike and Smartsheet allow you to see your tasks in different ways, including grid, Kanban, Gantt Chart, and calendar
. Wrike has a few other options as well, such as Stream (real-time view of activities) and Timelog, which shows tracked time for projects and tasks. One downside of Smartsheet is that it doesn't have a built-in time tracking tool. To use this function, you'll need to sign up to Resource Management, a separate piece of software created by Smartsheet. And you'll need to pay extra to use it, unless you're on the Business plan. In contrast,
Wrike has a built-in time tracking feature that lets you set up a timer to track work or add entries manually
. When it comes to integrations, Smartsheet offers around 90 apps in its Solution Center, while Wrike's directory contains over 400 integrations. That said,
you can only add a maximum of 11 apps on Wrike's free plan, whereas Smartsheet doesn't limit you.
What both platforms do well is keep your data safe. Each offers strong security protocols and automatically backs up your data every few seconds, so you won't have to worry about data loss. Overall, Wrike is a versatile tool that handles the fundamentals really well, but
Smartsheet is the better option for dealing with more complex projects.
Ease of Use
Smartsheet's Interface Doesn't Look as Pretty, but It Lets You Do More
Wrike's interface feels a lot more inviting to beginners
. It's convenient to navigate, and you can access everything at a glance. However,
don't let Smartsheet's gray, harsh aesthetic fool you – the interface is easy enough to use
. It just takes a bit of getting used to. And once you do, you can do so much more with it. When you
create an account with Wrike
, you'll be asked some questions about your business. Wrike uses this information to populate your workspace with appropriate spaces, sample projects, and templates to help you set up your first project quickly.
Every time you launch Wrike, the homepage brings up an overview of your workspace
. At the top are "Spaces". These hold all your team's work, including folders, projects, tasks, and subtasks. On the left is your inbox, and on the right is a vertical navigation bar with all Wrike's tools, including a to-do list, starred projects, calendars, timesheets, dashboards, and reports.
Thanks to the pre-built templates, it's easy to create and customize dashboards and reports
.
Plus,
Gantt Chart, Board, and List views are all interactive, so you can drag and drop elements to reorganize tasks and change their start and due dates
. If you get stuck, there are pop-up prompts to guide you through the essentials. Smartsheet's Excel-like structure might look off-putting at first, but once you get used to it, the interface becomes quite intuitive. When you sign up, you'll see a
Getting Started with Smartshee
t page. From there, you can watch video tutorials,
enter the Smartsheet Trial Homepage project
, or create a project of your own.
The Smartsheet Homepage trial is a great place to start
as it lists the steps for creating your first project. All the tools are neatly situated on the left, so you can access everything easily. You can choose from pre-built templates or create new blank sheets, dashboards, or reports. Although
customization isn't one of Smartsheet's strongest areas, you can still edit the look of your dashboards
by dragging and dropping widgets.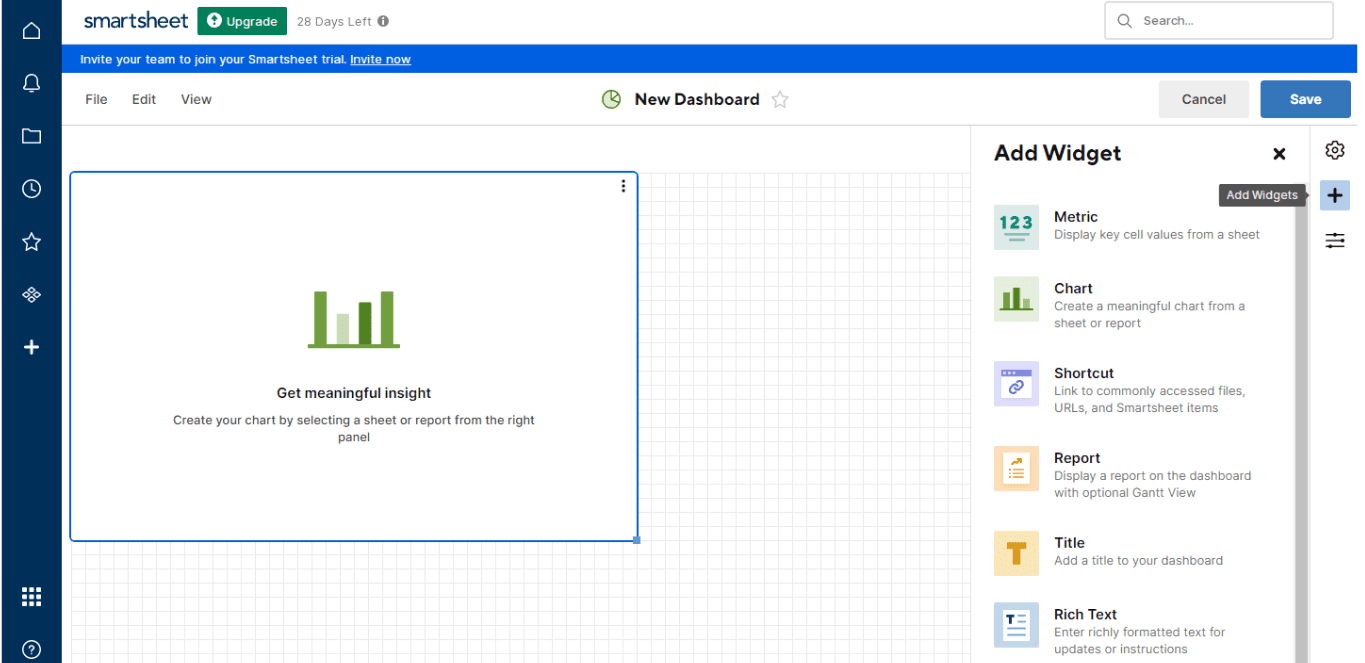 While you'll be stuck with gray and white colors,
Smartsheet's column system will bring a breath of fresh air into your sheets.
Apart from the classical text or number values, you can create columns for contact lists, dates, single and multi-selection dropdowns, checklists, and symbols. Wrike's interface looks cleaner and simpler at first glance, but Smartsheet provides more tools to organize your work. It may take slightly longer to get used, but the
advanced features Smartsheet provides for simplifying data entry and communication
make it well worth your time.
Collaboration Tools
Smartsheet Has More Advanced Communication Tools and a Better Mobile App
Wrike has all the essential tools teams require to coordinate and connect.
Team members can communicate easily through comments and @mentions, and they can attach and share files. What's more, the "Stream" view lets you see all your team's activities as they happen. Still,
Smartsheet gives team members even more ways to communicate
. For example, you can add comments or tag members on individual rows or entire sheets. Another nifty feature is the ability to add proofs to different rows.
Proofs can be files of any kind, and other members can annotate and comment on specific sections
. For example, if you upload a video, members can link comments to different timestamps.

It's important to note that
neither platform has a built-in chat function
, but you can always integrate a third-party app like Slack. When it comes to file sharing, both Wrike and Smartsheet allow you to upload and share files from your desktop, mobile device, or integrated storage solution, including Google, Dropbox, Box, and Microsoft One Drive.
But what's really cool about Smartsheet is that it lets you attach files exactly where you need them
– to a workspace, a sheet, or even an individual row. Both
Wrike and Smartsheet offer mobile apps, but only Smartsheet's app gives you almost as much functionality as its desktop version.
For example, the Wrike mobile app doesn't let you access tutorials or guides, and only Android users can reply to comments. Smartsheet goes above and beyond with great mobile-specific features like the ability to import your phone's calendar or contact list to a grid.
Pricing
Wrike's Pricing Is Misleading; Smartsheet Provides Better Value
With Wrike, you get the choice of a free plan and three paid plans
: Professional, Business, and Enterprise.
Smartsheet doesn't have a free plan, but its cheapest plan is quite affordable
, and it also offers a 30-day free trial. Its three paid plans have the same names as Wrike's: Pro, Business, and Enterprise. When it comes to paid plans, Smartsheet's pricing is pretty transparent, whereas Wrike's is a little confusing.
Here's What You Get for Free
All things considered,
Wrike's free plan is quite generous
. Although you won't get access to features like Gantt charts, it includes 2 GB of storage and unlimited projects. You can have up to 5 team members, and you'll get integrations with services like Slack, Dropbox, and Microsoft Teams. This makes Wrike's free plan a good option if you have a small team or you're a freelancer juggling multiple projects and clients.
Smartsheet offers a 30-day free trial
, but there's no free version of the software. Still, the prices are fair considering what you get in return.
Here's What You Get If You Pay
Wrike's Professional plan is a good fit for teams ranging anywhere from 5 to 200 people.
You get additional functionality, such as shareable dashboards and the ability to integrate third-party software like MS Project and Excel. The Business plan then unlocks additional features like time tracking, file and video proofs, and user groups and permissions. However,
Wrike's pricing isn't so straightforward
. The stated monthly fees for each plan are for a single user license, and Wrike's entry plan is intended for teams of at least five people. This means that you have to purchase at least five licenses, and
the price of your subscription will go up depending on how big your team is.
Wrike also only offers annual subscriptions, so depending on the plan you choose, the upfront cost will be pretty high. With Smartsheet, things are much clearer. And for what it offers, the prices are pretty great. To start with,
Smartsheet's Pro plan is cheaper than almost any other comparable plan on the market
, and you get features like Gantt charts and 20 GB of storage. The Business plan offers unlimited collaborators and automations, which is something I've only seen on custom plans with similar project management platforms. Overall,
Smartsheet provides better value for money, as the Business plan will likely be more than enough even for huge teams
. Wrike's free plan is only suitable for small teams, and its pricing isn't so transparent, so if you decide to upgrade, you may end up paying more than you initially thought. Here's a comparison of Wrike and Smartsheet pro plans, so you can decide for yourself which is the better deal.
Wrike Professional Plan
Smartsheet Pro Plan
Starting Price

$

9.80

$

7.00

Max number of users
200
25
File storage

1-2 GB per user

20 GB

Gantt Charts

✔

✔

Built-in messaging

✘

✘

Time tracking

✔

✘

Unlimited automations

✘

✔
Support
Wrike Has More Responsive Live Support
I'm sorry to report that Smartsheet's support isn't exactly at the top of their game
. Smartsheet offers two options for contacting customer support. You can call directly or use its ticket system. I submitted a ticket asking about time tracking, but
I never got a response.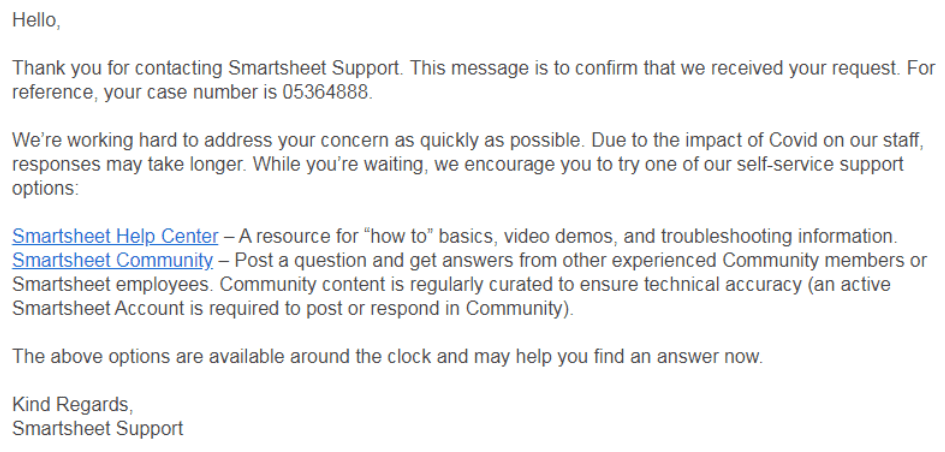 Wrike's live support is much more responsive
. The free plan grants you access to the ticket system, whereas paid plans additionally provide live chat and phone support. I submitted a ticket and received a helpful response in under an hour.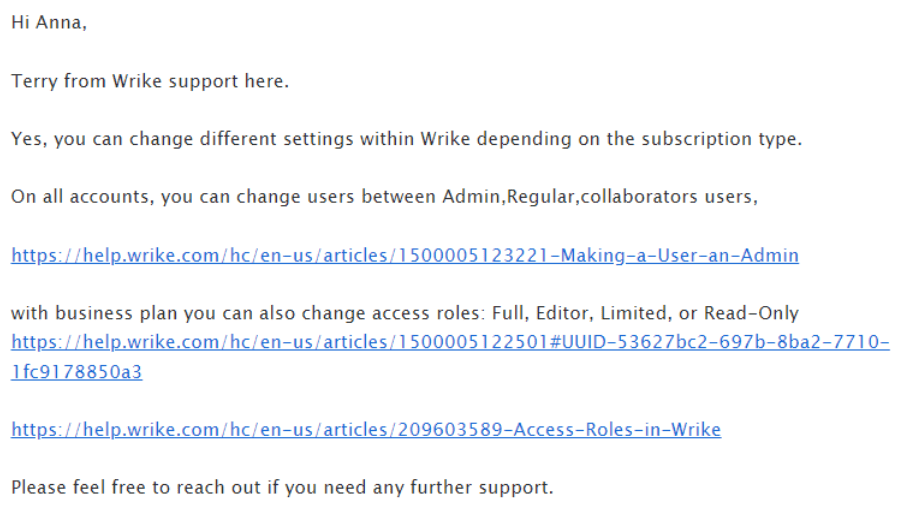 Both Wrike and Smartsheet have extensive knowledge bases with plenty of detailed articles and tutorials, as well as engaged community forums that provide answers quickly. Still, my own experience suggests that
Wrike offers more comprehensive support overall.
Wrike Tries Hard, but It Can't Outperform Smartsheet
Wrike has a generous free plan and plenty of useful project management tools, but it's best suited for individuals and small teams. On the other hand,
Smartsheet has elaborate organization tools
 that make it impressively simple to manage even the most complex projects in a single place. It's a great option for teams of all sizes.
Features
Solid set of project management tools
Extensive set of project management tools, focus on reports and automations
Ease of Use
Easy to use even if you're a beginner
Easy to use, but it takes some time to get used to the interface
Collaboration Tools
Essential ways for teams to collaborate through comments, mentions, and file sharing
Advanced set of collaboration tools, including the impressive "Proofs" feature
Pricing
A free plan and three paid plans, but complex pricing means costs can ramp up quickly
A free trial and three straightforward and relatively affordable paid plans
Support
Live chat

Ticket system

Phone

Knowledge base

Community forum
Ticket system

Phone

Knowledge base

Community forum
FAQ
Does Wrike integrate with Smartsheet?
Yes, you can connect Smartsheet to Wrike using the Zapier app. Zapier lets you send info between Smartsheet and Wrike automatically. You can pick one or more actions in one app to act as a trigger, which will kick off your automation. You can then choose what action will be taken in the other app in response. Both Wrike and Smartsheet offer plenty of integrations to give you more functionality.
What is Wrike best for?
Wrike is a complete project management tool that's best suited for small teams or individuals juggling a lot of clients. If you run a larger team, you may want to consider Smartsheet or one of the other platforms on our list of the best project management software in 2023.
Is Smartsheet better than Airtable?
As a long-time Airtable user, I can tell you that Smartsheet offers better tools for tracking and prioritizing tasks. Airtable may have the more beginner-friendly interface, but Smartsheet provides superior collaboration tools plus more features in general.
Why use Smartsheet over Excel?
While Excel is great for certain tasks, such as storing data and making charts, its collaboration and project management tools aren't nearly as advanced as Smartsheet's. For example, Smartsheet offers ready-made templates to help speed up your work, and it offers many more ways to communicate with your team members, such as via comments, file sharing, and more.