With Wrike and Asana charging a similar price for their software, it's easy to assume that you'd get a similar level of service with whichever one you choose. However, that's not the case.
The truth is that Asana offers far more for your money than Wrike.
As an example,
Asana offers unlimited storage and hundreds of integrations on its Premium plan.
Wrike's equivalent plan only gives you up to 2GB of storage per user and 9 free integrations – the rest are locked behind paid add-ons. That doesn't mean that Wrike is a bad choice, though.
Wrike's onboarding process is one of the best in the industry,
and its customer support is pretty good even outside of the premium support channels. It's just disappointing that Wrike is let down by some poor pricing decisions. You can
try Asana's free forever plan now
. Or, if you'd rather spend your coffee break relaxing, carry on reading to see why Asana is my top choice in today's comparison.
Features
Asana Offers Hundreds More Free Integrations
Asana and Wrike offer a similar set of features.
From the free plan and above, you'll get the standard Kanban, list, and dashboard views you'd expect. If you want the popular Gantt project view, you'll need to upgrade to Asana Premium or Wrike Professional.
It's also worth noting that Asana offers a calendar view for free, but this is limited to the Business plan or above with Wrike.
With that being said, the deciding factor in this battle came down to integrations.
Asana has 280+ integrations
available on the free plan, and a handful more on its Business and Enterprise plans. For example,
you can integrate Asana with Zendesk to create tasks directly from tickets, or connect to Aureum to track the progress of open deals you have with customers
. There's a wide variety of native integrations that cover sales, HR, IT, communication, marketing, and more.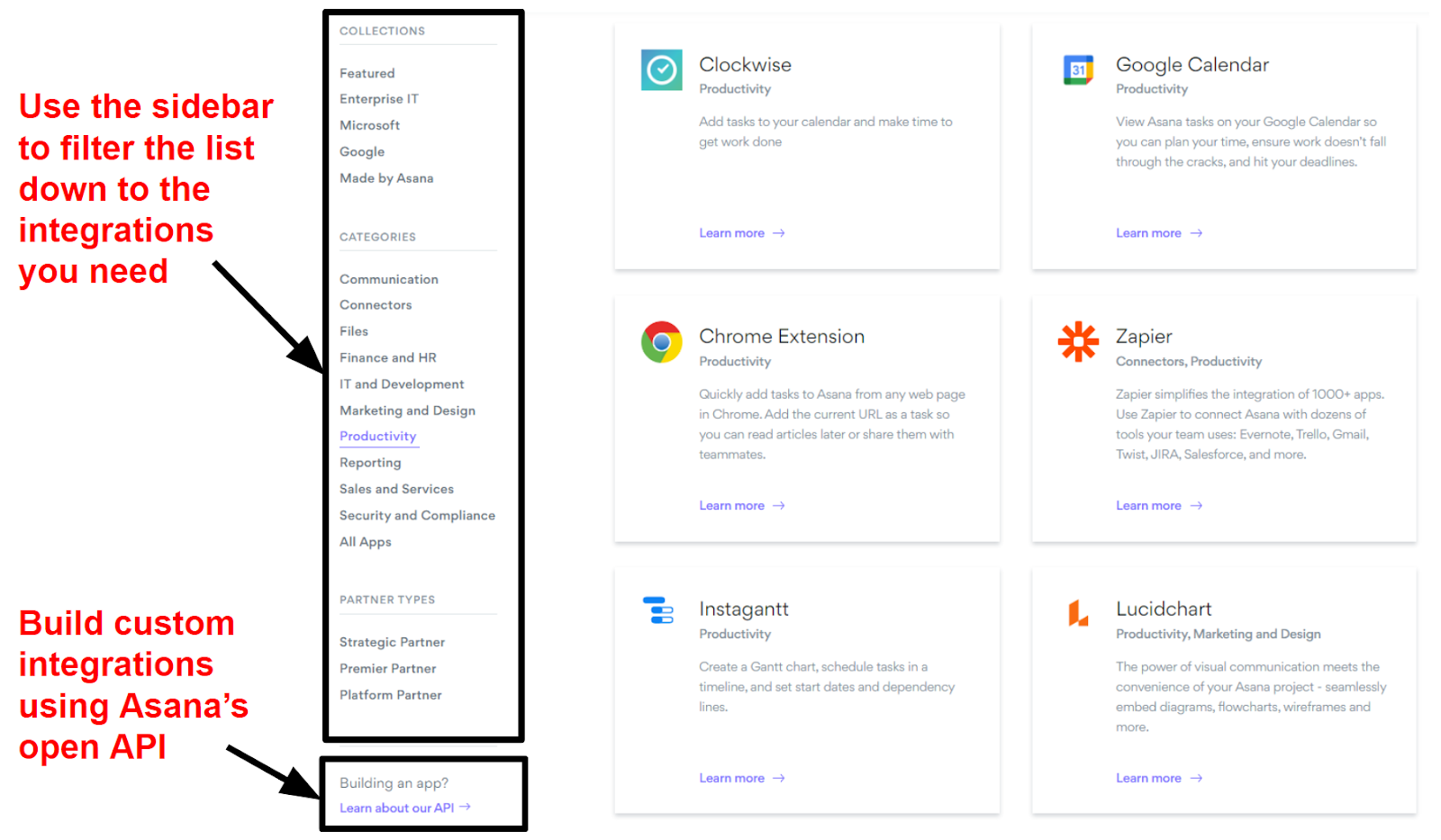 By comparison,
Wrike only offers 9 integrations and 6 apps for free
, which are primarily productivity tools, such as Microsoft Projects and Excel. You'll need the Wrike Integrate and Wrike Project Syncs paid add-ons to access the other 160+. Confusingly, some of those integrations are available without these add-ons, depending on which plan you're using.
With that being said, there are some useful integrations available through Wrike's paid add-ons.
You can create a two-way connection between Wrike and GitHub to make it easier to track repository issues and tickets. Wrike also connects with Shibboleth, which allows organizations to set up corporate accounts that can be used across a variety of software solutions.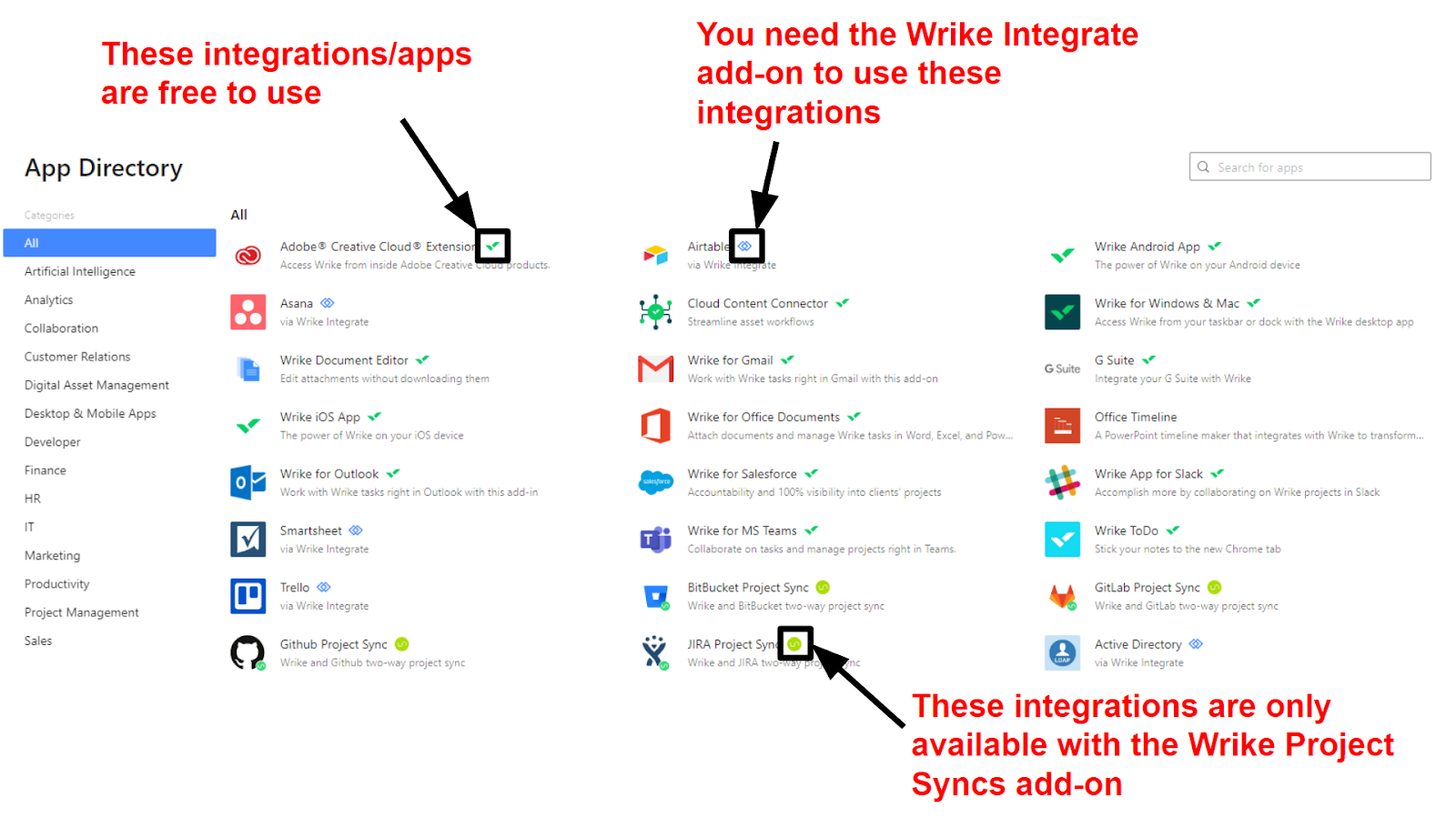 If you know how to code, or you've got a developer at your disposal, then you'll appreciate that both platforms have open APIs for building custom integrations. Or,
you can integrate both Asana and Wrike with Zapier to extend their functionality.
On another note,
Wrike wins a few points back for its built-in time tracker.
This is something that Asana doesn't offer without connecting to other software. While not every user will need time tracking, having the option there makes Wrike a lot more functional if you need to track your project time or billable hours. Unfortunately, this isn't enough to secure Wrike the win in this section.
Asana's strength lies in its ability to fit seamlessly into your workflow, which Wrike simply cannot do unless you're willing to pay extra for the privilege.
Ease of Use
If You're a Beginner, You'll Love Wrike's Onboarding
It was tricky to choose a winner for this section because I have no complaints with either tool.
Both Asana and Wrike are intuitive with a modern and clean design.
Dashboards on each platform are easy to understand, and they both offer a good number of templates to help you set up projects without any hassle. However,
Wrike's fantastic onboarding experience
 steals the win
in this section.
When you access your Wrike account for the first time, it walks you through setting up a project, adding tasks, and using the different project views
. The text boxes on the left are pre-filled with suggestions, but if you add custom text, the graphic on the right will automatically update. It's a great way to demonstrate how the software works without overwhelming you.
While Asana does have an onboarding process, it's a lot more basic.
It asks you some quick questions about how you plan to use Asana and sets up a project for you, but it doesn't take the time to demonstrate how everything works. To learn that, you'll need to experiment with the software yourself or watch a video tutorial. Asana's pretty simple to use, so this lack of onboarding isn't necessarily a dealbreaker if you're already familiar with project management software. But
if it's your first time managing a project digitally, Wrike helps you get up to speed faster.
Collaboration Tools
Asana's Collaborative Platform Brings Teams Closer
This was another hard one to call. Both Asana and Wrike have great collaboration tools, even if those tools are designed for different purposes.
Asana's direct messaging feature
 is great for remote teams.
On the other hand, Wrike's client dashboard view is best for helping teams stay on track while working across multiple projects. In the end,
I gave Asana the win in this section for how easy it makes communicating with your team.
While both Asana and Wrike have activity logs for each task, Asana takes this one step further by allowing you to record a video reply. You can even send small animated badges called Appreciations to recognize a job well done.

It's small things like this that make Asana's project management software feel less corporate, and a lot more team-focused. That's not to say that Wrike's software is bad by any stretch, but simply that
Asana's collaboration tools are more focused on encouraging conversation and building team unity
.
The only thing that Asana lacks is a real-time stream view, which is something that Wrike offers.
This allows you to see what other people are working on within the project in real time, which makes it easier to figure out who you need to talk to about certain tasks.
Pricing
If You Want Transparent Pricing, Go with Asana
Both Wrike and Asana have a forever free plan
. After that, Asana has three paid plans, while Wrike has four. The biggest difference is that, while Asana costs a few more dollars per user, it offers unlimited resources as standard. Wrike's base price is cheaper, but you'll likely have to spend more to get to the same features as Asana. Unlike other services, Asana and Wrike charge by your total number of users. You'll only ever pay for the user seats you need, regardless of your chosen plan.
Here's What You Get for Free
Overall,
Asana's free plan is one of the best on the market
. It allows for up to 15 users and offers unlimited storage space (individual files are limited to 100MB), activity logs, tasks, and comments.
Wrike's free forever plan limits you to five users, 200 tasks, and 2 GB of storage per account
. While this might not be an issue for freelancers or really small teams, you're likely to outgrow this far quicker than on Asana's free plan. In contrast, if you don't have a huge team and you only need basic project management,
Asana's free plan will probably keep you going indefinitely.
You'll only need to upgrade if you want more advanced features like automations, reporting, or guest seats.
Here's What You Get If You Pay
This is where Asana truly shines. While it looks more expensive on the surface,
Asana offers much more for your money
.
That's because,
unlike Asana,
Wrike has limited storage – even on the expensive Enterprise Pinnacle plan.
Automation actions are also limited on the Enterprise Pinnacle plan, while they're unlimited on Asana's Premium and Business plans (though you only get a set of pre-made automations in Premium; customized automations are locked to Business). What's even more confusing is that
Wrike's paid plans don't include all of its features – some are only available with premium add-ons.
You'll need the Wrike Integrate and Wrike Project Syncs to use many of its integrations. The other two add-ons (Wrike Marketing Insights and Wrike Lock) are arguably more optional, but it's still frustrating that all of these useful features aren't included in Wrike's more expensive plans.
Asana's pricing is a lot more transparent
and makes it clear what plan you need to access certain features. Furthermore,
each of Asana's plans offer much better value
because you're not forced to upgrade if you need more storage space or automations. For example, if you're running a small team and you don't need advanced planning features like workload views, then you can stick with Asana's Premium plan for as long as you want. On the other hand,
Wrike's essential features are limited
. With a tiny amount of storage per user on the Professional plan, you're going to need to use integrations (and potentially pay for the Wrike Integrate add-on) or upgrade to a more expensive plan just to share critical files. I appreciate your coffee break time is probably running out, so here's a quick comparison table to make things simpler.
Wrike
Asana
Starting Price

$

9.80

$

11.00

Project templates
70+
100+
Integrations
9 (or 160+ with paid add-ons)
280+
Storage
1 – 2 GB per user
Unlimited
Project views
List, table, Kanban, Gantt, dashboard
List, Kanban, Gantt, calendar, dashboard
Built-in time tracking
Yes, with the Business plan and above
No
Customer support channels
Live chat, email, knowledge base, webinars, courses, community support
Email, webinars, forum, guides, additional learning resources
Support
If You're Stuck, You Can Count on Asana to Help
Asana and Wrike offer a similar level of support.
Both project management platforms offer email support with a knowledge base, community support, and free webinars.
Wrike also has live chat and free instructor-led or self-paced courses that cover advanced features.
Wrike's support is available 24 hours a day during the week
, with no support available over weekends and bank holidays. Unfortunately, Asana doesn't state when its support is available.
Both Wrike and Asana charge extra for 24/7 premium support.
Wrike's paid Premium Support add-on and Asana's Enterprise plan give you access to 24/7 prioritized support with a dedicated phone line and chat support. If you need even more support, then you can pay for Wrike's Premium Plus Success add-on to get a dedicated support agent.

With that being said,
both Asana and Wrike's support were responsive outside of these premium support options.
Asana's team responded to my email in a little over an hour.
When I tried Wrike's live chat, there were no agents available, which was rather disappointing.
However, it helped me to send my query through the email channel. I got a response to that email in just over two hours.

With both of them responding fairly quickly and offering a similar level of support, it was difficult to determine a winner. However,
I gave the win to Asana because accessing support was far easier.
Finding Asana's customer support is straightforward, but
figuring out how to talk to a real person at Wrike is frustrating.
You have to click the question mark at the top of the screen, and navigate through several menus just to submit a ticket.
Go With Asana For Friction-Free Project Management
While Wrike has some good features,
Asana takes the win for its superior value
. Asana offers unlimited storage and automations at an affordable price, while Wrike will always limit you, even on the most expensive plan. It's also worth mentioning Asana's collaboration tools. Whether you're managing a remote team or you're running a project that relies on your team sharing ideas, Asana's direct messaging feature will help you to keep all of your project information on one platform. However,
if it's your first time using project management software, it could still be worth checking out Wrike.
It has a fantastic onboarding experience to guide you through its core features, which is invaluable if you need an extra helping hand.
Features
Zapier, open API, and 170+ integrations, but most are only available with paid add-ons
280+ integrations including Zapier and an open API
Ease of Use
Fantastic onboarding demonstration of features, 70+ project templates
Only provides a basic introduction to the platform, but it offers 100+ project templates and video tutorials
Collaboration Tools
Stream view to see real-time activity, user tagging, and easy to read dashboards
Direct messaging with video replies, unlimited file storage, and task approvals
Pricing
Free plan and cheap paid plans, but locks access to many integrations behind paid add-ons, storage always limited
Great free plan and fairly priced paid plans with unlimited essentials
Support
Live chat, email, knowledge base, webinars, courses, community support, premium 24/7 priority support available
Email, knowledge base, webinars, community support
FAQ
Is Wrike better than Asana?
Overall, Asana is better than Wrike because it offers far better value for money. While I love Wrike's onboarding, you'll need to pay much more to match Asana's resources and integrations. It's far easier to start a conversation with Asana's customer support team, too.
What is Wrike good at?
Wrike's standout feature is how beginner-friendly it is. It offers a great onboarding experience, instructor-led courses, and free webinars. The Stream view is also useful if you want to see what your team is working on in real time. To see other great beginner-friendly options, check out our list of the top 10 project management software suites in 2023
Is Asana free?
Asana's free plan is one of the most comprehensive on the market. Covering up to 15 users with unlimited storage, messages, and activity logs, this free plan will cover a freelancer or small team for a long time. You'll likely only need to upgrade if you need more advanced features like task approvals, workflow views, or task dependencies.
Is Asana an Agile tool?
Asana is a fantastic tool for Agile project management and planning sprints. Its flexible project views allow you to build product roadmaps and plan releases, while the hundreds of integrations will help you to streamline customer requests and bug reports. Plus, with built-in collaboration features, Asana will help your team communicate effectively and motivate one another.