can it really compete with a giant like Wix?
I put both builders to the test to see what they could do. It was nice to see that both offer AI (artificial intelligence) technology to save you some time. You can use either builder to create different types of sites, like a blog or an online store. But there is no question about it –
one of these builders has much stronger capabilities than the other.
If you want to create a website that looks like it was designed by a professional, but with enough flexibility to customize the design and make it your own, there's really only one option:
build your site with Wix (you can even try it for free)
. Read on to find out why it's the clear winner of this comparison.
1. Templates
Wix Gives You More Creative Freedom
AI is a fantastic technology, but it's not necessarily able to reproduce the creative vision you have in mind for your website's design.
Both Wix and SiteBuilder offer AI wizards that can create your website for you.
 Wix's wizard is called Wix ADI, while SiteBuilder's is called the Express Editor. With either option, all you need to do is answer a few questions about what kind of site you want, and your shiny new website will be ready within minutes. The main difference here is that
with Wix, you have another option: you can skip the AI, and instead choose from one of Wix's 900+ templates.
 You can then customize your site however you like – change colors, choose fonts, play around with the layout, go wild!
Wix's templates are organized in five general categories: Business & Services, Store, Creative, Community, and Blog.
 Each category includes dozens of sub-categories, so you can choose a template that really fits your specific niche. But because Wix offers so much flexibility, you can choose any template you like from any category, and customize it to suit your needs.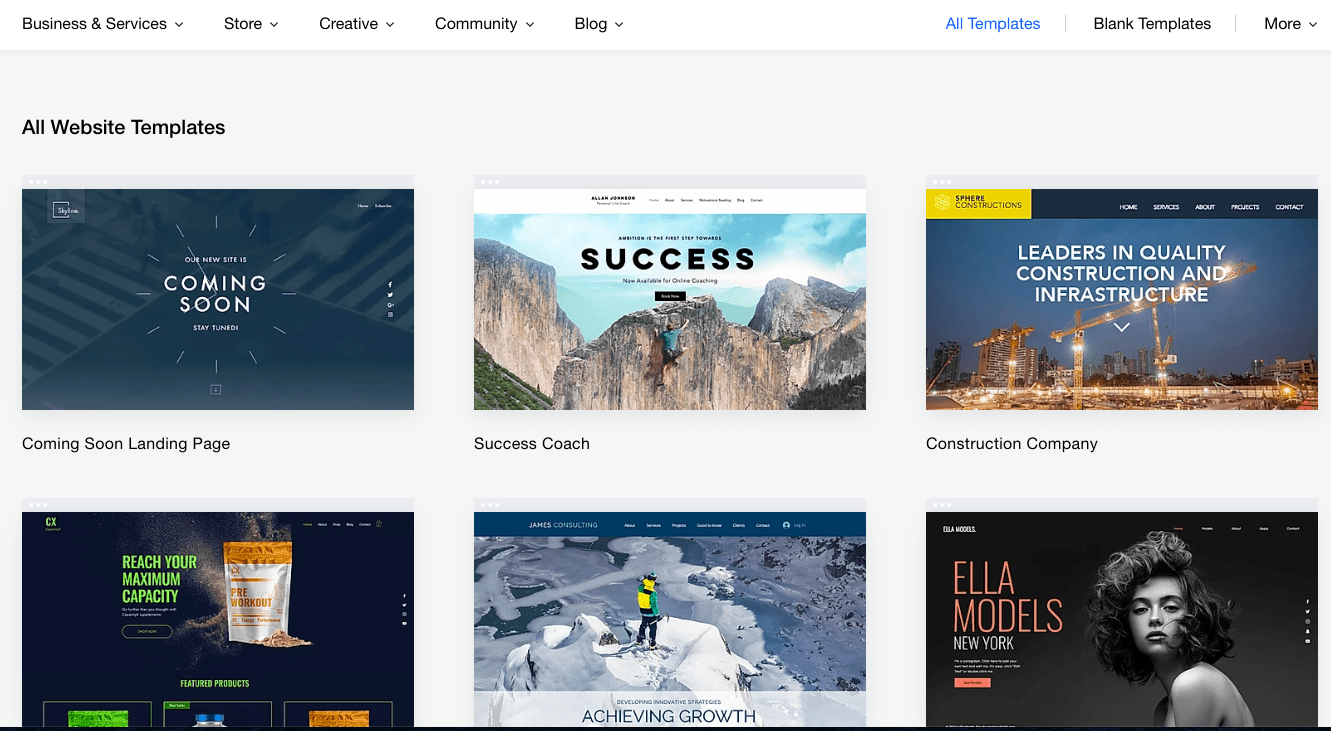 With SiteBuilder, your only option is the Express Editor,
 so you don't get to choose from a library of templates. Instead, you input a category for your website, and SiteBuilder gives you a suggested template that you can then modify. You don't have a lot of choices here, which can feel quite limiting compared to Wix's seemingly endless options. The design options you get with SiteBuilder's Express Editor lead to results that look quite generic. You can choose a cover image from a small selection of stock photos, or upload your own. Then, you can customize some other aspects of your site, like colors and navigation style.
But these options are rather disappointing compared to Wix – you're limited to two colors, you can't create your own color scheme, and there are only a handful of font options to choose from.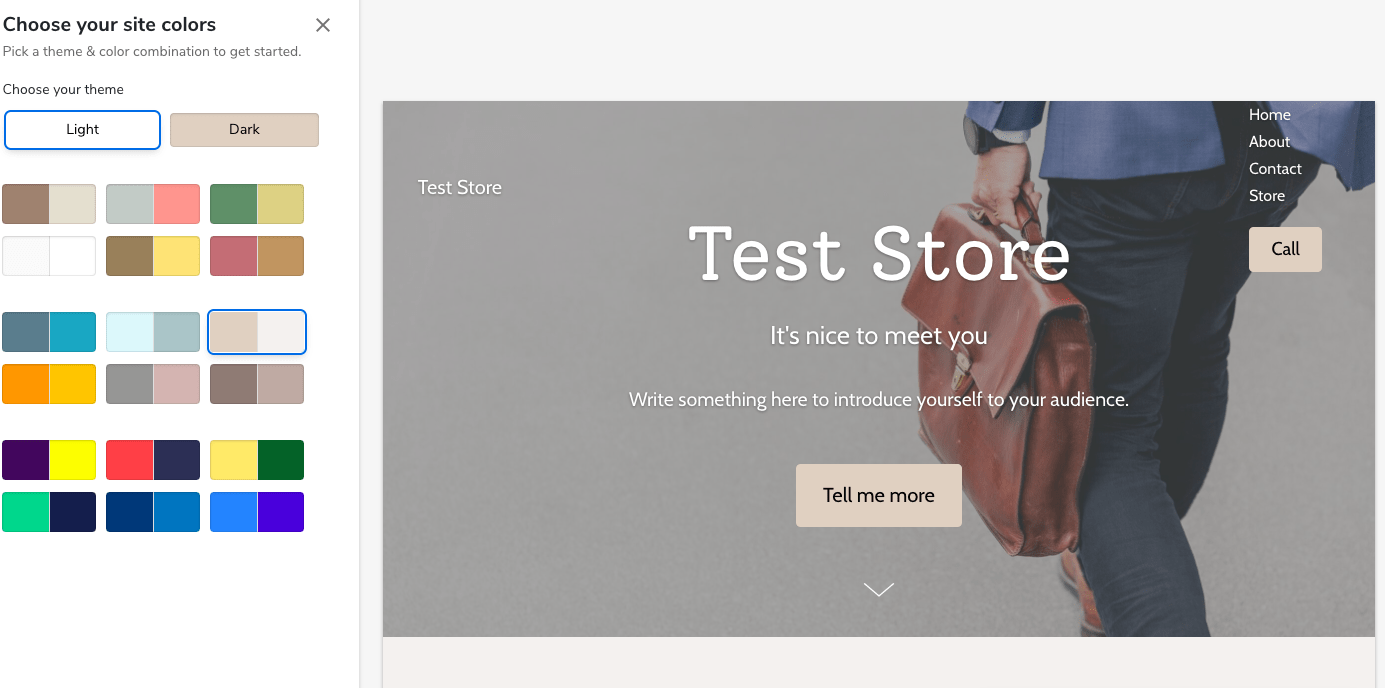 There is one downside both Wix and SiteBuilder have in common: once you choose your template, you're stuck with it.
 If you decide you want to change your website's template, you'll have to start from scratch. However, with Wix's extensive customization options, it's relatively easy to give your site a whole new look.
Wix is the clear winner in this category
, thanks to its huge template library and excellent customization features – things SiteBuilder simply can't compete with.
2. Features and Ease of Use
Can SiteBuilder's Simple Editor Compare to Wix's Drag-and-Drop Capabilities?
Both Wix and SiteBuilder are easy to use, but in different ways.
SiteBuilder's editor starts you off with a simple question: what's your site about?
 From there, you can choose a category that fits the closest. You can get pretty specific with the category – like honey, cats, or gelato. Answer a couple more questions and make a few additional design choices, and your website is basically set up in less than two minutes. From here, you can add or delete sections, or drag a section to a different location on the page (or even to a different page). SiteBuilder's drag-and-drop editor is a bit limited, though, because you can't move an individual element, like an image or text box, to a different section. You can't even move elements around within a section.
Text boxes and images are fixed in place
 and all you can really do is toggle them on or off from the menu bar.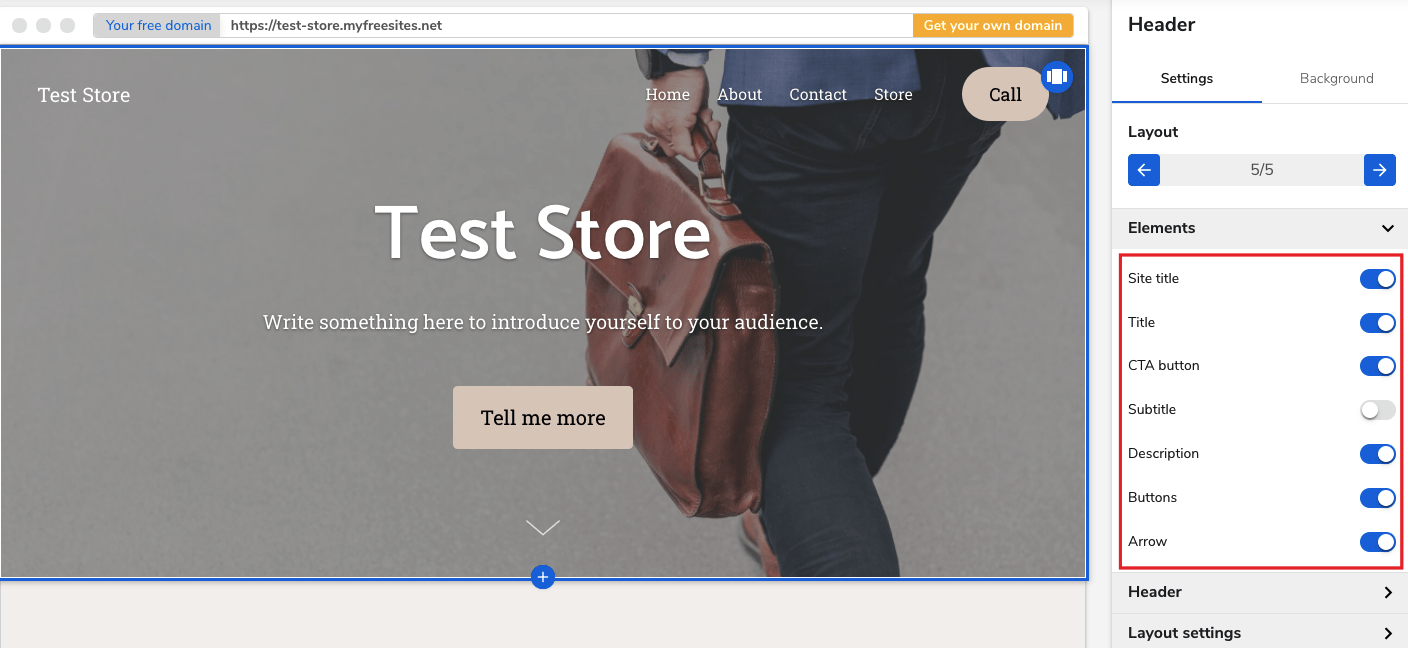 Wix's drag-and-drop editor is a whole different world, giving you almost complete creative freedom.
 You can place elements anywhere you want on the page, move them around individually, or group them together. There are many more different types of sections you can add and different styles and layouts for each one. Plus, there are tons of gallery layouts, contact forms, video players, and much more to choose from.
For a full list of features, check out our in-depth Wix review
.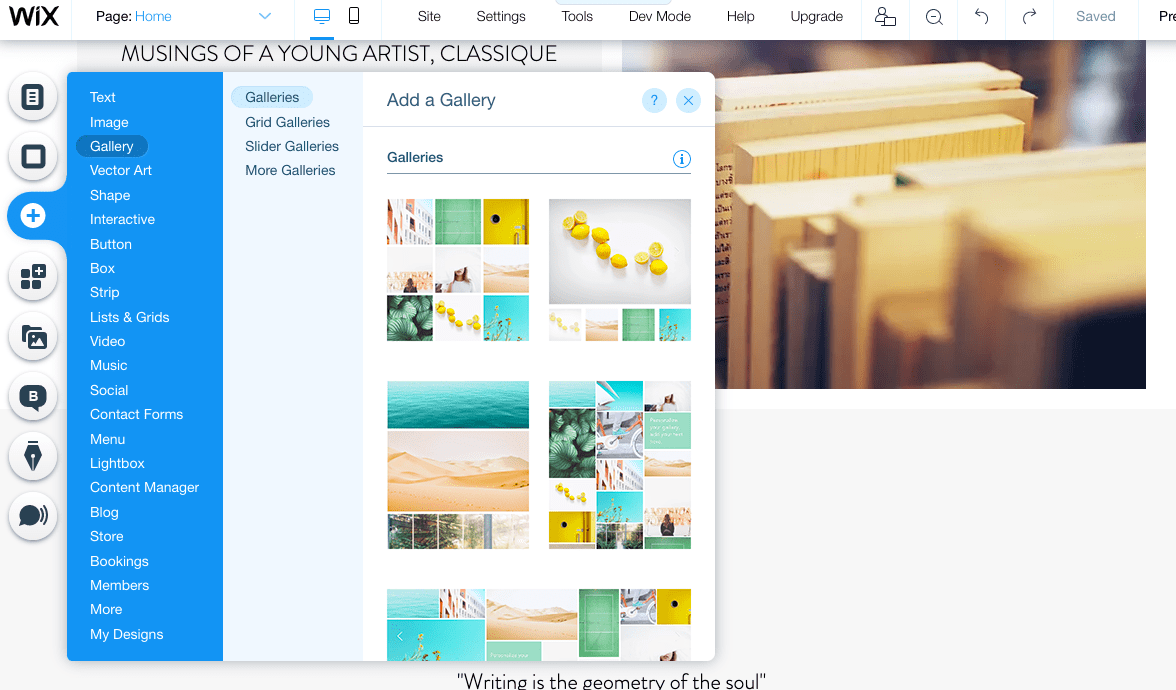 As for more advanced options,
both website builders let you add a blog or an online store to your site, and both give you marketing tools
– but SiteBuilder's options are quite basic, where Wix just gives you more. SiteBuilder offers an integrated email marketing feature, which is nice. You can select your email template and customize style elements like layout, font, and colors, and then add recipients and send out your campaign. Wix has a similar feature, called Wix Shoutout, where you can send a customized email campaign. The difference here is that, with Wix, you get email stats to track opens, views, and clicks, and other advanced options, like social media integration. As for SEO, SiteBuilder lets you customize each page's metadata, and that's basically it. Wix has a great tool called Wix SEO Wiz, which gives you a personalized SEO plan and checklist. In addition to metadata, you can set keywords, index your site on Google, and get insights on your SEO strategy over time.
While SiteBuilder's editor is very straightforward and easy to use, it lacks the depth of Wix's drag-and-drop editor.
 Furthermore, the features you'll find on Wix are much more professional and offer a great variety of customization options, which is why I have to side with Wix again for this category.
3. Apps and Add-ons
Wix App Market Blows SiteBuilder's App Choices Out of the Water
It's tough to compare Wix and SiteBuilder in this category since SiteBuilder has so few apps. 
When you log into your SiteBuilder account, there's a tab for an App Market on the menu bar, but don't expect much.
There's not much of a selection and I'm not even sure you can call them all apps, as they're for things like ad credits and saving your website's history, which all seem more like optional features or perks to me.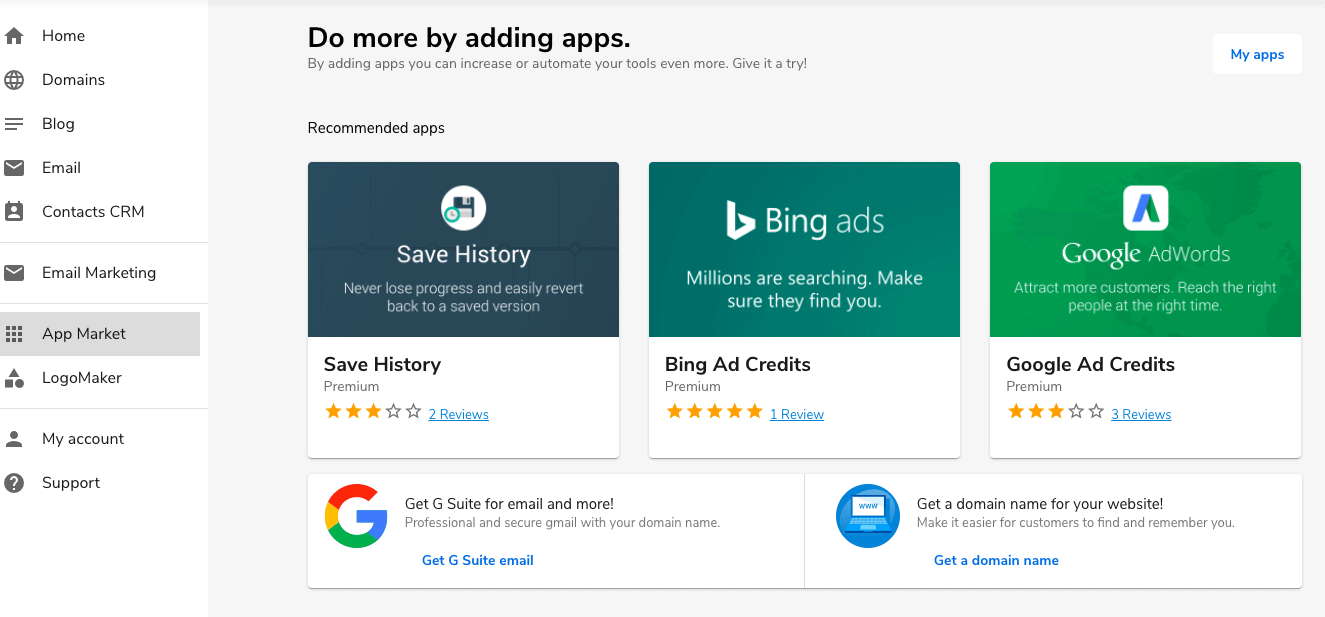 Wix App Market, on the other hand, offers a vast selection of over 300 apps, some developed by Wix and others developed by third parties.
You can use these apps to really enhance your website – you'll find analytics apps, social media tools, online store enhancements, apps to take bookings, and much more.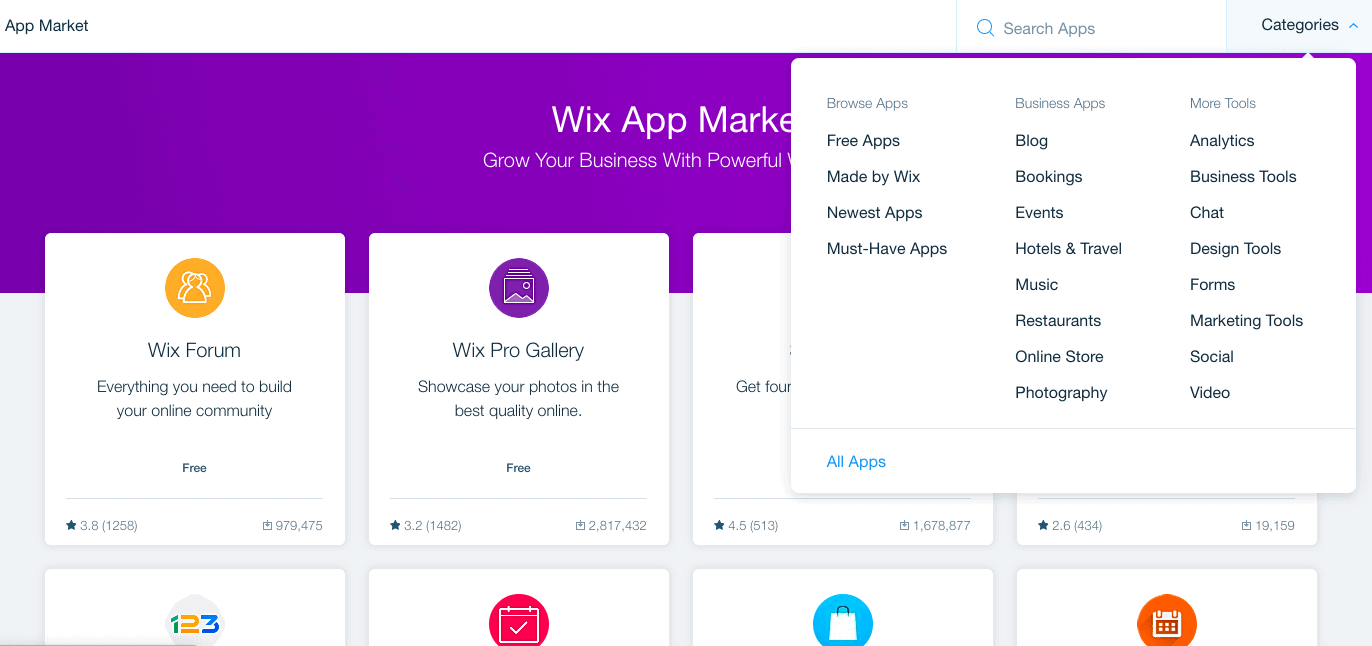 Some of Wix's apps are free, while others require an extra subscription.
 You can use most of the apps on
Wix's free plan
, so you don't need a premium plan just to access the Wix App Market. There's really no competition in this category:
Wix App Market is a powerful resource for extra website add-ons, making Wix the obvious choice here.
4. Pricing
SiteBuilder Offers Cheaper Plans, but Does It Offer as Much Value?
The first thing you'll notice when comparing the two website builders is that Wix has a free plan while SiteBuilder doesn't.
 In fact, SiteBuilder doesn't even have a free trial – but it does offer a 14-day money-back guarantee. It's still difficult to justify purchasing a plan blindly without testing the product first, especially when almost every other website builder on the market has either a free introductory plan or a free trial.
As for paid plans, Wix offers two different pricing categories:
Website
 and
Business & eCommerce
.
Each category has three or four plans to choose from. You'll need one of the Business plans to get access to online store features.
With SiteBuilder, you only have three plans to choose from.
 Sure, the prices are generally cheaper than those offered by Wix, but you don't get as many features, even on the most expensive plan. The most notable difference between the base Pro plan and the E-commerce plan is the online store. It's important to note that SiteBuilder doesn't even mention the amount of storage you get, so it's difficult to rely on this website builder if you know you're going to need a lot of storage space.
| | | |
| --- | --- | --- |
| | Wix | SiteBuilder |
| Plan | E-commerce | E-commerce |
| Storage | 20GB | Not specified |
| Bandwidth | Unlimited | Not specified |
| Free Domain | Included* | Included* |
| Mobile-Optimized | Yes | Yes |
| Website Analytics | Google Analytics | Built-in statistics |
| Custom Favicon | Yes | Not specified |
| Online Store | Yes | Yes |
| Customer Support | Premium support | Priority support (jump to the front of the queue) |
| Included Extras | $300 in ad vouchers* Free form builder app* Free site booster app* | Ad credits |
*Note that the free domain and extras are not included for monthly subscriptions, only on annual subscriptions.
As you can see from the above table, Wix offers a lot more than SiteBuilder for a plan with similar features.
Even if you're on a tight budget and SiteBuilder's prices look more attractive to you, the value you get with Wix is far superior and worth the extra few dollars.
 Wix even lets you create a simple website for free, which can also be a great way to try before you buy. This is why Wix takes the point for this category.
5. Support
SiteBuilder Offers More Prompt and Personalized Service
Wix is a big name in the website builder world for many reasons, but customer service is not one of them.
Finding a way to talk to a support agent is about as convoluted as calling your bank and getting nine different menu options, none of which include speaking to an actual human. Wix does have a great online Help Center with tons of resources on virtually every topic you can imagine. But sometimes you just have a question that you want answered by a person, instead of having to sift through endless help articles to find the answer you need. To reach a point of contact, you have two options: submitting a help ticket or getting a callback.
I submitted a ticket and got a response back in about four hours.
 In terms of customer service email response time, that's pretty good, but it's still surprising that a company of this stature doesn't have a live chat feature for immediate inquiries.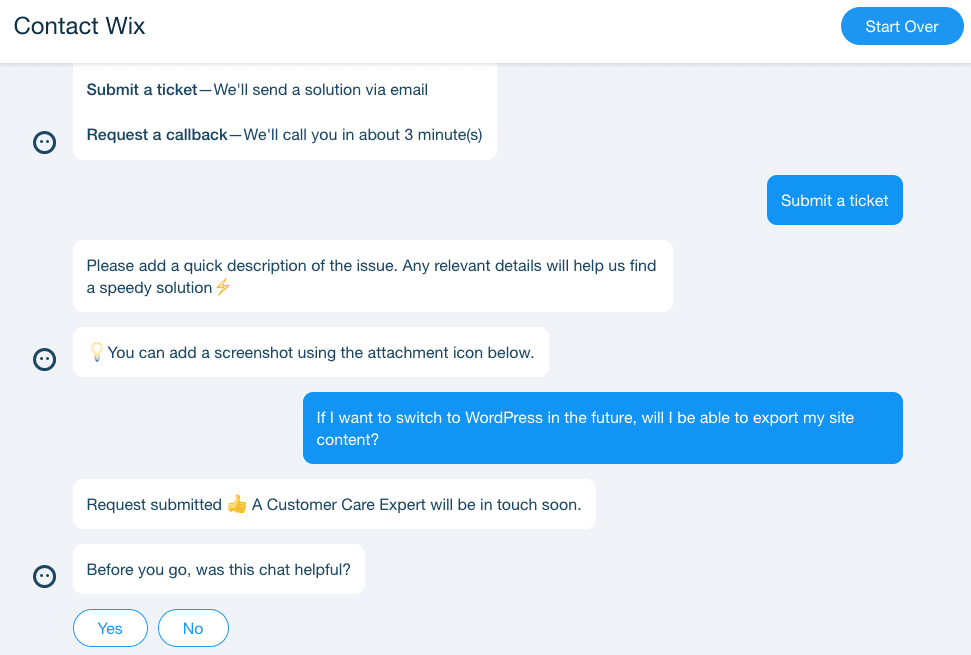 When setting up my SiteBuilder account, I had a few different questions.
Each time I started a chat, I got an answer back within seconds from a real live agent, not a bot.
 The agents I spoke with were courteous, concise, and knowledgeable. The live chat is available 24/7 and SiteBuilder claims you'll always get an answer within five minutes, though it was always significantly less in my experience.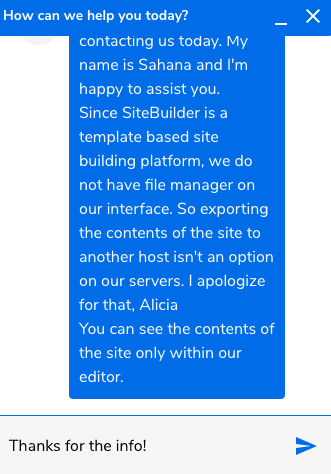 There's also an option to contact SiteBuilder by email, or by phone at a toll-free number. Phone support is not 24/7, though, so you'll have to call Monday through Friday, between 8 am and 11 pm EST.
In terms of customer support, SiteBuilder really outshines Wix with more options for points of contact in addition to prompt and accurate responses.
6. Blogging
Wix Has Way More Tools to Help Your Blog Get More Readers
If the main focus of your website is a blog, or you simply want to generate more traffic to your website with regular posts, then Wix has a bunch of features that can help.
With Wix, you can create a stunning blog to add to your existing website, or even choose a template designed specifically for text or visual blog posts.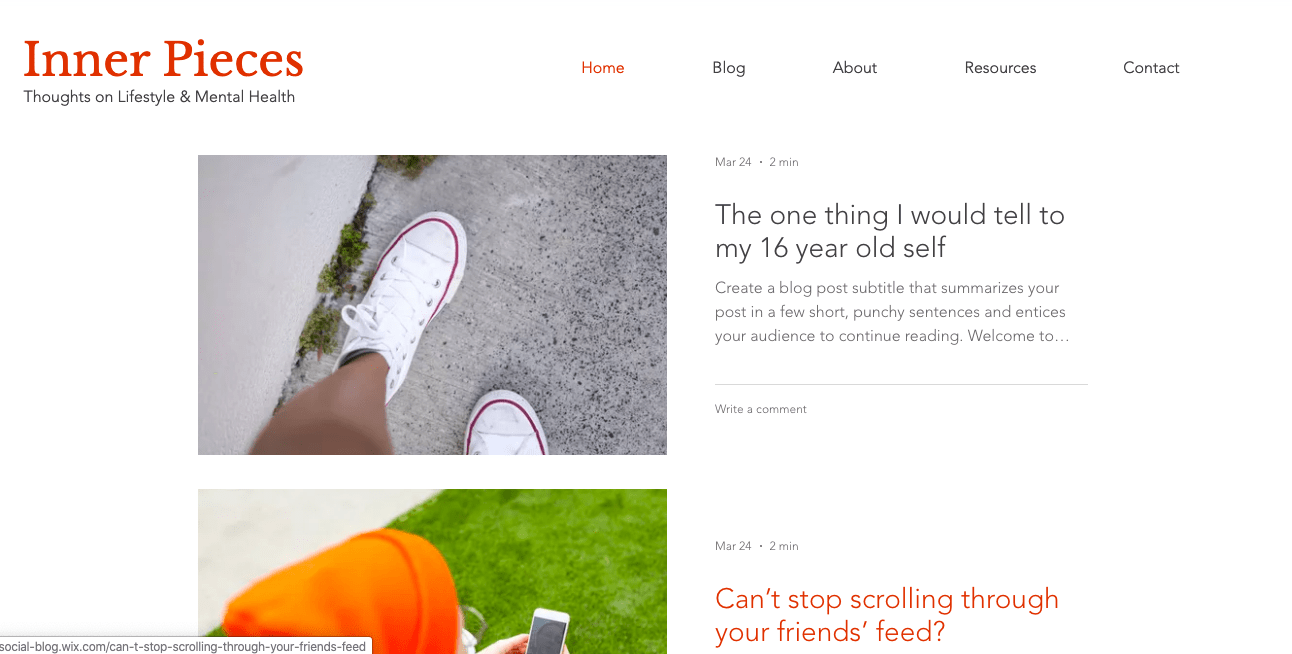 You'll get plenty of integrated blog features with Wix, including:
Categories to make searching for your posts easier for your visitors
A rich text editor to help your posts stand out
Social media features to allow visitors to engage with a post by commenting or sharing
Analytics to see how your blog is performing
If you're looking to create a digital community with your blog, you can add multiple writers or send automatic notifications to your readers when you publish a new post.
SiteBuilder has a blog feature as well, although its features are much simpler.
For starters, you only have six layout options, and most of them look quite similar. The text editor is also very basic. It includes a menu bar with limited editing options, like bolding or underlining and inserting images or videos. You can add a cover image, a category for your post, and set metadata for SEO. That's about the extent of the blog features you get with SiteBuilder.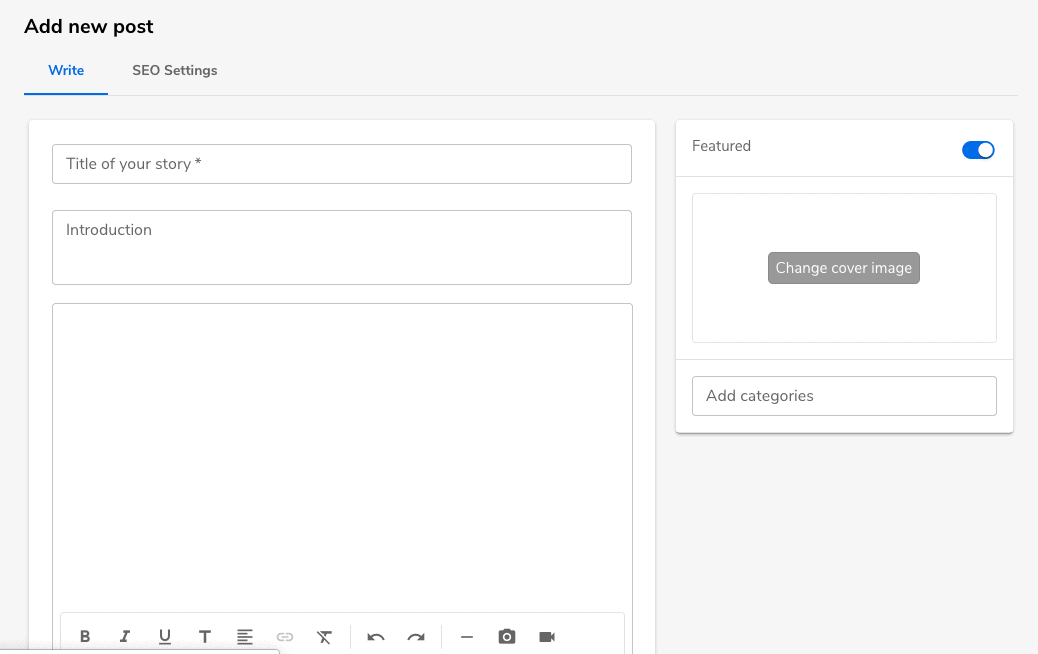 Even if you don't think you'll need all the extra features Wix offers, you'll be glad they're there if you eventually want to grow your blog or reach a wider audience. For this reason,
Wix is the better blogging platform between the two.
7. E-commerce
Wix Gives You More Options to Sell Your Products Online
Like most of its other features, SiteBuilder's online store is very basic. To set up your online store, you answer a few questions in the Express Editor, and then you can add a new product. First, choose if it's a physical or digital product or a service, then add a title, price, and description. Next, choose a stock image or upload your own, select a free shipping or flat-rate shipping option, and you're done.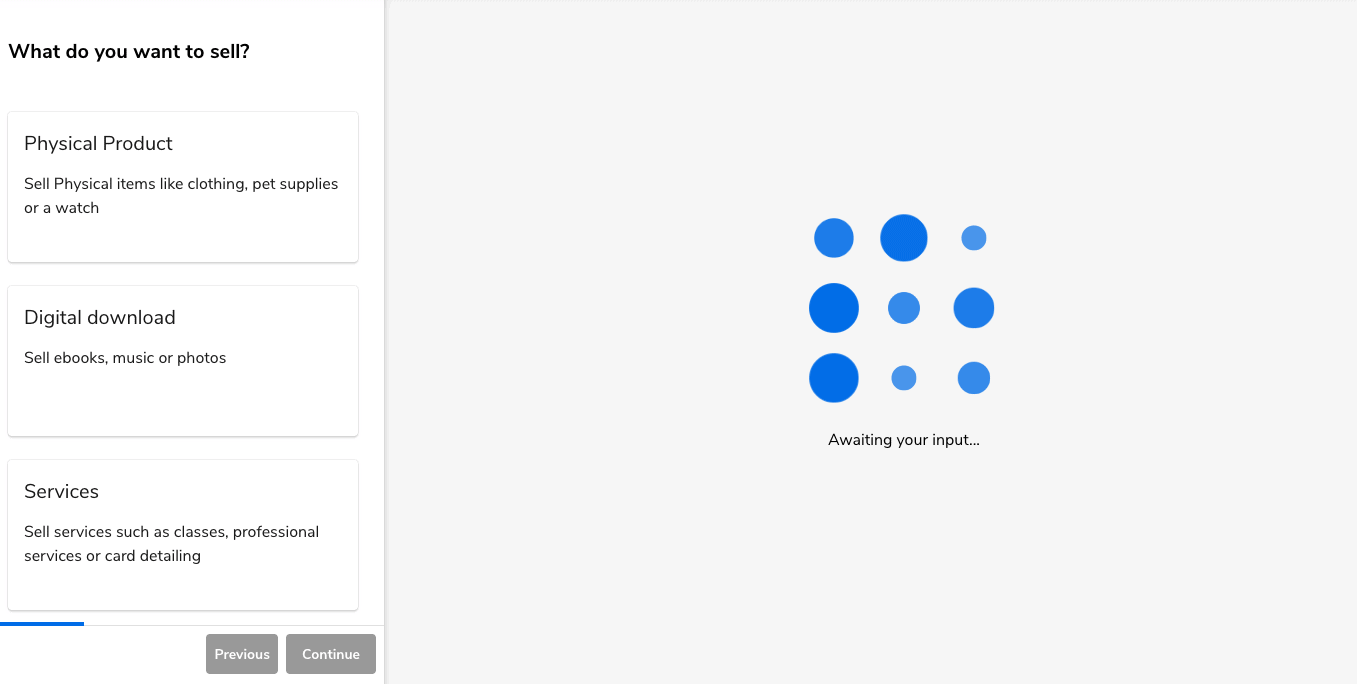 When it comes to payment methods, you can connect a PayPal or a Stripe account. Other features include adding a discount with coupons or promotional sales, adding product categories, and product variants like sizes or colors.
To learn more about these features, read our full SiteBuilder review
.
With Wix, you can choose from a huge variety of templates in the
Store
 category.
And, like its website templates, you can customize the layout and general look and feel. You can add a product gallery as well as a beautiful digital storefront. The Wix e-commerce platform offers various features that empower you to establish a dropshipping site, define shipping rules, choose preferred delivery partners, and expand your product sales across additional channels such as Facebook and Instagram. Additionally, effortless inventory management ensures that items are automatically marked as "out of stock" on your website when necessary. When it comes to accepting payments, you can connect your PayPal account or accept credit and debit cards through Wix's payment processor.
If you want to build a professional online store, definitely go with Wix. You'll get many more options for customizing your products and designing the look of your store.
One Clear Winner: Wix
Wix outperforms SiteBuilder in every category except for customer support. If you really only need a very basic website that you can publish quickly, then
SiteBuilder might be enough for you
. If you want more than just the basics, Wix is clearly superior in terms of templates, customization options, and just about everything else.
In order to build a website that really looks and functions the way you want, Wix is the better website builder to go with.
 Whether you're looking to start a blog, an online store, or a digital community, Wix has the template, the plan, and the features to see your project through to the end. Here you can see a side-by-side comparison of the main features offered by both website builders:
Free Plan Available
Yes
No, but offers 14-day money-back guarantee
Templates
900+ to choose from
Can't select a template to begin with
Features and Ease of Use
Easy drag-and-drop editor with tons of professional features
Easy editor with basic features
Apps, Add-Ons, and Integrations
Many options in the Wix App Market
Very limited app options
Pricing
Five tiered plans
Three tiered plans
Support
Submit a help ticket or get a callback
24/7 chat, email and phone support
Blogging Tools
Great advanced blogging tools
Basic blogging platform without too many features
E-Commerce
Many features to create an online store
Easily create a simple online store
FAQ
Which website builder is best?
Wix is the winner here. Not only does it have a free plan, but it offers a larger range of templates to choose from, and there are more features and add-ons available (particularly for e-commerce and blogging). The drag-and-drop editor is simple to use and gives you a ton of freedom and versatility when you are creating your site. If you want to read about some other options before you choose, don't miss our list of the best website builders.
Is Wix really free?
Yes, you can build a free site with Wix. The free plan is great because it allows you access to a huge library of templates, the beginner-friendly drag-and-drop editor, and 500 MB of storage. However, there are a few limitations. If you want a custom domain, e-commerce functionalities, or if you want to use Google Analytics on your site, then you'll need to upgrade to a paid plan. The good news is that the paid plans are affordable, and you can find some great deals on our coupon page.
What are some pros and cons of Wix?
There are a lot of pros! There are more than 900 templates to choose from, the drag-and-drop editor is super intuitive, and there is a massive App Market that can help you expand and enrich your site as you build it. One major drawback of Wix is the inability to modify your chosen template once it has been selected – there is no provision to transfer content between templates. Another disadvantage is that if you opt for the free plan, your site will bear Wix branding. If you want to take a more in-depth look at the pros and cons, you can read our full in-depth Wix review.
Should I use Wix or Squarespace?
Both builders are great, and are very similar in many ways, but there are a few differences that you should take into account: Wix has a wider selection of templates, but some people feel that Squarespace's designs look more professional. Wix gives you full customization freedom with its drag-and-drop editor, while Squarespace is more limited. If you're still not sure which builder is right for you, the good news is that you can try both out for free. Wix has a free plan you can use for as long as you like, while Squarespace has a 14-day free trial.