With businesses having different needs, budgets, and technical abilities, a one-size-fits-all approach to building, hosting and promoting websites no longer works.
Matthias Schaufler, Head of Product Management for website builders, online marketing, and eCommerce at 1&1 IONOS
takes us through their offerings from one-page sites to fully functioning ecommerce sites you can build yourself to their full design services – including their best hosting and SEO options.
This interview was originally published on May 15, 2019.
Please tell me a little bit about your background before joining 1&1 IONOS.
Before joining
1&1 IONOS
, I worked in finance marketing and sales for one of the world's leading direct life insurance companies. I helped manage the transition from a more traditional direct sales approach to an eCommerce-based company, as well as shifting the focus on classic media to online marketing – all while maintaining our daily sales target goals. It was exciting because it involved purchasing decisions that customers see as difficult and don't often make themselves. There are a lot of parallels in my current role as Head of Product Management for website builders, online marketing, and eCommerce at 1&1 IONOS. When it comes to SMBs going digital, my team and I are thrilled to pursue the mission of helping SMBs be successful by providing them with tools to easily create a website, sell online, and be found.
How does cloud hosting differ from web hosting?
Web Hosting provides customers with dedicated web space on one of our shared servers, meaning multiple customers share resources on one very large and powerful server. This enables them to host their website and choose from over 70 easy to install applications for setting up a blog, photo gallery, online store, wiki, and much more. The 1&1 IONOS hosting platform allows for scalable performance. Users may adjust their performance level by increasing (or decreasing) their RAM and PHP memory allowance in seconds, maintaining website speed and availability when their sites gain popularity and the number of visitors increases. With features like a free SSL certificate, domain, and multiple email accounts, our web hosting packages provide an all-in-one solution for our customers at an extremely affordable price. For projects that require more technical flexibility and performance, we offer Cloud Hosting. Here, customers configure the technical features themselves – they create their custom software stack by choosing a scripting language, web server, and database with just a few clicks. We then take care of the entire server setup and all updates, including all necessary core and security updates, allowing our users to concentrate on their web projects. Compared to standard shared hosting, Cloud Hosting provides dedicated resources, meaning resources like CPU vCores, memory, and SSD storage are all dedicated to the user. That guarantees performance since the impact from other users (i.e., the "noisy neighbor effect"), is never a concern. These resources are scalable and can be adapted at any time to match the demands of a customer's website or application, with full control of their usage and costs tracked by the minute. These two hosting options require a deeper technical understanding than MyWebsite which focuses on users with no prior technical knowledge.
What are your MyWebsite hosting plans?
Our website builder solution MyWebsite addresses all the needs of small and medium-sized businesses (SMBs), freelancers, and hobbyists for building and managing an engaging, professional-looking site. Our packages are designed to meet the requirements of any user.
MyWebsite Essential: This package includes everything needed to create a professional, modern site, including a wide range of beautiful templates, a free domain, and a wildcard SSL certificate.
MyWebsite Business: Enhances the Essential package with features and widgets specific to small businesses like online scheduling, business hours, and more. It also includes multilingual websites, a feature becoming increasingly relevant in a globalized world – even for SMBs.
MyWebsite eCommerce: Includes the ability to build and maintain an online store, allowing customers to sell their products or services globally, not only on their website but also on external platforms like Facebook. This package also includes tools to effectively market an online store, including SEO tutorials, visitor targeting, and email marketing.
At 1&1 IONOS, we take security
very seriously
. We provide a free Wildcard SSL Certificate from DigiCert which, unlike most hosting providers, also secures related subdomains. Therefore, MyWebsite enables fast-loading, SSL-secured websites, which translates into a higher level of trust, more visitors, better search engine rankings, and ultimately a more successful business for small business owners and hobbyists.
How does your website builder MyWebsite work?
As a complete solution, the MyWebsite packages above address all the needs of small and medium-sized businesses (SMBs), freelancers, and hobbyists to build and manage a unique, engaging, professional-looking website. Customers do not need to start from scratch, as we offer many mobile-optimized design templates with images and text content tailor-made for a range of industries. Templates can be customized quickly and easily with video backgrounds, parallax effects, animations, or by changing the style, colors, and fonts. Interactive apps, such as business hours, online scheduling, multiple language options, or newsletter signups can also be added – all by using just a simple, intuitive drag-and-drop system.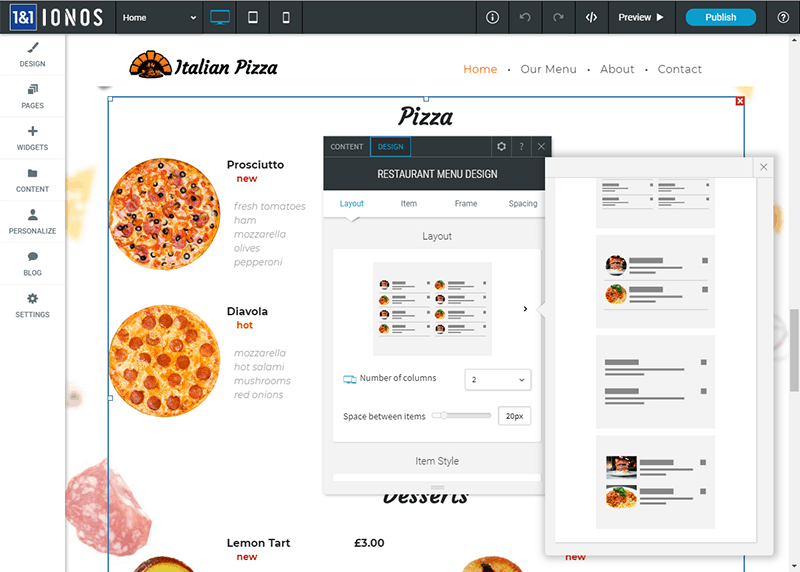 Together with online marketing and eCommerce functions, MyWebsite is an all-in-one solution that can successfully build and grow an individual online business.
Does MyWebsite include a stock photography library?
Yes, customers can choose from our image pool of 17,000 photos for use on their site. Of course, they can upload their own photos at any time.
How do your email marketing and social media and blogging services work with MyWebsite?
MyWebsite features full-fledged email marketing integration, which enables our customers to collect sign-ups or create, send, and manage campaigns. Customers who need to send newsletters for larger campaigns can easily upgrade their plan. It also includes social media widgets that enable our customers to connect their social media – be it their Instagram account to increase reach or embedding YouTube videos – on the website. Our integrated blog works exactly like a site page, making it easy to add eye-catching posts. Additionally, its structured layout is ideal for SEO as content can be quickly searched by title or author, and the layout of the current and future posts can be updated at once.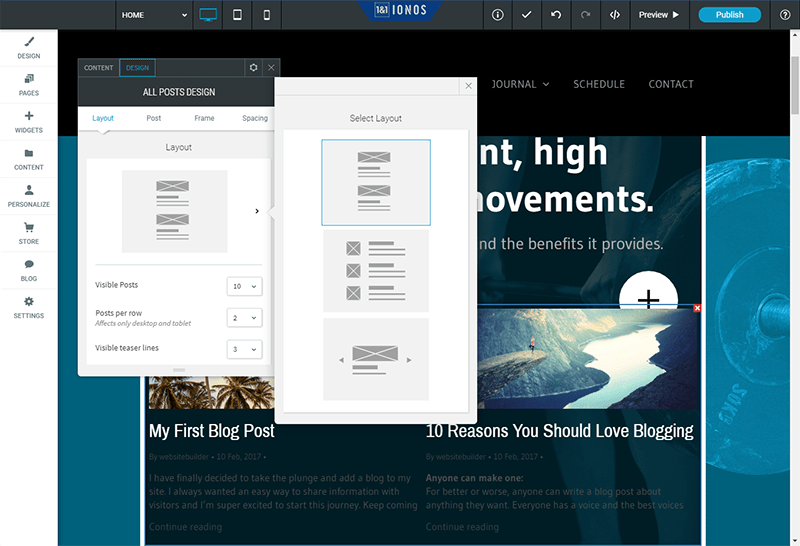 What third-party services and apps can be integrated into MyWebsite?
We offer many curated third-party services out of the box, including an online scheduling service and an online reservation system for restaurants. What's more, the customer has the freedom to integrate third-party services that offer a small snippet of code, most of which are designed to work on websites like MyWebsite.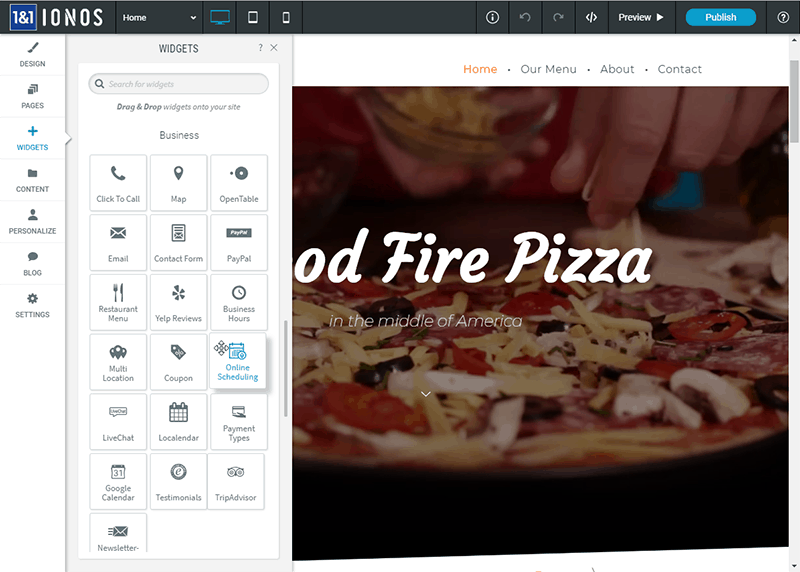 Are custom design services available?
Yes, our MyWebsite Design Service's experts will create a five-page professional website. This service includes great design, individual images, a distinctive logo, and attractive SEO-optimized texts. They also create corresponding page navigation with subpages to ensure that Google and other search engines easily find the website. Additional pages can be added on request. Once the website is complete, customers can make changes/updates quickly and easily on their own, or they can choose to use our maintenance service to make these updates for them.
What type of web functionality is available?
Our Online Starter Kit aims to promptly enable businesses or brands to establish an online presence. You can achieve this by entering your NAP (name, address, and phone) along with a professional email address. Each of our packages incorporates a minimum of one domain, ensuring a comprehensive offering. Customers can also build trust through communication by creating a one-page website with a contact form using their professional email address in literally within minutes, thanks to our easy-to-follow step-by-step guide. We also offer options for visitor targeting, where the website can display different content depending on where the visitor came from. For example, if the visitor came from a link in a newsletter, the website could display a special pop-up. Or if a customer uses their smartphone to access the website, the website could display a prominent "Call us" button, which would dial the website owner's phone or WhatsApp number. Another inventive feature is to "let it snow" by having animated snowflakes fall from the top of the website. These are only some of the many creative approaches our visitor targeting allows.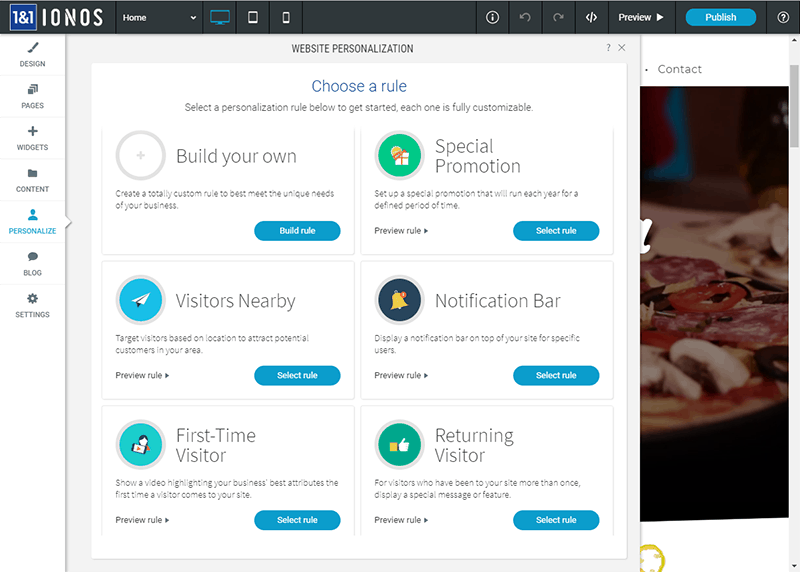 Do you offer SEO guidance or services?
Yes, of course! A website that cannot be easily found is, in my opinion, irrelevant. A lot of our out-of-the-box features make our customer sites search engine friendly, such as quick loading times, SSL encryption, an in-page metadata editor, and much more. For taking SEO even further, we offer rankingCoach, which is not only a powerful optimization tool but also a step-by-step video guide to creating great results organically and – if they want to boost their business even more – with paid advertising.
What type of support do you offer?
Great service is one of our major assets! While we make our tools as easy to use as possible, we believe it is absolutely fundamental to provide personal help and advice 24/7 via phone, chat, email, or social media. What is really unique is we offer customers a personal consultant for expert recommendations, easy to understand explanations, and uncomplicated advice on any question while setting up and managing their website. We strongly believe in building a personal relationship with our customers. All they need to do is activate the feature via our website – and the best part? It's completely free.