This interview was originally published on January 9, 2020.
Since its launch 20 years ago,
Volusion
has been an industry leader in eCommerce. Then, four years ago, growing pains and market changes forced them to rethink how to best serve their customers in the next 20 years. We spoke with their new
CEO
,
Bardia Dejban
, about how they've rebuilt their platform from the ground up, providing speed, flexibility, and reliability far superior to anything available from other eCommerce platforms.
Please tell us a little bit about your background before joining Volusion.
My parents are small business entrepreneurs, and although I never thought about it this way, I guess I always had the bug to have my own company. So, after working at some great companies like IAC and eHarmony, I started a digital agency. We worked with a lot of companies like Thomson Reuters, Kaiser Permanente, OpenTable, Apple, and Citrix. So, I have a lot of experience working at big companies, working at small companies, and starting my own company – with and without capital. I love technology, I love business, and I especially love solving small business needs with technology. Then I got to know Kevin Sproles, the founder of Volusion. He is just a great guy; he has the least ego of anyone I've ever met, and his deep sense of responsibility and passion for our customers is contagious! And that's why I'm here at Volusion and have spent the last four years focusing on helping the company rebuild itself to focus on the needs of small to medium businesses.
What is Volusion?
At Volusion, we are relentlessly focused on enabling our customers, small to medium businesses with annual sales under $100 million, to sell their products online. Some of our merchants only sell online, while others have a shop or a few retail stores, so selling online is an additional revenue stream for them.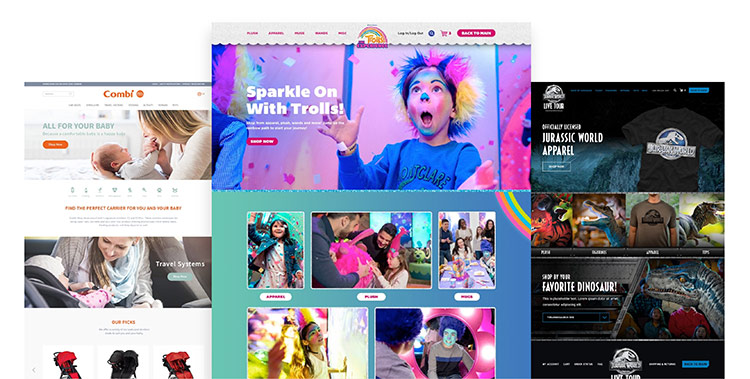 What were some of the issues you had to address?
A few years ago, we had two major offerings — one for SMBs (Volusion) and one for enterprise customers (Mozu). Once a company surpasses a certain amount of annual online sales, they have different needs, mostly focused on sales and distribution channels. They might need an ERP solution, an order management solution, software to manage their warehouses, etc. and we just did not have a graduation platform. So, one of the first decisions we made was to sell Mozu to Vista Equity Partners, who rolled it into Kibo Commerce, their flagship product. We're happy about the technology we built; it just wasn't the right fit for us because we wanted one solution for all size customers. Then I started looking internally. Volusion has been around for 20 years – what do we need to do to be around for another 20 years? We felt the culture was the first step, so we spent time rebuilding it. We made our culture code public at culture.volusion.com, and we talked about it openly with our employees and customers. This is our operating code that explains how we work, and what core values we believe in every single day. Then we looked at our technology. We realized that even though at our prime, we were beating all our competitors, we wanted technology that can rise to the challenge for another 20 years. To do that, we've spent the past three years rebuilding the technology from the ground up.
How do you envision Volusion re-emerging as the industry leader?
The rebuilding has enabled us to get traction on the three things eCommerce sites really need –
speed
,
flexibility
, and
reliability
. One of the incentives Google is rolling out is to notify you if you are about to visit a slow site, so speed is one of the biggest mountains we're going to be standing on in 2020. If you look at the top eCommerce sites, many of which are powered by Shopify, Bigcommerce, Magento, and WooCoomerce, 98% of them are slow, meaning they take between 5 – 8 seconds, or more, to load, and that's not acceptable. So we created benchmarks for our existing and rebuilt platforms and had a third party do some independent testing. They found that Volusion's existing platform is the fastest e-commerce website builder. Our new platform is
5x faster than
that,
meaning we are going to be at least five times and, in some cases, seven or eight times faster than the competition.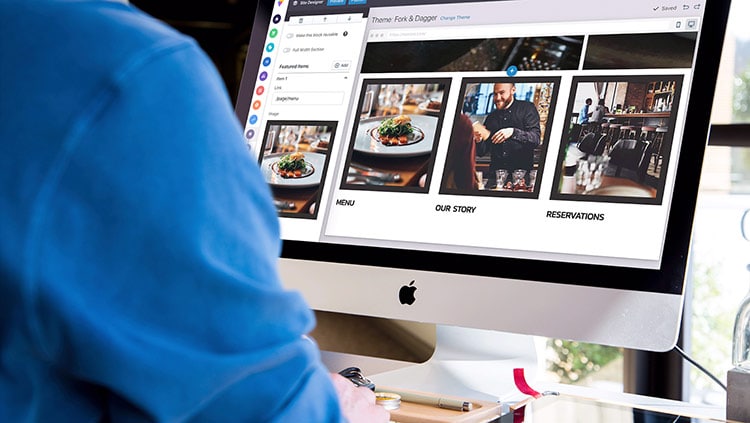 Speed is vitally important because of its impact on conversions. Over 60% of traffic nowadays is on mobile devices, and 90% of those shoppers will leave sites that take more than 3-4 seconds to load, which means a loss of revenue. Now, if we can get our SMB customers an extra 10 – 20 % of revenue by making their site fast – then that's what we're going to do! As an example, Walmart published a study showing that every 100-millisecond decrease in page loading time turns into 1% additional revenue. Shopify's stance is that their platform is fast, but since merchants install apps, widgets and make their site look pretty if a website is slow, it's on the merchant. We don't agree with that outlook and because we're smaller and nimbler, without public market pressure, we can focus on what our customers need. So, we're taking a different position in 2020 – every time our customers install an app or customize their site, it is
our job
to make sure their site remains fast. For example, if a merchant uploads a large product image, we know it would absolutely impact loading speed. But we are going to take responsibility and downsize that image without any loss of quality, or minimal visual loss of quality. We also take responsibility for making sure it's cached across our vast edge network and that it loads quickly, regardless of whether a visitor is in New York or California. This is the result of our networking, our tools, the partnerships that we formed with different companies, and the technology we've built. And it's not just with images; it's everything that powers the display of our customer's website on a surface, like style sheets and JavaScript – we're going to take ownership of it and be transparent to our customers if a customization they need will impact performance.
You've also spent time and resources developing flexibility.
Yes, our merchants want the flexibility to create their site themselves, hire an agency, or have us do it.  Some want the flexibility to upload their products manually, and some want the flexibility to change the way they ship depending on certain business rules. They want the flexibility of using the API or the interfaces we've built. They want the flexibility to choose how they want to work, and we can't get in their way.
Do you have a web builder platform?
Yes, we have a platform called Site Designer and a corresponding site editor. Our new platform, which is in early access, includes technology we call Element, is much more than a site designer, it's actually a complete web application development platform. Element enables you to not only design and move blocks and widgets around to change your site's appearance, but it also allows you to develop anything you want. So, if you wanted to build Tesla.com or Apple.com using the Element technology, you can do so, and you'd benefit from all the speed, flexibility, and reliability mountains we have built into the platform.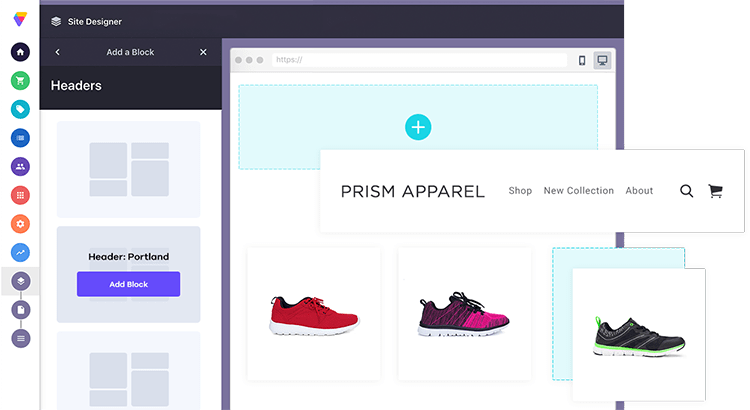 Our competitors use proprietary languages and tools, locking you into their technology. So, you're going have to pay a developer, or if you're technical, spend the time yourself to convert your site should you decide to move to a new platform.  I recently spoke with a retailer who is migrating from one platform to another, and they had to pay $125k to rebuild just
one
feature in the new platform's proprietary tools. That's unacceptable. The great part about Element is that it uses no proprietary language or tools, allowing more developer access. Since you're building your site using
open technology
, you're not locked in. We're really proud of Element and going to be doing broader marketing in the first quarter of 2020.
Can merchants upload multiple products from a spreadsheet or database?
Yes, there are several ways to do that. Merchants can use our API or the import/export tool we've built into the new platform. There is a third way using webhooks, which is a bit more technical, so most of our customers use one of the first two methods. We also have a team of migration specialists who can help find the best path for each business.
How easily can product variants like color and size be added?
We spent a lot of time looking at how variants are done in the market and how we can improve it. For a variant system, other platforms require the installation of apps, which you don't have to do with Volusion. We've built it in and allow flexibility of pricing for variants. For example, you could show a t-shirt size small in black as costing $2 less than the base price or at a specific price of $19. You can also have a different skew for all the variants and even track inventory at that level.
The third area where Volusion spent a lot of time and resources to update is reliability.
Reliability is a few different things. Reliability is uptime – how available your website is for customers to come and shop and how available it is for you to sign in and manage your orders. Our merchants know they can expect 24/7/365 days availability. Reliability is also "peak time" reliability. For instance, between Black Friday and Cyber Monday, we see a spike in traffic, in some cases, more than a hundred times, and our system must be capable of handling that load. Merchants rely on us for customer support. When they call, they don't want to be on hold for very long, and they want to get their answers quickly – which goes back to our speed promise.
What about traffic spikes on an individual basis, if a company sends out a mailing or gets mentioned in an article?
That's a great question. Five years ago, it was not handled well. Back then, we were on our own data centers and, believe it or not; customers had to call and let us know they're about to do a major marketing campaign. One of the transformations of our platform was migrating everything to the cloud. Now everything is provisioned in the cloud, so it automatically scales.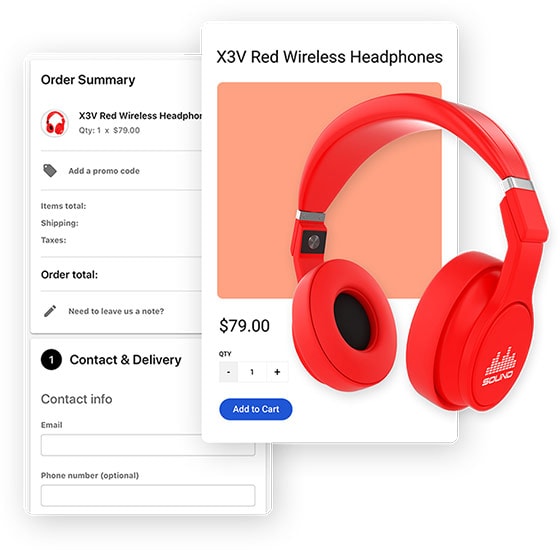 What is your SEO service?
We want to offer as much as possible for SEO, so the service is part of our core platform. There are many technical aspects to SEO, such as the robots.txt file, the site map, meta tags, URL structure, 301 redirects, etc. all of which our existing and new platform automatically generate for you. SEO has also dramatically improved in many ways because of our speed. We also have agency partners, including our own Studio that can setup and improve SEO. They have not only shaped our products but keep up to date with every trend, change, and critical SEO need so our customers don't have to.
What support resources are available?
We offer phone support, chat, and email. Our top tier Prime customers have a dedicated Account Manager and receive a quarterly business review. What's pretty unique to Volusion is that Prime customers also have access to leadership and top-tier executives within our company. So they can reach out and speak to the head of operations, the head of support, or the head of product and build a relationship with them.
What other improvements can we expect to see with the new platform?
Agencies and technology partners that can extend functionality are vitally important for the new Volusion platform. Our mission of speed, reliability, and flexibility is not just for our core merchants but also for our partners. We're going to bring on and support more partners in a big way so that in turn, they can support our SMBs. A lot of our customers like to go to agencies, and they like to hire their own marketing companies and development agencies, so if we can support them the same way we support our merchants, we can build a better ecosystem. Most of the technology we talked about is available now, while some, like the entire partner ecosystem, will be launched in the first quarter of 2020.