The goal of just about any online form, survey, or interaction is data collection. We're all accustomed to those standard forms with their laundry list of questions and answers boxes, but now there's
Typeform
, an exciting NEW type of form which is more beautiful, more interactive, and more engaging. We spoke with co-founder
David Okuniev
and
Developer Advocate Nicolas Grenié
about their "conversational data collection" approach, how they are easily created and integrated into web sites and emails, and why it has increased completion rates, on average, 2 ½ – 3 times higher than standard forms.
This interview was originally published on April 21, 2020.
Please tell us a little bit about your background before founding Typeform.
I started my career as a musician writing songs and producing music. I was always passionate about building things, and while playing in bands, I did a little bit of design and Flash coding on the side. I then moved to South America and started doing web design full time, which started my journey.
What is Typeform?
Typeform is a text-based form solution trying to be the most empathetic way to ask your audience questions by using a conversational approach to collect their data. Typeform can also generate conversations in a sort of chatbox, as well as a video-driven form product. Essentially what we've done is made form and online interactions more human.
You call this "conversational data collection." In what way is that different from standard data collection?
A typical old-fashioned form is a laundry list of questions that are answered in a bunch of boxes. Typeform presents this differently, one question at a time, with more focus on design and experience, so it doesn't feel like a formal form.
How has Typeform made the conventional contact form different or better?
Well, a contact form is a lead generation form where essentially, we're trying to get people to part with their personal information. What Typeform allows you to do is take your visitors on a conversational type of journey so that when it gets to the point of asking for their email address, you've already built trust. We've seen the data that completion rates for Typeform forms are, on average, 2 ½ – 3 times higher than standard forms.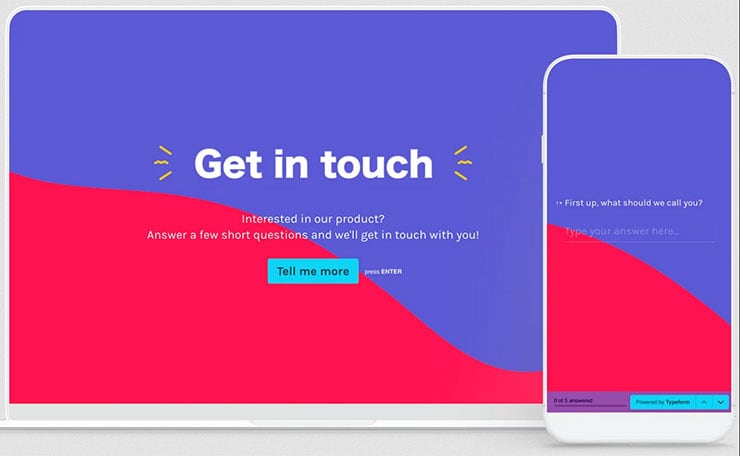 To what do you attribute the higher response rate?
Better design, better UX mechanics, establishing trust. Also, people use better language in Typeforms as their intention is to create a better experience and build a connection with their audience. There's a big difference between presenting a form that asks for name, email address, etc. versus asking, "Hey, how are you doing? What's your name? We'd love to know some more about you." Imagine if you were on the street or in a bar, and someone wanted your contact details. They wouldn't come up to you and say, "Give me your name and email address." It's important to make things conversational and create rapport, and I think we can firmly say that conversational works better in terms of engagement.
What type of quizzes can be designed in Typeform?
Getting users to take quizzes works well for lead generation. You're doing something fun to engage people, and, in the end, you'll likely collect the lead. When building a quiz with Typeform,  you can set a score variable based on the answers so that you can show the outcome after the quiz. For example, If you were creating a quiz to establish a personality type, you could show each person who takes the quiz their personality type based on an output of the score of X. So, the score is not just getting 24/25 answers correct; you could use that score to express different outcomes.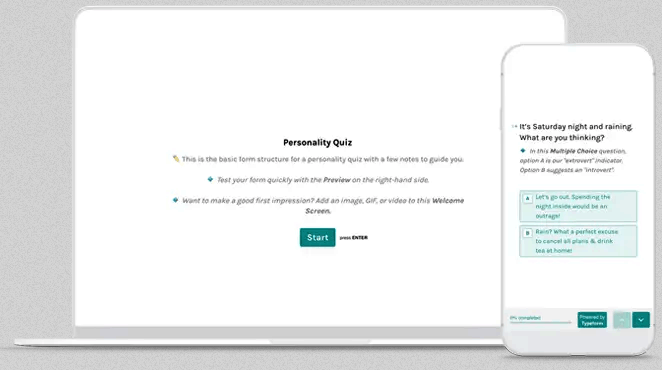 How can Typeform be used to sell online?
We have a few features which allow users to sell products online, including logic, calculations to build a shopping basket, and integration with Stripe for accepting payment. I wouldn't recommend using Typeform to build an e-commerce website, but it works really well if you're selling a few select products such as event tickets or a book. You can even have Typeform present different options at different prices such as a hard or softback version of a book
How are Typeform forms created?
Typeform is a cloud-based app built on top of AWS. Once you sign up and create an account, you can access our builder, and from there, it is pretty intuitive. Type in your question, and then, based on the type of answer you want, select an answer field, be it multiple-choice, text, phone number, payment field, etc. It's all  WYSIWYG, and as you type in your questions, you'll see the form building on the right side of your screen.
Once created, how is Typeform integrated into websites or emails?
(David) For websites, people generally just copy and paste our embed code and Typeform will appear as an iframe. You can also use the conversation feature, which converts the Typeform into more of a chatbox experience. (David) When a Typeform is complete, it produces a link, giving you the option of sharing the link or embedding the Typeform in your email. When embedding, however, your email will not display the entire Typeform. For example, if the first question in your form is multiple-choice, that question will appear in your email. Once the recipient selects their response, they are redirected to the entire Typeform with that first question already reflecting their selection. (Nicolas) When using Typeform with a mail client like MailChimp, you can personalize the link. So, when you send an email, any information you have about that user will be passed through Typeform. So, if you already know someone's name or where they live, you can pass those details in the URL, and Typeform will skip those questions. (Nicolas) This makes the experience more personalized since you only ask relevant questions. When passing information through the URL, Typeform will skip the question(s) but makes sure that the data available from within the mail client goes to your results.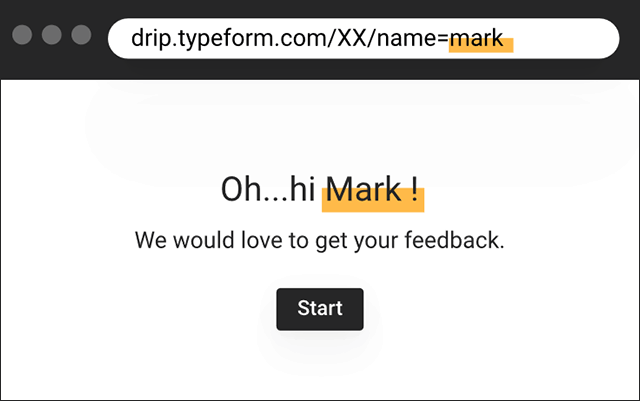 What are other dynamic features available in Typeform?
You can set logic inside your Typeform, so based on the answer to one question, you could jump to a different set of questions so that you can create custom user journeys. As I mentioned before with quiz creation, you can set variables on different questions, so if the user answers X, it adds a variable to a score which you can pick up later to create different outcomes. We also have tools that allow for instant action, meaning that as your form receives answers, it will be pushed into a channel so you can act on it and close the loop very quickly.
Where are Typeform submissions stored?
(Nicolas) We mainly store all your form's data inside the Typeform infrastructure so that you can access it at any time. But if you want, we also have integrations with other tools so the data can get sent somewhere else. So, if you want your data to be on a Google spreadsheet, we have an integration for it. If you want it to integrate with a CRM like HubSpot or if send it to MailChimp, we have integrations for it. So now, you have full control of where the data is sent and how you connect the different apps you're using.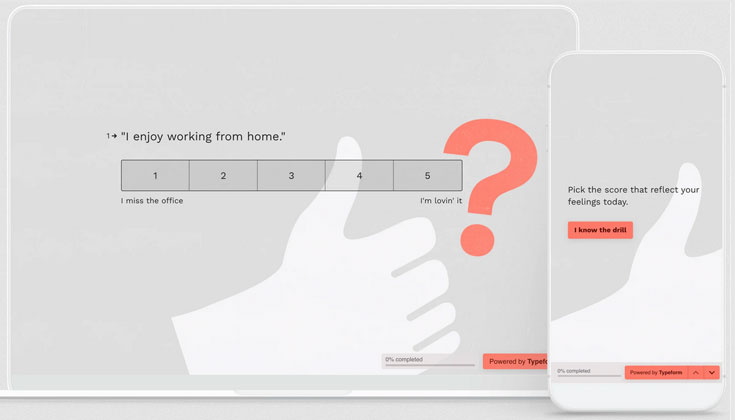 What type of integrations are available?
(Nicolas) As Typeform is mainly used for marketing, we try to go with the suites of tools that people are using. So, there are integrations for automated marketing tools, email clients, and CRMs  – just about any tool you use to contextualize the form's data. (Nicolas) We want to be wherever you might need to include a Typeform.  For example, our integration with Intercom allows you to send a Typeform survey natively inside the Intercom experience. We're also working on the embed function so you can more easily integrate Typeform into your WIX or WordPress website as well as your HubSpot landing pages. (David) Also worth mentioning that aside from our native integrations, we also integrate with a service called Zapier, which has around 2,000 possible integration, so really, you can integrate Typeform with anything. (Nicolas)Yes, we have the integrations that we've built, and integrations that partners have developed, so through connectors like Zapier, it's kind of endless.
What analytics are available in Typeform?
We do provide some rudimentary analytics, including building reports showing certain aggregates, but we are not a deep analytics platform. For many people, the analysis we run is just fine. Still, a data scientist or someone that's running really in-depth surveys will create in Typeform for the user experience and completion rate, and then download the data to run really advanced analytics. Our strength is more on the front end – creating and embedding forms and collecting data. There are plenty of great tools for analyzing data, and we're completely fine with people seeing Typeform as a system of recording the information and not necessarily analyzing it. Downloading the data as an XLS file and just analyzing Google sheets is a pretty powerful way to run certain queries.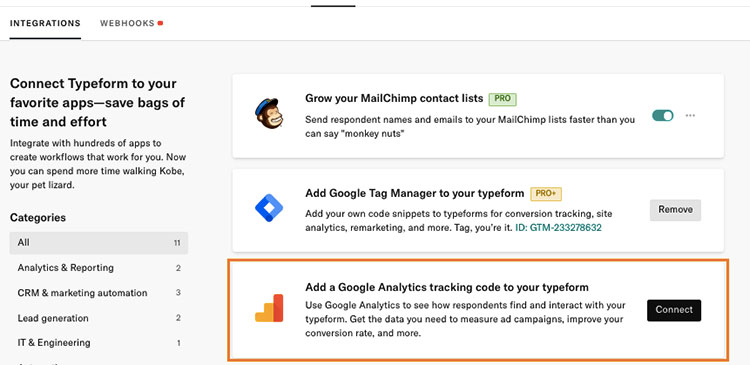 Can we expect any updates or new products from Typeform in 2020?
We just launched a new product called VideoAsk, which is the kind of video-driven version of Typeform. You record yourself asking questions, and users can answer via video, text, or audio, and If they leave their contact information, you can have an asynchronous video conversation with them. One use case is if you want to collect leads on your website but want to do it in a very personal and human way. Using our widget, you embed your video, and when users click, they see you talking, and if they respond, having an asynchronous conversion with them. It's kind of a different approach, whereas Typeform is about creating a text-based, good looking, professional form, VideoAsk is about being very, very personal. We've found that it removes a lot of friction in terms of getting people close together as soon as possible.