there are a few key differences you should know about,
in terms of reporting, task dependencies, and other important features. Since we use these tools regularly, we can give you the lowdown on each. We've compared them in the following areas:
Project Views
Reporting
Interface
Task Dependencies
Templates
We'll fill you in on the main differences that could potentially affect your business, and let you know which tool is better for particular situations. Let's get started!
Asana Offers More Views, Trello Has One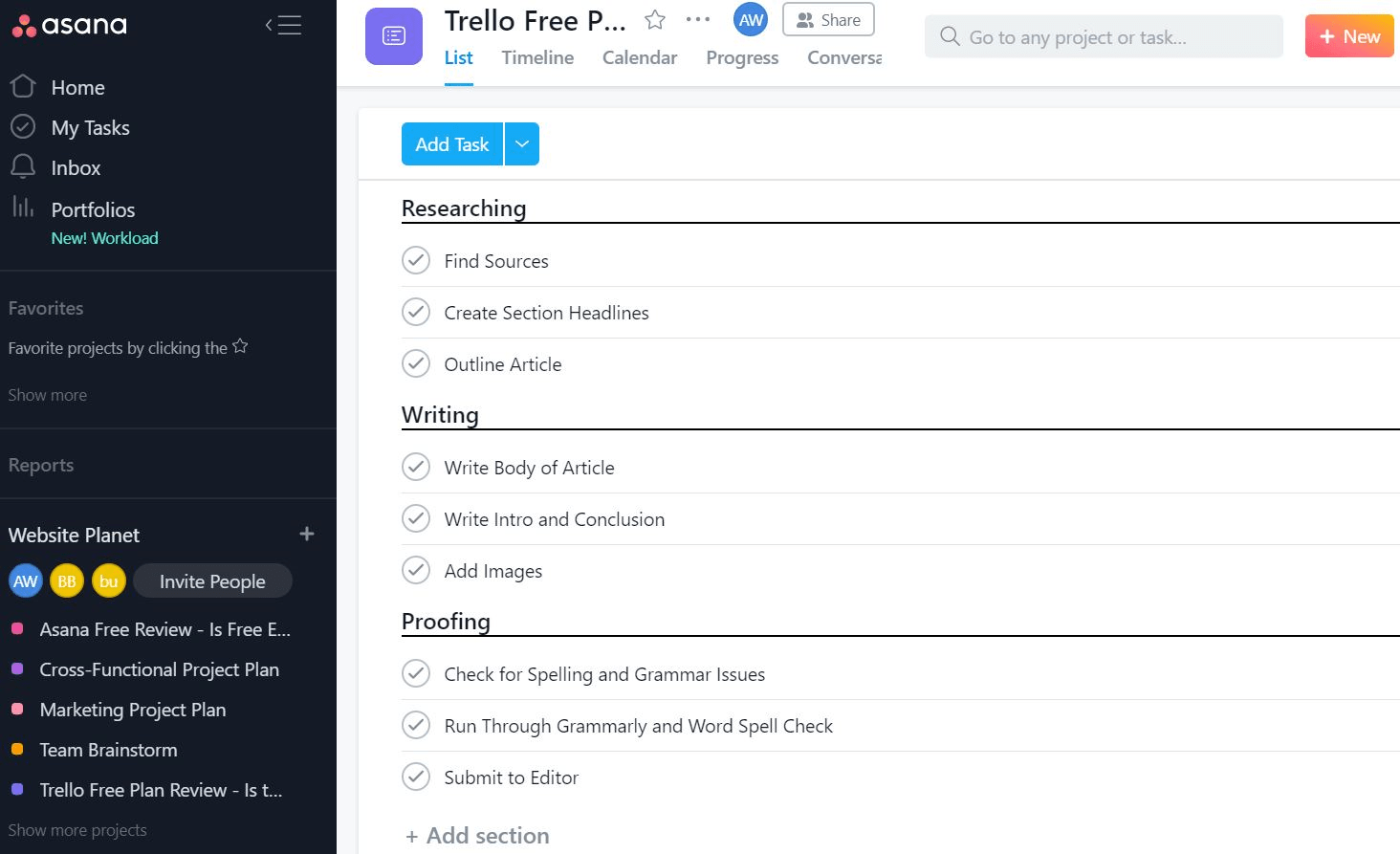 Asana's List View (Top), Trello's Board View (Bottom)
One of the first things to note in this Asana vs. Trello comparison is just how different the dashboards look from one another. Trello's main – and only – view is a Kanban-style board where you can drag tasks from one list to another. Asana, on the other hand, gives you options.
With Asana, not only can you use a Kanban-style board similar to Trello's (although it doesn't look as nice, if I'm going to be honest),
but you also get a board view, calendar view, and a timeline view.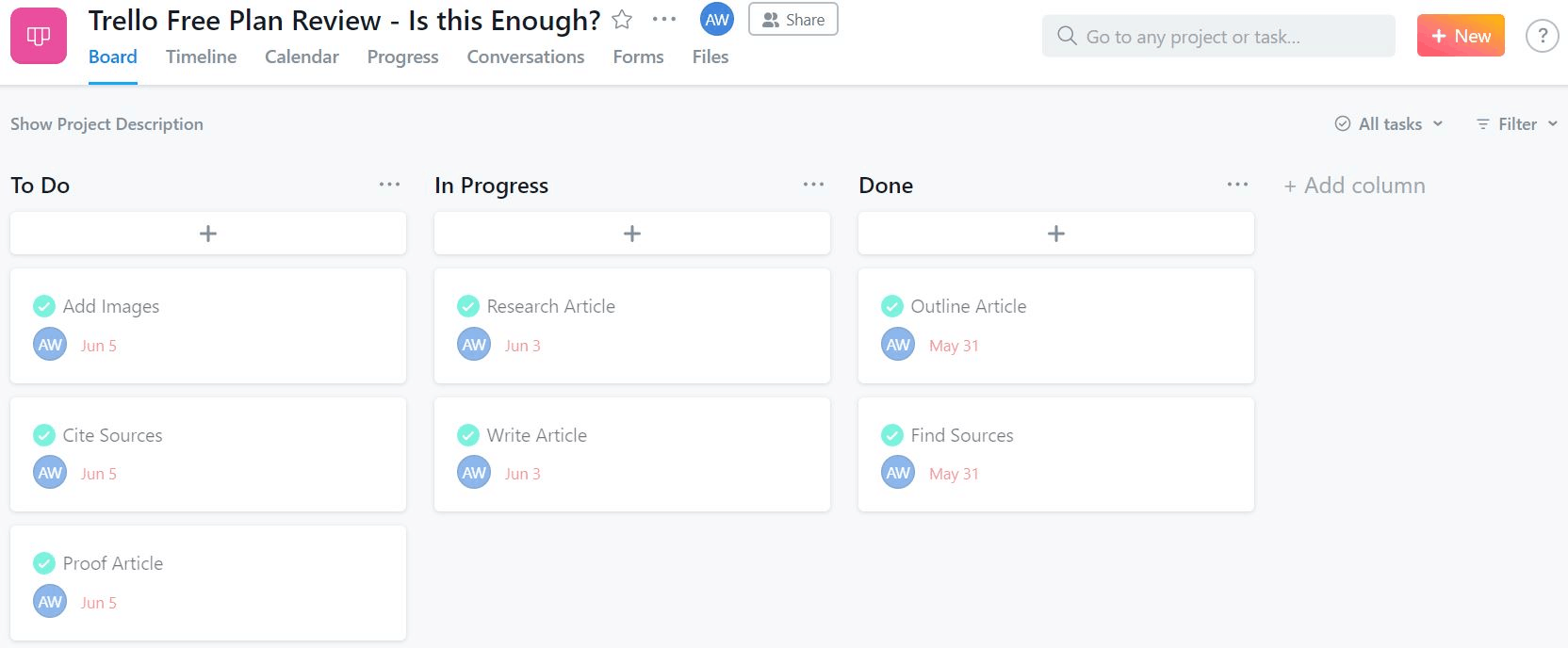 Asana's Board View
And the Winner Is…
While plenty of people love Trello's board view due to its simplicity and attractive visual layout, the tool still lacks options. With Asana's multiple views, you get the same functionality as you would with Trello, as well as other great choices. Thanks to these options,
Asana's the clear winner here.
Read more about Asana in our
in-depth review
.
Look to Asana for Built-In Reports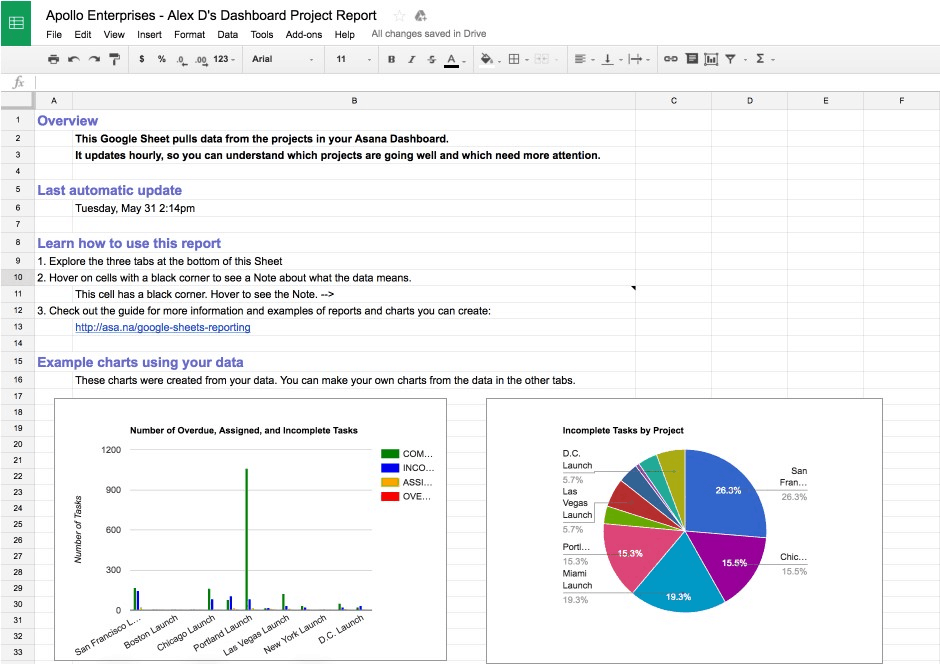 Asana's Reporting from Google Sheets
Trying to manage several projects at the same time can be a total pain. That's where reports come into play. With a good report, you should be able to see what's being worked on and what needs to be worked on all at a glance.
Asana has a pretty good reporting system that lets you export projects directly to Google Sheets.
Using custom reports, the tool helps you visualize your projects.
It can track overdue assignments, incomplete tasks, and more. This feature is awesome for managing internal work processes as well as reporting to your clients. Just keep in mind that these custom reports are available to premium users only. While Trello does have some reporting features through its Power-Ups (the name of integrations in Trello), Asana's reporting comes built-in and is rather powerful in comparison. For free Trello users, you won't get much as each board only comes with one Power-Up.
And the Winner Is…
Even though you can connect Trello to Google Sheets as well by using Zapier (which aren't free),
Asana Premium's built-in ability to quickly export your data
makes it the winner once again.
Trello Has Less of a Learning Curve
While Asana may be loaded with different views and tons of ways to track a project, all this functionality does come at a cost. Figuring out how to take advantage of everything that Asana has to offer will definitely take some time – especially if you're not very tech-savvy. It could also lead to problems when working with a team, as getting everyone up to speed can be time-consuming.
Trello, on the other hand, is pretty intuitive and easy to figure out.
Some of the tool's Power-Ups may have a bit of a learning curve, such as using Zapier to connect to partner apps. However, when it comes to simply creating tasks and managing projects, you can figure it all out pretty quickly. The drag-and-drop layout is really similar to sticky notes on a board, and it's easy to use even if you're not the technical type. It's also nice to be able to visually see your tasks move across the board, not to mention pretty satisfying to drag them from one column to the next.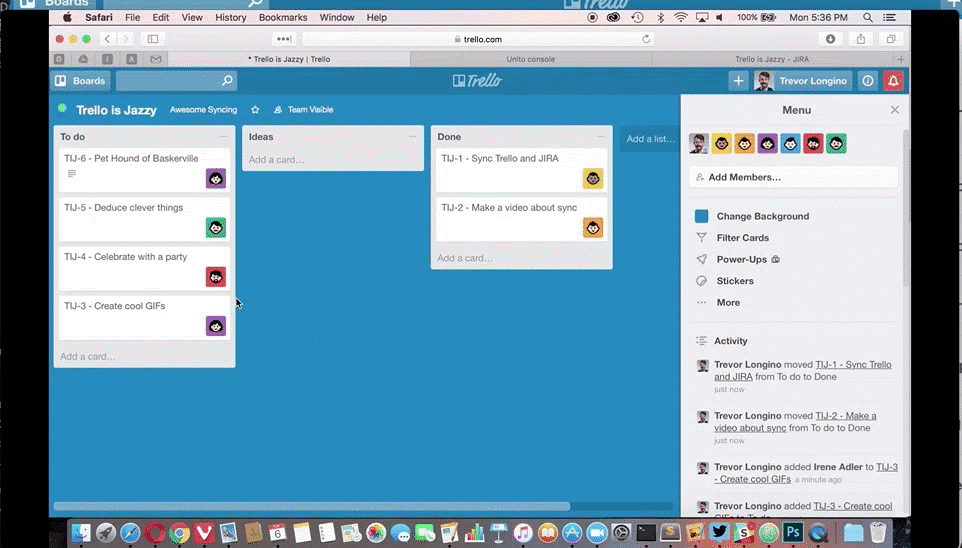 Trello Interface and Functionality
And the Winner Is…
You're unlikely to struggle too much when figuring out how to use either of these tools. That said,
Trello is definitely an easier tool to learn.
Most of its features are pretty intuitive, and its card system is simple enough for anyone to get the hang of. Because of this, Trello comes up on top in this category. Curious to know more about Trello? Don't miss our
in-depth review
.
Create Task Dependencies You Can See with Asana
Asana's Task Dependency Option
If you have a lot of projects that require tasks to be completed before work can begin on subsequent tasks, then you want task dependencies. While both Asana and Trello offer some task dependency functions, the approach is a bit different.
Both Trello's free and premium versions offer the capability to manage task dependencies through a couple of distinct methods. You have the option to establish task dependencies using subtasks and checklists, or you can utilize the Hello Epics Power-Up. On the other hand, Asana Premium provides an integrated and robust task dependency feature.
In Asana, you can quickly make a task depend upon the completion of another task from a card's menu.
You can even draw dependencies when using the Timeline View, simply by connecting one task to another. This way, you can literally see any potential conflicts.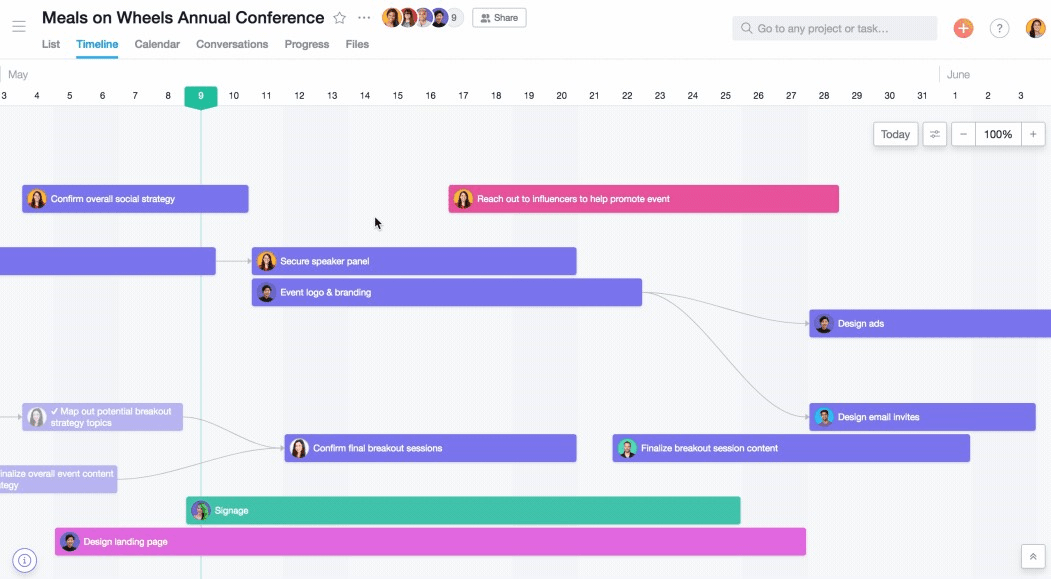 Task Dependencies in Asana's Timeline View
And the Winner Is…
The fact that Asana's dependency feature is built-in, and the addition of the Timeline view makes it the winner here.
While Trello does have some options for creating dependencies, the tool has a long way to go before it can match Asana.
Trello Has Way More Templates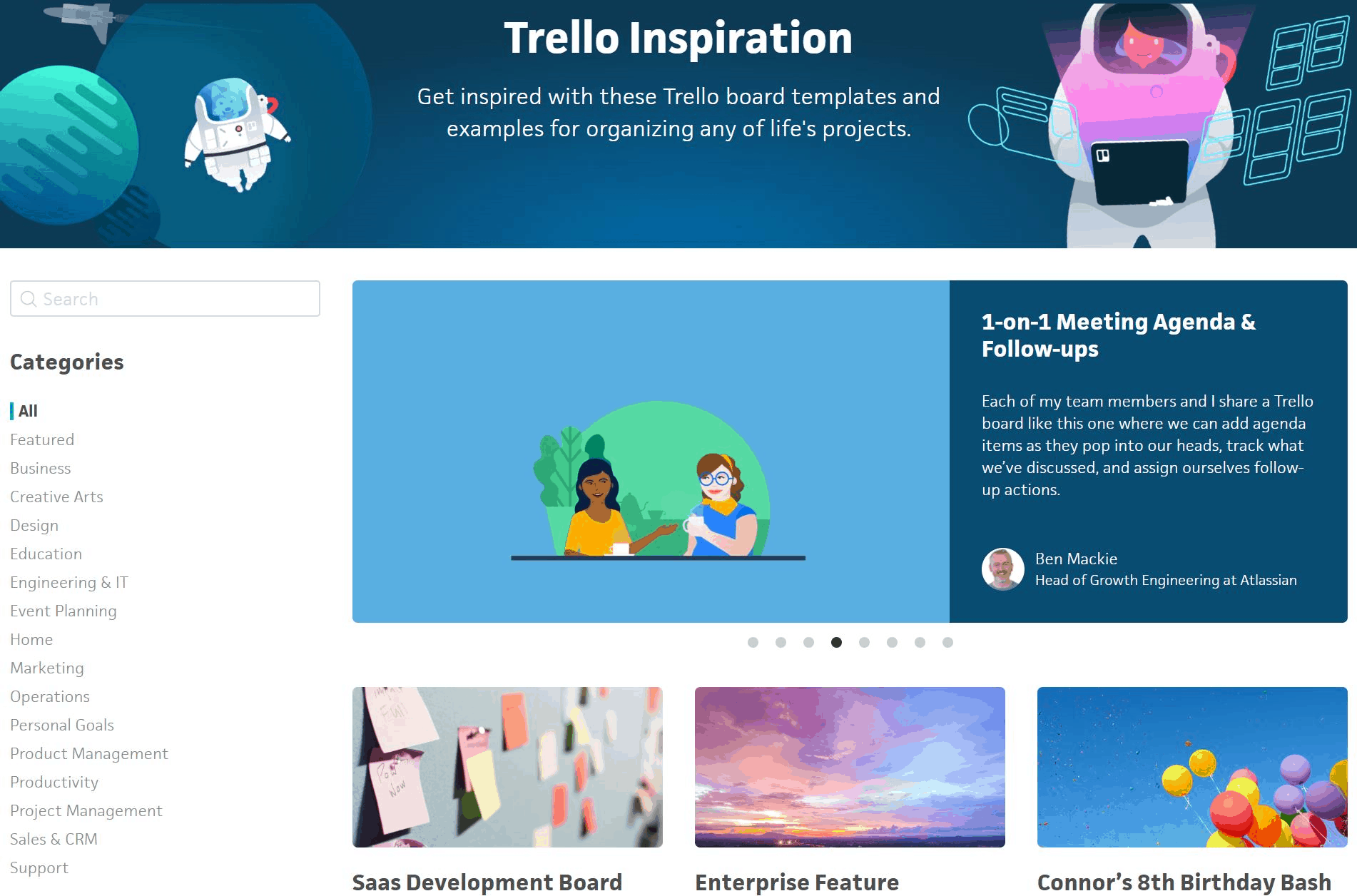 Trello's Free Templates from Trello Inspiration
Sometimes you're just not sure how your list or board for a certain project should be laid out – that's where templates come into play. They show you how other people have designed their project planning so that you can get some inspiration for yours. When it comes to Trello vs. Asana on templates, Trello gives you far more to choose from. Asana not only has fewer options, but many of them are only available to premium users.
Many of Trello's board templates are submitted by users, and cover a wide range of categories.
You can find boards to help you manage production workflow, develop a marketing plan, or even plan a family trip.
These can be used across a number of industries, or to simply help you organize your personal life.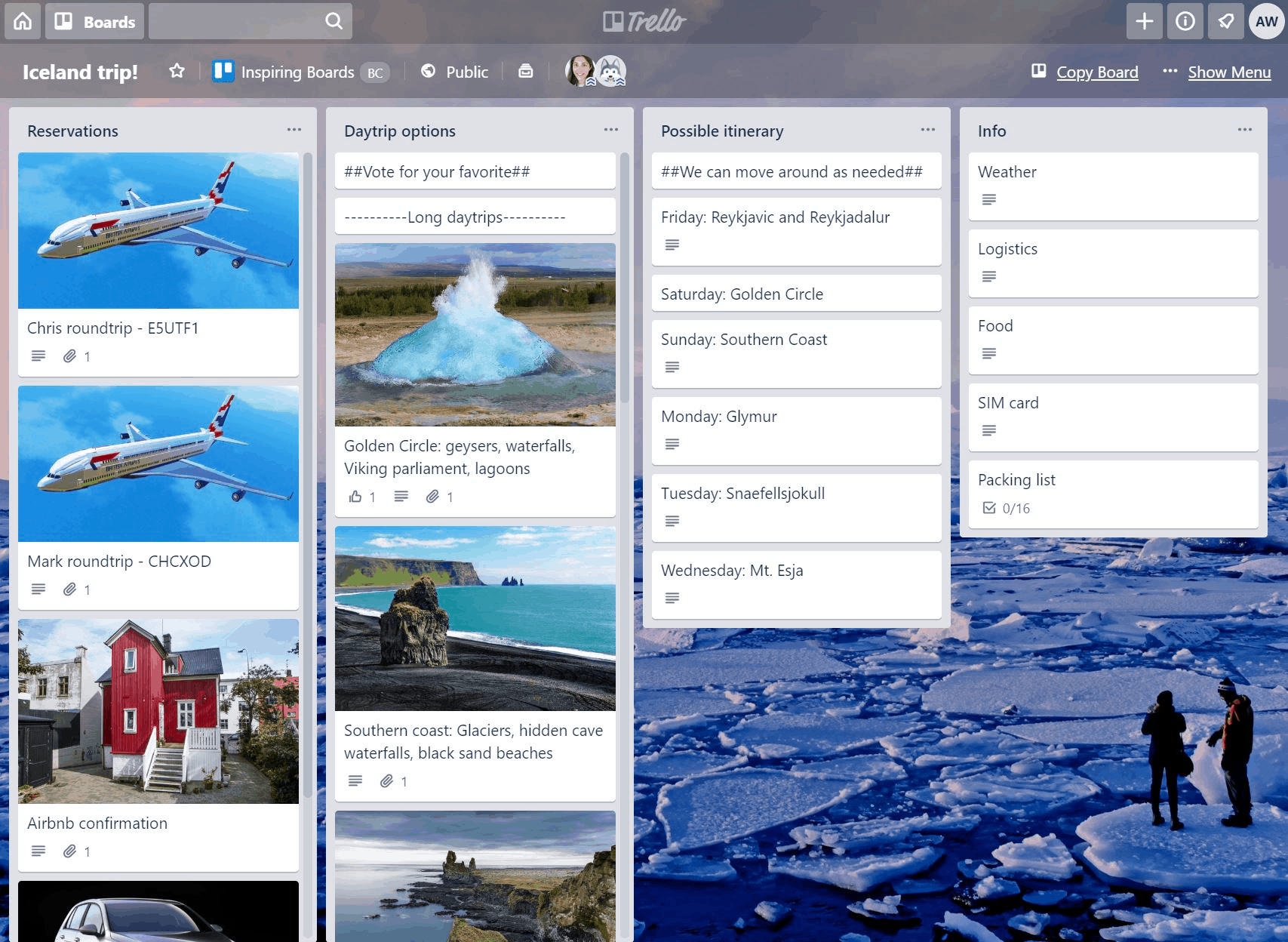 Trello Board Template for Planning a Trip
And the Winner Is…
With nearly
200 templates, all offered for free, Trello is the clear winner here.
While Asana does have 50+ templates you can choose from, many of them are only available to premium members. This isn't good if you're trying to stick with the free version.
Our Final Conclusion
In the battle of Asana vs. Trello, it was a pretty close call. Both of these tools can be used to manage personal and team projects pretty effectively.
However, when it comes to managing multiple projects with a lot of team members, Asana is our winner.
But Trello shouldn't be discounted. It's a great tool, especially for managing personal and freelance projects.
It's also easy to learn, no matter what your experience is with project management tools. So, while we'd recommend Asana in most cases, it's still worthwhile to give both these tools a try.
Trello
and
Asana
can be used for free, so try them out and see which one you prefer before committing to anything. Check out the table below for a quick comparison of each of our categories:
| | |
| --- | --- |
| Section | Main Takeaway |
| Project Views | While Trello's board view looks great, Asana gives you far more options |
| Reporting | Using Google Sheets, you can easily export your projects in Asana and create detailed reports |
| Interface | Trello's intuitive design has less of a learning curve than Asana's more complex tool |
| Task Dependencies | With Asana, creating task dependencies is a built-in and easy-to-use feature |
| Templates | Both of these tools have templates available, but Trello has far more, all of which are offered for free |