can you get by on the free plan
? To answer this question, you'll want to consider your budget, whether or not you need to collaborate with a team, and the types of features that would make your life easier. While
the free tool can be more than enough for many people
, if you're using it to manage a bunch of in-depth team projects at the same time, you may find it lacking. We know effectively managing your projects is incredibly important to your success. So, we decided to put Trello Free to the test. After using it for both personal and professional projects, we know exactly what you can expect from this tool. Below, we'll lay out exactly what you'll get with Trello Free, how it compares to the competition, and when you may want to consider upgrading.
What You'll Get with Trello Free
Trello is an amazing tool, and it comes with a generous free plan
. A free account will give you the following:
Unlimited personal boards: These boards are for personal projects, and can't be used to collaborate with a team.
Limited number of team boards: You can collaborate with a team on up to ten boards with Trello Free. Each board can have as many team members as you'd like.
Unlimited lists: Each board consists of lists, which break your projects up into categories across your board. Lists are commonly used to show a project's progress (e.g. with the categories to-do, working on, completed), although you can customize them any way you'd like.
Unlimited cards: In Trello, cards are the tasks that you need to complete. They can be dragged and dropped from one list to another as the status of a task changes.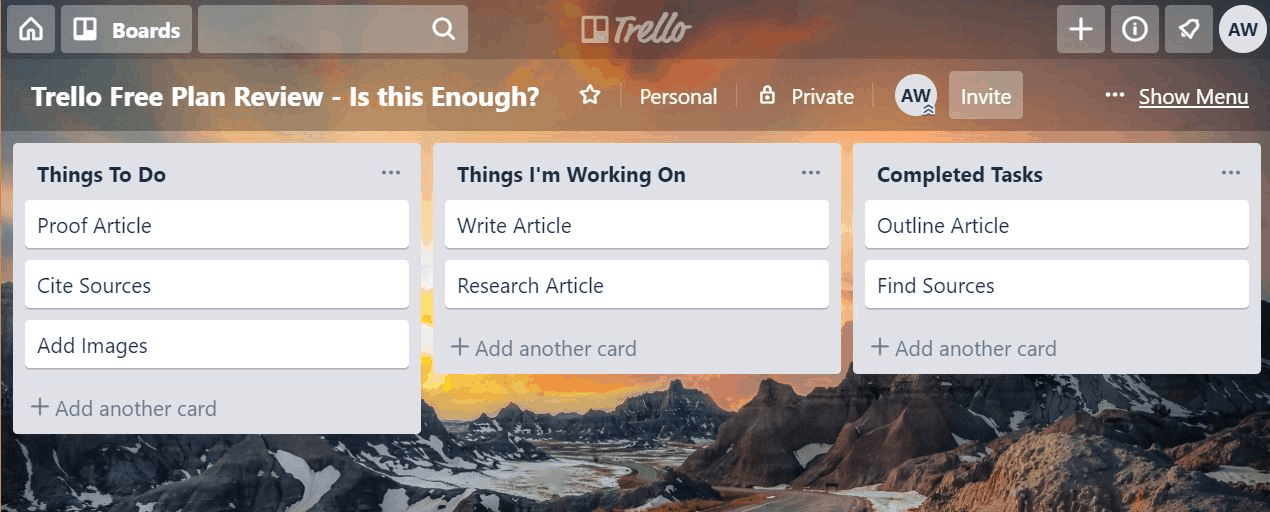 Private Trello Board with Three Lists and Cards
One Power-Up per board: A Power-Up is simply a feature or application that's integrated into a board (e.g. custom fields, automation rules, maps, Slack Integration, etc.)
Small file attachments: You can attach files from your PC, Google Drive, Dropbox, or Microsoft OneDrive to your cards. Files can't be larger than 10MB with a free account.
Basic security: Unless you upgrade, the only security feature Trello gives you is two-factor authentication.
My Experience with Trello Free
I've used Trello Free to manage both my personal and professional projects.
I really like the tool's hands-on layout, and found it to be especially good for visual learners
. The platform's also incredibly easy to figure out, and doesn't require much technical knowledge. One of Trello Free's strengths is the many free templates the tool gives you. Through Trello Inspirations, you can find board templates covering categories like creative arts, business, productivity, and personal goals. Not only is this a great place to get premade boards, but it's also useful for finding new and creative ways to use Trello.
Trello Inspiration Templates
Another thing that I love about Trello is all the great options you're given when creating and using cards. Each card can be labeled, have checklists added to it, and have relevant images or files attached to it.
You can invite as many team members as you'd like to a project board and assign cards to them. In addition, each card includes a comments section that enables straightforward group discussions about the task. Trello can integrate with just about any application, such as Google Calendar, Evernote, and GitHub.
While the seamless integration with a ton of apps is nice, the free version only gives you one per board (these are your Power-Ups)
. This has caused me problems in the past, because I often need to track my time, which uses up the one free Power-Up I'm given.
Another issue I've run into when using Trello Free is its ten team board limit
. It has definitely lead to some problems when trying to collaborate on numerous projects at the same time. This limit doesn't apply to personal boards though, so I find the tool to be better for handling all my personal and
freelance projects
. I also wish that the free version offered better security and customer support options – if you have any questions, you could be waiting a while.
The paid versions come with priority support and advanced security, but Trello Free limits these features
. The fact that Trello's automation tool – Butler – uses up the only precious Power-Up you get as a free subscriber is also a real bummer.
Trello Free vs. Asana Free
As one of the biggest names in project management,
Asana
is probably Trello's main competitor.
While both of these tools are awesome, there are some pretty significant differences between them
. The first major thing I noticed was the different dashboard styles. With Trello, you're given an intuitive and highly visual board view. But with Asana, you've got options.
Asana lets you create projects in both a board or a list view, although the board view isn't quite as attractive as Trello's in my opinion
. Asana also offers a calendar view, an option that's only available as a Power-Up when using Trello.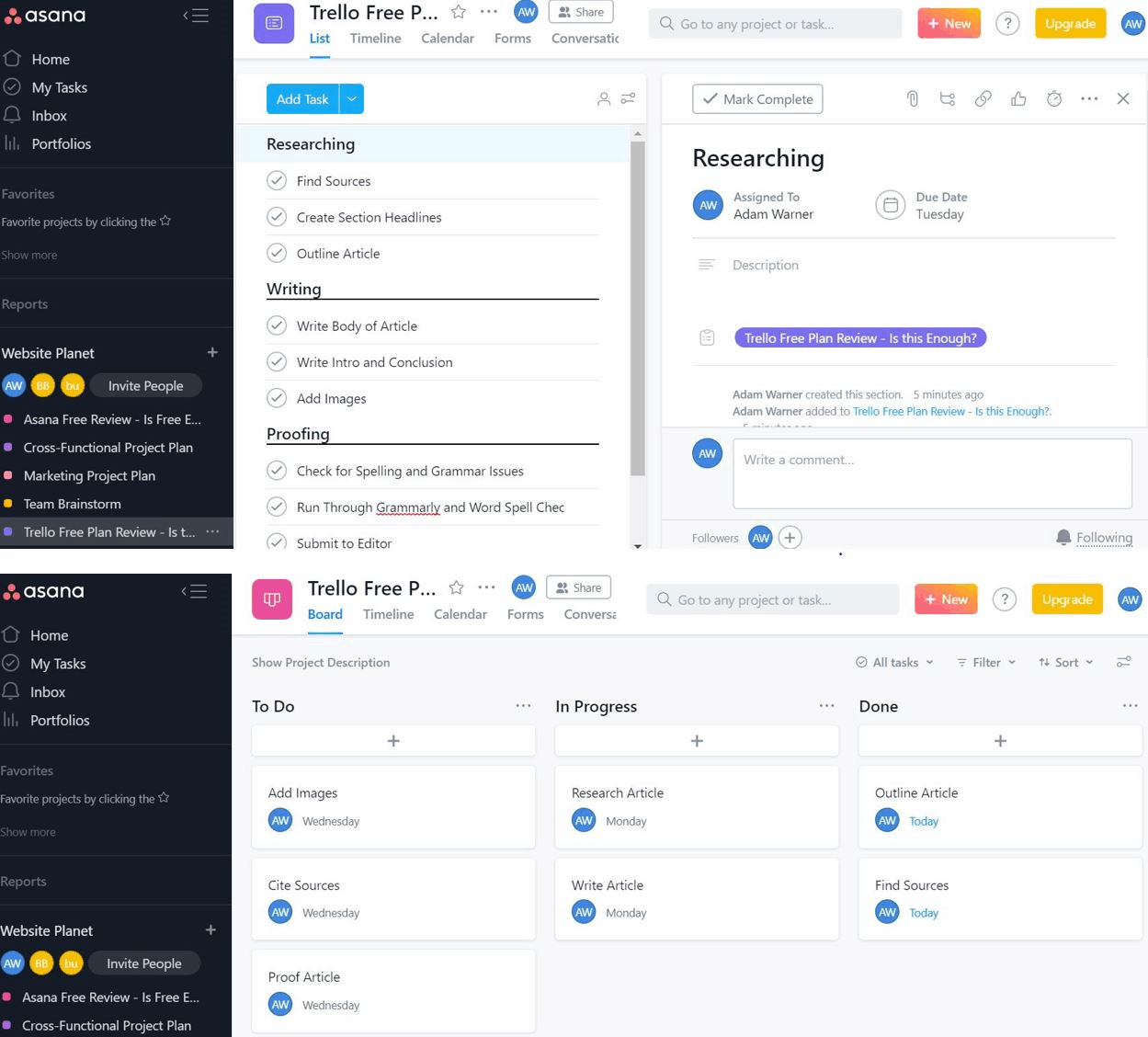 Asana's List View (Top) vs Asana's Board View (Bottom)
The two tools also have different limits on how many projects and team members you're allowed. While Trello Free lets you add as many team members as you'd like to a project, Asana Free only allows fifteen.
On the other hand, Asana will let you create an unlimited number of team boards, while Trello only gives you ten.
This makes Asana better for small teams with many projects, and Trello better for big teams with fewer projects
. When it comes to free templates, these tools also vary. While Asana does offer some to its free members, only premium members have access to the whole template library.
With Trello, you can use any of the available templates for free, and can even create your own for others to use
. Asana does allow you to integrate with more apps for free though, so depending on what you're looking for either tool can be a great fit.
What You'll Get If You Upgrade
Now that you know exactly what to expect from a free membership, let's explore what you'll get if you decide to upgrade.
Trello pricing and plans vary depending on your needs and the number of users in your organization
. If you're using Trello for medium to large-sized business, premium memberships are definitely worth looking into. You can expect to pay per user per month for either of the premium options. The following table lays out the extras that you'll get if you decide to become a paying customer:
Business Class
Enterprise
Everything included with the Free Package, plus:

Unlimited team boards
Priority support
Customize your backgrounds and stickers to match your brand
250MB per file attachment
Unlimited Power-Ups
Group boards either by project, team, or department with Board Collections
Advanced automation, including 1,000 command runs per team, scheduled commands, custom field actions, and more
Advanced admin features so you can limit or restrict a team member's permissions
Quickly export your team's data in either JSON or CSV formats

Everything included with Business Class, plus:

Easy to program advanced automation and an unlimited number of command runs
Admins can control which Power-Ups and attachment formats can be used
You can change the visibility settings on your company's public boards
Single Sign-On (SSO) capabilities
All data is backed up hourly and stored off-site
Admins can create company-wide restrictions and permissions
Trello Free vs Paid: Is Upgrading Worth It?
Whether or not you should upgrade all comes down to what you're using Trello for
. If you're using it to handle personal projects, the free version should cover your needs. Thinking about upgrading to a premium or enterprise account? First, ask yourself these questions:
How many team projects do you usually have? Since Trello Free limits the number of team boards to ten, you may want to upgrade if you usually have a lot of team projects going on at the same time.
Do you like the board layout? If you'd like more options in how you view your projects, you may want to look into Asana.
What integrations do you need? With a free Trello account, you're only able to use one Power-Up per board. If you want boards that will track your time, feature a calendar, and include custom fields, it's gonna cost you.
How many admin controls do you need? Premium Trello accounts offer far more control over your teams, such as letting you restrict or deactivate certain members. If advanced admin controls are important to your organization then you'll have to upgrade.
If you still think that paying for a premium Trello account is a good idea after looking over the above questions – you should give it a try
. Trello is an awesome project management tool that I've really enjoyed using. Its board layout is not only practical, but visually appealing as well. No matter if you decide to stick with Trello Free, or spring for a paid account, this tool will bring your project management game to a whole new level!