Having the right project management tool can make all the difference in the world
when it comes to staying on task and increasing your productivity. You've done your research, and you know Asana, one of the biggest names in the industry, offers a free version and a paid version. Now, you're wondering:
Is Asana Free going to be good enough for your team
? The answer to this question isn't exactly simple. It mostly depends on the type of projects you have and the kind of features you're looking for. But
to help you figure it out, we've compared Asana Free vs Premium, and identified the key differences you'll want to consider
. You may be perfectly happy with
the free version of Asana
. It all depends on the size of your organization, the complexity of your projects, your budget, and other factors. However, some teams may find it to be too limited, especially medium to large businesses. We've been using Asana for years, and we're here to fill you in on what exactly you can expect from the different versions.
What You'll Get with Asana Free
There's plenty to love about Asana Free, but it's not perfect for everyone.
If you plan on using it to manage personal tasks or freelance projects, it may be more than enough.
When you
sign up for a free account
, you can:
Work and collaborate with up to 15 team members
Create projects and tasks
Assign tasks to different team members
Access a variety of free project templates
View your projects in a few different ways (list view, board view, and calendar view)
Integrate with other apps, like Harvest time tracker (requires a Harvest account)
Create two different account types (an organization or a workspace)
Access Asana's app, so you can manage projects on the go (available for iOS and Android)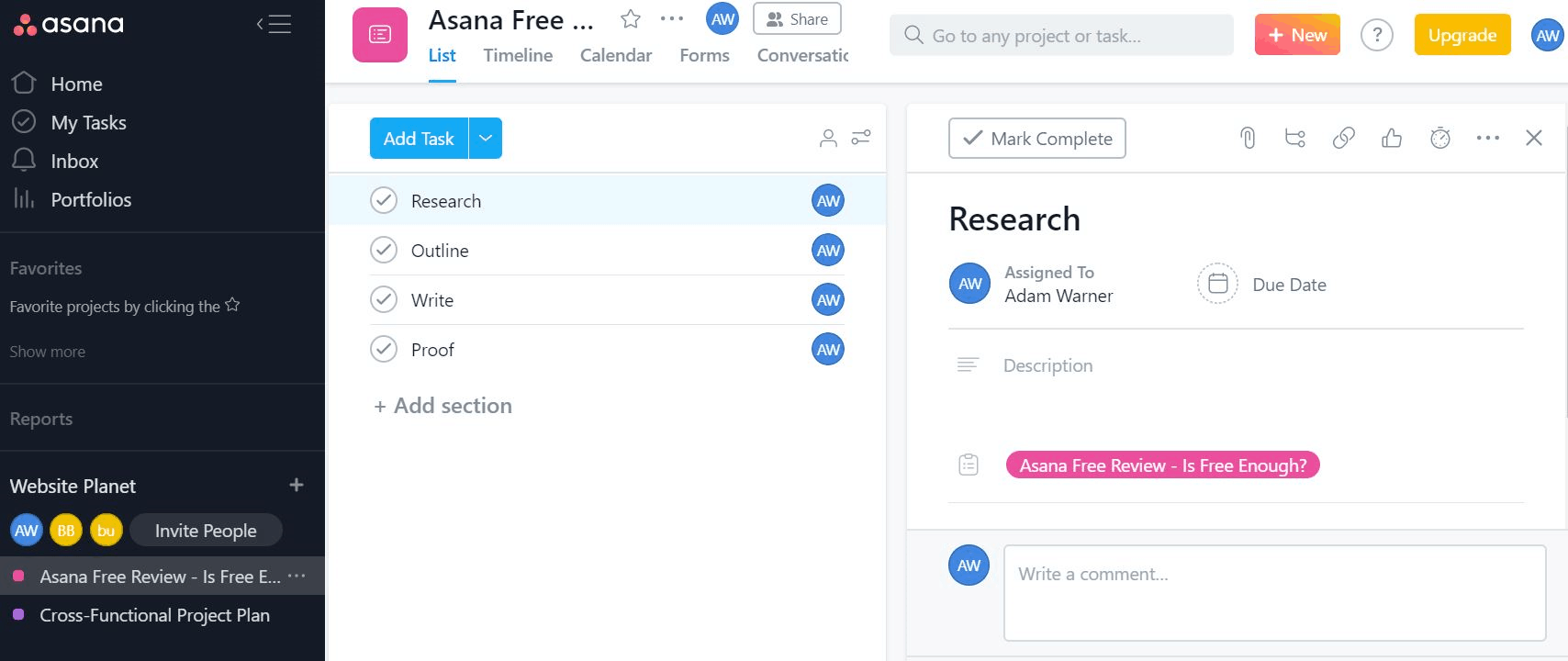 My Experience with Asana Free
Asana Free is awesome for managing personal and small business projects. It has yet to fail me on any of the freelance projects I've used it for. You can
easily break your projects up into manageable tasks, collaborate with a small team, and set deadlines for getting everything done
. Once you've set a deadline, Asana will email you as it approaches to give you a gentle reminder to get busy.
I also love Asana's calendar view. It helps me balance out my schedule
. I can see which days are overloaded with work, and which days I'll have a bit of time to spare so I can adjust accordingly. You can also see where your deadlines might overlap, which is great for keeping yourself on track.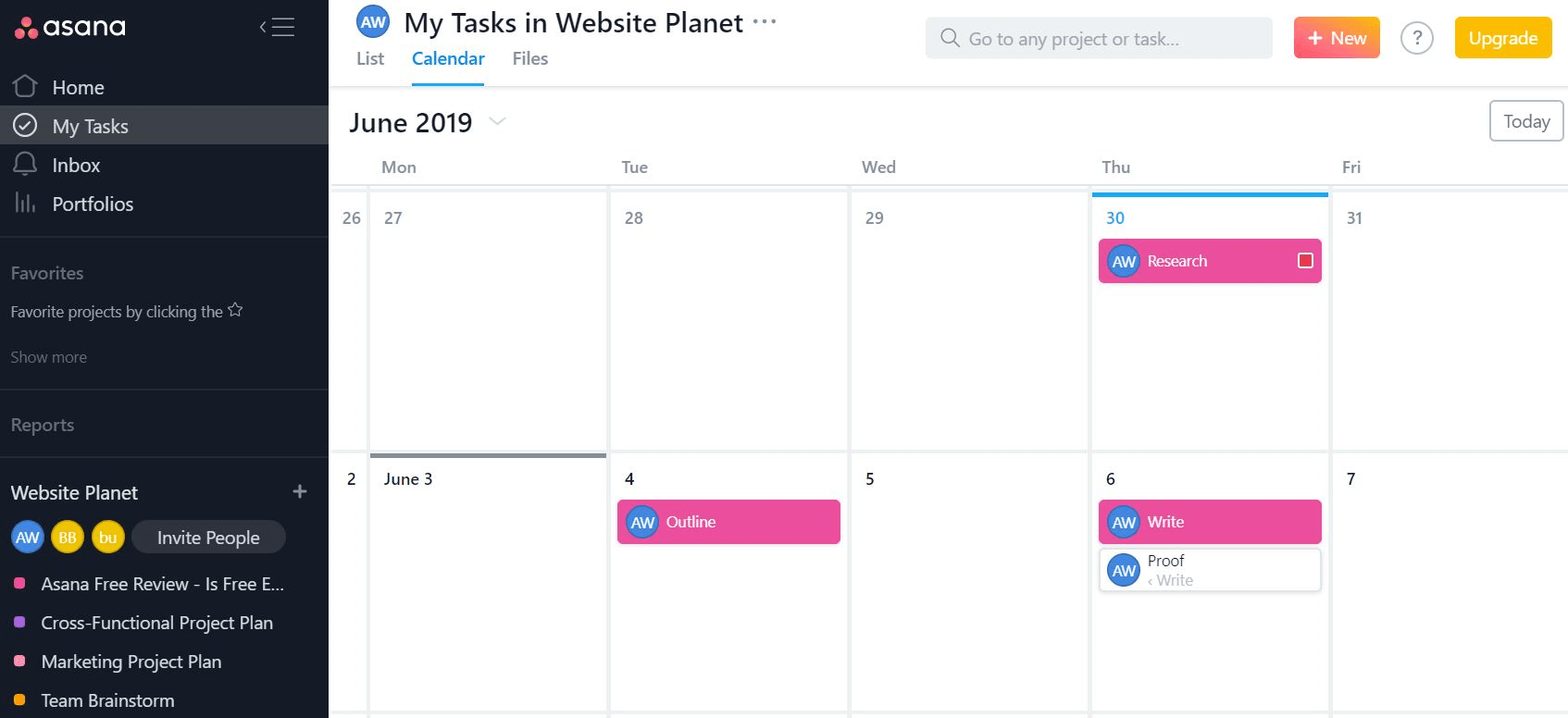 Asana Free has been great for helping me manage my personal life as well. Some of the more creative ways I've used the tool include:
Planning my weekly schedule: Using Asana's board view, you can create a column for each day of the week. You can then create the chores that you'd like to get done each day as tasks under each column. If you have a family, you can even assign different tasks to family members!
Creating my shopping lists: Create a task for each thing you'll need at the store. Then, with Asana's free app, you can quickly cross off items the second they're in your shopping cart.
Accomplishing my goals: Whether you want to get in better shape, start reading more, or improve your diet, Asana can help. By categorizing your goals as projects, breaking them into tasks, and setting deadlines, Asana can help keep you accountable. You can even use subtasks to add additional information, such as how many miles you want to run, or the number of calories you intend to eat.
Staying on top of my expenses: Create a task for each of your expenses, and attach receipts – in the form of files – to them to help when tax time comes around. You can also set due dates for recurring expenses, such as bills, to make sure you don't forget to pay on time.
The only time I thought Asana Free didn't cut it was when I was working with a team
. The free version limits the number of team members you can collaborate with, and you can't create private projects either. This means that any project you create is visible to all team members. After a few years of using it, I'd say
Asana Free is totally worthwhile if your needs are simple
. For example, if you're a small business without many team members, or you're someone looking to manage their personal tasks better, it can be a great fit. However,
if you need more advanced features, such as custom fields (e.g. priority levels), task dependencies, or timelines, you should probably consider upgrading
.
Trello Free vs Asana Free
Since you're researching project management tools, you've most likely heard of Trello's free version as well.
I've spent time using both of these popular tools, and there are some key differences you should know about
. For one, the difference in layouts. While Asana gives you a few different ways to view your project (including a board view that's very similar to Trello's), with Trello, you're pretty much stuck with the board view. Personally, I prefer Asana's list view over Trello's layout. However,
if you're more of a visual learner, you may find Trello to be a better fit
.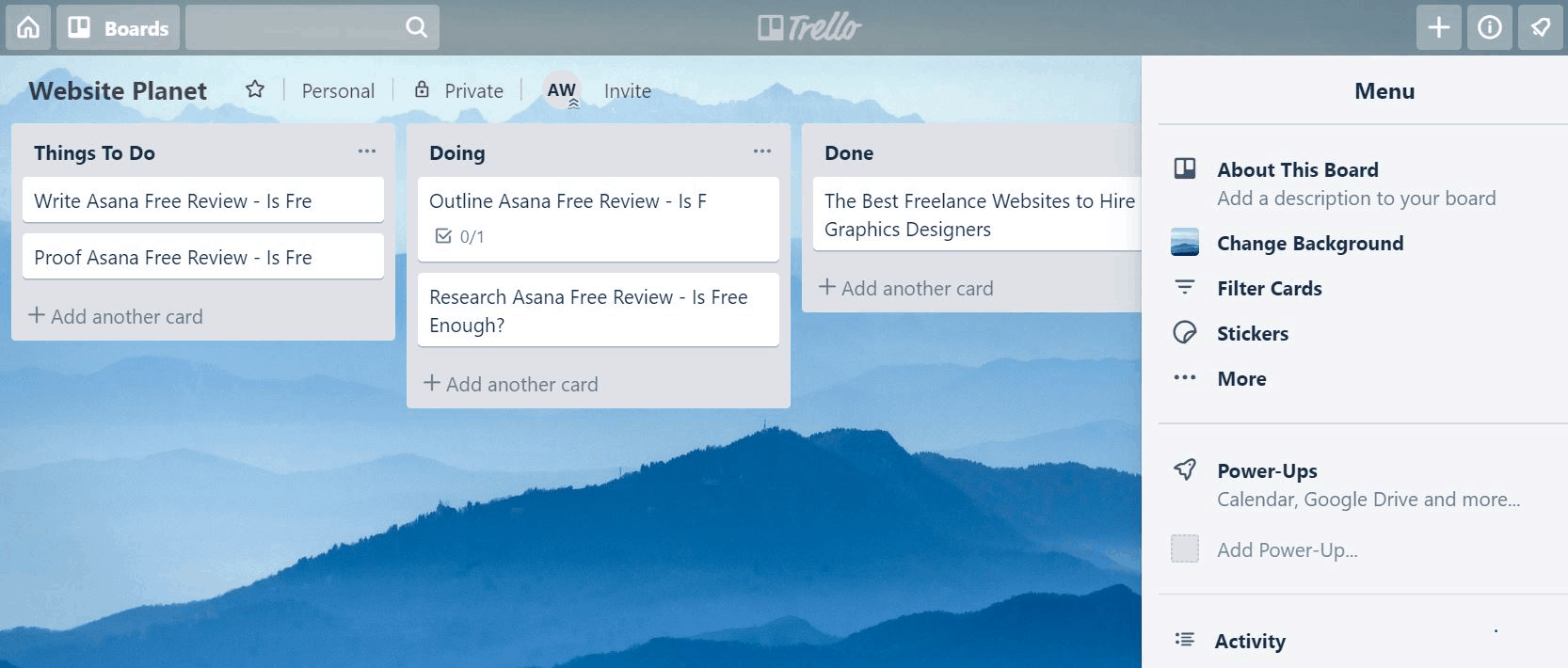 Another big difference is that with Trello, you're only able to create up to ten "Team Boards" – or projects where teams can collaborate – for free. But with each project, you can invite as many team members as you want. It's pretty much the opposite with Asana Free. Here, you're able to create as many projects as you'd like, but you can only invite
a limited number of team members
.
This means that Trello Free may be the better option if you have a large team that you need to collaborate with
.
Asana Free also gives you more options for integrating with other apps
, such as Google Calendar or Harvest time tracker. While Trello also has some great integration features, its free version only lets you integrate with one app per board. You won't get any time tracking options with Trello either.
What You'll Get If You Upgrade
If you don't think the free version of Asana will cut it for you, consider upgrading. It won't set you back too much, and comes with some great bonuses.
Asana's plans are tiered based on your needs
. Paid plans charge you a fixed monthly rate per user, but there is a price break for paying annually. Check out the table below to see how
Asana's features differ between paid plans
:
Premium
Business
Enterprise

Timelines
Custom Fields
Advanced Search
Custom Templates
Milestones
Task Dependencies
Progress View
Priority Support
Google SSO

Everything included in the Premium package, plus:

Forms
Proofing
Portfolios
Lock Custom Fields

Everything included in the Business package, plus:

Security Assertion Markup Language (SAML)
User Provisioning
Custom Branding
Data Deletion
Service Accounts
Cross Regional Backups
If you're interested in trying Asana Premium, but aren't into paying for it, then you're in luck!
Asana offers a 30-day free trial
, so you can give it a try without having to commit to anything.
Asana Free vs Paid: Is Upgrading Worth It?
This is a tough question to answer. To figure out whether or not it's a good idea to upgrade, first you need to know what exactly it is that you'll be using the tool for.
The main factors you should consider when deciding to upgrade are:
How big is my team? If you have projects that require more than 15 team members, you should consider upgrading.
What features are important to me? If your projects have task dependencies, sensitive information that require privacy, or could benefit from priority support, then you're going to have to pay.
Would I be happier with a different tool? While Asana is awesome, if you think you'd be more productive with Trello's visual layout, you may want to give it a try.
If you're still interested in upgrading your Asana account after taking these three things into consideration, then I say go for it – especially with the free trial
. It's an amazing project management tool that has served me well over the years. Whether you're just using Asana Free, or you go for the paid version, your productivity is bound to see a spike!