The virtual domain has become an all-encompassing space where business, commerce, education, entertainment and more is easily accessible.  As more people spend time online, digital third spaces are becoming the new hangouts, making this a thriving environment for brands and marketers.  The metaverse, a digital world becoming a hub for business and leisure, offers a variety of virtual experiences, environments and assets that has gained momentum during the everything-online shift of the pandemic.
Together Labs
is a 3D social networking company that innovates technologies empowering people worldwide to connect, create and earn in virtual worlds.  In this interview we learn from
Lomit Patel, Senior Vice President of Growth
about how virtual social presence can create authentic connections and the marketing potential within this next era of social networking.
Please describe the story behind the company: What sparked the idea, and how has it evolved so far?
We were founded in 2004 in Palo Alto, California as IMVU – the only platform where users can dive into a 3D social network and begin chatting with friends, on their computer or mobile phone from wherever they are. From Tennessee to Tel Aviv, IMVU users are switched on, connected, and engaged, across iOS and Android smartphones, tablets, and PCs. Now, over 7 million people visit IMVU each month, customizing their avatars, chatting with friends, shopping, hanging out at cool parties, sharing experiences, and earning real money by creating virtual products. IMVU is only one unique part of Together Labs, which now also includes VCOIN, the first regulatory-approved transferable digital currency; and WithMe, an upcoming mobile platform built on insights from the science of friendship.
What makes Together Labs unique?
Together Labs innovates technologies that empower people worldwide to connect, create and earn in virtual worlds. Our mission is to redefine social media as a catalyst for authentic human connection through the development of a family of products grounded in this core value. Our company has combined the technology of the metaverse to empower users to not only find real connection, but to leverage the power of blockchain to sell and earn virtual goods.
Please share with our readers what your core products are?
Core products include: IMVU, the world's largest friendship discovery and social platform; VCOIN, the first regulatory-approved transferable digital currency; and WithMe, an upcoming mobile platform built on insights from the science of friendship.
IMVU is hailed as the world's largest metaverse and social networking site.  What do you think intrigues people to become part of an immersive digital environment?
Whoever you are, wherever you are, you can be your most authentic self on the IMVU platform. By being able to customize your avatar from hairstyles to accessories, users can be whoever they want to be. They can create a perfect world for themselves on IMVU, making it a special and comforting place. The last two years have been very tough on most people due to the pandemic. IMVU is a place where users can feel free to express themselves no matter what is happening in the "real world."
What are some of the ways that marketers can utilize virtual social platforms?
Social media platforms enable marketers to develop stronger relationships by communicating directly with customers. Currently, videos and face-altering filters are popular. Still, the immersive reality is a growing marketing tactic that is expected to become an integral part of how marketers and consumers interact soon. There are various ways to get started with immersive reality within your social media strategy – from creating interactive content to share on your social accounts to running an interactive advertising campaign. Or you can get even more advanced and look to build your AR/VR digital masks and experiences. The critical thing to keep in mind is that it must add value to your customers if you embark on immersive media. Creating immersive content for its sake risks seeming gimmicky, which could potentially harm the customer experience.
 Looking at the "future of advertising", does Together Labs offer any unique adtech solutions within your products?
The "future of advertising" is immersive, seamless, interactive experiences.  This falls into our sweet spot with our unique adtech solutions that enable us to provide virtual reality personalized customized brand integrations that are unique to each individual on our platform at scale.  An example is the ability to host unique engaging live events within our metaverse that doesn't just sell a brand, but a virtual lifestyle experience.  As more companies produce more products and ways to consume virtual content, the advertising opportunities in metaverses like Together Labs will continue to grow.
What trends and technologies do you find to be particularly intriguing these days?
There is a lot to be excited about the proliferation of different emerging trends and technologies coming together from artificial intelligence, 5G, quantum computing, blockchains, cryptocurrencies, connected homes, generic predictions, and meatless meat. However, the most intriguing is the rapid acceleration of artificial intelligence, automation and remote work being adopted across so many business processes and customer experiences has led to new human behaviors and habits where technology is playing a key role to enable the world to survive and thrive post the pandemic.
What are your thoughts on the evolving and growing use of AI in marketing and where do you see this heading in the near future?
Today, artificial intelligence (AI), sensors, and digital platforms—and an explosion of data—have already increased the opportunity for learning more effectively; but competing on the rate of learning will become a necessity in the 2020s and beyond for marketers. I don't see any part of the marketing function that can't benefit from AI — from strategy and planning, user acquisition, retention, creative development, personalization, and helping teams execute optimally using AI-powered intelligent orchestration machines. Artificial intelligence, particularly machine learning, has played an important role in digital advertising for a long time now. In fact, the industry wouldn't exist at this scale without AI powering the performance of your campaigns. A good way to see where this heading in the near future is to use the
Lean AI
Autonomy Scale framework below to help assess how the different AI capabilities are being adopted in the industry:
 The Lean AI Autonomy Scale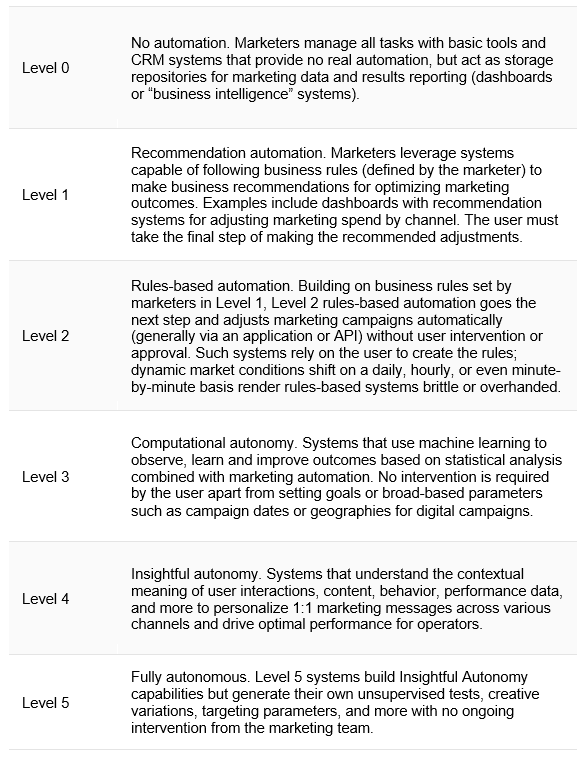 Most marketing teams are in the process of figuring out how to reach a level of proficiency to move from, say, Level 0 to Level 2. However, marketers' most significant challenge and greatest opportunity are to leverage AI to advance from Level 2 to Level 5. We did that at Together Labs, which enabled us to scale up our user growth significantly faster, aided by the judicious use of artificial intelligence and automation. A significant change is coming in the next five years as more companies race to achieve Level 5. A fully connected and open AI-driven Martech and Adtech ecosystem will allow marketing teams to be lean as the structure evolves for humans and machines to co-exist to achieve the best results.
Are there any new developments or exciting updates in the pipeline that you would like to share?
Right now, some of the more exciting developments in AI in the marketing tech stack are still pretty esoteric. I expect it to be that way for a few years. We are still very early in developing the technology and its applications for mundane things like seasonality or understanding actual mobile performance in an iOS 14 world that restricts the amount of first-party data we can use for detailed targeting and customer re-engagement. For example, our partners at Nectar9 discovered that different customers have different cycles of converting their customers — with weekly or monthly variations, you wouldn't pick up with traditional seasonality analysis. We now use historical monthly and weekly conversion rates to determine optimal planning and daily allocation budgets. So we've extended AI beyond real-time cross-channel campaign optimization. We now leverage AI in the planning process much more quickly, efficiently, and with greater confidence than ever before. Another great new use of AI is related to the advent of iOS14 which dramatically changed the way companies track the performance of app campaigns. With the advent of iOS14 and "app tracking transparency" or ATT, users are now asked to "opt-in" for tracking, and by default, everyone is opted out. That's a momentous shift. To deal with it, the attribution world has split into probabilistic attribution (through MMPs) and direct attribution through the SkAdNetwork (StoreKit Ad Network, sometimes called SKAN). This is further complicated by attribution being treated differently for self-attributing networks like Facebook and Google. In iOS14, data needs to be compiled for different sources and perspectives to get a more realistic picture of actual performance. AI is an excellent use for that. With the dual reporting systems of SKAN & MMP, we now use AI to integrate the two sources to determine iOS performance much more precisely than we can without it. In a real sense, AI helped us quickly mitigate the negative impact of such a massive shift in the targeting and measurement capabilities, which drove incredible growth over the last 12 years. Some of the most exciting stuff is nerdy and a bit dry, but it's a hugely valuable class of insights that are incredibly valuable to any marketer. Not all advancements in AI are as sexy as, say, self-driving vehicles or conversational robot butlers!