Introduction
GoDaddy is without a doubt one of the best-known web hosting companies in the world.
Melissa Schneider, Vice President of Global Marketing Community
shares her small business expertise for creating or revamping successful small business websites and how to implement these ideas quickly and easily using GoCentral, their web building platform with integrated SEO and social media tools.
Please tell us a little bit about your background before joining GoDaddy.
Before working at GoDaddy, I held product marketing and product management roles at LinkedIn and Intuit. At Intuit I worked on mobile payments products back in the early days of Square when the concept of accepting payments on your phone was just beginning to develop. Intuit really empathized and focused on the needs of small businesses, which is how I came to fall in love with small business! I brought that forward when I joined GoDaddy almost six years ago by focusing on the trends, needs, and best practices that are shaping how small businesses are successfully operating online.
What tips do you have for a small business looking to enhance their online presence?
First and foremost, we see a lot of small businesses creating an online presence on social media or placing their products onto a marketplace, yet they overlook the importance of having a website. A website is such a critical part of a company's portfolio; it's the place to establish themselves as professional and trustworthy, the place where they can create ongoing engagement and drive customer loyalty.  A website is all theirs – it's not sitting on another platform and is a really important complement to whatever Facebook page, Instagram feed or Yelp page they've already cultivated. Thankfully, it is incredibly easy to create an effective  professional website using GoDaddy, which has all the help and tools you need to succeed online. GoDaddy is a one stop shop, providing options to fit the needs of any customer – GoCentral for tech novices,  Managed WordPress for a more design or tech savvy person, or a total custom website created by our team of website experts.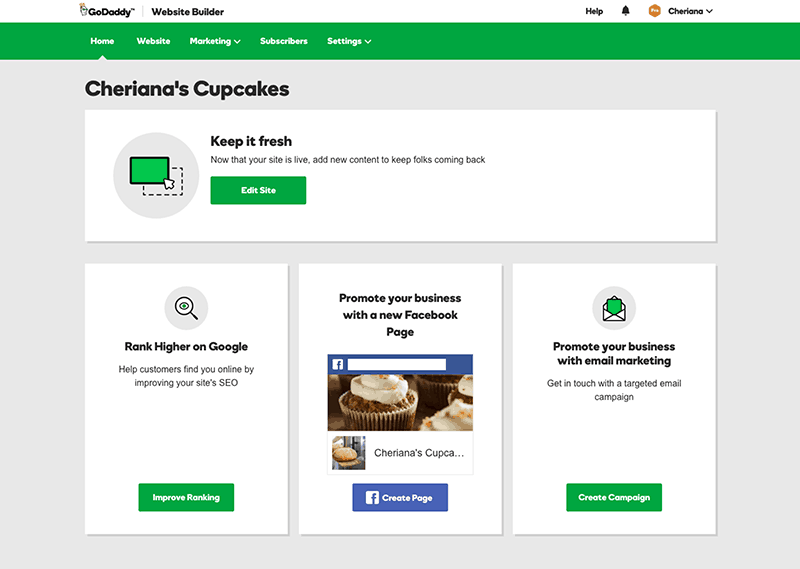 What recommendation do you have for companies that already have a website?
I've been thinking about existing sites from the perspective of current trends. As you know, Marie Kondo and her organizing techniques are all over the place! It's a perfect analogy of the way we organize and keep our homes and the way we keep our sites. Get someone you trust to view your site with fresh eyes through the lens of a customer or prospect. This is a great way to make sure that all the important information and content is presented in an organized way. While reviewing a site, there are important questions to consider. Does your message come across clearly? Is your site connected to the other parts of your online presence such as your social media? Can people see your reviews on Yelp or other platforms? How does it connect to other marketplaces where you might be selling your products? Is your website an easy hub containing all the necessary information for visitors? Then think about the businesses you trust. What about their site made you feel they share your values and decide "they're the brand for me"? Take all this input and don't be afraid to give your site a bold makeover. The last thing I'd like to add about site makeovers is that it's a good opportunity to make sure your site is really performing for you, so turning on that SEO power is extremely important. Our GoCentral customers who use the built-in SEO tools have seen
two and a half times more traffic
coming from Google. That's huge for a small business that's trying to get out there and establish themselves.
What about mobile devices?
It's very important to think about your site from a mobile-first perspective. 65% of all e-commerce transactions and 81% of all searches are happening on mobile phones. People are out and about, and they're shopping and browsing, thinking about where to go for dinner, checking on the nightlife is in their vicinity, etc. We've always thought about GoDaddy from a mobile-first perspective but to see that sort of activity happening among our customers is just so fascinating. It also speaks to just how comfortable consumers are becoming connecting to the internet from their phones – comfortable to the point where it's becoming a habit! So, you can see why it's important to think about where people will be viewing your site and what are they going to see.
What is the GoCentral platform and how does it work?
GoCentral is GoDaddy's website building platform with integrated social media, marketing, and SEO tools. So, it's not only easy to get your site up and running, but it's also effective for driving traffic, creating outbound marketing, and managing your social media – all in one place. What I love most about GoCentral is that you are presented with much more than a template and told –
here's your page, plug in your content
. The first thing you do in the platform is provide information about your venture or business. Based on your input and what we've seen work successfully for businesses like yours in the past, we generate a site with initial ideas for your site's structure. For example, if you are a pizza restaurant, GoCentral knows that pizza restaurants typically have a menu page and an order button, so the site it generates for you will include a menu page and an order button from the very start. This way, no matter what your business, you begin the creation process with a site containing all the components that match your business goals.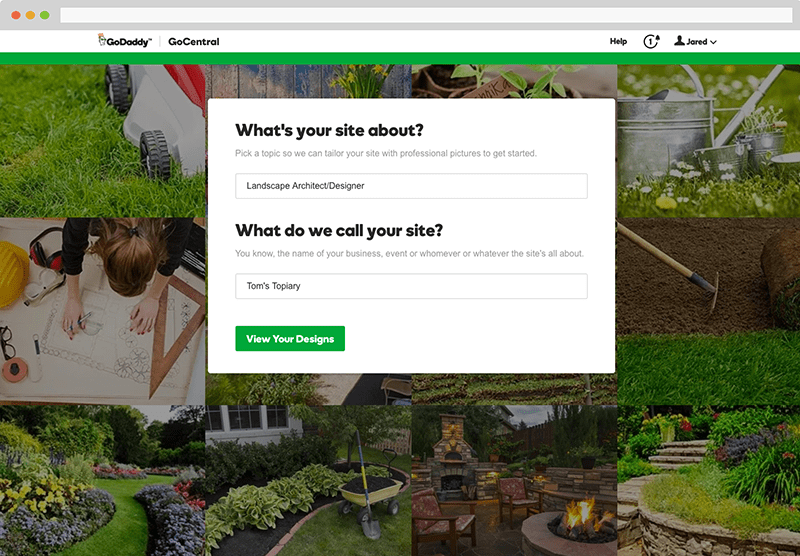 From there you have unlimited opportunity to change the various components, including fonts and colors. GoCentral has some built-in intelligence that will present colors and fonts that go well together. So, while you have tons of flexibility and unrestricted design options, it's all done in a way that works together to create something that looks good. You can effortlessly upload your own photos or select from our extensive collection of stock photos. You can also upload photos from your mobile phone with ease. In fact, designing your entire site in GoCentral is achievable using your mobile phone. I have a recent and really great example of a successful online business that was put into motion quickly using GoCentral. Jaqi Wright and Nikki Howard are two sisters from Maryland who were out of work due to the recent US government shutdown. They had been baking their delicious cheesecakes to the delight of family and friends for many years. With no incoming paychecks, they thought of selling these cheesecakes online. Through GoDaddy and using GoCentral, they got their domain name,
thefurloughcheesecake.com
and created a site. They connected it to their social media profile and brought in GoCentral's e-commerce tools. I mean they got up and running so quickly, and they're still selling cheesecakes now that the government shutdown is over!
Thinking about mobile-first – are GoCentral sites responsive?
Rather than simply shrinking your site down for smaller screens, GoCentral creates responsive sites in such a way that critical information is rendered as it should for mobile devices. Additionally, while building your site, you can preview it on both desktop and mobile devices and have the ability to modify/add/delete elements, giving you total control over how your site displays in the mobile formats. Updating your website or uploading new photos can be done right from your phone or tablet. So, we've built in some awesome guardrails for users to help design sites that look and feel appropriate on any device.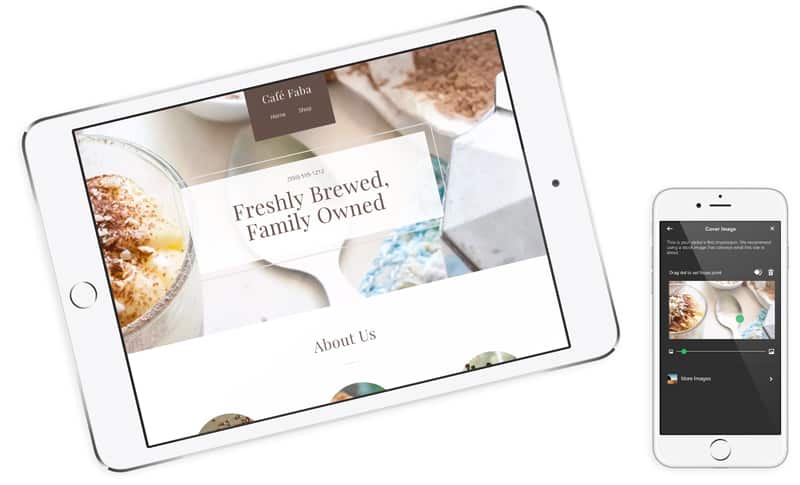 How is Social Media integrated with GoCentral?
We built GoCentral as a hub in terms of being able to manage and respond to reviews on Facebook and even Yelp or Google My Business. This way, instead of jumping from platform to platform, it looks holistically across the different places where you're going to show up online and helps you that manage that all in one place.
What SEO tools does GoDaddy offer?
GoDaddy's Search Engine Optimization (SEO) tool helps your site capture the attention of search engines like Google. While setting up your site, GoCentral will ask a series of questions about your business; where you are located, what sort of services or products you are selling, a descriptive phrase about your business, where your customers are located, etc. This really helps us understand who you are as a business and what you're trying to achieve. Once provided with this information, GoCentral does more than make recommendations, it populates the content into your headers and various pages within your site to create SEO optimized listings.  Then by clicking just one button, it also creates your Google listings. Once that is implemented, you're able to start generating SEO results more quickly. Outside of GoCentral, there are a number of other ways GoDaddy helps improve customers' SEO listings, such as providing advice on choosing the best keywords for your website, and SEO expert consultation services .