Apart from all the normal website building and hosting factors, you also need to account for how a particular provider's terms of service will affect your business.
Pressed as you are for time, you might just feel like settling for the first best option you come across, and
BigCommerce
certainly looks the part. It boasts a fantastic reputation as one of the top e-commerce platforms, competing directly with giants like
Shopify
. Proudly displaying its customers' success stories, this platform has been identified as one of the top 100 fastest growing companies by Forbes. Especially when it comes to platforms focused on e-commerce, however, you should pay close attention. In BigCommerce, there are certain considerations that can directly impact your business's bottom line.
The BigCommerce Template Library Emphasizes Quality over Quantity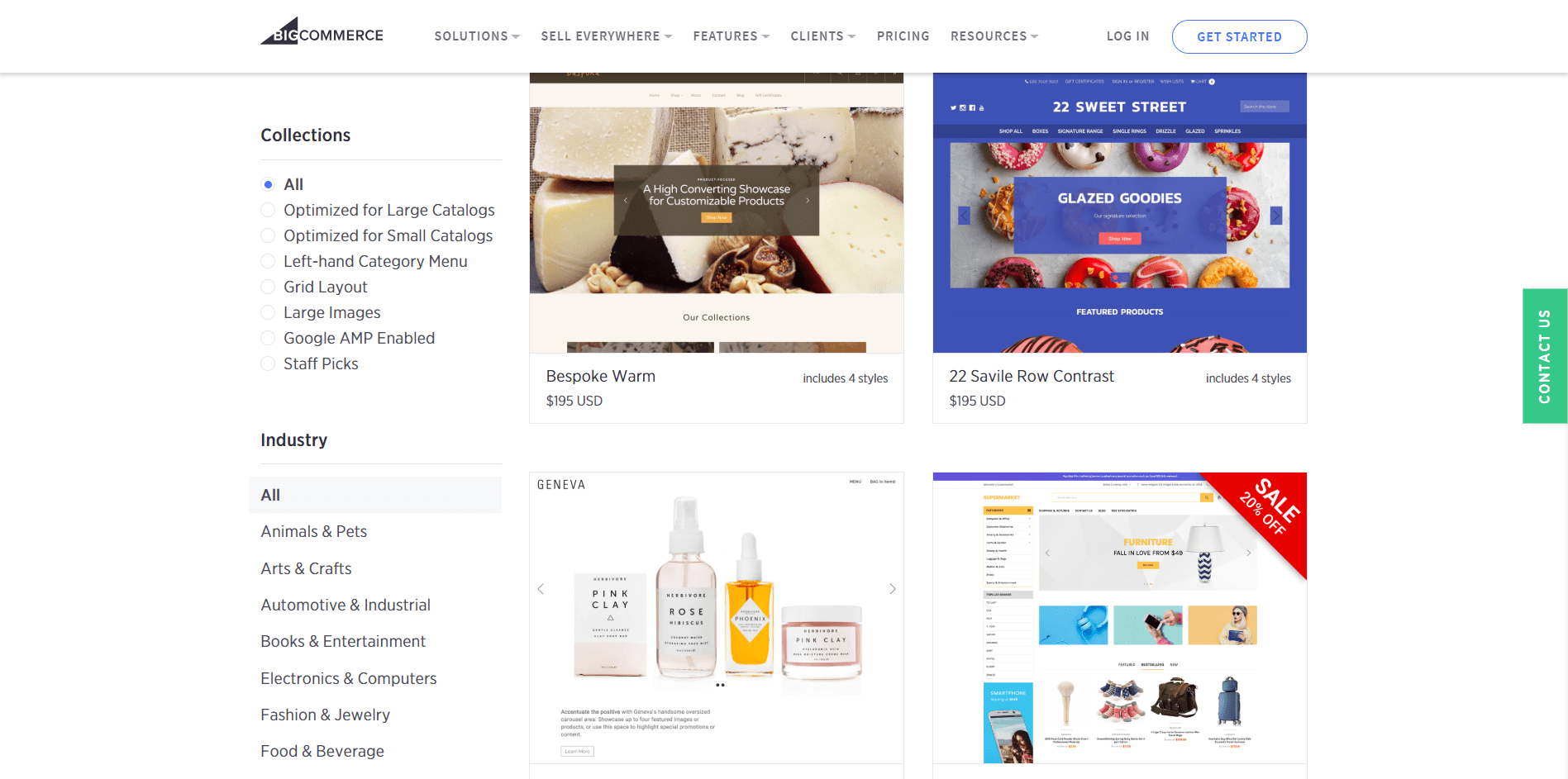 For those who can't wait to use professionally designed and mobile-optimized templates to build their website, this is great news.
For themes specific to e-commerce,
I believe that BigCommerce is one of the top platforms — period.
It checks all the boxes, including the sheer number of themes available, the variety of niches covered, and the quality of each template. The only letdown is that only seven of the templates are available for free, while the average cost of the other 117 is around a couple hundred dollars. If you look at just the online store templates on
Wix
, there are about 70 templates, and all of them are free. BigCommerce's templates display a heightened visual appeal. Within this selection, you'll encounter notably unique ones, such as the "Capacity Bright" template crafted for children's toys, and the "22 Savile Road Contrast" template created for a bakery or cupcake shop. Keep in mind that most templates provide up to four distinct styles, thus greatly expanding the range of possibilities.
You Won't Have to Pay Transaction Fees
This should already pique the attention of anyone who wants to run a profitable online e-commerce business. There are very few e-commerce platforms that are as generous as BigCommerce when it comes to transaction fees.
It charges 0% transaction fees with all its plans and has negotiated special rates with PayPal for credit cards.
By contrast, BigCommerce's biggest competitor, Shopify, charges 2.0%, 1.0%, or 0.5% transaction fees via any payment method except for Shopify Payments, which is free. This is on top of any fees that the payment processor might charge.
Wix
also doesn't charge any transaction fees, but you'll need either of its two most expensive plans, VIP or E-commerce, to sell.
Squarespace
charges a 3% transaction fee on its Business Website plan.
But… You Will Have a Sales Cap
Probably one of the biggest worries when joining BigCommerce is that it imposes a limit on the amount you can make in sales per year, based on your plan.
The baseline limits for each plan are currently $50,000 for Standard, $150,000 for Plus, and $400,000 for Pro with a custom limit for an enterprise plan.
Keep in mind that these figures are calculated before expenses, meaning your profit limit is effectively much lower.
Your total sales are calculated from all of your channels integrated with BigCommerce, such as your actual store as well as your Facebook, Amazon, and other sales.
If you exceed this figure, you'll automatically be upgraded to the next higher plan. If you're already on the Pro plan, you'll be charged $150 extra per month for every $200,000 in additional sales you make. This translates to $4,166; $12,500; and $33,000 in sales per month, respectively. Now, this isn't a small amount of money, and for most people who individually operate an online store, the Standard or Plus plan should be enough.
However, it's obvious that any large business or enterprise will need to sign up with the Enterprise plan and establish a custom limit, as they can reach figures well beyond that.
BigCommerce Allows You to Customize Your Product Listings Extensively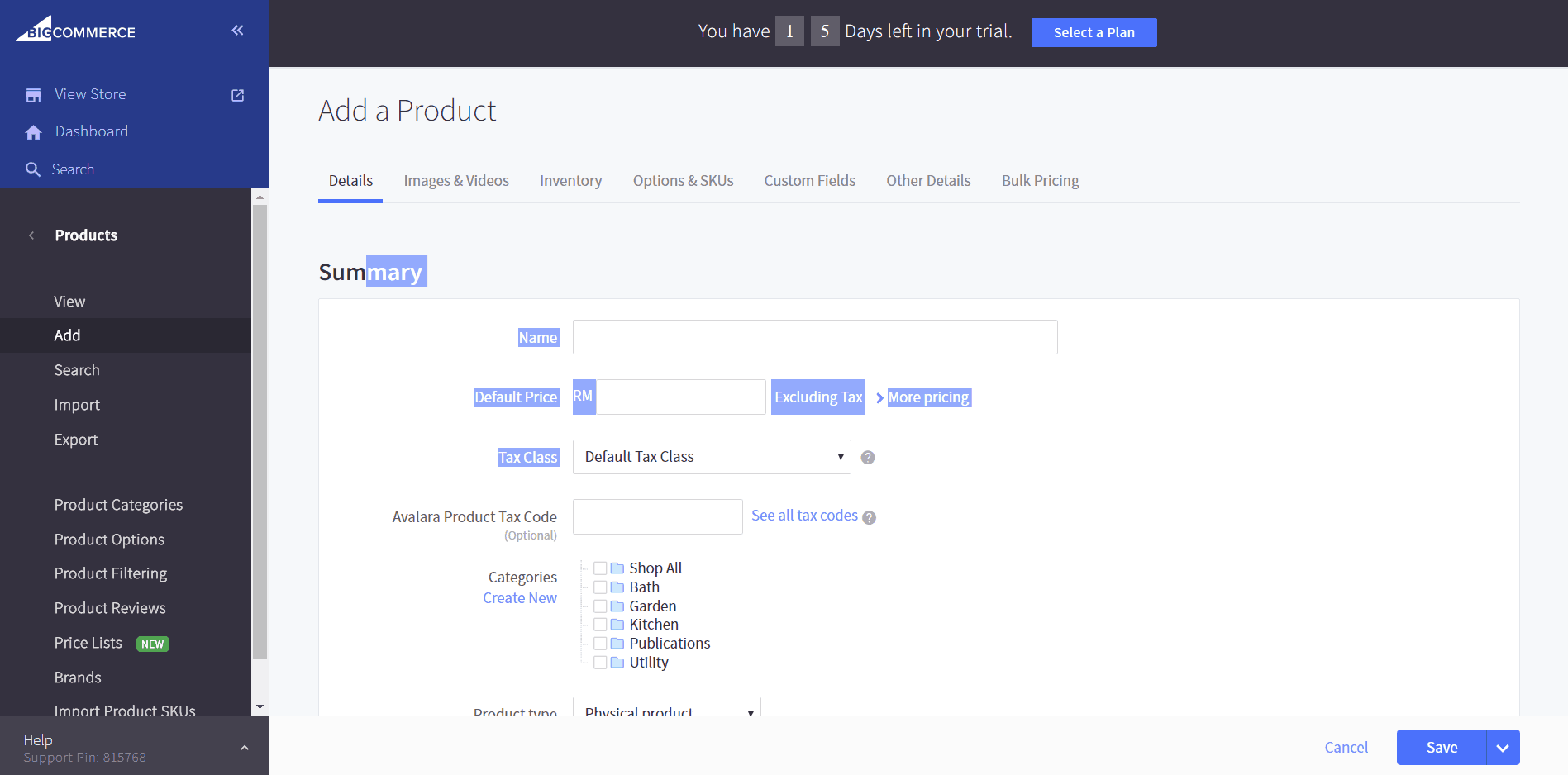 One aspect of 
BigCommerce
that rarely receives the attention it deserves is how outstanding its product creation and management tools are. This is especially true when it comes to making variants of products or adding extra options to them. This
functionality is also built natively into the platform — no plugins, apps, or custom code needed
. Concerning product variations, it's handy to compare BigCommerce with its biggest competitor,
Shopify
.
BigCommerce supports up to 650 variants per product; by contrast, Shopify supports only 100.
These variants can be displayed to customers on your product webpages using multiple controls such as dropdowns, checkboxes, swatch options, date fields, and other product pick lists. To get the same kind of power and freedom with Shopify, you'll need to find a workaround using some of the apps in its marketplace.
A Wide Selection of Apps Is Available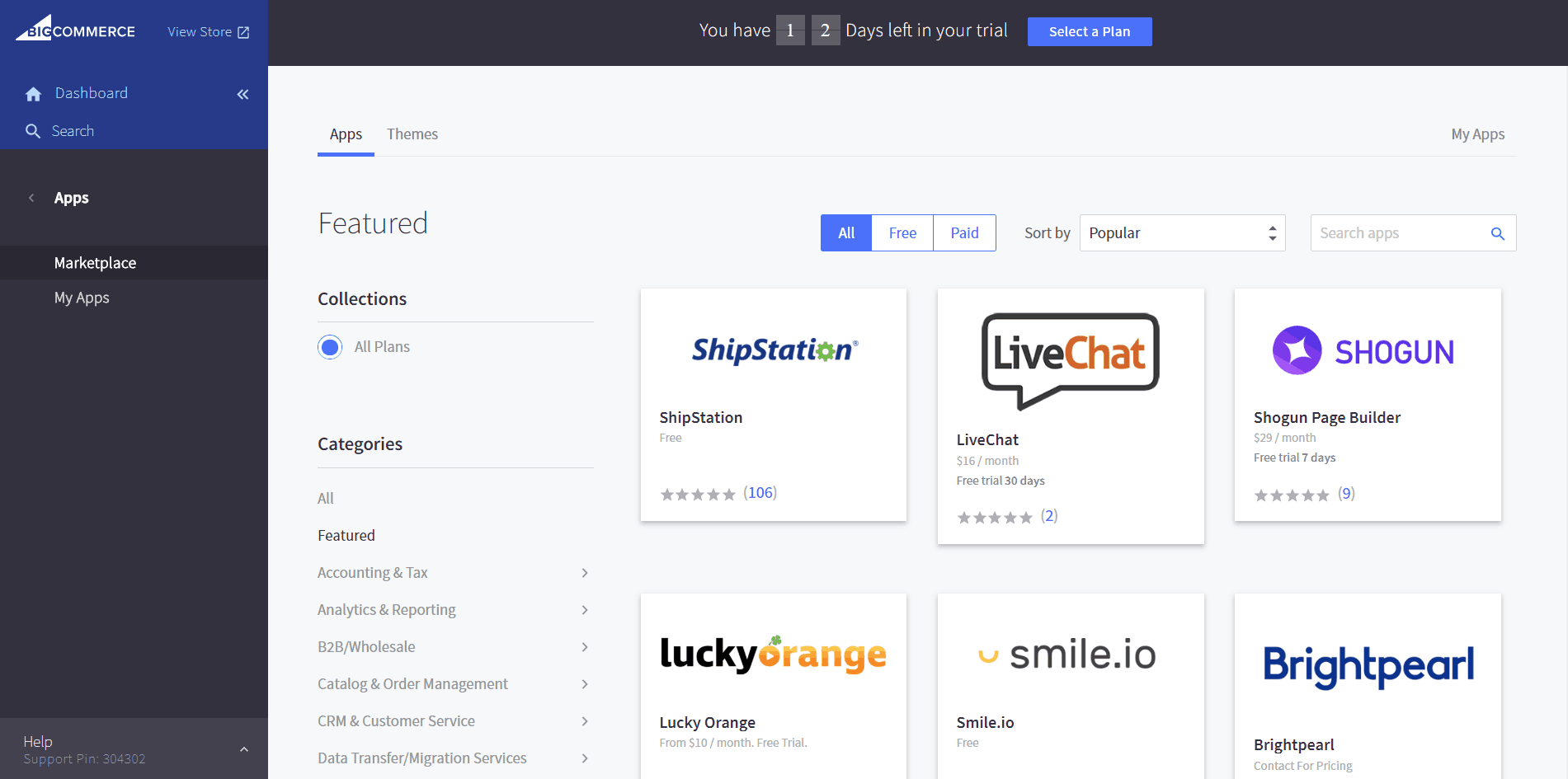 What's probably best about the BigCommerce platform is that it has a lot more of its functionality natively built into the platform when it comes to the most important aspects of e-commerce
, such as the product listings example above. However, the apps are there to plug any holes that might come about from customers' particular situations and needs. BigCommerce has one of the best app marketplaces for e-commerce-related apps that fulfill a wide spectrum of purposes.
These apps can allow you to use or expand on the built-in functionality when it comes to B2B/wholesaling (e.g, Quote Ninja and MinMax),  accounting and tax (e.g., TaxJar), SEO (e.g., ReloadSEO and FavSEO), shipping (e.g., Shipstation and ShipperHQ), and much more.
BigCommerce doesn't quite reach the heights of Shopify in terms of its integrations with popular tools such as Oberlo and point-of-sales (POS) capabilities, but it comes close and arguably has more native features in terms of SEO and product management. Many of the apps on the market are free, but their pricing can vary dramatically. You might pay an upfront fee, or a recurring fee, or both, or a percentage of your sales.
While you should still budget for apps, you can probably get away with less using Shopify.
Is Bigger Really Better With BigCommerce?
As you can see from the list above, there's definitely more right than wrong when deciding whether you should hedge your bets with
BigCommerce
.
It simply provides one of the most complete e-commerce website building and hosting experiences around, with very little want for anything more.
However, if you're looking for a website builder and host to create a high-income online store, then you might be a bit concerned regarding BigCommerce's limits on yearly sales.
Another concern is that you aren't given total freedom to edit your webpages using custom coding, which might be another requirement for an enterprise-level business. Still, whatever price you end up paying does seem to be worth it when you consider the other pros: feature-packed platform and third-party apps, an extensive library of high-quality e-commerce templates, and 0% transaction fees.