you can't tell why they are succeeding and not you
. What you don't know is that the secret of their success is hidden in some details and techniques they have learned over the years. Together, they form the five pillars of writing great blog content.
Let's take a closer look at these powerful elements, and see how you can implement them in your own blog
.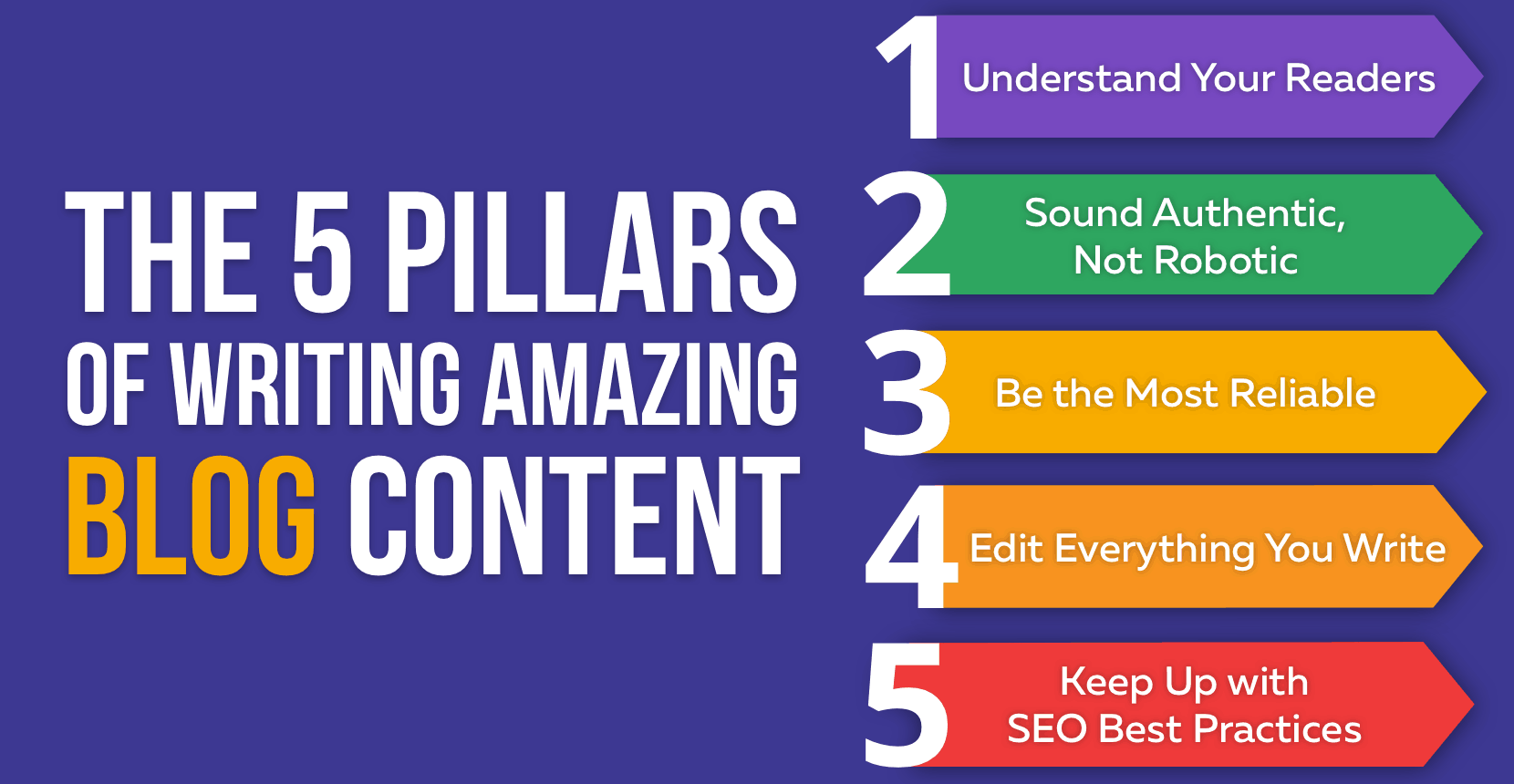 1. Knowing Your Readers Isn't Enough: You Need to Understand Them
A blog isn't a private journal – you aren't writing to yourself. Your readers will have different backgrounds and expectations compared to yours.
You should know more than just who they are. You must understand what they need from you
.
Use Data to Analyze Behavior
Most blog owners optimize their posts to match a generic user profile: location, age, gender, etc. But few adapt them to their readers' behavior. For instance, if most of your readers visit your website for the first time and never come back, you need to make sure your articles treat them as if you were on a first date.
You will have to explain basic information and make sure they fall in love with your blog at first site
. Or, if your audience is reading your posts from a phone or tablet, you need to take into account that they might leave your blog at any minute. They can be on the move or doing other tasks at the same time. To solve this, add visual elements to keep their attention and provide quick information. Google Analytics can tell you if the topics above are relevant to your blog. Check Audience on the sidebar menu and have a look at News vs Returning and Technology reports. The answer is there
Make the Most of Your Hate Mail
Take the time to analyze your readers' comments, no matter where they come from. They will have topic ideas and improvement suggestions that can save you a lot of time and money. Based on what your readers say,
tailor your content and offer blog posts that will resonate with them
. But, above all, make the most of the negative notes. Don't take them personally – understand they are referring to the blog post, not you, even if they tell you otherwise.
Realize they are expressing their frustration
. Right in the middle of that emotive writing, you might find the reason why you aren't succeeding.
Ask your Readers What You Need to Know
Another resource you can use to learn more about your readers is a survey
. You can use Typeform or install a plugin like WPForms in your blog to ask them what you want to know. To improve the quality of the answers, make your questionnaire fun, easy, and interactive. If you decide to go through with it, pay special attention to any privacy issues your survey can raise – the regulations vary from country to country. To be on the safe side, ask as little as possible and avoid personal questions.
2. Write Like a Real Person
People want to read an article written by a real person. Make sure your writing sounds authentic, instead of robotic, by implementing the following ideas:
Get Rid of Weak Words
Your readers are looking for relevant information, an answer to a question, a solution to a problem.
They aren't interested in guesswork
. Only write about what you know. But this isn't enough. You also need to sound authoritative. Do your texts have lots of "generally," "might," "maybe," or other weak words that make people think you are unsure? Get rid of them. Add statistics and quotes that confirm what you are saying. Of course, you don't need to be an expert on a subject to write about it. Very few reputable science journalists are scientists. But you need to understand it well enough to find the right sources and choose the best topics.
Grammar Isn't That Important
Some bloggers are afraid of showing some style in their texts because they aren't sure about their grammar. Forget about it. Nobody is going to check your grammar. What you need is to express yourself in a clear manner. Of course, if your writing is confusing, then you should work on it. Yes, a comma in the wrong place can cause trouble. But that is about it. If your writing follows the essential rules, you are fine in most cases. If you're still feeling unconfident, Grammarly can always help you out. I said "in most cases" because, again,
you need to consider your audience
. If you are dealing with readers that like to see grammar at its prime, such as scholars, then you better hire someone to proofread your posts.
Have a Conversation with Your Readers
Pretend that you are explaining something to a friend. This is the tone of voice you want in your articles. Make your explanations straightforward and natural. Be aware that
your readers are usually easily distracted
or trying to deal with screen reading, something many haven't mastered yet. To earn their attention, you will need to keep your posts simple and engaging.
Read your blog post out loud
. How does it sound? Like a school essay? Like a vacuum-cleaner manual? If so, rewrite the entire piece if you want people to read it.
3. Be the Most Reliable Blogger in Your Industry
Nothing makes the number of your readers decrease faster than poor fact-checking. This is a mortal sin. You only need to get caught once to destroy your reputation. Every time you write a new post,
dedicate time solely to verify information
. You must be seen as the most reliable blogger in your field. No matter how careful you are, some pitfalls, such as the ones below, can drive you into making unintentional mistakes.
Always Using the Same Sources
It's good that you have selected the finest sources to support your ideas. But are they still reliable? I've seen bloggers who continue to use the resources their high school teacher recommended ten years ago, while the world has already revealed better minds and solutions.
Keep yourself informed about the trends in your industry
. See who is giving interviews and winning awards. Check where the mass media is getting their data. Bringing the best to your side is an ongoing task and one you should prioritize.
Not Sharpening Your Critical Sense
Some will say that critical sense is at a premium. That people want fast-food information, ready to be consumed. This is appointed as one of the reasons why fake news spreads so fast – nobody takes the time to consider if what they are reading is true.
But you, as a blogger, a content provider, are the one who will lose readers by posting fake news
. So, work on your critical sense. Every time you write something based on someone else's opinion or information, consider the odds. Double-check
everything
. And only make statements you can back up.
Using Second-Hand Information
A big mistake many bloggers make is delivering second-hand information to their readers. They revamp what other people wrote about a given topic instead of investigating the facts themselves.
When you do this, you increase your chances of saying something both wrong and irrelevant
. While publishing brand-new stories can be a challenge these days, you should always offer your own angle and interpretation of the topic. But to do so, you need to find the original sources. Yes, it does mean you will have to deal with graphs and charts from white papers and case studies. Or analyze databases. Or interview people. Yes, it's more work for you. But your articles are much more likely to stand out once you start doing it.
4. Edit to Perfection
Never publish the first draft. Any successful blogger knows the work has just started. You now need to edit it to perfection. This part of the job involves several tasks, and how many you will have to accomplish depends on the type of article you are creating. Here are the most crucial:
Analyze the Structure
Once you finish your writing, analyze the structure of your post, now that you have all the information in place. Is this the best way to present it? You might realize that you created a listicle and it would work better as a how-to. Or that there are chunks of text that need to be broken down. You might even conclude you need to restart from scratch.
This is all normal and worth your time
. A high-quality article usually goes through at least three or four reviews before it's ready for publication.
Write Visually
With so many people reading online in a hurry, it's vital to add visual elements to help them to digest your content. Consider this:
Is there any part of the text that can be transformed into a bulleted list?
Can you create a table based on some of the information?
Is there a quote that can be featured inside a block?
Can you create a box to highlight the most crucial points?
Can you add some icons to drive attention to something important?
It's true that you might be restricted by your blog theme. Some of them won't allow you to do much. Others are more flexible, giving you blocks you can move around. But, most of the time,
the solution is as simple as using bold and italics or breaking your text into more subheadings
. And speaking of headings…
Prepare Your Posts for Scanning
Pay particular attention to your headings, including not only the title of your blog post, but also other headings. Most readers tend to scan the text initially and then determine whether they want to delve into it further. While some individuals might thoroughly scan most of the content and selectively read certain sections, others might simply find satisfaction in scanning the material.
Your headings and subheadings must achieve two goals: grab attention and keep people reading
. Unfortunately, the first ideas that will pop into your mind are unlikely to be the best ones. So be patient and take your time. If you can, work on another article, and come back later with the sole purpose of working on those headings.
5. Follow Up-To-Date SEO Guidelines
SEO guidelines change fast and when you are least expecting it
. So, if you want readers to be able to find your articles, you must keep your knowledge fresh. Okay, you might be thinking that you don't care about SEO, you just want to know how to write great blog content. That your readers find your articles through other channels. And you are right about that, for these reasons:
Your job is to make your readers happy, not an algorithm
Too much concern with SEO makes content dull and boring
However, you should know that the latest SEO guidelines are all about creating great content – they're even built on user behavior and intent. As a consequence, following them will help you to write much better blog posts. For instance:
Mobile-first: With more and more people accessing websites and making purchases through their phones, your content should be optimized to small screens
Voice search: Voice assistants, such as Alexa and Siri, are on the rise, so make sure your posts can be used by them to answer questions
Go local: If location matters to your topic, find ways to highlight it, as people are interested in nearby solutions, e.g., the best restaurants near me
Invest in Technical SEO: Your readers are time-pressured and want blogs that load fast and smoothly, so run a diagnostic to see how you are on this matter
And… It's Your Turn!
Taking your blog to the next level sounds like hard work. And it is. But just in the beginning. Soon enough, your mindset will change, and you'll be creating posts following the above suggestions in no time. But the best part of it is that you will see your traffic and conversions increasing. So don't waste a second. Start now.
---
Sources:
https://analytics.google.com/analytics/web/?utm_source=demoaccount&utm_medium=demoaccount&utm_campaign=demoaccount#/report/visitors-overview/a54516992w87479473p92320289