the best software for your business will depend on the needs of you and your team
.
After testing the two platforms, I can confidently say monday.com is the better software overall.
Not only does this work management app let you manage big projects with high-quality templates and customizable dashboards, but its scope goes far beyond organizing one-off projects
– i
t's also great at handling recurring tasks, such as answering customer questions or keeping track of inventory. That said, Teamwork may still be right for you, especially if you're just starting out in project management. It has a generous free plan and free collaborator seats, which makes it a great option for small-to-medium businesses.
Try monday.com for free
or read on to find out more about each software's pros and cons.
Features
Teamwork Covers the Essentials, but monday.com Has More Advanced Tools
Providing multiple ways to see your tasks can increase your team's productivity, with each team member able to switch to the view that works best for them.
While Teamwork offers 4 task views, monday.com gives you 9 visualization options to suit all preferences
. In addition to standard Kanban and Gantt views, monday.com also offers Workload, Map, Timeline view, and more.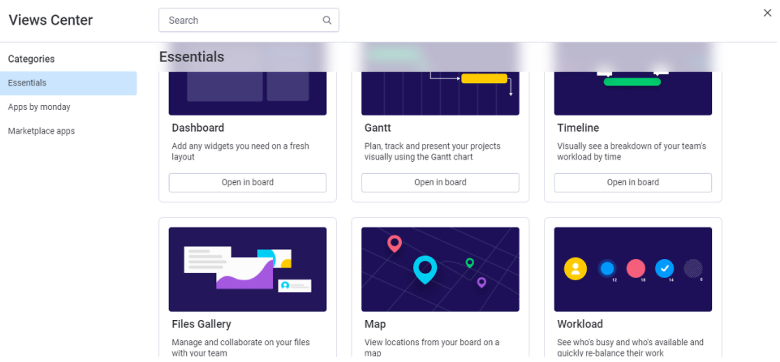 Using templates for creating tasks can help you set up a project quickly. Teamwork's selection of templates is fairly modest (up to 50 options depending on your plan), while
even on its free plan, monday.com offers 200+ templates
. They cover several niches, such as portfolio tracking, campaign planning, and HR processes. Also, monday.com's templates look really pretty, with a splash of color to breathe life into even the most tedious tasks.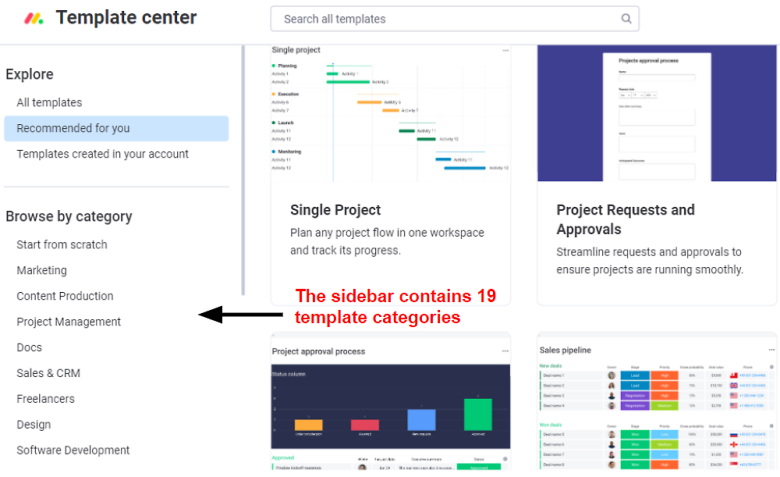 Both Teamwork and monday.com have a rich set of automations you can use to create tasks, send notifications, update statuses, and more. The difference, however, is that
monday.com has a much higher number of monthly automation actions
. For example, monday.com's Pro plan includes an impressive 25,000 automations per month, compared to just 10,000 automations on Teamwork's most expensive plan.
To help you extend your site's functionality, Teamwork integrates with over 100 apps,
 divided across categories including Productivity, Communications, and File Storage. monday.com has a smaller app marketplace (40+ integrations), but it includes the most popular choices like Slack, Dropbox, Stripe, and Mailchimp.
While Teamwork covers all the basics, monday.com's impressive set of features works well for simple tasks and complex projects alike
. You'll get more diverse and advanced ways to manage your workflow, including smart templates, flexible task views, and automation features to handle simple and complex assignments.
Ease of Use
Teamwork Is Super Customizable, but monday.com Is Better at Task Management
Setting up a Teamwork account is straightforward and pretty fun.
You provide details about your company and in the same window, you create your first project. Teamwork guides you through naming your project, adding tasks, and choosing your preferred task view (Kanban for me, please!).
monday.com's interface
makes it easy for beginners to get around
, and it simply looks great, with prominent icons and big buttons. If you get stuck, there are visual prompts to help you get back on track. And you can always click on the Help button on the left-hand panel to explore the Help Center.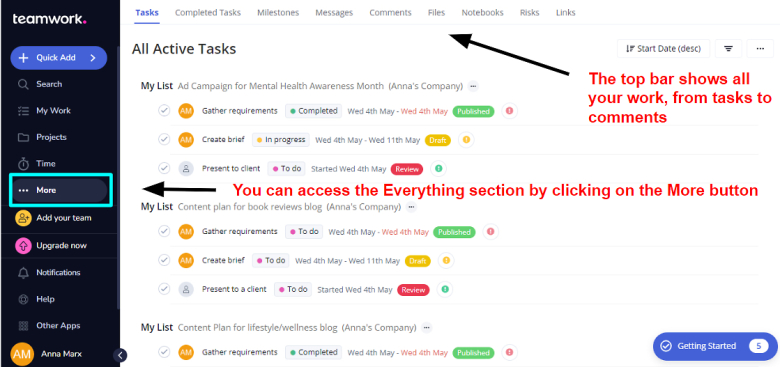 However,
when it comes to customization, Teamwork has the edge over monday.com
.
Teamwork lets you personalize your dashboard
 by changing colors, adding your company logo, and even your project logo. You can also create custom fields to add more details to your project descriptions, provided you're on the Grow plan or higher. Still,
monday.com's system of organizing work allows you to be very specific about your projects
. monday.com's boards are composed of groups, columns, and items. Items are your individual tasks, columns display data, and groups help you segment information. This allows you to see both the smaller details and the bigger picture, so you can more easily visualize your work as a whole.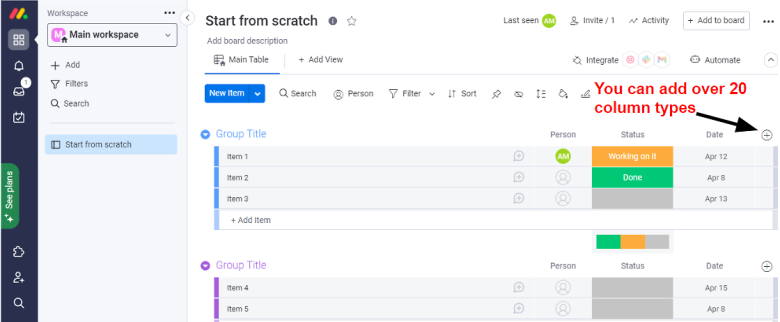 This great organizational system is reflected in monday.com's advanced reporting tools. For instance,
monday.com lets you create dashboards that display data from multiple boards, giving you a high-level overview of your workflow.
 You can manage your budget, see your team's workload, track your team's progress over time using cumulative data, and more. I had some trouble deciding who should win this round – both Teamwork and monday.com are easy enough to navigate. But if you're new to project management software, Teamwork's extensive customization options probably won't be useful to you.
monday.com's efficient organizational system is ultimately easier to grasp, making it the better option for beginners.
Collaboration Tools
monday.com Has Better File Sharing Features and a More Functional Mobile App
For real-time communication, Teamwork offers a built-in chat function, which even lets you create tasks from within the app.
You can also communicate with your team members via comments, @mentions, and the Message feature (for conversations related to a specific project).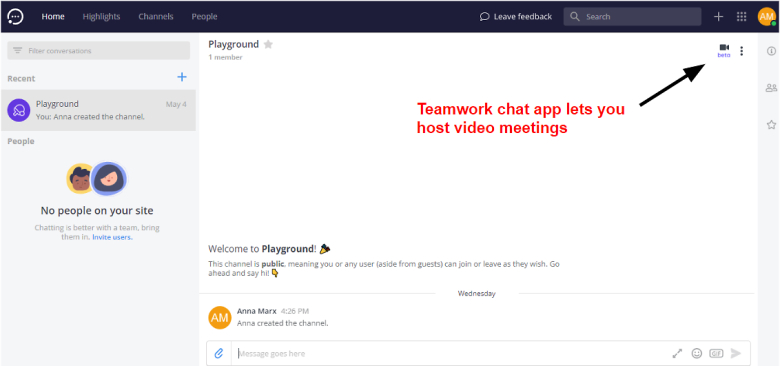 In contrast, monday.com doesn't have a built-in chat feature, so you can only send messages through threads related to specific items.
You can comment, give thumbs up, and mention individuals or entire teams. Of course, if you want this function for your team, you can always add direct messaging via a third-party app like Slack. Both Teamwork and monday.com allow you to upload files to share them with team members and clients.
monday.com lets you attach files to a task, a project, a status, a file column, and the files gallery, with the option to comment on any document.
Teamwork's file-sharing features aren't so extensive, but teams may find the Notebooks tool particularly useful to get contributions and feedback on content, as well as share information with your team. Learn more about this in our
expert Teamwork review
.

When it comes to working on the go, Teamwork's mobile app only lets you access some project management features, such as the ability to add tasks and log time. In contrast,
monday.com's mobile app
 provides pretty much the same functionality you get on the full web app
. You can access your inbox and dashboards, drag and drop items, edit columns, and more. While both platforms have efficient collaboration tools, monday.com makes it easier to communicate while sharing files and on the go.
Pricing
Both Are Reasonably Priced, but monday.com Provides Better Value
Teamwork and monday.com have similar pricing plans and they both offer a quality service, but
you'll get more value with monday.com
(read
our monday.com review
for more detail). Teamwork has a 30-day free trial on all plans and a free plan, plus three pricing tiers: Deliver, Grow, and Scale. Monday.com also offers a free plan, as well as four paid plans – Basic, Standard, Pro, and Enterprise – all of which come with a 14-day free trial.
Here's What You Get for Free
Teamwork's free plan lets you add up to five standard users and an unlimited number of collaborators.
You also get a time tracking tool and Gantt charts, which are premium features with most project management software. Just be aware that the free plan limits you to just two active projects.
monday.com's free plan supports up to two users and it includes a decent range of basic features
, such as templates, two project views, and a mobile app. Although you get unlimited boards and documents, monday.com's more advanced features like automations do require a paid subscription.
monday.com provides more storage on its free plan – 500MB, compared to 100MB on Teamwork's free plan.
That said, if you upgrade to Teamwork's cheapest plan, you'll get 100GB of storage, while monday.com's entry plan comes with only 5GB. Having said that…
Here's What You Get When You Pay
Teamwork and monday.com charge a similar price per user. However, bear in mind that monday.com requires a minimum of three users per plan, while Teamwork requires five. This means that
if you have a smaller team, you may end up paying more for Teamwork than you would for monday.com
, and for less features at that. For instance, monday.com allows you to create unlimited projects on its cheapest paid plan, whereas on Teamwork, you'll have to subscribe to the most expensive plan to get the same option.
If you run a smaller business, Teamwork's Deliver plan will be more than enough.
 You can create up to 300 projects, plus you'll get a team chat app and the ability to send invoices. Upgrading to a higher-tiered plan unlocks advanced features like the ability to set up a time-based budget for your project. In most cases,
monday.com's Standard plan offers the best value
.
You'll get three additional task views, along with some automations and integrations, and guest access. If you go for the higher-priced Pro plan, you'll have access to up to 25,000 automation and integration actions per month, all nine project views, formula columns, and time tracking.
Overall, monday.com has more features packed into its paid plans,
and it's the better option if you run larger teams or deal with complex projects. Here's a comparison of Teamwork's Deliver and monday.com's Standard plan, so you can see which one's a better fit for your team.
Teamwork Deliver Plan
monday.com Standard Plan
Starting Price

$

10.00

$

10.00

Collaborators
Unlimited
Unlimited
File storage
100GB
20GB
Project templates
20
200+
Automations
500
250
Time tracking

✔

✘

Number of projects
300
Unlimited
Support
Both Platforms Have Responsive Support, but Teamwork Provides More Options
When it comes to live support channels,
Teamwork has live chat, email, ticket, and phone support
. Replies via live chat typically arrive instantly, while questions sent via tickets get answered within 24 hours. Based on my interactions, Teamwork customer support agents are friendly and give helpful answers.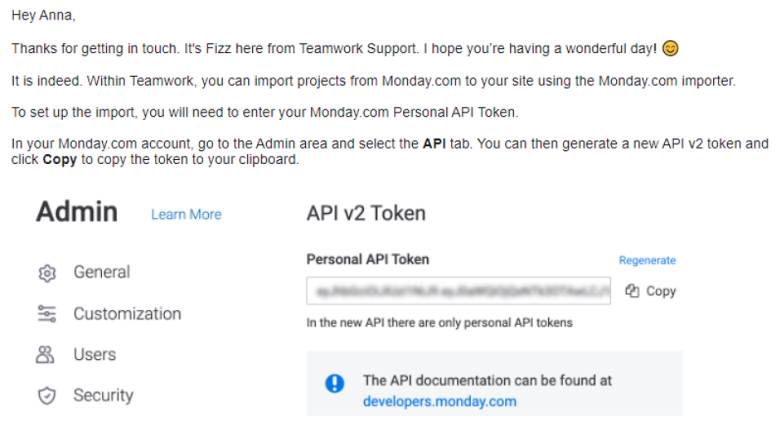 With monday.com, your options are limited, as you can only use the ticket/email system.
I was disappointed by the lack of live chat support at first, but the response I got via email arrived in a few minutes and it was pretty helpful (although not as detailed as the one provided by Teamwork's support).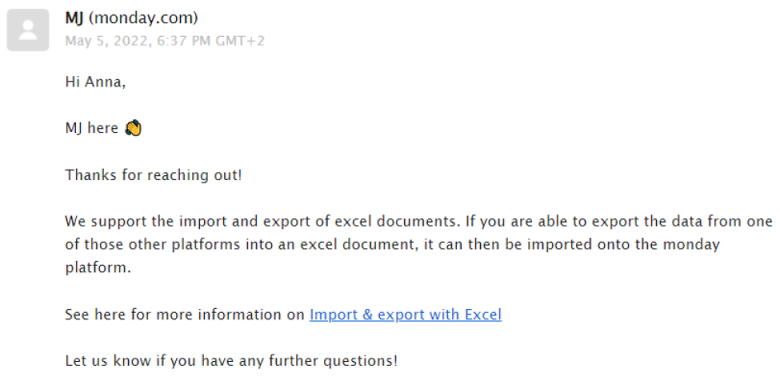 Overall, both platforms have responsive support and offer extensive documentation with articles, tutorials, and webinars on all sorts of topics, but
Teamwork provides more communication channels
, making its support more accessible.
Teamwork Is a Worthy Competitor, but monday.com Provides more Value for Your Team
monday.com is a simple and versatile software that can help you optimize workflow
 regardless of your team's size. It's a great choice for managing day-to-day tasks, as well as more complex projects of any size. While Teamwork is easy to use and a good option for beginners,
monday.com has an intuitive interface and more advanced features in general
, such as stronger reporting and automation tools, so it offers better value for its price. Teamwork is a solid choice for a small-to-medium business. However, it's not as flexible as monday.com when it comes to organizing teams and projects, so you may as well go with something that is more adaptable.
Features
Strong set of project management tools
Extensive set of work management features
Ease of Use
Beginner-friendly, highly customizable interface
Clean, easy-to-use interface
Collaboration Tools
Multiple ways for teams to collaborate, integrated chat
Communication via discussion threads and file sharing, plus fully functional mobile app
Pricing
A generous free plan and four reasonably priced paid plans 30-day free trial on all plans
A basic free plan and four paid plans that offer great value 14-day free trial on all plans
Support
Support documentation
Live chat support
Ticket/email support
Phone support
Support documentation
Ticket/email support
FAQ
Is Teamwork better than monday.com?
Both Teamwork and monday.com are beginner-friendly platforms that let you track projects via dashboards and automate your workflows. However, while Teamwork is better suited for smaller businesses, monday.com has a wider set of tools, so it's a great choice for larger teams or more complex tasks, too.
Is monday.com good for CRM?
monday.com is a work management app that works well as a basic customer relationship management tool. It has an extensive library of predesigned templates that can handle any standard CRM workflow.
Does monday.com have Gantt charts?
Yes, monday.com offers a Gantt chart view on the Basic plan and up. You also get several other visualization options, such as Kanban, File view, Timeline view, and more.
What is Teamwork best used for?
Teamwork is best suited for small-to-medium agencies, thanks to features like budgeting and free collaborator seats. Check out our list of the best project management software in 2023 for more great options for your business.