At first glance, it looks like DreamHost offers better prices than SiteGround, but don't be fooled. To get DreamHost's discounted rates, you have to pay in advance for a full three years of hosting. That's only one of the reasons I prefer SiteGround over DreamHost. After rigorously testing both hosts,
I found SiteGround to be the better choice in terms of performance, security, and overall user experience.
I'm also a fan of its new site management tools. DreamHost isn't a bad host, but why settle for "not bad" when you could do better?
Click here to see SiteGround's best deals
, or read on for the full story and the results of my tests.
Performance
SiteGround's Speed Features Make DreamHost Seem Slow
As people use their mobile devices to browse the web more and more often, page loading speeds become even more important. If your website takes more than a few seconds to load, your visitors aren't going to stick around. That's why a web host's performance is the first thing I look at. Regardless of where in the world your visitors are located or what device they're using to view your website,
with SiteGround, your pages will load quickly
. Its speed-enhancing features include:
SSD drives (up to 200% faster than traditional HDD drives)
NGINX server technology (to improve server response times)
SuperCacher (SiteGround's bespoke caching tool)
Cloudflare CDN (content delivery network)
PHP 7.3 and HTTP/2
SiteGround claims that with its speed-enhancing technology, page loading speeds are around 1.3–1.6 seconds.
To test this, I built a WordPress website with a number of plugins (using many plugins on a site is known to
affect page loading speeds
) to see how SiteGround handles a more resource-dense website. I tested the page loading speeds using the free GTmetrix tool.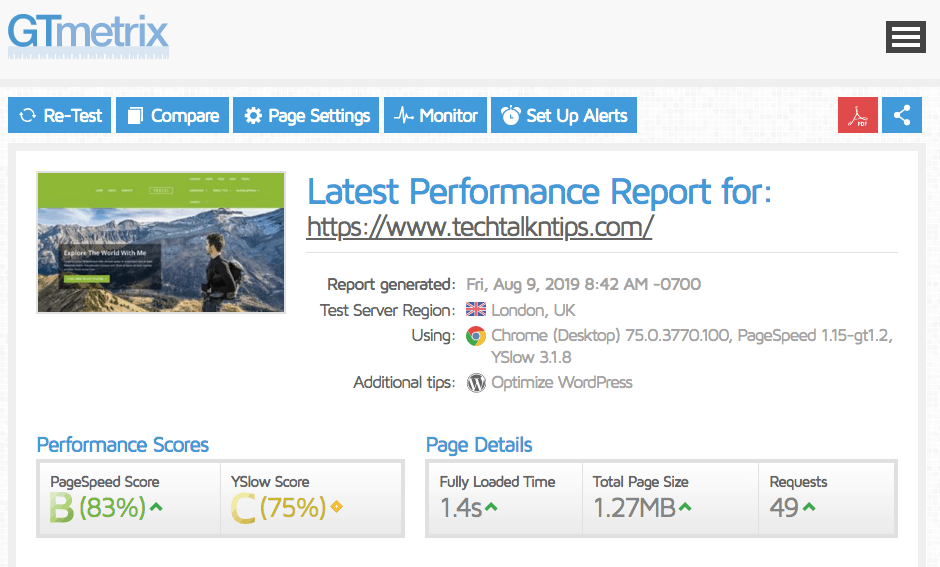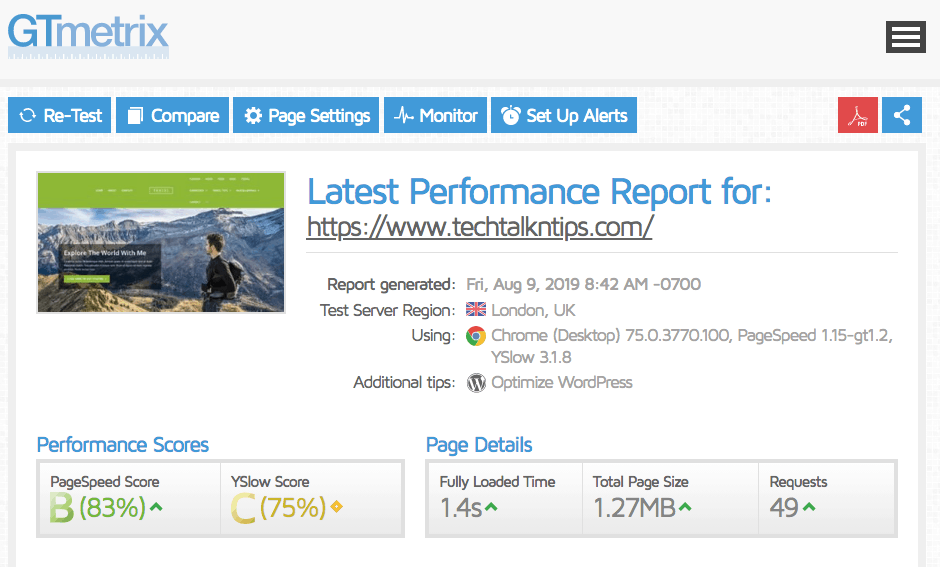 With all SiteGround's speed-boosting technology enabled, it took only 1.4 seconds for the 1.27 MB page to fully load.
DreamHost has fewer performance-enhancing features but does use SSD drives and claims to have servers that are optimized for performance.
I tested a website hosted on DreamHost to see how it compared to a similar site on SiteGround.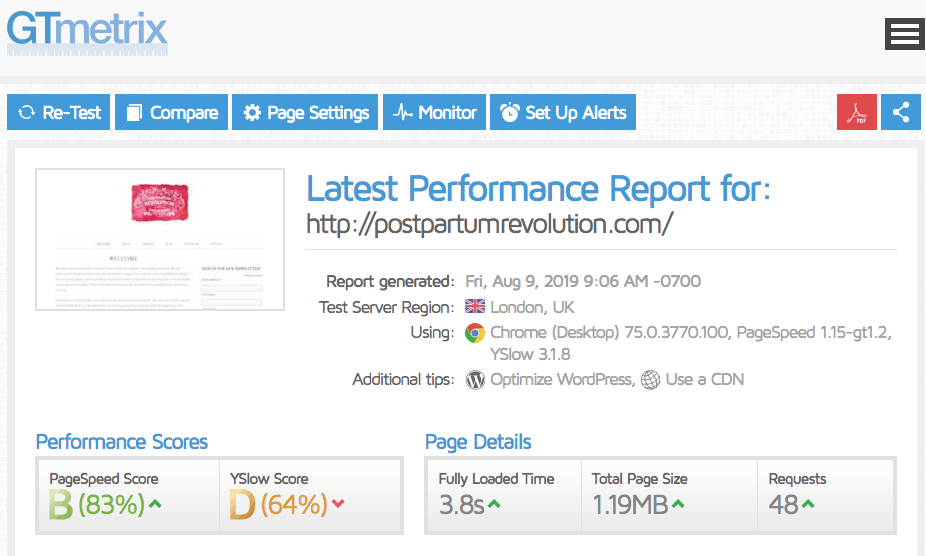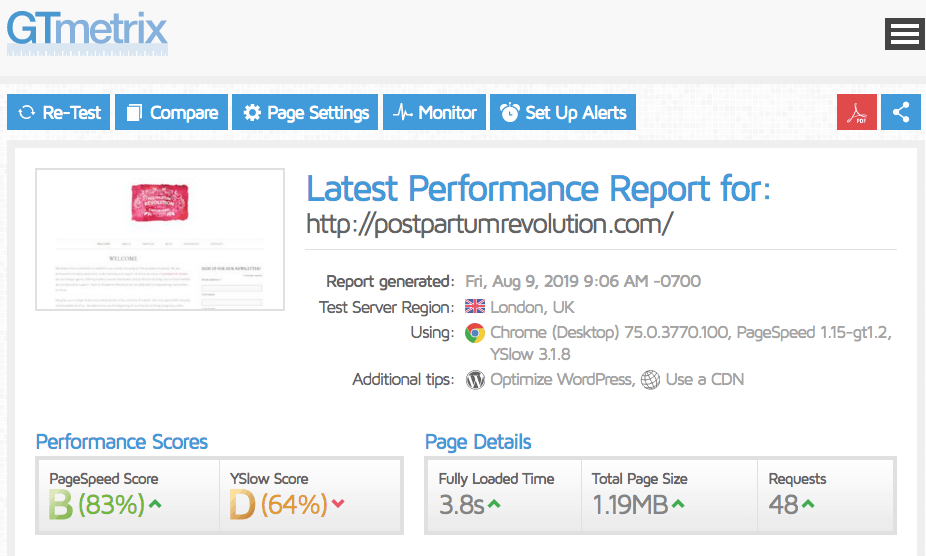 As you can see from the screenshot,
on DreamHost, a 1.19 MB website took 3.8 seconds to fully load – over two seconds longer than SiteGround for a similar-size website.
While 3.8 seconds is still well below the average page loading speed (around 7 seconds), it is slow in comparison to SiteGround. DreamHost has a
100% uptime guarantee
– for every hour (or part of an hour) it's down, DreamHost credits you the cost of a day's hosting. Most hosts, including SiteGround, have a 99.9% uptime guarantee, so DreamHost might seem like the better choice for reliability, right? Not so fast.
Despite the 100% uptime guarantee, DreamHost's recent uptime records show an appalling 99.64% during one month,
and 99.80% in another month. During that 99.64% month, downtime lasted over two and a half hours in a single day. So is the potential lost revenue during that downtime worth the meager credit? To put DreamHost's uptime history into perspective,
SiteGround has an average uptime of 99.98%
– which equates to around eight minutes of downtime per month.
And the winner is:
SiteGround. With better speeds and greater reliability, SiteGround ensures you don't have to worry about your website's performance.
Features
DreamHost Can't Beat SiteGround's Special Tools for WordPress
SiteGround has useful features like a CDN (Content Delivery Network) and a staging tool,
which lets you test changes and new WordPress plugins without affecting the live version of your website before you're sure everything's working the way it should. SiteGround even makes it into our round-up of
the best WordPress hosting providers
. While its features aren't as impressive,
DreamHost does give you unlimited storage space and a free domain for your first year,
and one area where it truly shines is its 97-day money-back guarantee. SiteGround only gives you 30 days. To help you compare DreamHost vs SiteGround on features, here's a side-by-side comparison:
| | | |
| --- | --- | --- |
| Feature | SiteGround | DreamHost |
| Storage Space | 10 GB to 30 GB, depending on the plan | Unlimited |
| Money-Back Guarantee | 30 days | 97 days |
| Free Domain Name | No | Yes, a free domain for your first year when you sign up for an annual plan |
| Automatic Backups | Yes, daily and kept for 30 days, with the option to make on-demand backups | Yes, daily and kept for a maximum of 15 days |
| Free SSL Certificate | Yes | Yes |
| Free CDN | Yes, Cloudflare CDN | No |
| Bandwidth | Unmetered | Unmetered |
| Free Site Migration | Yes, completed within 24 hours | No, there's a fee for this service |
| Free Email Accounts | Unlimited | Yes, but only on the Unlimited plan |
| One-Click Application Install | Yes, with a wizard for setting up WordPress with SiteGround's recommended plugins | Yes |
| Staging Tool | Yes | No |
| cPanel | No, it uses Site Tools, a new control panel that replaces cPanel | No, DreamHost uses its own control panel that works similar to a navigation menu rather than the usual tiled icon layout of a control panel |
And the winner is:
SiteGround, with its impressive set of features. If you already have a website, you'll especially appreciate the free migration service. SiteGround's hosting plans give you 10–30 GB storage, and that will be more than enough for most users. However, if you're planning on hosting a very large, media-heavy site, DreamHost might be the better choice with its unlimited storage space. If you're still considering it, you should read our
in-depth DreamHost review
.
Security
SiteGround Acts Fast to Keep Your Website Secure – DreamHost's Security Is Mediocre
SiteGround's security is better than what a lot of shared web hosting providers offer.
It reacts quickly when new threats and vulnerabilities are discovered, developing and applying its own security patches.
Most hosts, including DreamHost, wait for third-party patches to be released, leaving your website vulnerable for longer. To prevent brute force attacks, SiteGround uses advanced anti-bot artificial intelligence (AI) technology in its firewall. It isolates the infected or hacked account, so if another website on the same server is targeted with malicious code, your webspace stays secure.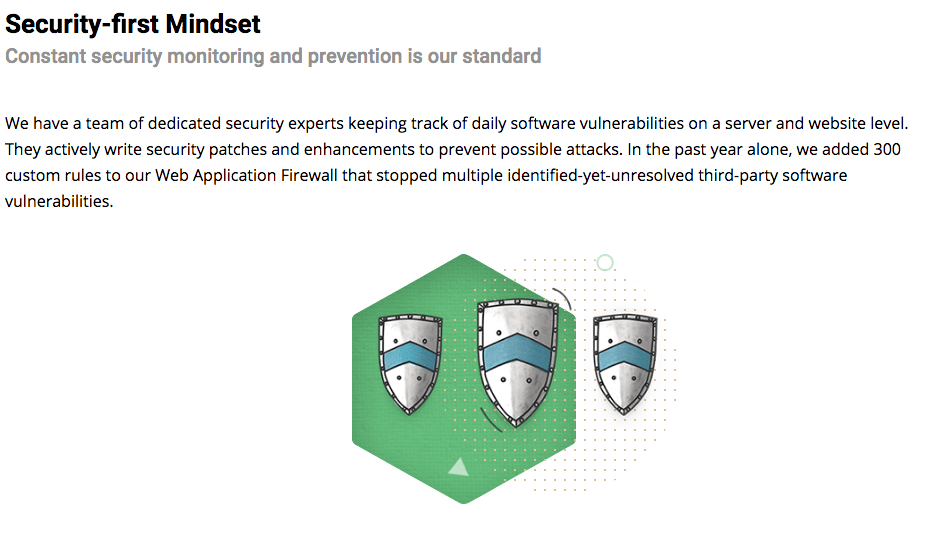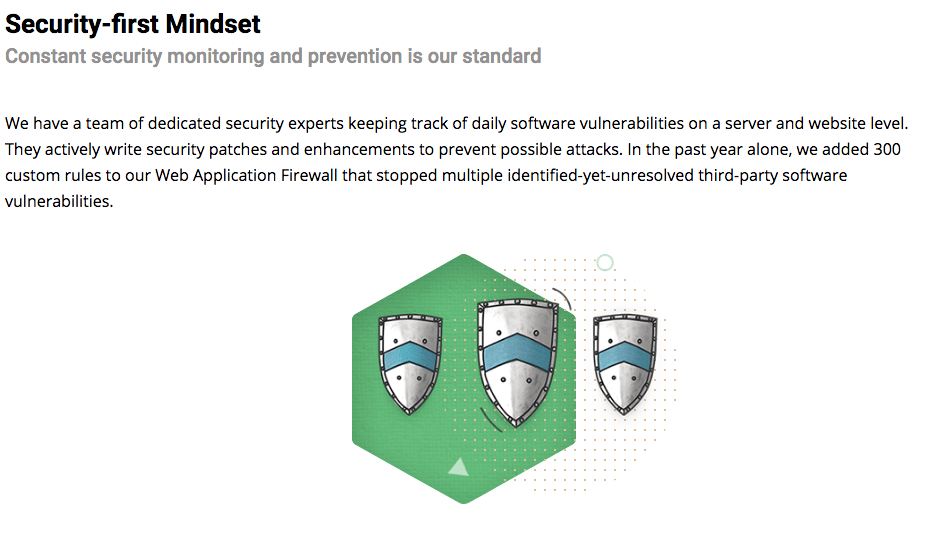 DreamHost's security isn't as great as SiteGround's, but it's still better than some hosts who expect you to pay extra for peace of mind.
It uses mod_security, a web application firewall (WAF) that keeps your webspace protected from malicious traffic
, cross-site scripting, and brute force attacks. There's also technology in place to prevent your control panel from being hacked.
And the winner is:
SiteGround, with its rapid responses to new vulnerabilities and a more advanced firewall system.
Pricing
DreamHost Doesn't Raise Prices on Renewal, but SiteGround Doesn't Make You Pay for Years in Advance
Many web hosts advertise low monthly prices for hosting, but when you reach the checkout, you find that you have to pay up-front for three years to get those prices. This is the case for DreamHost, which offers monthly, annual, or three-year plans.
If you opt to pay monthly, you pay almost double the advertised price.
SiteGround's pricing is not dependent on the length of your plan. Whether you sign up for 12 months, 24 months, or 36 months, you pay the advertised price. However, when it comes to renewal costs, SiteGround is not so great.
When it's time to renew your plan, you'll find yourself paying almost three times the price you paid initially.
DreamHost is unusual in that its prices don't rise on renewal, so in the long term, its pricing is lower than SiteGround.
DreamHost also gives you a free domain name and free domain privacy protection
(which most hosts charge extra for). You won't get that with SiteGround.
And the winner is:
DreamHost. Even though you have to pay upfront for three years to get the lowest prices, DreamHost is cheaper in the long term because of its static pricing, free domain name, and included domain privacy. Just keep in mind that SiteGround still offers a better set of features, so while it's more expensive, you get better value for your money.
Customer Support
SiteGround Has Fast Customer Service – DreamHost's Support Is Lacking
Both SiteGround and DreamHost offer 24/7 support, but that's where the similarities end. With SiteGround, 24/7 support is available by live chat, phone, and email/ticketing. You can be sure you'll get a quick response on live chat – usually connecting within a minute.
SiteGround also has the fastest response time for ticket support.
You can expect a response within ten minutes – much faster than other hosts I've tested. DreamHost's 24/7 support is only available through email (and I'm not really sure how you can call that "24/7" support since all email is technically 24/7).
Live chat support is only available from 5:30 a.m. to 9:30 p.m. PST.
Even during those hours, it can be difficult to connect to a support agent. When I tested DreamHost's live chat support during the available hours, I was unable to connect with a customer support agent, getting a message in the live chatbot that the team was "out" but would get back to me "soon." Essentially, DreamHost's support is only reliably available via email, but response times can be up to 24 hours.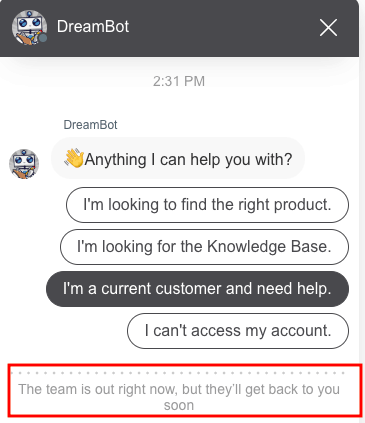 And the winner is:
SiteGround, without question. With SiteGround, you're sure to get the help you need quickly – plus you have several ways to contact the support team, no matter the time of day.
SiteGround Is Superior in Speed, Security, and Support
In comparison, SiteGround employs superior technology to DreamHost, providing quicker loading speeds, enhanced reliability, and superior security. From my perspective, this positions SiteGround as the unequivocal victor due to these factors. To learn more,
check out our expert SiteGround review
.
My Recommendations
If you're running a business and you need a website that is fast and reliable, choose SiteGround. You'll benefit from its many advanced features, such as its CDN and its staging area.
If you need to host a personal site, or you're on a tight budget and need a host that's going to be cheaper in the long run, you might want to consider DreamHost. You won't be hit with huge price increases on renewal, and you can choose to pay month-to-month for your hosting, avoiding those high upfront costs.
Performance
Speed-boosting technology for fast-loading pages
Lacks performance-boosting features, leading to slower-loading pages
Features
The staging area is convenient for updates without risking the current website
No limits on storage and bandwidth, and you get a free domain name for a year
Security
Automatic backups and industry-leading security features
Security features are average
Value
Prices don't depend on a long initial commitment, but renewal prices are high
Renewal prices are more pocket-friendly, but initial prices are higher
Customer Support
24/7 support with excellent response times
24/7 support via email, but live chat is unreliable and only available during certain hours