Shopify is an all-in-one solution that includes hosting, domain, SSL certificate, and more.
Every plan comes with advanced e-commerce features and even beginners can quickly grasp its intuitive interface. On the other hand,
WooCommerce is more challenging for those who lack technical expertise
. While it's ultimately more customizable than Shopify, you'll have to invest more time building your online store. You'll also have to pay for a domain name, hosting, security, and an SSL certificate. After thoroughly testing both platforms, I can confirm that
while WooCommerce has its strengths,
Shopify won this matchup. If you're looking to build a profitable e-commerce website, keep reading to learn why Shopify came out on top.
Templates
Shopify Offers More Designs and They're All Responsive
Both WooCommerce and Shopify offer attractive themes
that will show off your products and deliver a pleasurable shopping experience for your customers. But they differ when it comes to variety, cost, customization, responsiveness, and features.
Shopify currently offers 120+ themes, including 12 free themes
designed by Shopify developers and the rest by vetted third-party developers
. They're all professional, stylish, and mobile-responsive. They also come with essential built-in features, such as product pages, image/multimedia galleries, blog pages, and social media integrations. I found that these
themes are easy to navigate on desktop or mobile,
which is more likely to keep shoppers on your site.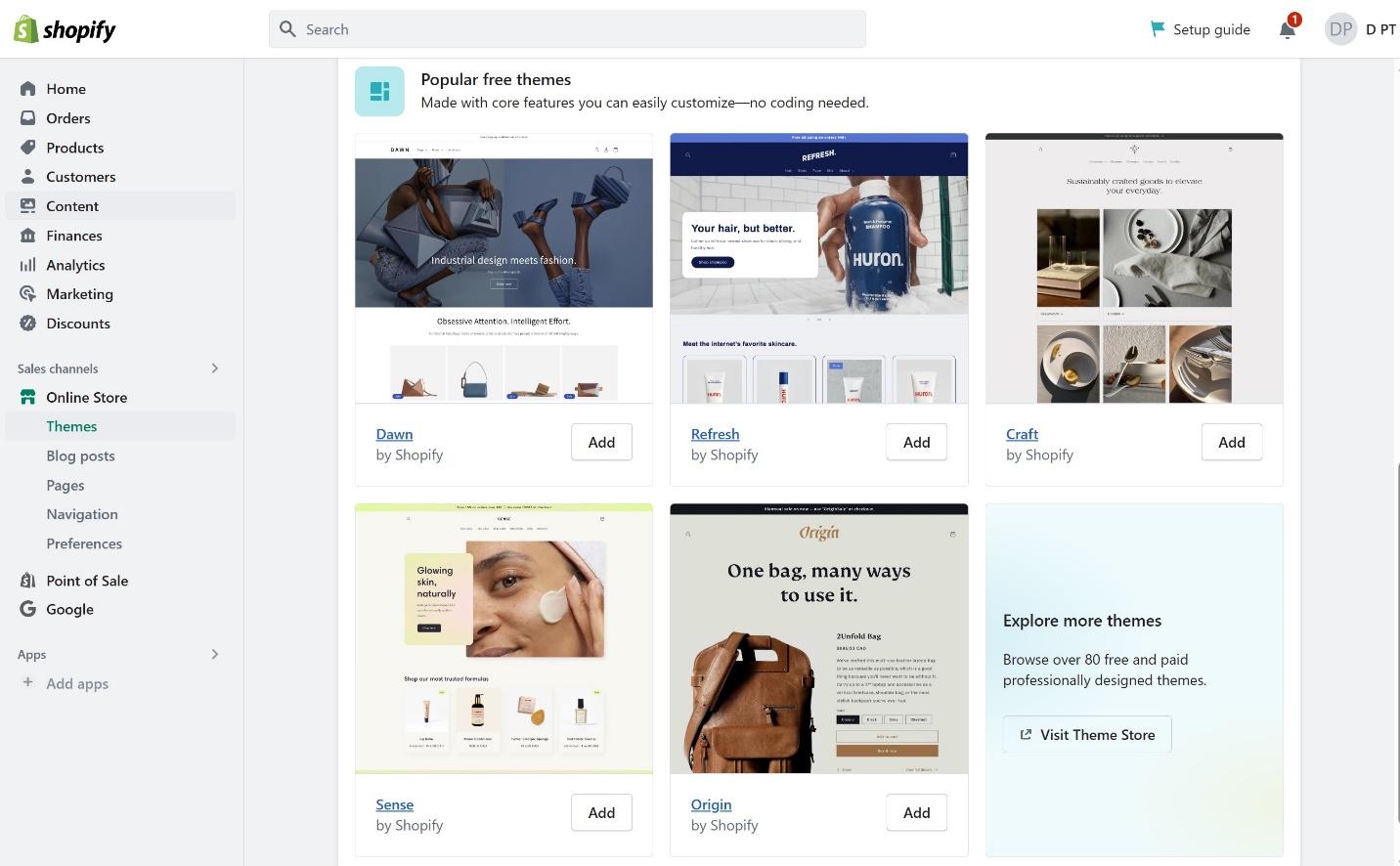 The WooCommerce theme library has 77 themes, of which 50 are mobile-responsive
. Only Storefront, its official theme, is free, though you can install one of two free child themes to further customize the design. While themes are not as polished as Shopify's and come with fewer built-in features, paid themes are more affordable, ranging in price from $30-$179.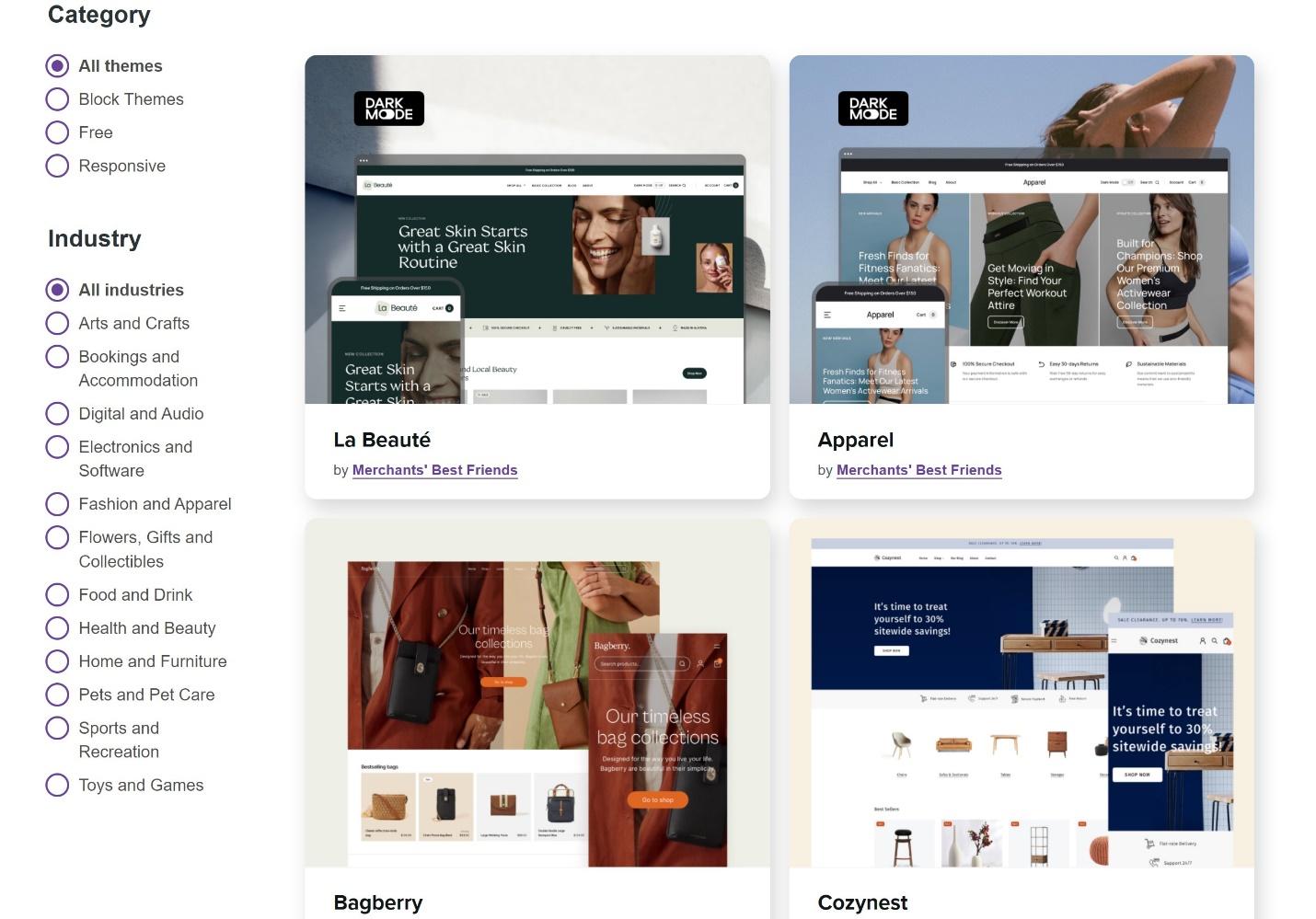 The WooCommerce library also lacks the categories and filtering options Shopify offers, such as pricing, popularity, catalog size, and features. However, you can search by industry, responsiveness, and compatibility with the WordPress block editor. That said, I discovered that
if you pair WooCommerce with a qualified WordPress plan, you can choose from hundreds of free and premium WordPress themes.
You can also access thousands of third-party themes designed by developers for WordPress. Bear in mind though, these themes are not specifically designed for WooCommerce – you'll have to contact the developers for support, which is typically limited to one year.
Features and Ease of Use
Shopify Makes it Easier to Design Your Store, WooCommerce Gives You More Control
Designing an appealing Shopify store is fast and easy (even for beginners!)
thanks to drag-and-drop editing, an intuitive interface, and a step-by-step setup guide. Since key features are already built-in, you just need to choose a theme that matches your brand and add your own images, video, products, and other content.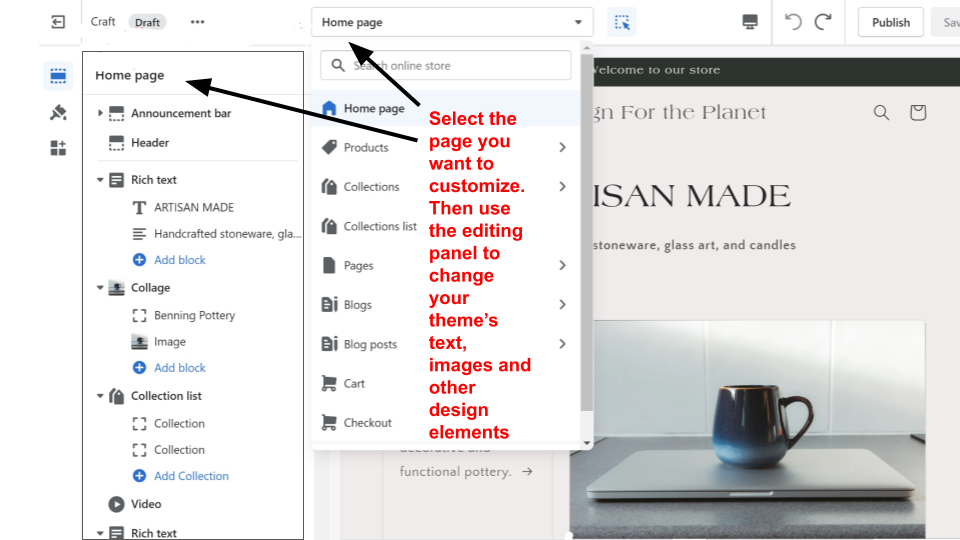 WooCommerce is a free WordPress plugin that shares the power, flexibility, and customization that comes with WordPress
. That said, if you don't have sufficient technical knowledge or the time to invest in design and setup, you may find the learning curve off putting. With practice and familiarity, you can create an engaging and visually appealing store with WooCommerce, but
getting your online store live is going to be faster with Shopify.
Shopify Gives You More Built-In Features
Shopify's all-in-one approach means useful e-commerce features
come standard with every plan.
That includes unlimited products and site storage for product images, video, and 3D models, which can give shoppers a more in-store experience and prompt them to buy. I was surprised to find that unlike most e-commerce platforms,
even Shopify's basic plan comes with advanced tools
you can use to automate abandoned cart recovery emails, back in stock notices, and email marketing campaigns.
WooCommerce's major selling point is customization.
Its core features include what you'll need to set up and manage a basic online store, such as support for unlimited products, blogging tools, and sales/customer reports. But to fully customize your site and enhance its functionality, you'll have to add extensions. I was surprised to learn I'd have to purchase extensions to sell subscriptions or memberships, or allow customers to book appointments. The cost of these extensions came to $700 annually (about $58 per month).
Because you have to pay for many e-commerce tools that Shopify includes by default, WooCommerce loses this round.
Shopify Simplifies Multi-Channel Selling
Shopify makes it more convenient  to sell on different platforms.
When you set up your Shopify store, you'll be asked what third-party sales channels you want to add to your store. You can list products on Amazon and eBay, as well as social sites like Facebook, Instagram, and TikTok. I really like how
Shopify will automatically sync sales across these channels,
so your inventory is always up to date. You can also manage sales, view customer reports, and do it all from your Shopify dashboard. You can add extensions to your WooCommerce store to sell on marketplaces like eBay, Etsy, Walmart, and Amazon and social sites like Pinterest, and upload your product catalog with a click.
From the extension's panel in your WooCommerce dashboard, you can sync and manage orders, cancellations, and other updates.
As with other e-commerce features, I found Shopify's user-friendly approach gave it an edge over WooCommerce in terms of its multi-channel selling functionality.
Is Shopify or WooCommerce Better for Dropshipping?
If you're considering dropshipping to stock your store with inventory without having to pay upfront, both Shopify and WooCommerce offer integrations that will help you get your business off the ground. Popular dropshipping apps on Shopify include Oberlo, Printful, AliExpress, and Sprocket.
As with multichannel selling, you can oversee and manage your dropshipping orders from your Shopify store's dashboard.
Shopify also provides built-in tools you can use to send automated order confirmation emails, tracking updates, and notifications to give customers a positive experience.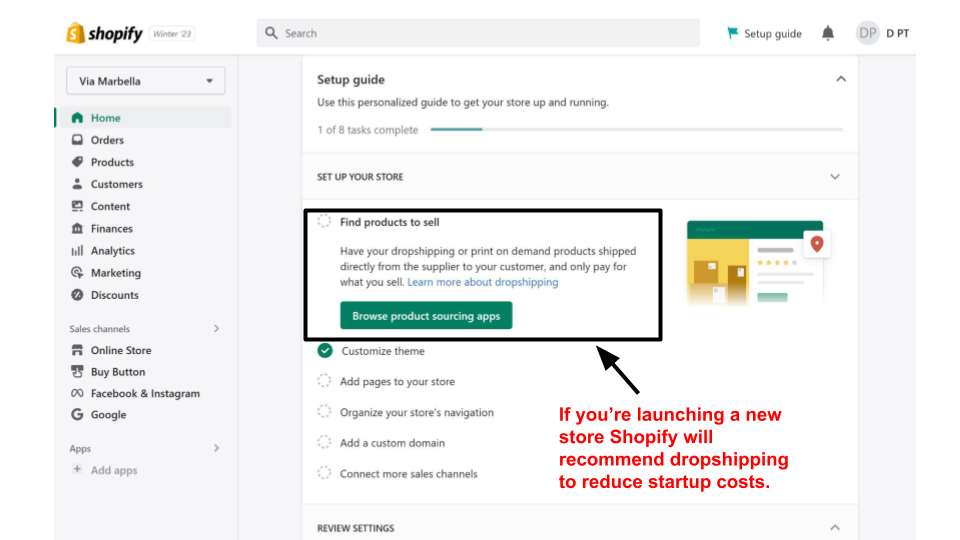 You can configure your WooCommerce store for dropshipping by adding extensions.
You'll find a number of plugins in the fulfillment and dropshipping category (AliDropship, Amazon Fulfillment, WooCommerce Zapier) that allow you to stock your store and fulfill and track orders. While I appreciate WooCommerce's flexibility, I found Shopify's setup and management more streamlined because essential tools for managing sales and orders are built in.
Apps, Plugins & Add-ons
Shopify Has a Well-Stocked App Store, WooCommerce Offers Thousands of Plugins
Shopify and WooCommerce both offer addons that can expand your store's features and functionality. Based on the information you provide when you create an account, both will also recommend apps (Shopify) or extensions (WooCommerce) to help you attract customers and sell.
WooCommerce has more than 800 free and paid extensions
for payments, shipping and fulfillment, conversion, marketing, and store management. You can connect tools and third-party platforms for multichannel selling, email marketing, upselling, and more. But that's just the beginning.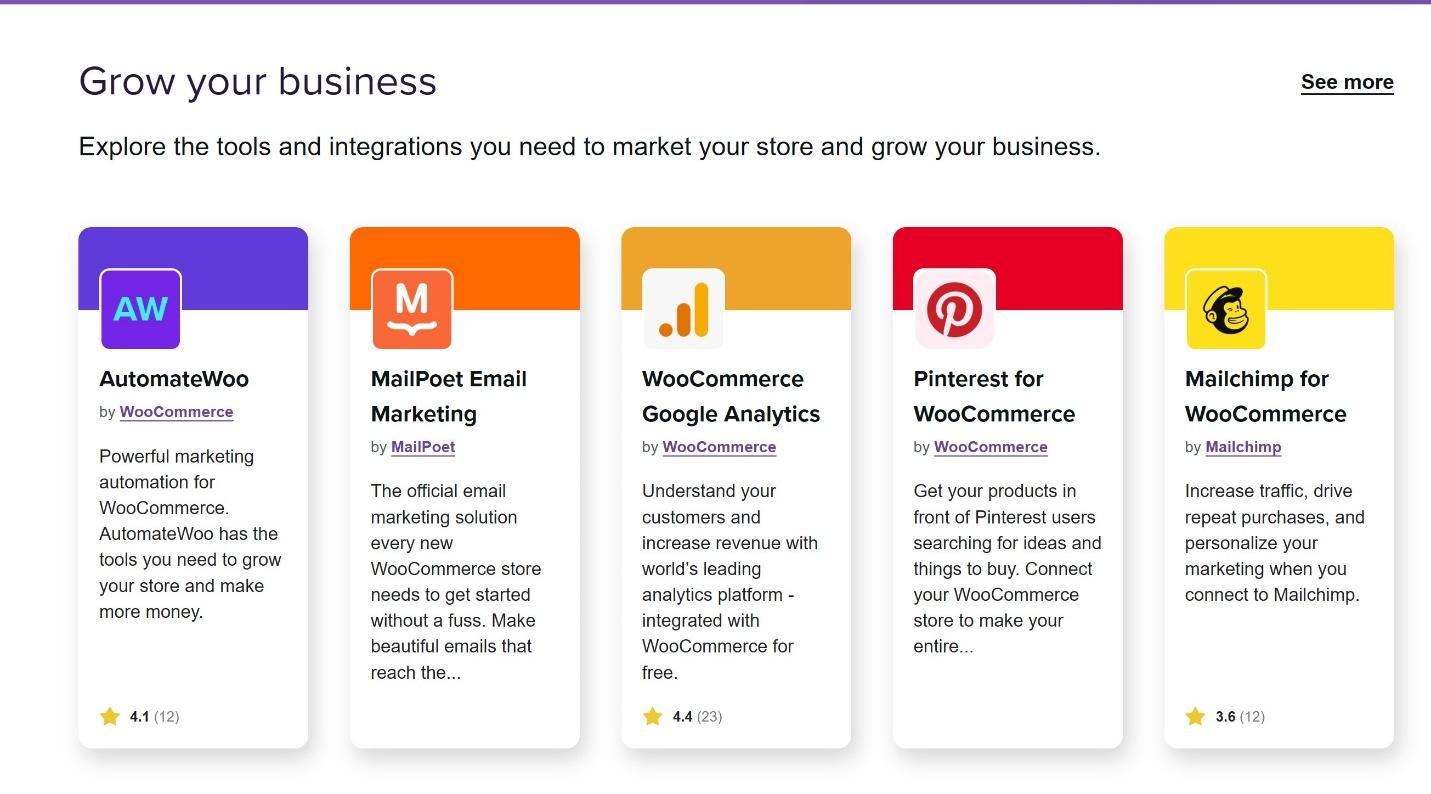 After digging around the platform, I discovered that you can choose from over 50,000 plugins if you add WooCommerce to a hosted WordPress.com site (with Business plan or higher)
. There are plugins for e-commerce (MailChimp, Pop-Up Maker), marketing (Hubspot, Marketing Automation) social sharing, payment processing, and more.  Best of all, many plugins are free to use. On the other hand,
Shopify's app marketplace is stocked with 7,000+ free and paid apps organized by use case
. It's easy to navigate, so you can quickly find what you're looking for. Still, while Shopify has a great selection of apps, WooCommerce's integration with WordPress gives it an edge – there's a plugin for any feature or function you could ask for.
SEO
Shopify Offers More Help With Search Engine Ranking
Both WooCommerce and Shopify are designed to be SEO-friendly and optimized for search engines. Store sites load quickly, which can help you rank higher with search engines.
WooCommerce sites have clean and optimized code, customizable permalinks, and easy integration with SEO plugins like Yoast
that guide you through the steps of optimizing your site. Every theme also includes WordPress's advanced blogging tools which are great for promoting your brand and boosting its online visibility. Like WooCommerce, Shopify themes are designed with clear and structured code to help search engines crawl and index your store efficiently. You can use built-in SEO tools to edit your website's title tags, meta titles, meta descriptions, headings, and images. You can also choose the URLs for blog posts, webpages, products, and collections.
Shopify also automatically generates your website's site map.xml, something WooCommerce doesn't do unless you add a plugin.
Standout Shopify features are its helpful guides and SEO checklists. They cover pertinent topics, from choosing keywords for ranking to developing backlinks and optimizing your blog posts for search engines. This round has to be a drawn between Shopify and WooCommerce. They both help you through the process with in-built tools and guides, which is exactly what you need in the complicated world of SEO.
Pricing
WooCommerce is Technically Free, But Shopify Offers Better Value
At first glance, WooCommerce looks cheaper. After all, it's free to download. But when I dug deeper, I learned
WooCommerce charges for features Shopify includes for free
. That's on top of what you'll have to pay for a domain name, hosting, security, PCI compliance, and more. If you opt for a basic Woo Express  plan, you'll get some features Shopify includes by default, like automated tax collections and order tracking. But you'll have to upgrade to the pricer Performance plan to get tools like abandoned cart recovery emails, recommended products, and back-in-stock notifications.
Here's What You Get for Free
To set up your WooCommerce store, you'll need to create a WordPress website. Then you can download WooCommerce just like any other plugin and start building your e-commerce site. Alternatively,
you can test WooCommerce with a 14-day free trial
of one of its two Woo Express plans. On the other hand,
Shopify offers a 3-day free trial
 that includes a reduced fee of $1 for your first three month's subscription to the Shopify Basic plan and a $100 credit to use in the app store. If you need more time, you can ask customer support to extend your free trial period. I tested this myself and was able to get an extension of 7 days. While there's no guarantee Shopify will grant you an extension, it's definitely worth asking.
Here's What You Get If You Pay
At first glance, Shopify and WooCommerce plans appear to be comparably priced, but the devil is in the details. Even with a paid WooCommerce plan, you'll still have to pay for extensions to add the features and functionality Shopify builds in.
Shopify's Basic plan is

$

29.00

per month
, and includes security (an SSL certificate, web hosting, PCI-DSS compliance), 24/7 customer support, and reports/analytics so you can track your store's performance. If you want your own custom domain name to align with your store name, you'll have to pay an additional $14 per year. Shopify also includes advanced e-commerce features, such as marketing automations, market specific product pricing, tax calculation, shipping discounts, and so much more. Upselling features like abandoned cart recovery emails, discount codes, gift cards, and multiple sales channels are free with any plan. While a
Woo Express Essential (

$

25.00

per month if paid annually) or Commerce (

$

45.00

per month if paid annually) plan will get you a more all-in-one solution for your store, they're not as feature-rich as comparable Shopify plans.
With either plan, you'll get a one-year free custom domain (if you pay annually), social sharing and SEO tools, an SSL certificate, sales/analytics reports, and integrations with top shipping carriers, and payment processors.
These plans also include a selection of extensions to help you sell products and grow your businesses,
but you'll likely have to add additional plugins (both free and paid). Fortunately, you won't have to pay WooCommerce a transaction fee however your customers choose to pay, a notable savings. Shopify charges 1% to 2% per transaction unless you use Shopify payments.
WooCommerce
Shopify
Starting Price

$

25.00

$

29.00

High-Quality Themes
Yes
Yes
Unlimited Products
Yes
Yes
Apps/Plugins/Addons
Yes
Yes
Hosting/SSL Certificate/PCI-DSS Compliance
Yes
Yes
Detailed Reporting
Yes
Yes
24/7 Customer Support
Yes (live chat and email)
Yes (phone, live chat, email)
Support
Both Offer Support, but Shopify Gives You More Ways to Get Help
When it comes to support WooCommerce offers fewer options than Shopify. To start, there's no phone and virtually no live chat support. As a result, you'll have a longer wait for answers to your questions.
On the other hand, Shopify offers 24/7 live chat, email, phone, and Twitter support during your free trial and on all plans
. It also has an extensive knowledge base, helpful guides, and free online tutorials, and classes, which you can access from your Shopify dashboard – or on the website before you subscribe. To test how quickly I could get a response before I signed up for a paid plan, I reached out via live chat and started by asking two questions:
I want to build a simple website with an online store to sell 3 products. Which plan should I choose?
If I want to switch to WordPress in the future, will I be able to export my site content?
Within a minute, I was chatting with a rep
, who promptly answered both of my initial and follow-up questions and sent helpful links to blog articles and other resources.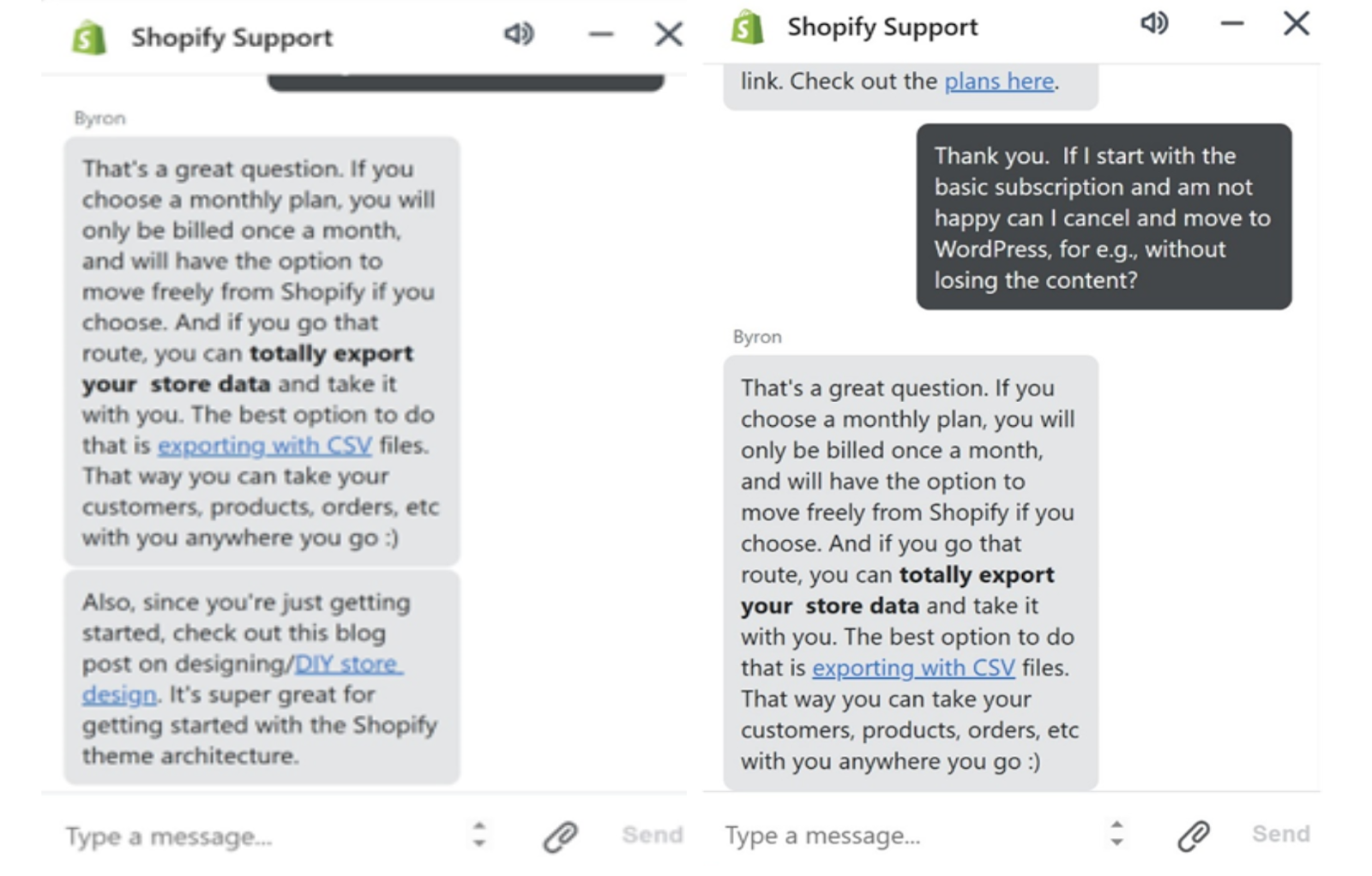 I found WooCommerce's support more limited
. Basically, I learned you can contact the WooCommerce community, submit an email ticket, or search the knowledge base. There's no phone and live chat is limited to "premium" extensions. I submitted the same two questions via email ticket and waited. While I did eventually get an email response, I had to wait about 3 hours. I also didn't find the answers as helpful.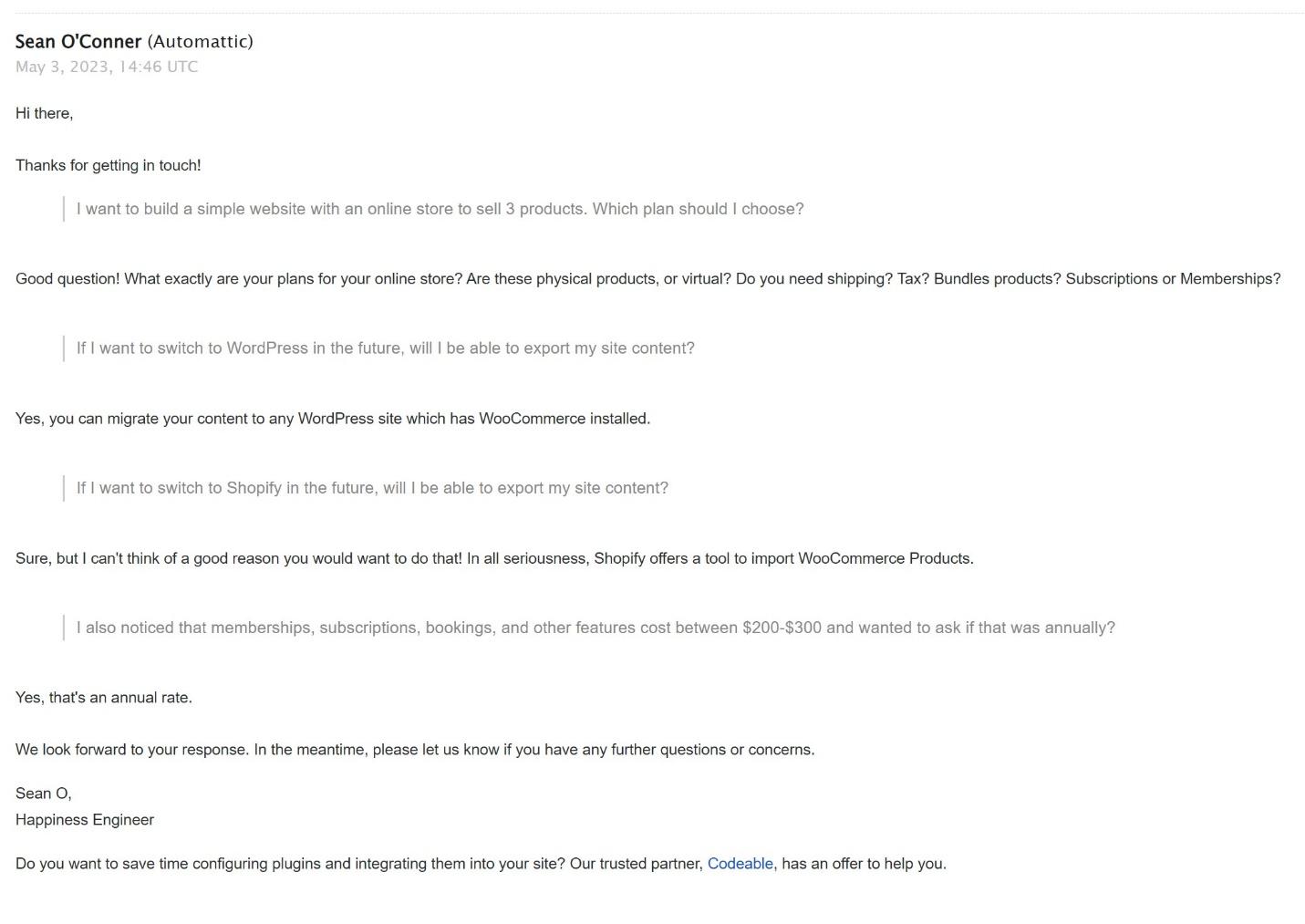 If you have incorporated the plugin into a WordPress.com website (Business plan or higher), you have the option to reach out to WordPress support through email 24/7 or engage in a chat with a representative. Please note that this privilege is available exclusively to annual plan subscribers. Furthermore, your ability to access enhanced support may vary based on the hosting provider you select.
WooCommerce vs Shopify: Shopify is Best For Most Online Stores
Building a successful online store starts with choosing the right e-commerce platform. For most webstores,
Shopify is the best option
. It's an all-in-one solution that includes hosting, security, high-quality responsive themes, and a wide range of e-commerce features. While WooCommerce is a solid choice, I'd only recommend it if you already have a WordPress website, want to add e-commerce functionality, and are comfortable with its more challenging ecosystem.
Templates
77 themes, only 50 are responsive, and 1 is free. Paid themes from $30 – $179.
134 fully responsive themes, 12 are free. Premium themes from $180 – $360.
Features & Ease of Use
Can be challenging for those without technical skill. You'll need to add (and pay for) plugins for features like abandoned cart recovery and analytics.
Beginner-friendly, out-of-the-box e-commerce platform for any type of online store. Core and advanced features come with all plans.
Apps/Plugins/Add-ons
Hundreds of free and paid extensions. With a WordPress site, access to thousands of plugins
App store with thousands of free and paid apps, organized by category
SEO
Built-in features and tools plus extensions/plugins for SEO optimization
Built-in features and SEO tools, plus a checklist, guides, and tutorials to optimize your store for SEO
Pricing
Free to download but must pay to self host or sign up for a WordPress.com hosted WooExpress plan starting at
$
25.00
Additional charges for some e-commerce features.
Starts at
$
29.00
per month. All plans include hosting, subdomain, SSL certificate, PCI compliance, and fraud analysis.
Support
Through WooCommerce you can submit tickets and read setup guides. A WooExpress gets you 24/7 live chat and email support.
24/7 live chat, phone, and email support on all plans
FAQ
Can you use WooCommerce or Shopify for free?
The short answer is no. While the WooCommerce plugin is free to download, you'll either have to pay for a WordPress.com hosted WooExpress plan or arrange to pay for hosting, a domain name, security, features, extensions, and more. On the other hand, while Shopify offers a free trial, you'll have to pay for a subscription when your trial ends. That said, Shopify is cheaper in the long run.
Why use WooCommerce instead of Shopify?
Go with WooCommerce if you already have a WordPress website for a blog or business and want to add an online store to your site. If you plan to blog extensively to build your brand's online visibility, WooCommerce may be the better choice because it has more powerful blogging features.  Lastly, unless you use Shopify Payments, you'll have to pay Shopify a transaction fee – WooCommerce and WordPress don't charge transaction fees however a customer chooses to pay.
What are the disadvantages of WooCommerce?
WooCommerce can be challenging to set up and use, especially when compared to a user-friendly platform like Shopify. While you can sell an unlimited number of physical products, you have to pay extra to offer memberships, bookings, bundles, and other store features Shopify includes for free. When you add in the cost of extensions, WooCommerce can get quite expensive.
Is Shopify better than WooCommerce?
Shopify is the better e-commerce solution for most people. It's easier to set up and use, with an intuitive interface and many built-in features to build and manage a profitable store. Shopify also takes care of hosting, security, PCI compliance, and updates, which ensures your website is always up and running without any downtime. Finally, Shopify's platform is optimized for scalability, making it a better option for large and rapidly growing online stores. If you're interested in exploring other options for your online store, all of the 10 best website builders 2023 in our expert review offer robust e-commerce features.