GoDaddy is an affordable option that comes with some great built-in features
, such as social media marketing and booking tools. However, while the monthly fees are pretty reasonable, GoDaddy's pricing isn't exactly straightforward – the plans differ based on your location, so some regions may require you to pay higher prices than others. In contrast, you can harness the full power of Shopify regardless of your location.
Shopify is easy to use, but its simplicity doesn't come at the expense of function
. You get plenty of built-in and third-party tools to help you scale quickly – just be aware that the more apps you use, the more you'll have to pay.
Try Shopify's free trial now
, or read on to find out why I ultimately decided it was the better website builder for e-commerce sites.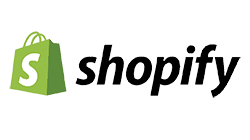 Save up to 25 % on your Shopify plan!
Limited-time offer - Don't miss it!
293 users used this coupon!
Templates
Shopify Offers More Versatile and Customizable Designs
The number of GoDaddy's e-commerce templates available to you will vary based on your region. For instance,
the US version of GoDaddy's website offers 24 online store templates
, while the UK version offers 22. Regardless, you can expect high-quality designs that are automatically mobile-responsive.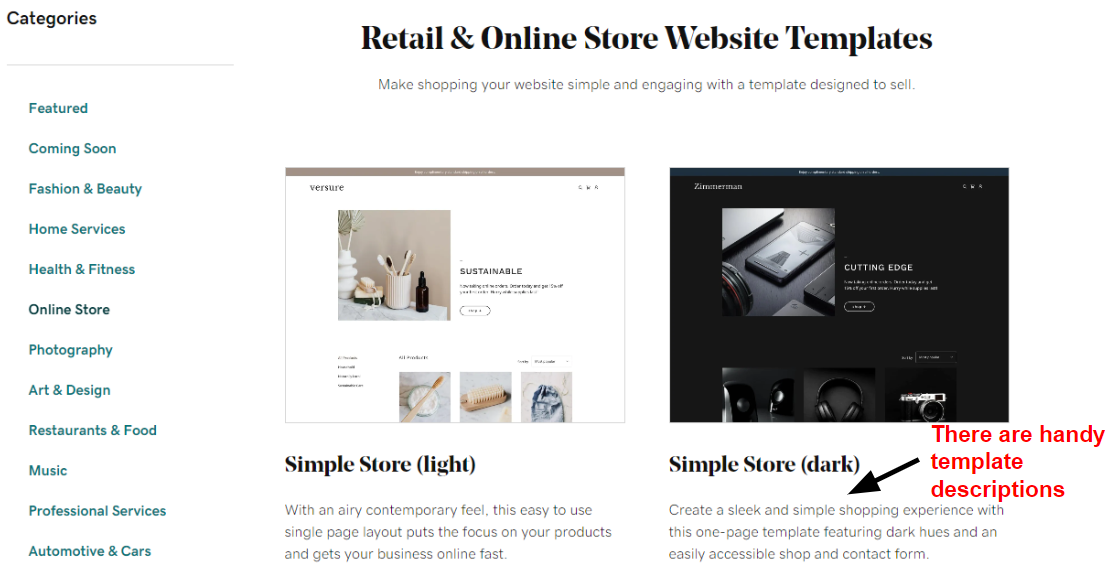 When you get started,
GoDaddy suggests a template for you, which it preloads with relevant stock photos based on your industry
. You can stick to the original template or switch to another one at any time without losing your changes. In terms of customization, you can change colors, fonts, and layouts, but the options are fairly limited. That said, if you want an authentic look,
GoDaddy lets you hire professional designers to build a custom website for you
. Shopify, on the other hand, is much more versatile off the bat.
Shopify currently offers 90+ themes
, including 9 free designs
. These are categorized by industry, layout, and design style, so it's easy to find something that matches your brand. Shopify has modern, mobile-responsive themes that come with excellent built-in features, such as product pages, galleries, mega menus, and social media integrations.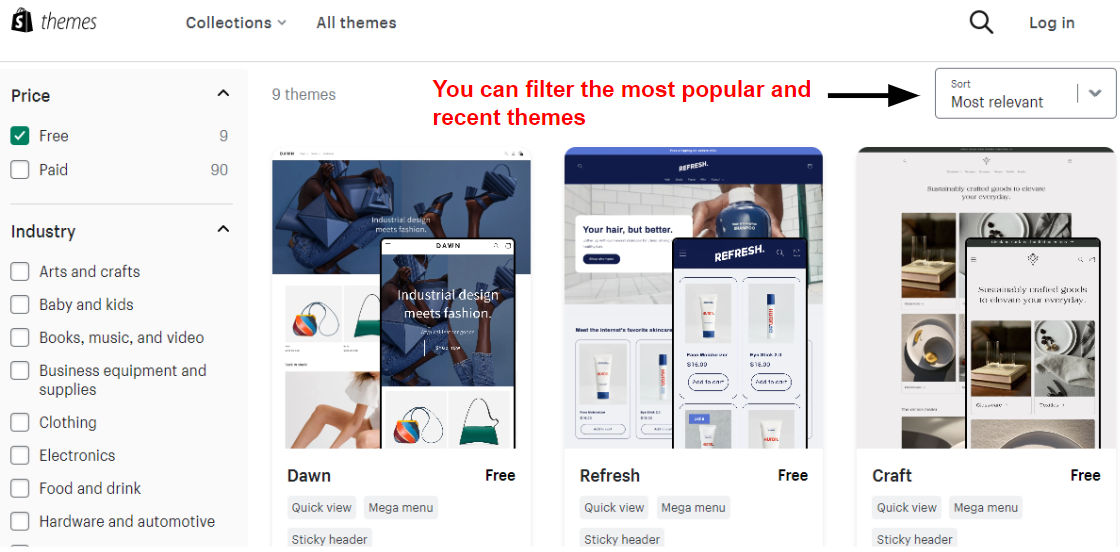 Shopify also lets you edit your theme's fonts, colors, and code, provided you're proficient in Shopify's coding language. If you need more choice,
you can import third-party themes or even hire a developer to create a custom design for you
. Even though GoDaddy offers more free templates,
you get more creative freedom with Shopify
. Shopify provides more diverse designs and the ability to choose between minimalist and content-rich layouts, depending on your style and preference.
Features and Ease of Use
Both Are Easy to Use, but Shopify Has Better Tools
GoDaddy is incredibly easy to use, so even as a beginner, you won't have trouble navigating its interface.
GoDaddy's simple point-and-click editor lets you add content blocks
like galleries, videos, signup forms to collect email addresses, countdown timers for promotions, and more. GoDaddy's editor is more than powerful enough for a basic website, but if you're looking for something more unique, Shopify's intuitive drag-and-drop editor allows for considerably more flexibility.
There's a wider selection of
template sections you can customize
, such as collages, collection lists, slideshows, and testimonials.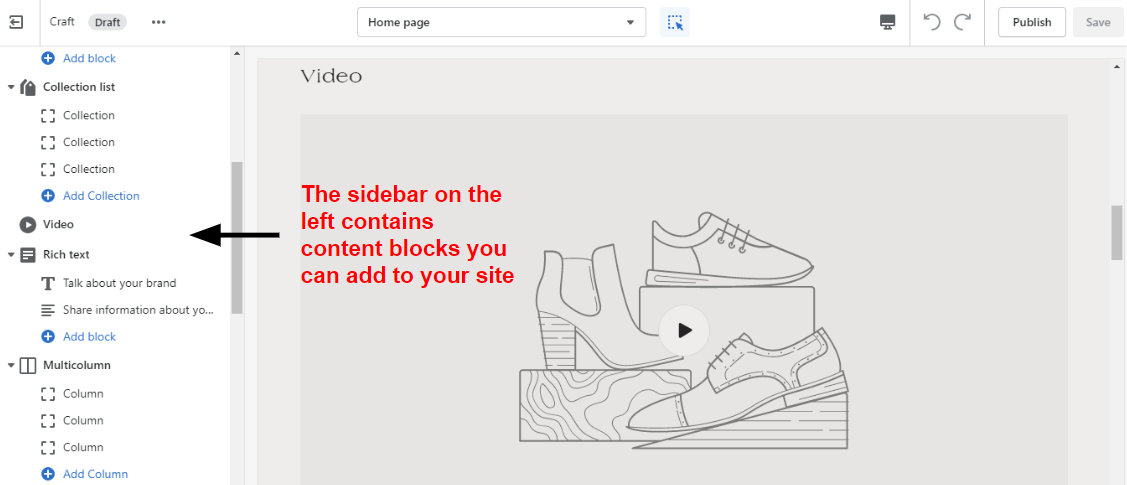 Both GoDaddy and Shopify make it easy to add items to your store, but Shopify has better tools for showcasing your products.
While GoDaddy only lets you add images and videos to your product descriptions, with Shopify, you can also upload product GIFs and 3D images
to wow your prospective customers. Additionally, Shopify lets you add image zoom to your products via several free and paid apps. While both builders have effective e-commerce features like abandoned cart recovery and product reviews,
Shopify provides more advanced functionality
. For instance,
Shopify has robust shipping, payment, and analytics tools built in that GoDaddy lacks
. Unlike GoDaddy, Shopify's feature offering is generous across all its plans. In addition to unlimited products,
you'll also be able to create multilingual stores and display prices in more than one currency
, making Shopify a better option for international retailers of any size. Even though both builders have solid blogging, SEO, and marketing features,
overall I'd say Shopify provides more powerful tools
, which I'll discuss in more detail below.
Apps
Shopify's Huge App Center Has Everything Your Store Could Need
GoDaddy doesn't have an app market, instead offering a decent set of built-in integrations
. One of the standouts is GoDaddy's Online Appointments tool, which allows you to offer one-time and recurring appointments, accept payments for your services, and send email and text appointment reminders to your clients. GoDaddy has a native payment processor, called GoDaddy Payments, and a built-in POS system that lets you sync data between physical and online shops. However, both tools are available only in the US. Luckily,
GoDaddy lets you integrate other major payment gateways, including PayPal, Square, and Stripe
. Still, while GoDaddy provides useful integrations,
Shopify's extensive app store
has over 7,500 apps, many of which are free
. There's a tool for virtually everything, including dropshipping apps, countdown timers, loyalty programs, and loads of other helpful stuff. Even with such a large offering, Shopify's app store is easy to navigate, so you can find what you're looking for without any hassle.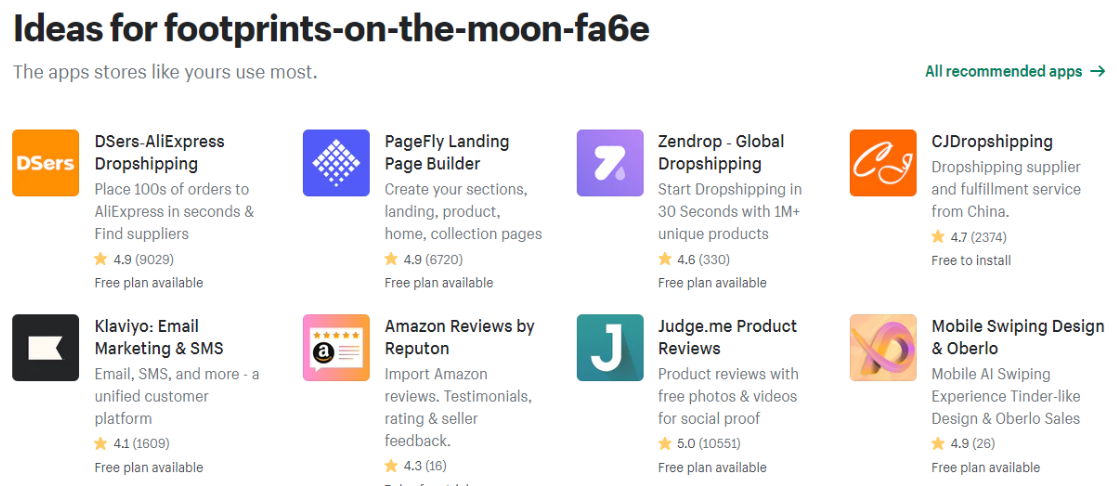 Shopify also has its own proprietary payment solution – Shopify Payments – which eliminates transaction fees
. This exclusive POS system helps you track inventory, manage staff, and more.
Compared to GoDaddy, Shopify's native payment processing tools are available in a lot more countries
. What's more, Shopify offers over 100 payment gateways to choose from, whereas GoDaddy limits you to using Paypal, Square, Stripe, or GoDaddy Payments.
Blogging
Shopify Has Slightly More Advanced Blogging Features
Both GoDaddy and Shopify make it easy to add a blog to your e-commerce site to improve your online presence and keep your visitors informed about news and tips. But while both offer pretty basic blogging platforms,
Shopify's blogging tools are more advanced than GoDaddy's
. GoDaddy lets you add featured images to your posts, organize posts across categories to make it easy for readers to find what they're looking for, and
set publishing dates, which comes in handy if you want to time certain posts with product launches
. GoDaddy also allows your readers to share your posts on Facebook and Twitter, and they can subscribe to receive email updates.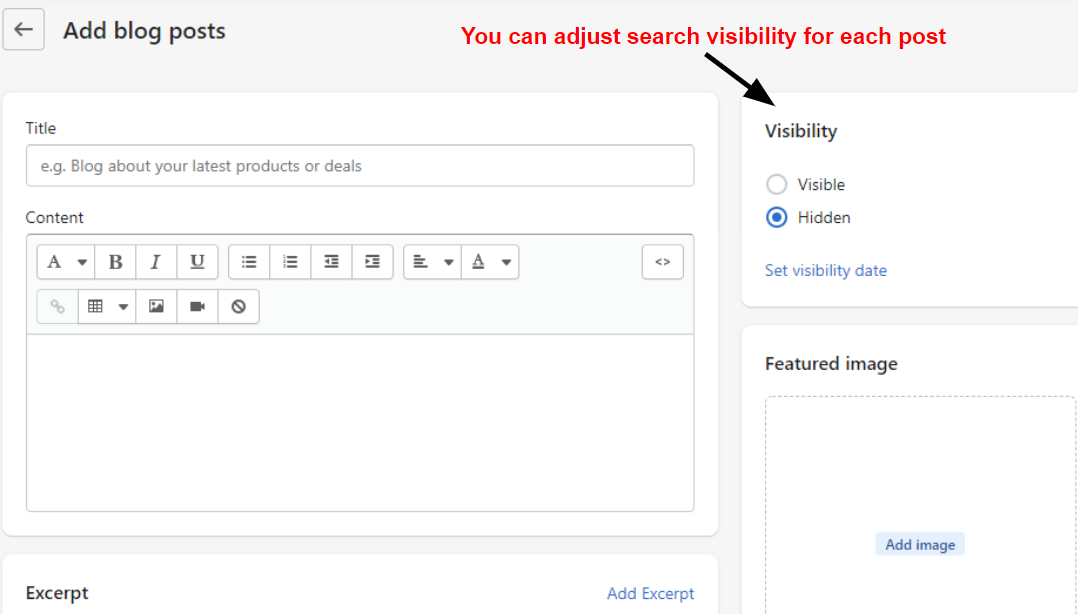 Shopify offers similar features – plus the ability to
create custom layouts for individual posts
. Shopify also allows you to manage comments on blog posts and publish (or unpublish) multiple posts at once.
Marketing
GoDaddy Has Excellent Built-in Marketing Tools
One of GoDaddy's standout marketing features is
GoDaddy Studio, a free tool that allows you to create website content like logos, announcements, and social media posts
directly from your GoDaddy dashboard. You can design everything from scratch or customize templates in categories such as promotions, quotes, logos, and more.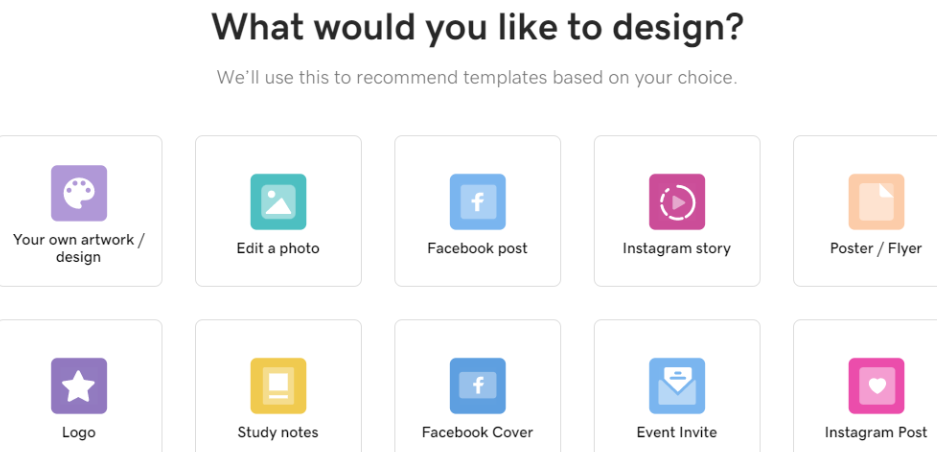 Both platforms have built-in email marketing tools that let you create and analyze email marketing campaigns, but GoDaddy is more generous with its plan.
You can send up to 10,000 emails a month for free with Shopify, and up to 25,000 free emails per month with GoDaddy
. Both builders allow you to sell on various marketplaces, including Amazon, Facebook, Instagram, eBay, and more. That said, with Shopify, you can launch multichannel marketing campaigns to promote your products across several channels. For instance, you can promote a sale with a Shopify Email drip campaign and a Facebook page post. Even though Shopify has robust marketing features, GoDaddy wins this category due to its marginally better built-in tools.
SEO
GoDaddy Is Good for Beginners, but Shopify Offers More Ways to Optimize Your Site
GoDaddy's integrated Search Engine Visibility tool is an SEO wizard that walks you through the process of optimizing your site's keywords, title, meta descriptions, and header text. Once you activate the wizard, it crawls your website in a similar manner to how search engines do. After analyzing your content,
the Search Engine Visibility tool reveals your site's potential SEO issues and offers suggestions on how to solve them
. While Shopify doesn't have such built-in tools, it gives you more control over your site's SEO.
Unlike GoDaddy, Shopify lets you modify page titles and URL redirects
, which are important SEO elements. You can also optimize your blog post titles and descriptions.
Pricing
GoDaddy Is Cheaper, but Shopify Offers Great Value
Shopify is the more expensive builder of the two, but you get a lot of useful features in return, giving you better value overall
. GoDaddy provides fewer features, and it may not be quite so affordable, depending on your region.
GoDaddy has a 30-day free trial, but its paid plans differ based on your location
. For example, if you're in the US, you can pick an e-commerce plan that works best for you: Commerce or Commerce Plus. Other regions will have different tiers and you may need to pay more to get e-commerce functionality. The US version of GoDaddy's website offers four pricing tiers: Basic, Premium, Commerce, and Commerce Plus, but
you'll have to subscribe to the Commerce plan to get online store features
. This plan includes all major features such as SEO, marketing, and booking tools, the ability to add up to 5,000 products and set up flexible shipping options, plus the ability to sell on various marketplaces and sync orders across channels. If you upgrade to the Commerce Plus plan, you'll be able to sell unlimited products and you'll get access to features like auto-populated tax forms. Shopify's pricing is much more straightforward.
Shopify has a 3-day free trial
and three paid plans: Basic, Shopify, and Advanced. Compared to GoDaddy, Shopify has a larger set of tools, and it makes many of its
advanced features available on lower-tiered plans
. For example,
Shopify's Basic plan includes features like automated tax calculation and the ability to add unlimited products to your store
– none of which are available on GoDaddy's entry level e-commerce plan. Shopify also provides in-house shipping and payment tools that may cost extra with GoDaddy, depending on your location. Another important factor to consider is that
transactions fees are unavoidable with GoDaddy, even if you use GoDaddy Payments, which charges 2.3% + 30¢ per transaction.
Shopify payments, on the other hand, doesn't charge any transactions fees, which could save you a considerable amount over time. Here's a closer look at the cheapest (e-commerce) plans by GoDaddy and Shopify to help you compare them.
GoDaddy
Shopify
Starting Price

$

29.99

$

29.00

Unlimited products

✘

✔

Free SSL certificate

✔

✔

Abandoned cart recovery

✔

✔

Automatic tax calculation

✘

✔

POS system
Yes, but it's only available in the US

✔

Multilingual stores

✘

✔
Support
Shopify Has Much More Accessible Customer Support
Both GoDaddy and Shopify have in-app tutorials, extensive support documentation, and active community forums to help you with every aspect of building your website. That said,
Shopify excels when it comes to direct support
.
GoDaddy offers phone support and live chat support; if you're using the US version, you can also send them a text message
. The 24/7 phone support is available in certain countries, such as the UK and Australia, while for others the availability varies. GoDaddy's website also claims to have 24/7 live chat support, but even after multiple visits to the support section, the live chat button never appeared, which was quite disappointing.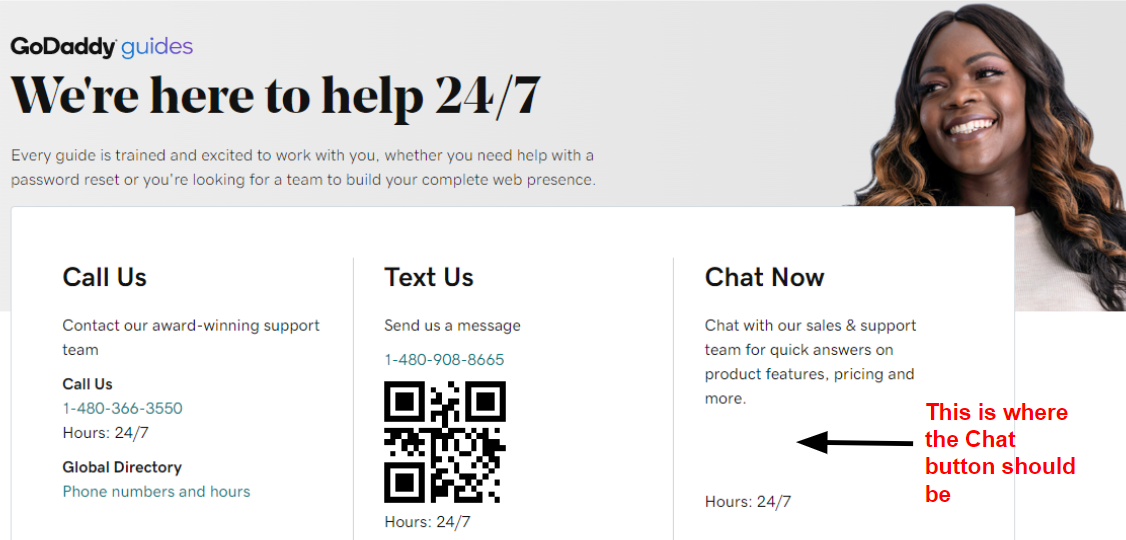 I browsed through GoDaddy's community forum and noticed that other customers had a similar problem. The response they got from a GoDaddy rep was that
the live chat button may not appear if the chat queue is too busy
. In contrast,
Shopify offers 24/7 live chat, email, and phone support
. When I tested out live chat, I got a reply within minutes, and Shopify's customer support agent was friendly and helpful.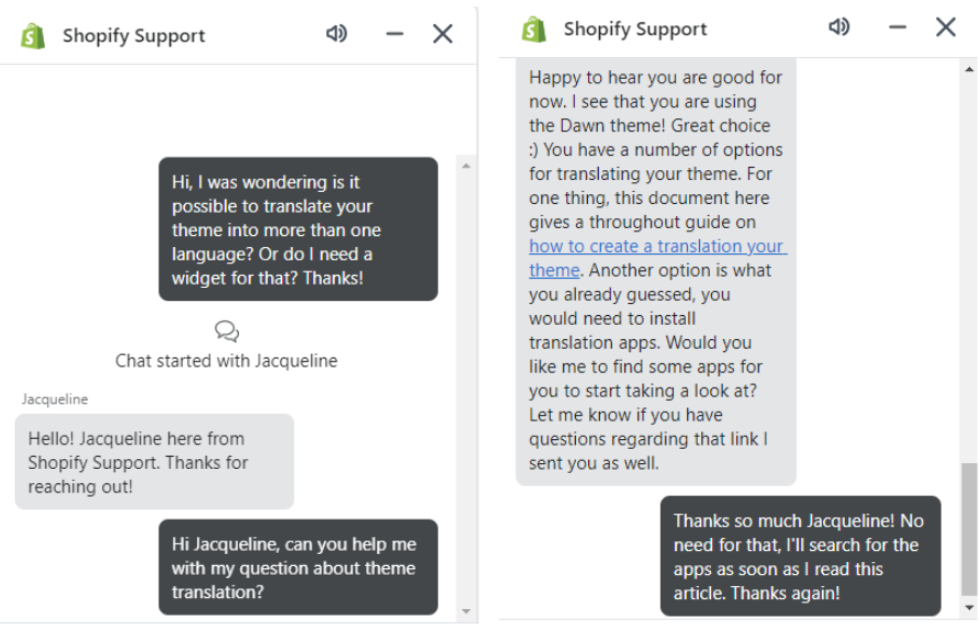 Overall, Shopify offers more support channels and its customer support is much more accessible than GoDaddy's.
GoDaddy Has Its Perks, but Shopify Offers a More Complete E-commerce package
GoDaddy has a solid set of tools that are worth trying out if you run a small online store. However, its lack of an app market makes it harder for small businesses to scale. It also forces you to upgrade to get e-commerce features that Shopify offers on its cheapest plan. On the other hand, Shopify has extensive native and third-party tools suitable for small and large stores alike, and it's very beginner-friendly even though it offers advanced customization features. It may be the more expensive option of the two, but in reality,
Shopify's built-in tools are cost effective
, giving you more functionality right off the bat
.
Features & Ease of Use
Simple point-and-click editor; solid set of e-commerce tools, including abandoned carts and product reviews
Intuitive and flexible drag-and-drop editor; extensive sales features, built-in POS, shipping, and payment tools
Apps
No app market, but several built-in integrations
7,500+
Blogging
Basic platform with limited features
Essential blogging tools, some advanced features
Marketing
Focus on social media marketing, free email tool
Multi-channel selling and free email marketing tool
SEO
Built-in tools like Search Engine Visibility
Full control over SEO elements like page titles and URLs
Pricing
Free trial and four paid plans; separate e-commerce plans for different countries/regions
Free trial and three paid plans that provide great value
Support
Help center
Community forum
Live chat support
Phone support
Help center
Community forum
Live chat support
Email support
Phone support
(all available 24/7)
FAQ
Which is easier to use, GoDaddy or Shopify?
GoDaddy has a very simple editor that lets you build a website quickly, but you get limited customization options. On the other hand, Shopify gives you more creative freedom, while still being beginner friendly, so you get the best of both worlds.
Can you use Shopify for free?
Shopify doesn't have a free plan, but it does offer a 3-day free trial. Its paid plans also offer great value for money. For instance, Shopify's cheapest plan is quite affordable when you consider the various features you get, such as multichannel selling and marketing automations.
Does Shopify charge transaction fees?
Shopify charges transaction fees unless you use Shopify Payments, the company's proprietary payment solution. If you integrate a third-party payment gateway such as PayPal or Stripe, there are varying transaction fees based on your subscription. The Basic plan has a 2% fee, the Shopify plan charges 1%, and the Advanced plan charges 0.5%.
What is the best e-commerce platform?
The best e-commerce platform for you will depend on your individual needs. That said, Shopify is easy to use and it has a strong set of built-in tools and integrations, which makes it a great all-rounder for small and large stores alike. If you're still undecided, check out our list of the best website builders in 2023 to see more options for creating your online store.