Is Shopify truly the best store builder on the market, or does GoDaddy put up a fight?
You may assume that the builder with the word "shop" in its title is the obvious choice. And yes, Shopify is indeed a powerful tool for managing an online store.
But GoDaddy's features and user-friendliness will pleasantly surprise you – as it did me when I tested both services on everything from looks to SEO capabilities.
While Shopify is uniquely designed for e-commerce, it is more suited to large online stores with lots of inventory. GoDaddy has more to offer than just e-commerce, with versatile templates, better marketing tools, and a lower starting price.
To help you decide once and for all which builder is right for you, I've pitted them against each other on various categories including, ease of use, price, support, and more. You can look at GoDaddy's best deals right away, or keep reading to find out why it came out on top.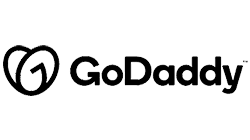 Save up to 30 % on ANY GoDaddy Website Builder plan!
Limited-time offer - Don't miss it!
277 users used this coupon!
Templates
Shopify's Themes Are Professional, but GoDaddy's Templates Give You More Creative Control
While Shopify's themes are excellent for online stores out-of-the-box, GoDaddy has a broader selection with more scope for customization.
Shopify offers 81 themes, 10 for free, and 71 paid. The templates are divided into 11 categories, and each template includes suggestions about the type of site it's best suited for (large stores, editorial content, etc.).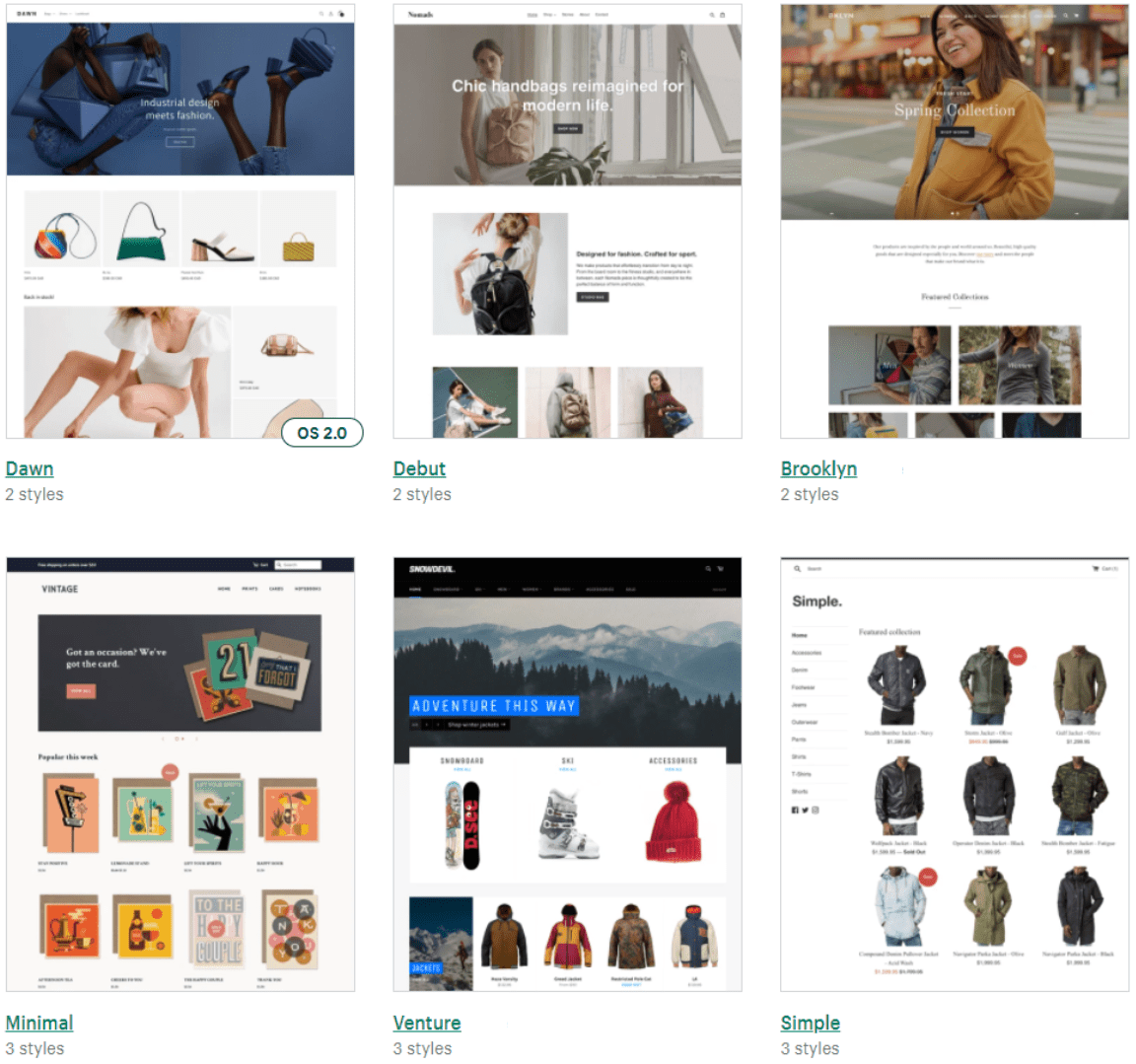 The themes have professional and sleek looks, but I wouldn't describe any of them as stunning. Even the most attractive ones, like Colors and Expanse, I found a little underwhelming.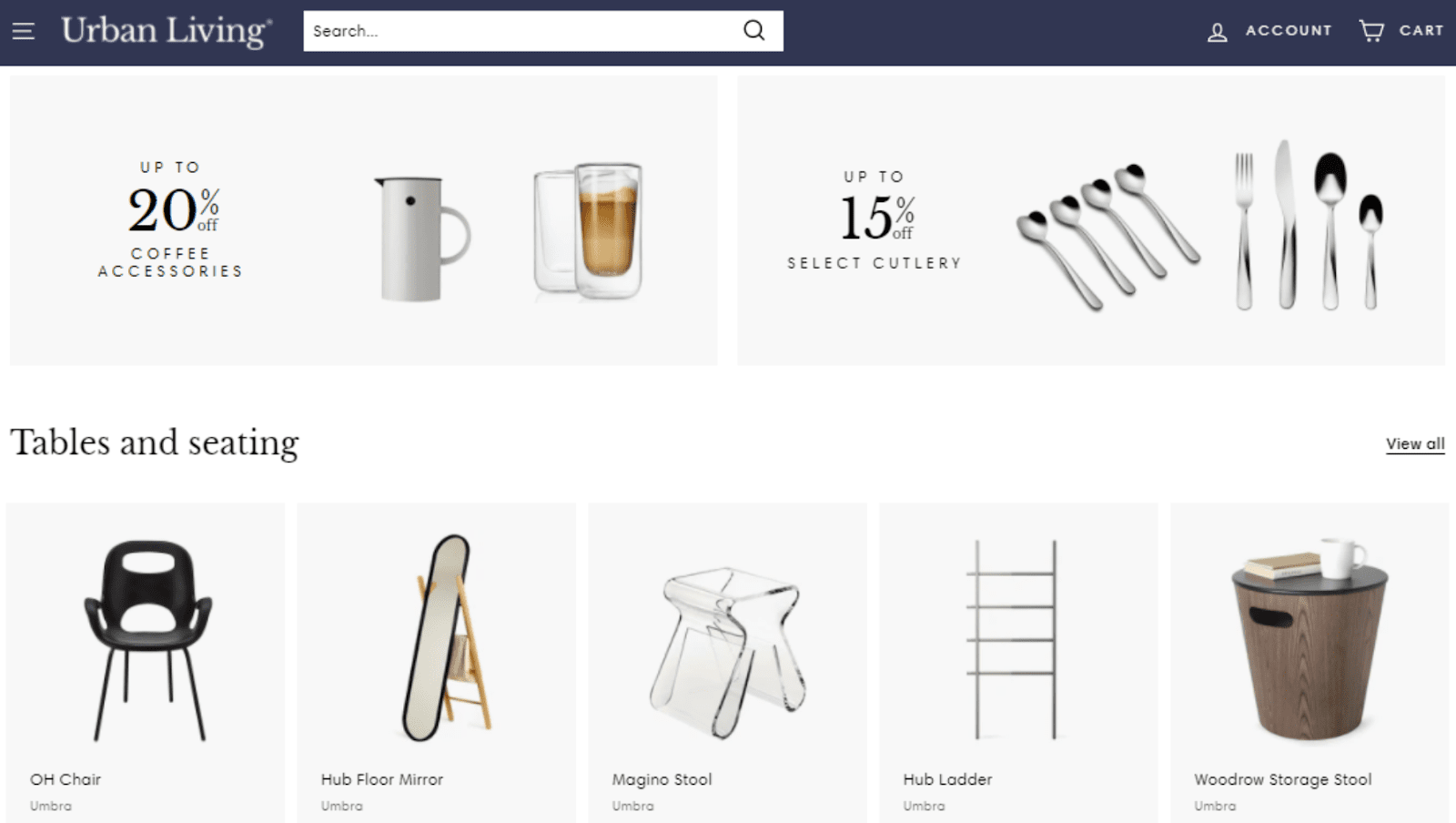 You can switch between Shopify templates at a moment's notice. You can even edit your site on the paid templates before purchasing. That's an important option to have when premium themes can cost several hundred dollars.
GoDaddy has a total of 136 templates divided into 14 categories. There are 22 templates in the "Online Store" category, but you can turn any GoDaddy site into an online store. Some of the most beautiful templates are in other categories like Art & Design, so I'd recommend giving each of them a look.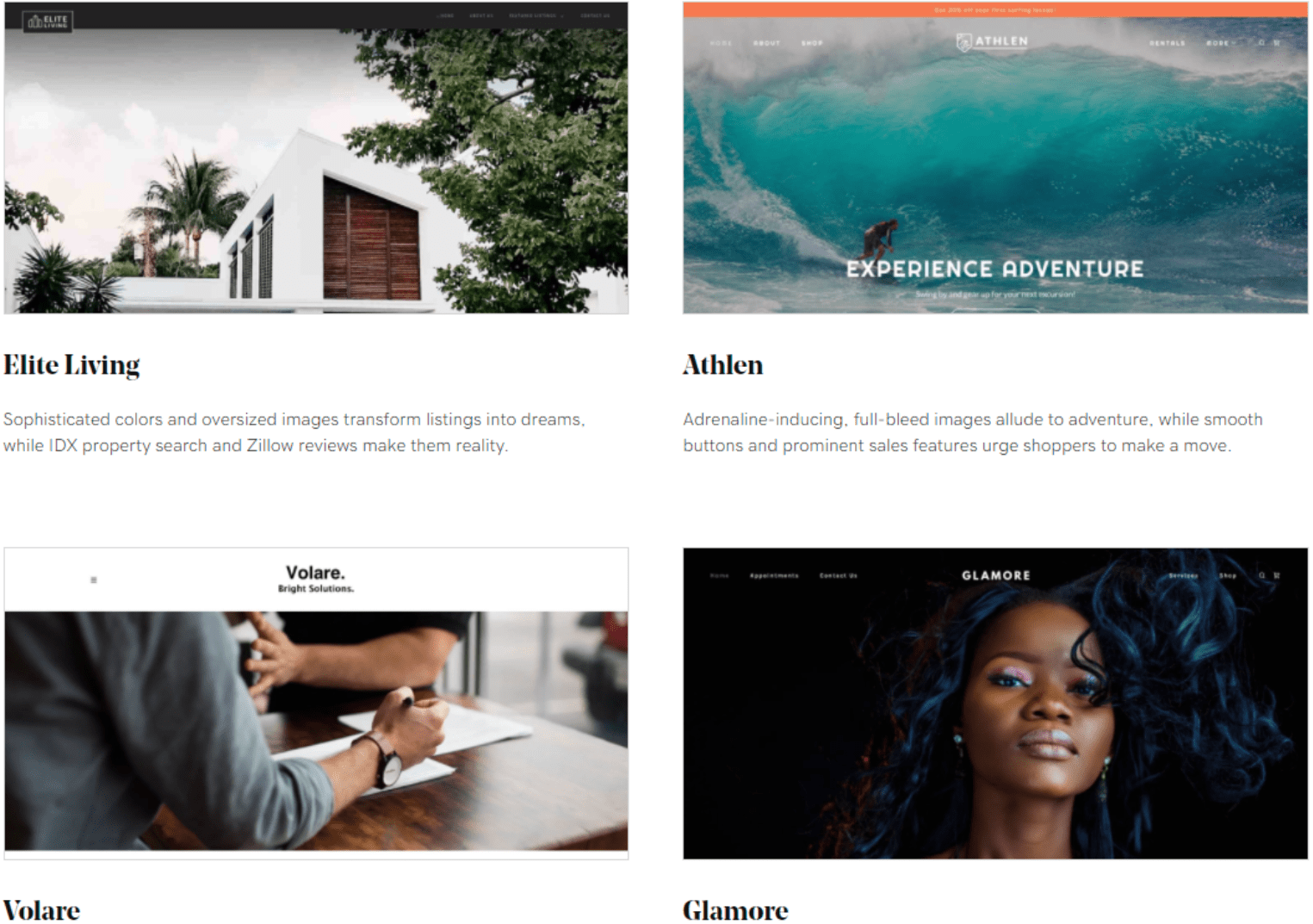 You might find changing templates a little difficult. That's because even though GoDaddy has 136 templates, it has only 22 themes, and the difference matters. You can change themes whenever you want, but you can't change templates.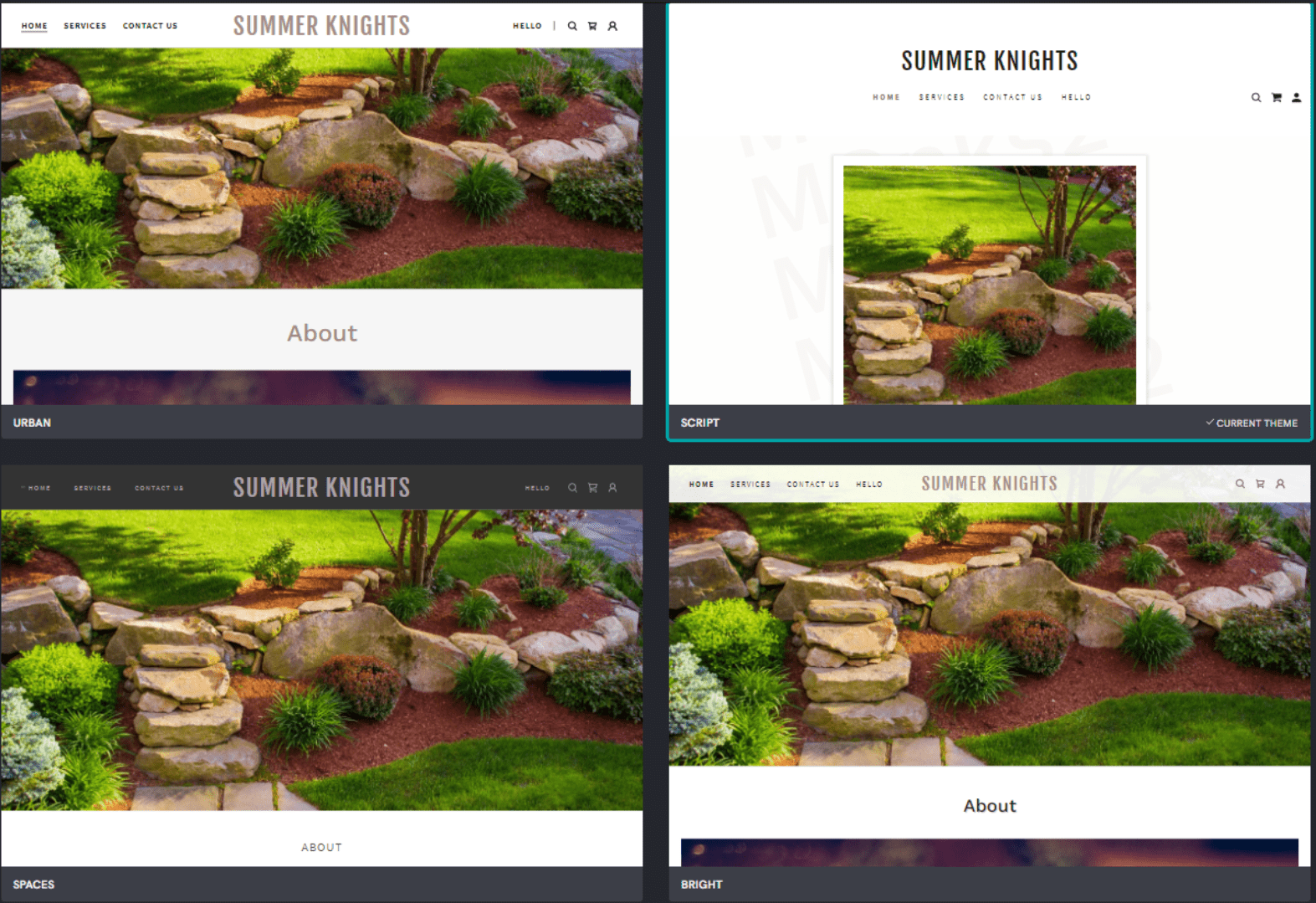 Templates are more like a display of what you can do with themes or a starting point for customization. You can tweak each theme until it looks like a given template, but you can't switch templates per se.
Potential for confusion aside, GoDaddy's templates are stunning, and you have much more creative control than with Shopify. Shopify might offer variations of good-looking stores, but GoDaddy lets you create a site that's entirely yours. GoDaddy wins this round.
Features and Ease of Use
GoDaddy Offers Powerful Features for Users of Any Experience Level
Shopify's ease of use depends on the kind of theme that you choose. The difference hinges on what Shopify calls Online Store 2.0. A theme from older builder versions won't necessarily be difficult to edit, but the editing tools feel dated.
Editing a site with Online Store 2.0 is a rather enjoyable experience. Shopify's editor works less like Wix's drag-and-drop and more like WordPress blocks. I know that might be a negative for some, but I honestly prefer it. The block editor offers plenty of design freedom, and it keeps your site from looking like a bunch of awkwardly-placed elements.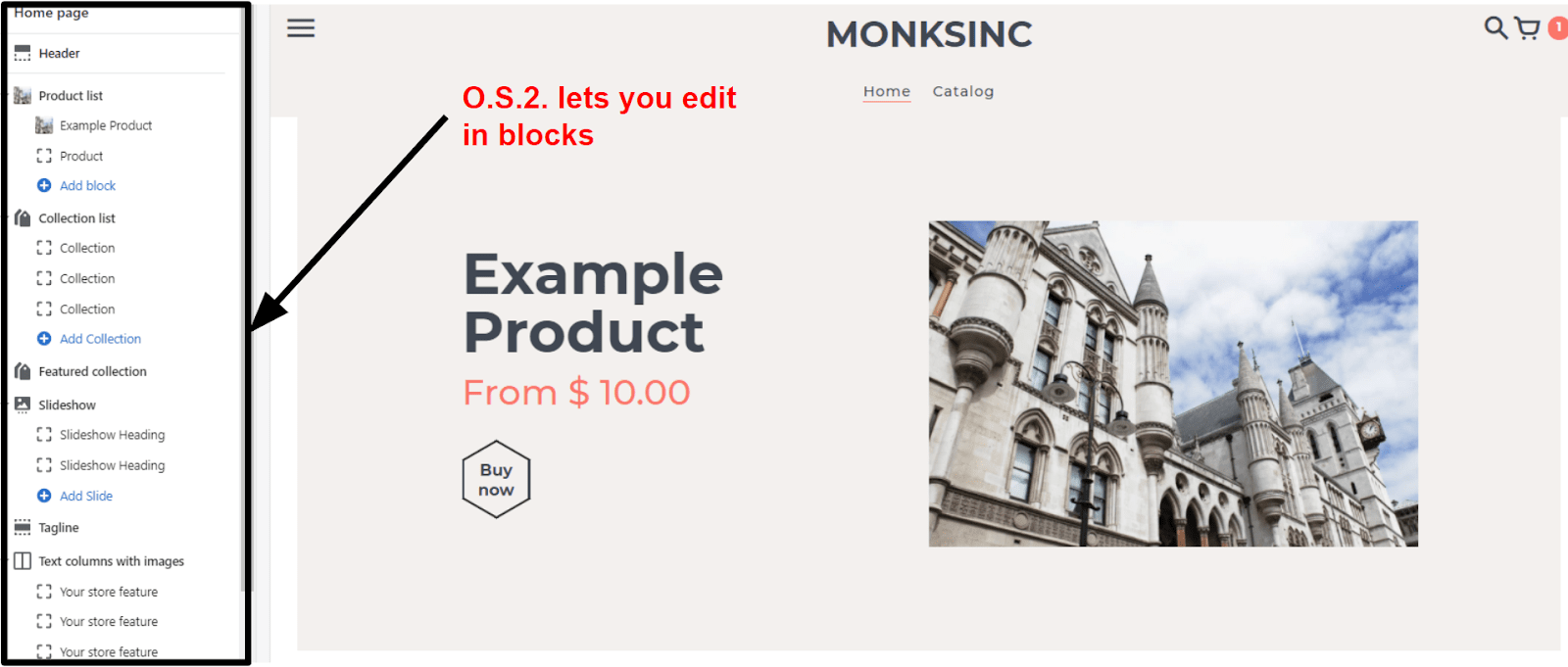 Of course, visuals aren't everything. Shopify is for creating stores first and foremost. There are plenty of features that make managing an online store easy. You can edit your store, inventory, analytics, and more.
Pro Tip: Make sure your site looks as good on desktop as it does on mobile. You can preview the mobile version of your site in both editors.
GoDaddy's themes are jaw-droppingly customizable, and the editor is robust while remaining intuitive. There are unique features like a built-in image editor, as powerful as some independent editing software, and a video creator.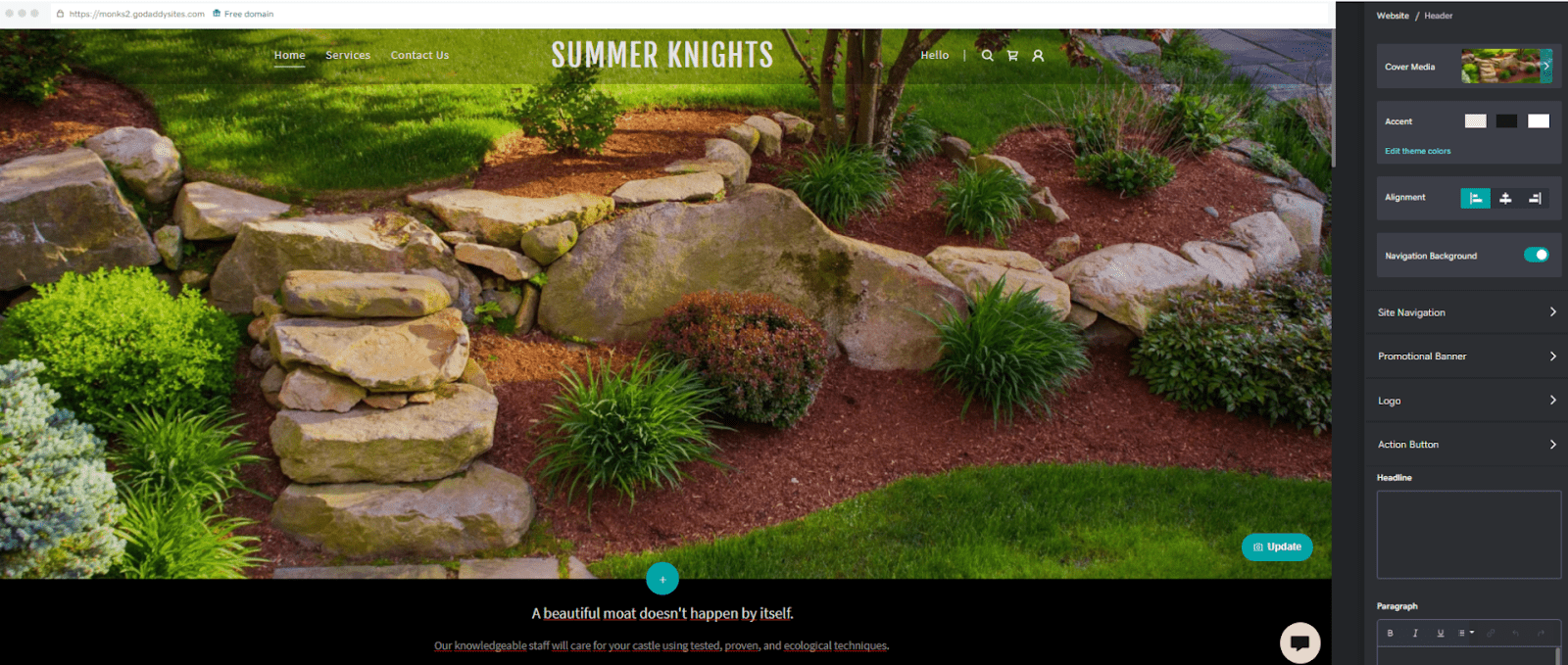 Besides the flashy stuff, GoDaddy covers the basics with blogging, online store, and social media features. For both features and ease of use, I have to go with GoDaddy again.
All the "basics" are much more user-friendly with GoDaddy.
The product page, in particular, is very neatly organized and makes adding and managing products feel like less of a chore.
Apps and Plugins
GoDaddy Can't Compete With Shopify's Number of Apps
I'll say it upfront: Shopify wins by a landslide when it comes to apps. The Shopify app store increases your site's functionality exponentially. There are over 6000 apps in the Shopify app store.

GoDaddy doesn't have any third-party plugin integration, which inherently puts it at a disadvantage. Does that mean that GoDaddy walks away empty-handed in this category? Not at all. The integrated plugins for content creation, marketing, and appointments are incredible tools for building, managing, and growing your store.
But in the end, Shopify wins for the sheer quantity of apps available, and their usefulness for an online store.
Blogging and Marketing
Get a Suite of Blogging Features With GoDaddy
Shopify and GoDaddy both offer basic marketing functionality – such as the ability to send marketing emails to your customers. But don't expect anything fancy. You can, however, extend Shopify's capabilities with apps.

Blogging is an entirely different story. Shopify has options for blogging with a simple text editor and a standard publisher.
Meanwhile, GoDaddy has a suite of functionalities dedicated to creating blog posts that capture the imagination. You can display your blogs in several ways, with a focus on publishing visually attractive content.
GoDaddy not only creates visually pleasing blogs, but it's also a much more enjoyable experience for you. The editor is well organized, elegant, and responsive. When it comes to marketing and blogging, GoDaddy is the clear winner.
E-Commerce
Shopify Is an E-Commerce Colossus, but GoDaddy Can Hold Its Own
GoDaddy's e-commerce features are user-friendly and quite extensive. You can add products in the site editor itself or through a separate tab.
With GoDaddy, you can include custom input from customers (like text for engravings) and sell digital products. These things are available with Shopify, but only through the app marketplace or by messing with the code, which seems baffling.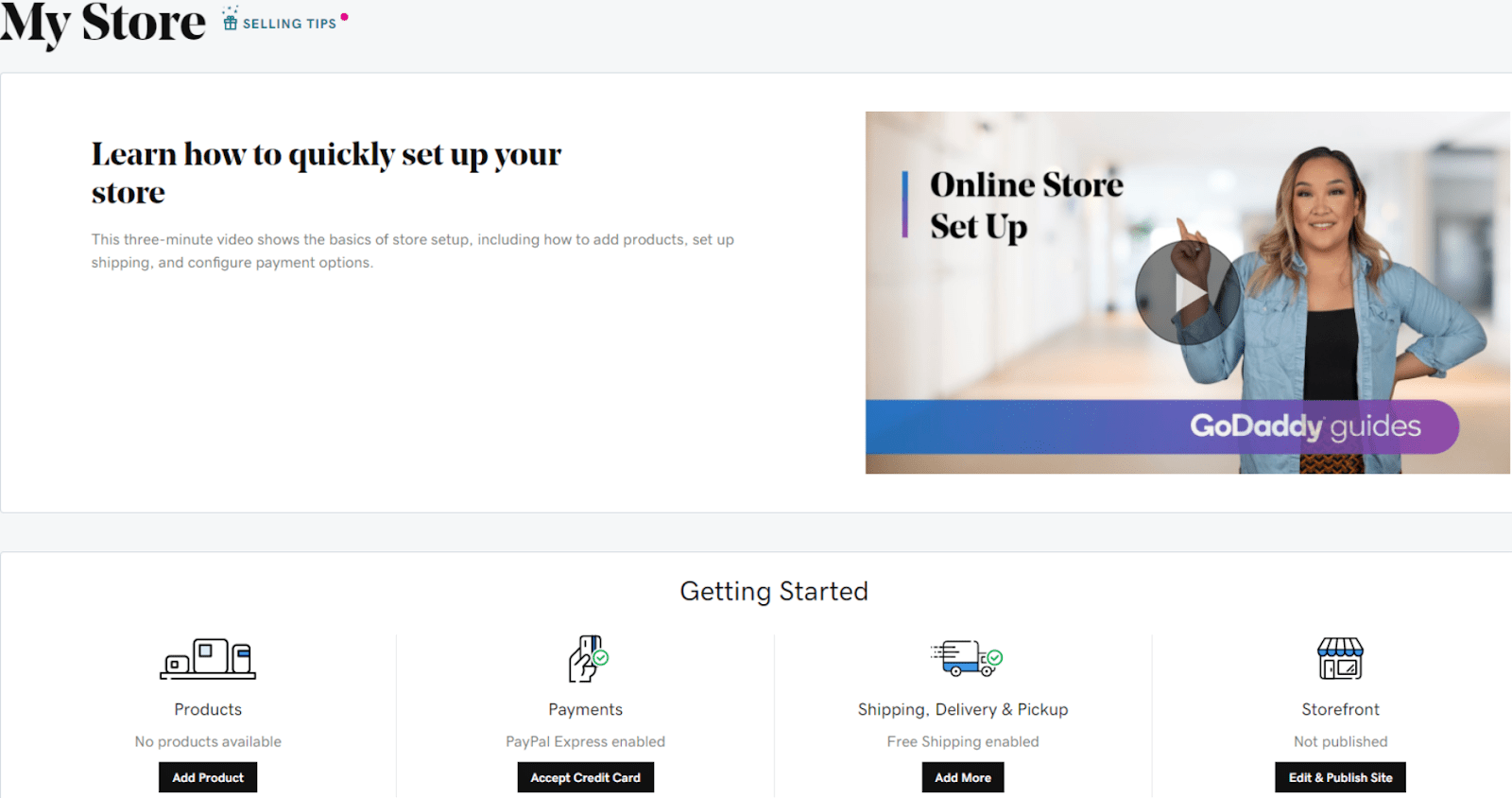 Of course, Shopify was built to create online stores easily, and it still excels in that department. You can add products and manage inventory through the products tab, and it comes with nearly every feature you might need, like categorization, discounts, and payment integrations.
More than that, Shopify comes with e-commerce features that add a whole new layer of functionality. It automatically displays prices in your customer's local currency. There are also options for abandoned cart recovery, which gives your customers the little push they need to commit to a purchase.
The Point Of Sale system allows you to record physical transactions. Integrating your physical sales with digital ones is seamless, giving you even more control over your business.
GoDaddy offers features that Shopify lacks out of the gate, and it's more user-friendly. But when it comes to e-commerce, Shopify wins due to its powerful and useful integrations.
If you want more control over the fees you pay on each transaction, check out our list of the
best credit card processing services in 2022
. You can integrate these into your site whether you opt for a GoDaddy or Shopify store.
SEO
Basic SEO Tools Can Improve Your Traffic Greatly
Shopify has very basic SEO features, like URL editing and image compression. You can improve these with third-party integrations, but they usually come at a cost.
GoDaddy fares a little better when it comes to SEO, with intuitive tools to edit meta texts and image descriptions. The URL structure editing is also better but still leaves something to be desired.
I'll be perfectly honest, both builders are rather lackluster when it comes to SEO. That said, GoDaddy's URL editing and advanced options at higher-tier plans make GoDaddy the winner.
Pricing
GoDaddy's Prices Are Cheaper, but There Are Some Hidden Costs
To handle customer transactions, you will need GoDaddy's Ecommerce plan. Ecommerce is GoDaddy's pricier plan, but it is still cheaper than Shopify's Basic plan.
The bad news is that you can't rely solely on the listed prices.
Warning: When budgeting for your plan, make sure to take into account any extra costs that might come up, like premium templates, apps, or hosting services.
Let me explain. GoDaddy's Ecommerce plan goes for $29.99. However, this price is only applicable for the first year. After you renew, you will be charged the full monthly price.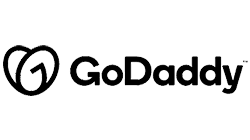 Save up to 30 % on ANY GoDaddy Website Builder plan!
Limited-time offer - Don't miss it!
277 users used this coupon!
The full price isn't terrible, though. But making an informed decision is crucial if you don't have millions to spend (I know I don't), so I don't love that the added price isn't completely clear from the beginning.
GoDaddy's Ecommerce plan has as many functionalities as Shopify's basic plan, priced at $79.00 per month.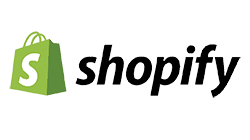 Shopify is now only $29.00 per month!
Sign up for an annual plan and enjoy the savings.
632 users used this coupon!
GoDaddy is the cheaper option at the end of the day. I just wish they were a little more upfront about the cost of the service.
Support
GoDaddy's Support Is Reasonable, but Shopify Takes the Cake for Response Time
To test both customer support centers, I contacted them with a couple of simple questions:
What plan would be best for a simple online store with three products?
Can I export my site's content to WordPress?
GoDaddy Guides (the GoDaddy support system) took about 25 minutes to get back to me. That's not an outrageous amount of time. But a bot asked me if I still needed support three times before giving me any help.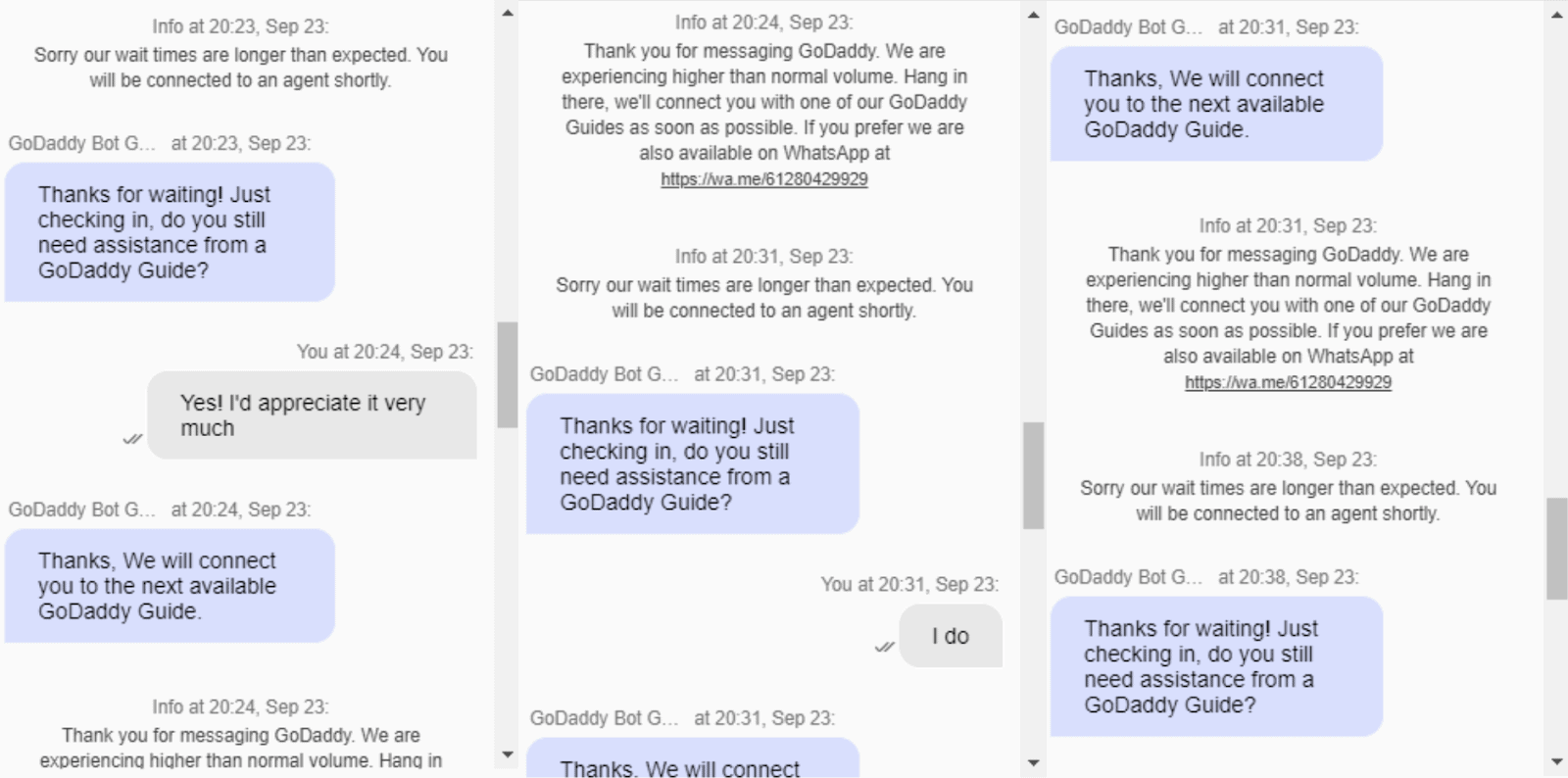 Thankfully, a customer support representative soon responded, and their response was… sufficient. The answers I got were pretty straightforward. I can't say that they didn't answer my questions, but they didn't go above and beyond either.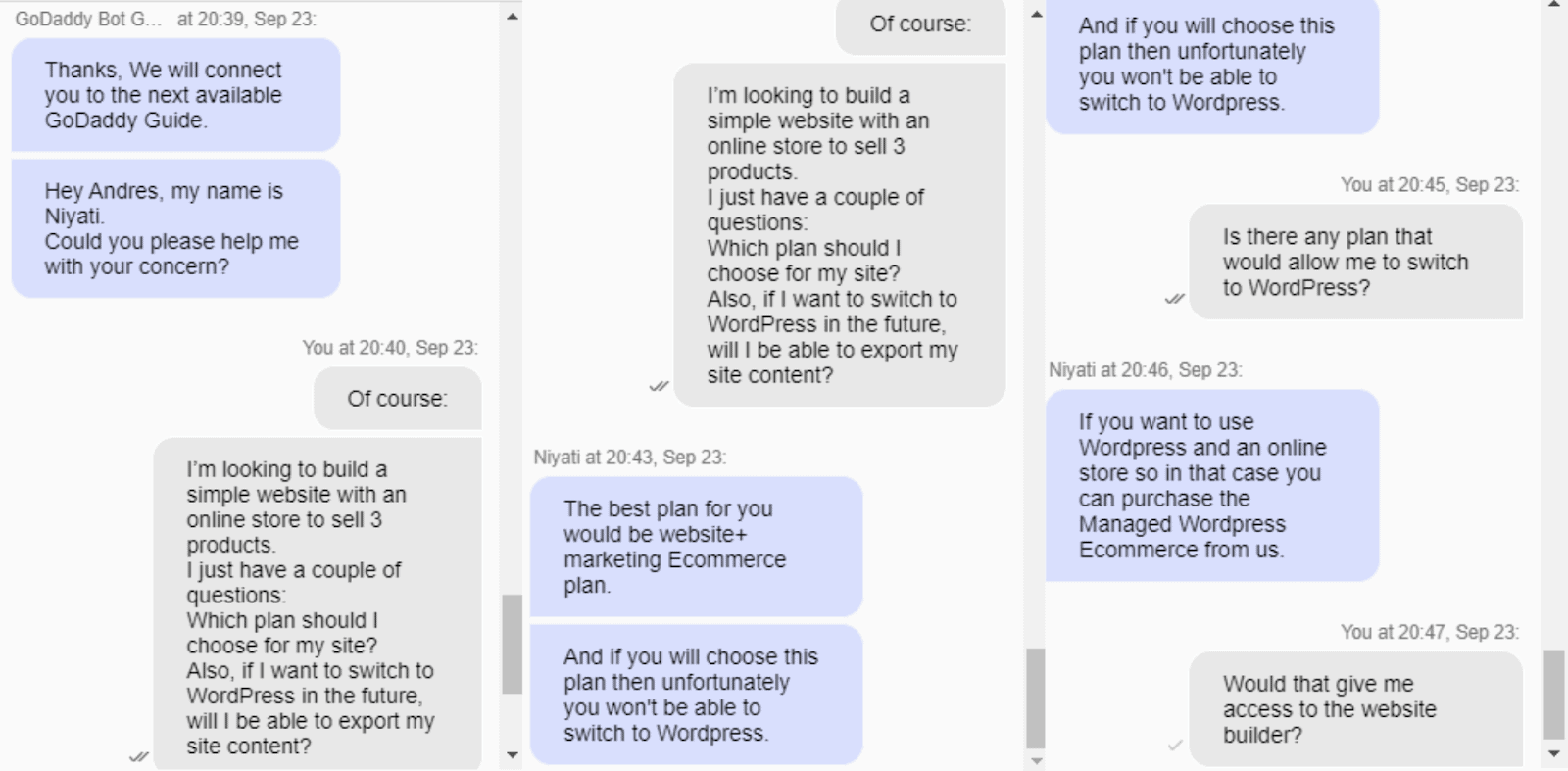 Shopify's customer support was another story altogether. It took no longer than a couple of minutes for someone to contact me about my questions. Their answer was warm and enthusiastic – quashing any doubts I may have had.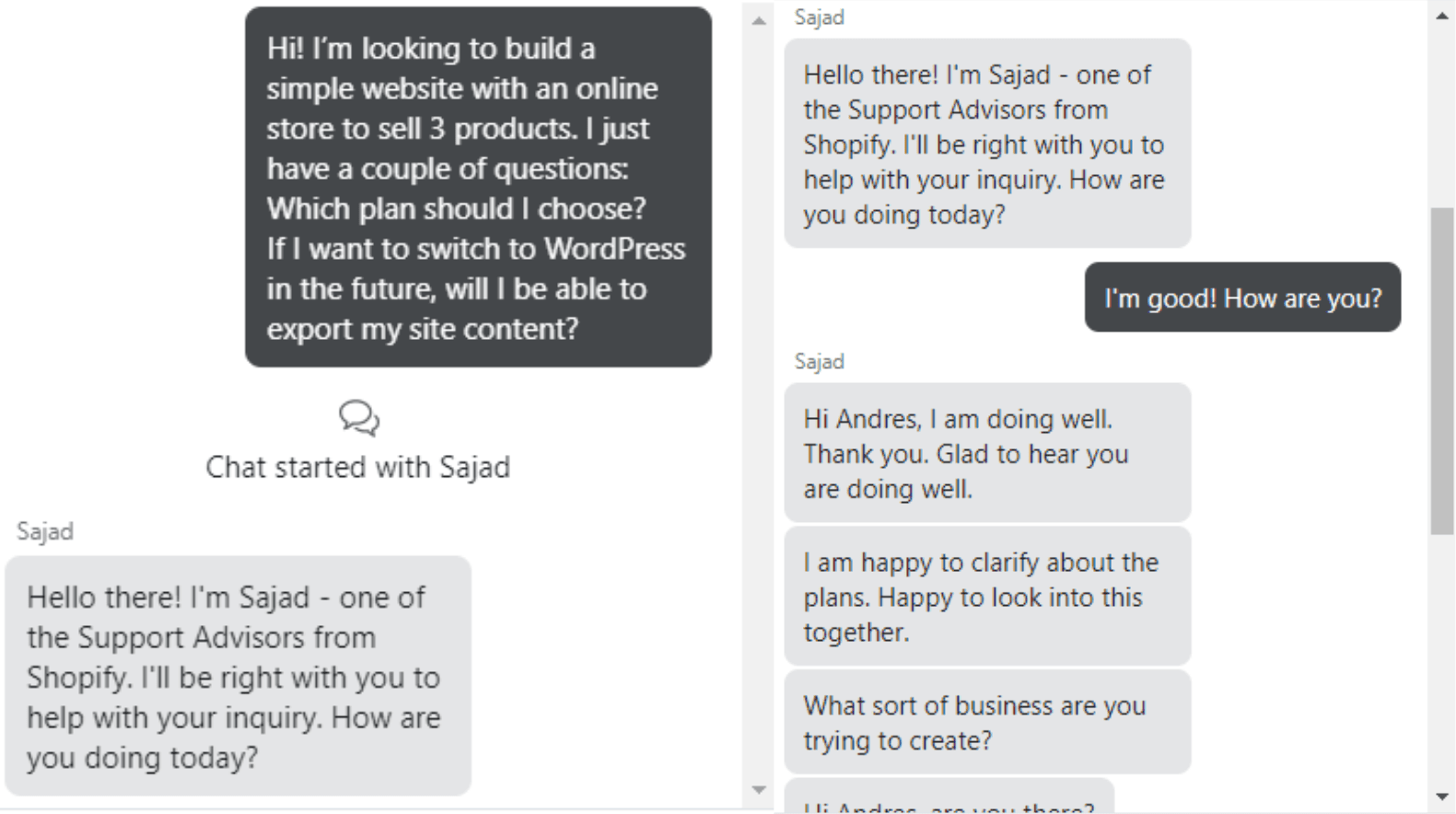 The representative showed so much interest in my particular needs that I had to come up with a convoluted story about having a local photography business. For every extra detail I gave, they provided more specialized support.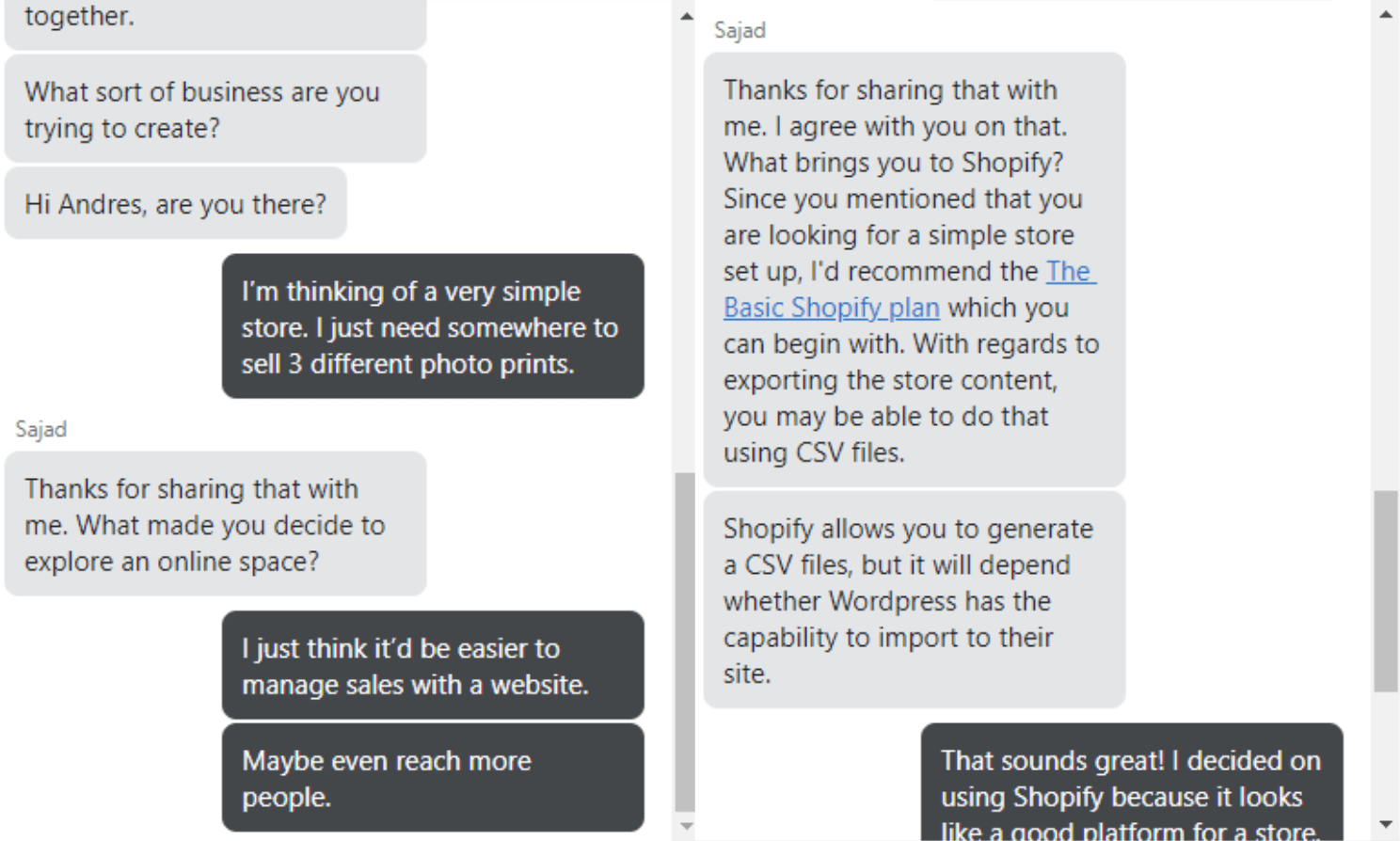 Both support centers answered my questions, but Shopify's response was quick, warm, and specific to my needs. Shopify's customer support is by far the best.
You Can Create More Than Just a Store With GoDaddy
GoDaddy is the winner if you want to create a website that's more than just a store. With GoDaddy, you can make a website that's oozing with personality. The website builder gives you every tool you need to create a business with a unique identity.
Shopify is an amazing service to create and manage a digital storefront. Shopify is the perfect service if you want a store that does just one thing and does it well. It's also the right choice if you're thinking of managing large inventories or if you rely heavily on in-person sales.
If you're still unsure, here's a quick summary of how the two services stack up against each other:
Plenty, but a little confusing
Excellent integrated features
Basic marketing options, barebones blogging
Good marketing options with outstanding blogging
Over 6000 high-quality third-party apps
A couple of really good plugins
Support
Immediate and attentive support
FAQ
Is Shopify Better than GoDaddy?It depends on what you're looking for. Shopify is better if you have a large inventory or want a site that is only a digital store. If you want a website with a unique personality, then GoDaddy is the better choice. GoDaddy offers a lot more customization options for everything from looks to domains. Its e-commerce functions are also more user-friendly, which makes it great for small and easy-to-manage stores. If you're still unsure about which one is right for you, I recommend checking our list of the best website builders in 2022.Is GoDaddy Cheaper than Shopify?In short, yes. GoDaddy's Ecommerce plan costs $29.99 per month when renewed annually. Shopify's Basic plan costs $29.00 per month. There is a Shopify Lite plan at $79.00 per month, but you can't create and host a website with it. If you want to save yourself a little bit of money, I recommend visiting our coupons page. We have something for any builder you choose.Is Shopify Good for Small Online Stores?Yes, Shopify works well if you have a small store. Themes like Simple, in particular, are designed for this. However, if you're planning on creating a smaller enterprise, I'd recommend a site builder like Squarespace. Most website builders will offer enough e-commerce options to run a small store. They can also help you create something that reflects your brand identity and stands out from the crowd.Should I Buy a Domain from Shopify?Shopify's domain service isn't bad by any stretch of the imagination, but my answer would be to get a domain from your website builder. If you're using Shopify, get a Shopify domain. If you're using GoDaddy, get a GoDaddy domain. If your website builder provides your domain, you won't have to worry about managing different aspects on different platforms. If you're using a builder that requires a host for your site, I'd recommend a dedicated service like Hostinger or Nexcess. You can check out our review of the best hosting services in 2022 for more details.