actually
turn into customers is barely above two percent, so
choosing the right platform for your store is paramount.
If you're looking to build an online store, you've undoubtedly heard of Shopify
, and for a good reason. It offers powerful tools for e-commerce, stylish templates, and the capacity to process large orders and tons of traffic. However, it's not the only option out there.
Ecwid also offers powerful tools, along with a user-friendly interface and cheap rates.
Both builders might seem similar on the surface, and both can help you build a profitable e-commerce business. So, what's the difference? And most importantly,
which will be right for you?
After extensive testing of both platforms, I can say that even though Ecwid has its strengths,
Shopify will be the best option for most businesses.
If you're itching to get your store off the ground, you can
try Shopify for free now
, or keep reading to find out why it came out on top in my comparison.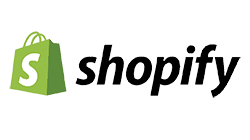 Save up to 25 % on your Shopify plan!
Limited-time offer - Don't miss it!
293 users used this coupon!
Themes
Ecwid Offers Quality Themes, but They Don't Compare to Shopify's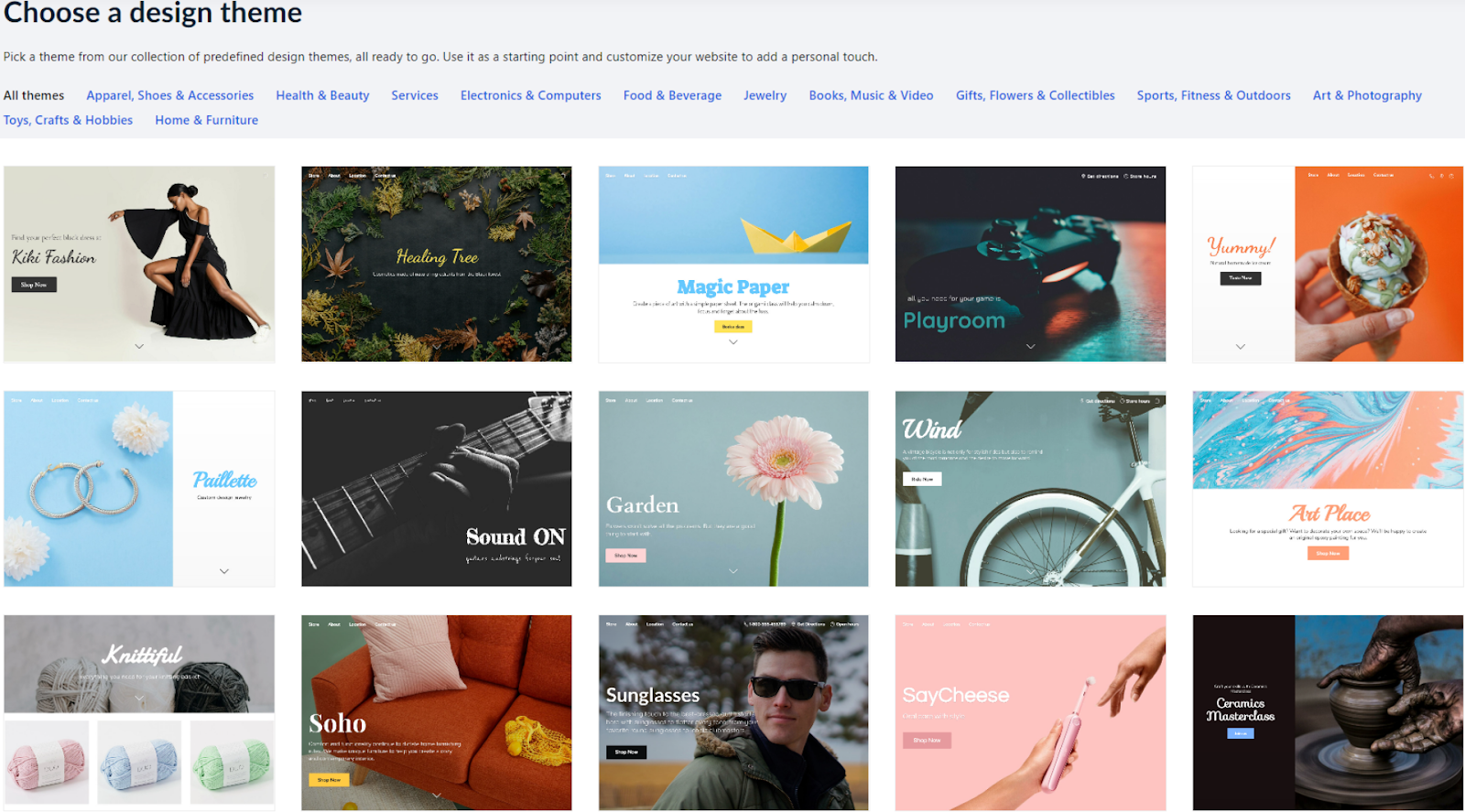 Ecwid offers 70+ well-designed but simple themes (or "templates") that are divided into 12 categories.
Each one basically follows the same design philosophy (a big hero image and a snappy header), but
they're varied enough to make them feel unique.
This is a good thing, as Ecwid doesn't actually offer that many options to customize its themes (more on this in
the Features section
).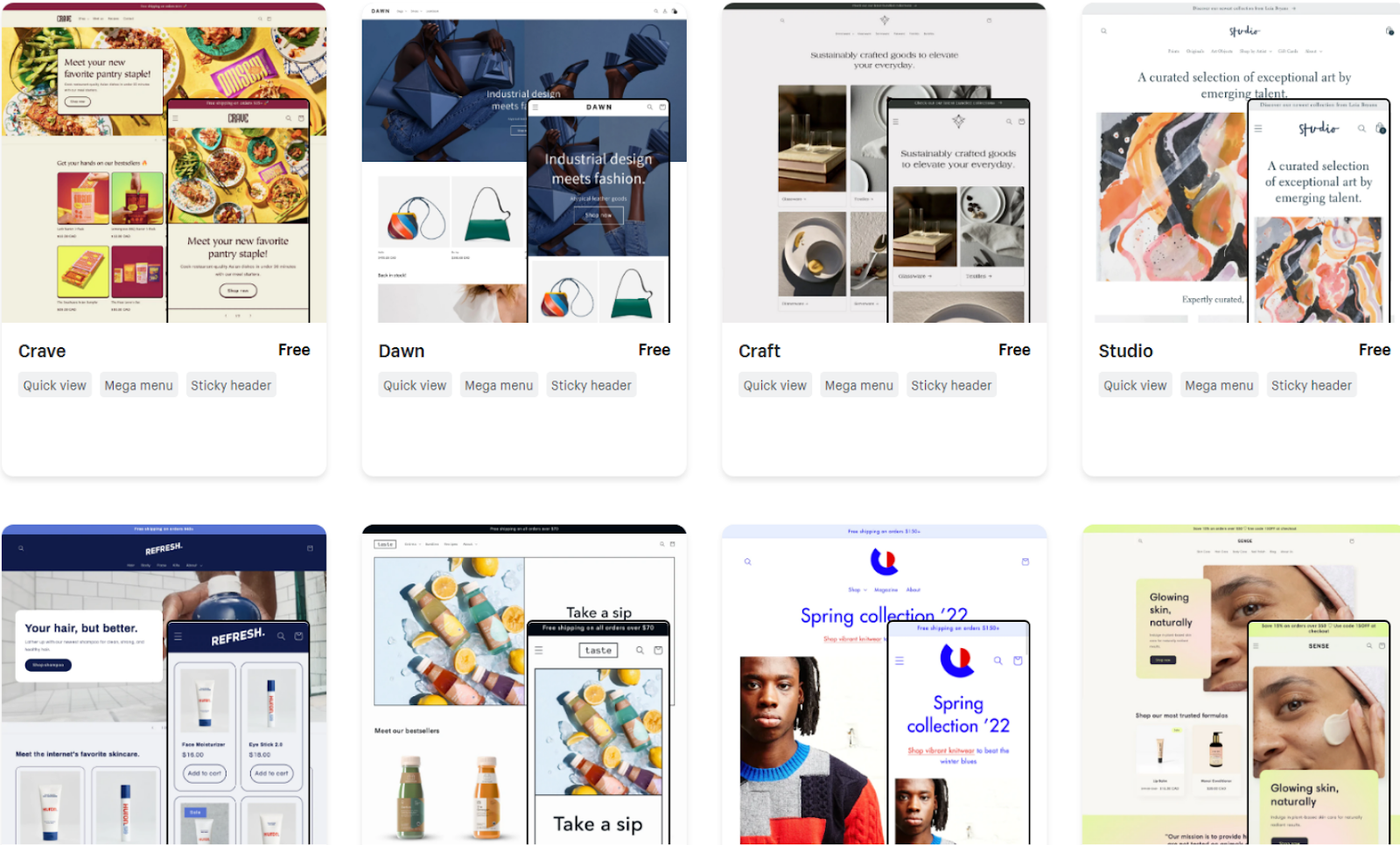 Shopify, on the other hand, offers 80+ premium themes, plus a handful of free ones.
To be honest, if I were only reviewing the free themes, Shopify would struggle to surpass Ecwid, at least in terms of design quality. It's also the case with either platform that if you decide to switch themes, most of your customizations will get lost, so
I don't recommend changing themes halfway through.
Despite the similarities, there are two important differences that give Shopify the overwhelming victory in this category. First of all,
Shopify's templates are a lot more customizable
. If you wanted, you could design a site that looks nothing like your starting theme. But perhaps more importantly,
Shopify's paid templates are far better designed than any of Ecwid's.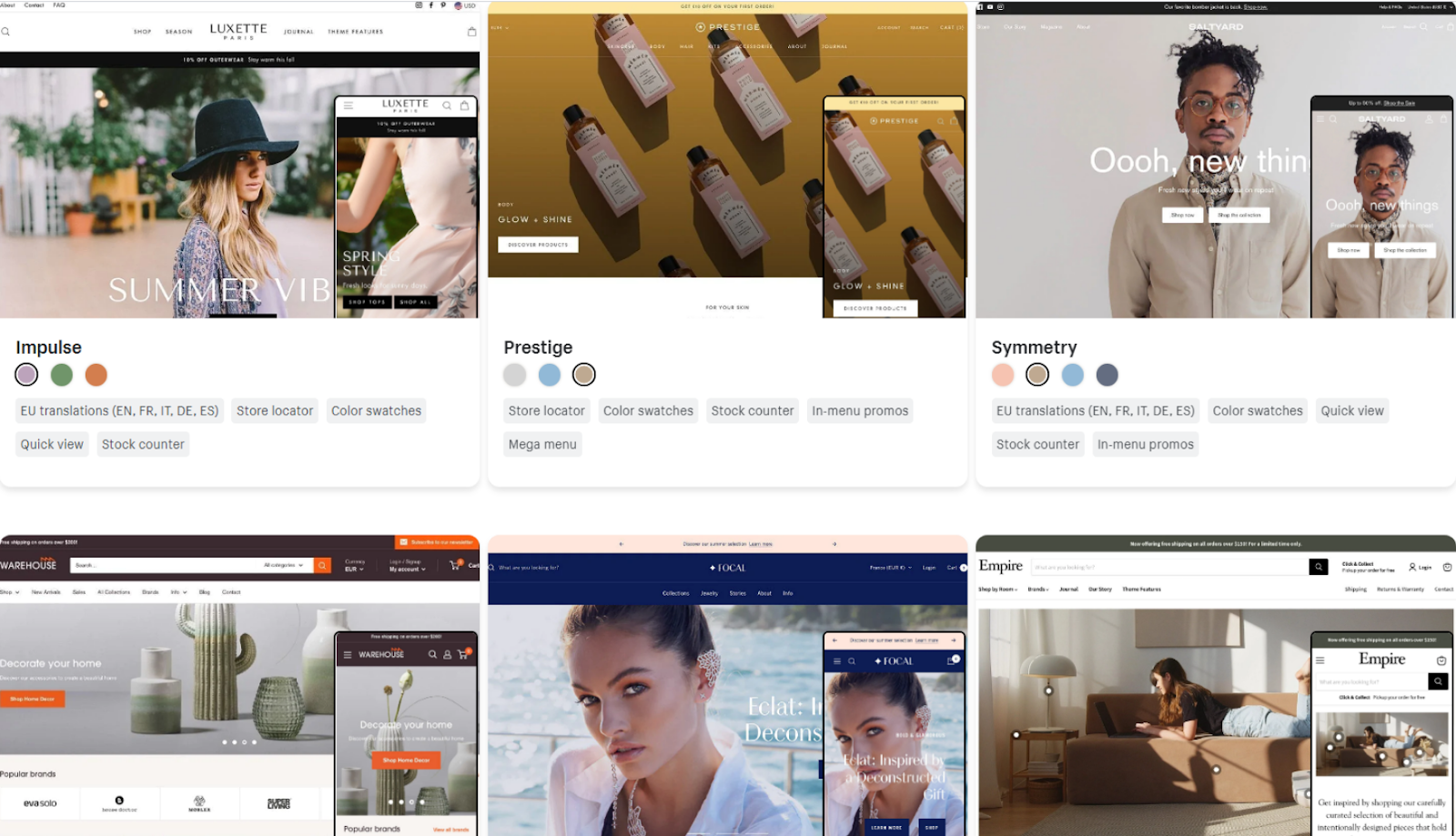 This quality doesn't come cheap, though. The best Shopify premium themes cost over $300.  Still, considering their key role in establishing your business's visual identity, they're well worth the investment.
There are also hundreds of third-party Shopify templates available that might be both cheaper and better suited for your needs.
Shopify's templates are mobile-responsive
, and you'll be able to edit your template's mobile view separately without affecting your layout. Ecwid's templates are also mobile-friendly, but they tend not to translate to mobile screens quite as well.
Features and Ease of Use
Ecwid Is a Little Easier To Use, but Shopify's Features Are Unrivaled
Ecwid's editor is great if you don't have any website building experience and you're looking to get online fast, but your site won't be very original.
After you choose your theme, the editor will show a list of eight site sections: Headline & Cover Image, Store, Company's Mission, Customer Testimonials, About, Location, and Contact Information. If you click on any of these sections, you'll be able to choose from a list of pre-made layouts, and change most of the default colors, typography, and images.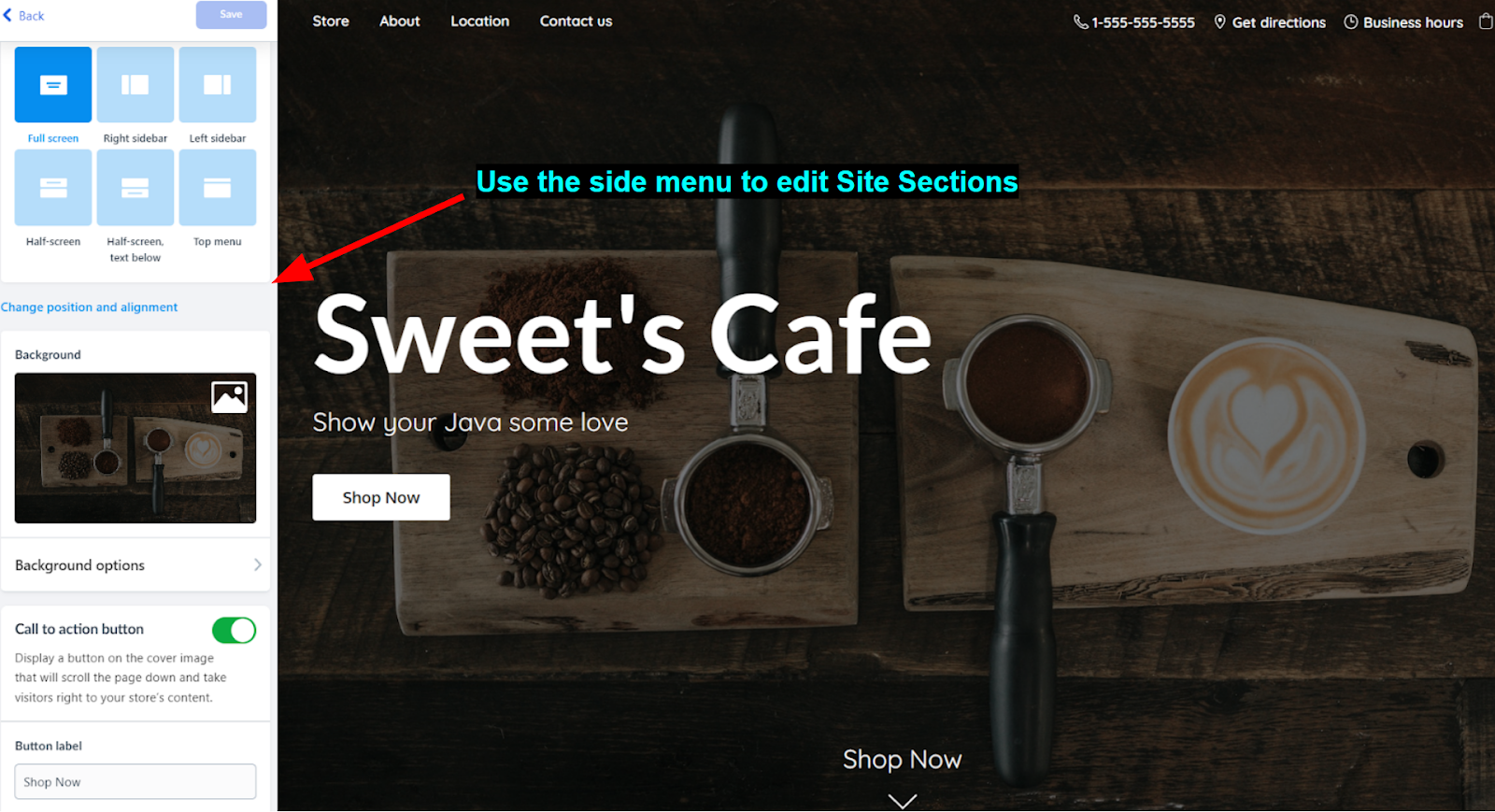 Shopify is almost the polar opposite – thanks to its versatile block editor, you can
customize any Shopify theme to fit your vision
. The editor itself is surprisingly easy to use, and it gives you a lot more control over the minute details, so you might spend a little more time getting everything just right.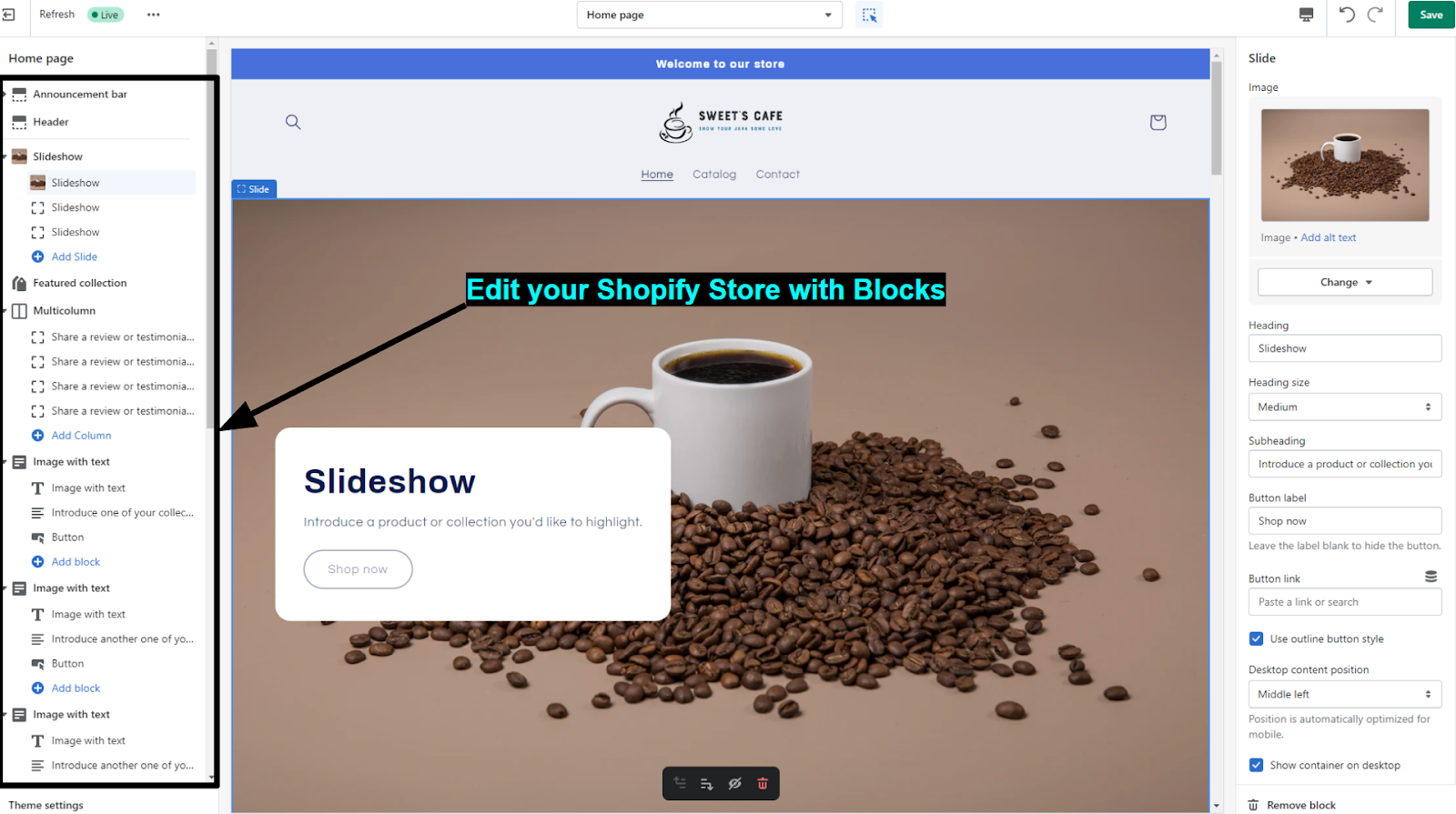 Of course, design features won't be your only priority when comparing these online store builders,
so how do their e-commerce features stack up?
Ecwid's free plan lets you start with 10 products.
For unlimited products, you must sign up for Ecwid's aptly named Unlimited plan
, which also gives you simultaneous selling on multiple sites, invoicing tools, custom checkout fields for your customers (such as messages or special instructions), subscription features, and more. That said,
every one of Ecwid's Business Plan features is available on Shopify's Basic Plan
. Not only that, but Shopify's low-tier plan also comes with a ton of additional features like staff accounts, automated processes, fraud analysis tools, international domains, and much more. There are three important area where Ecwid offers built-in features that Shopify doesn't: advanced invoicing tools, custom fields, and digital product selling. This would be a way bigger deal, however, if it weren't for the fact that
Shopify offers apps that can do those exact things for free
– so the only real difference is spending a little more time on its app store.
Apps
Both Platforms Offer Powerful Apps, but Shopify Has More
Shopify and Ecwid both have extensive app markets.
With either one, you'll get a large selection of free and paid apps of varying quality. These apps can be used to expand your site's functionality or connect you to third-party software. If you want to install an app, all you have to do is head to the relevant app market, choose an app you like, and click on "Install app."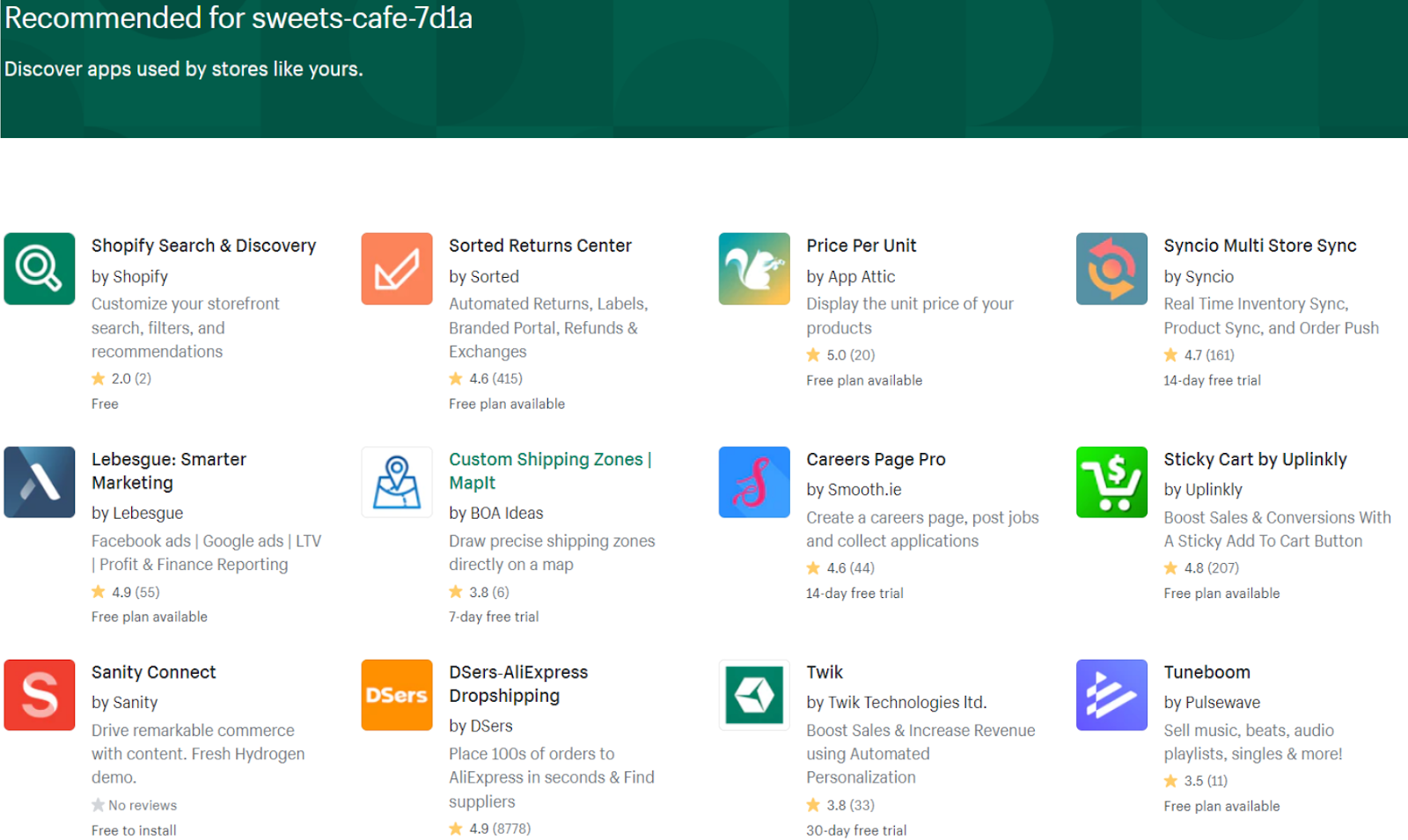 You can rate an app out of five stars and read other customers' reviews, though it's worth mentioning that due to Ecwid's smaller user base, Shopify offers a broader sample size. So far so similar, but there's one notable difference that earns Shopify the win in this section:
while Ecwid's app market contains hundreds of options, Shopify offers close to 8,000 apps.
Marketing
Ecwid's Marketing Tools Are More Intuitive
Marketing features are another area where Shopify and Ecwid are pretty similar. Both platforms offer a marketing dashboard where you can create social media or email marketing campaigns. If you're a fan of the latter, you need to consider that
Shopify's email marketing is much cheaper
– you can send up to one thousand free emails a month, and you'll only pay $1 for each additional thousand.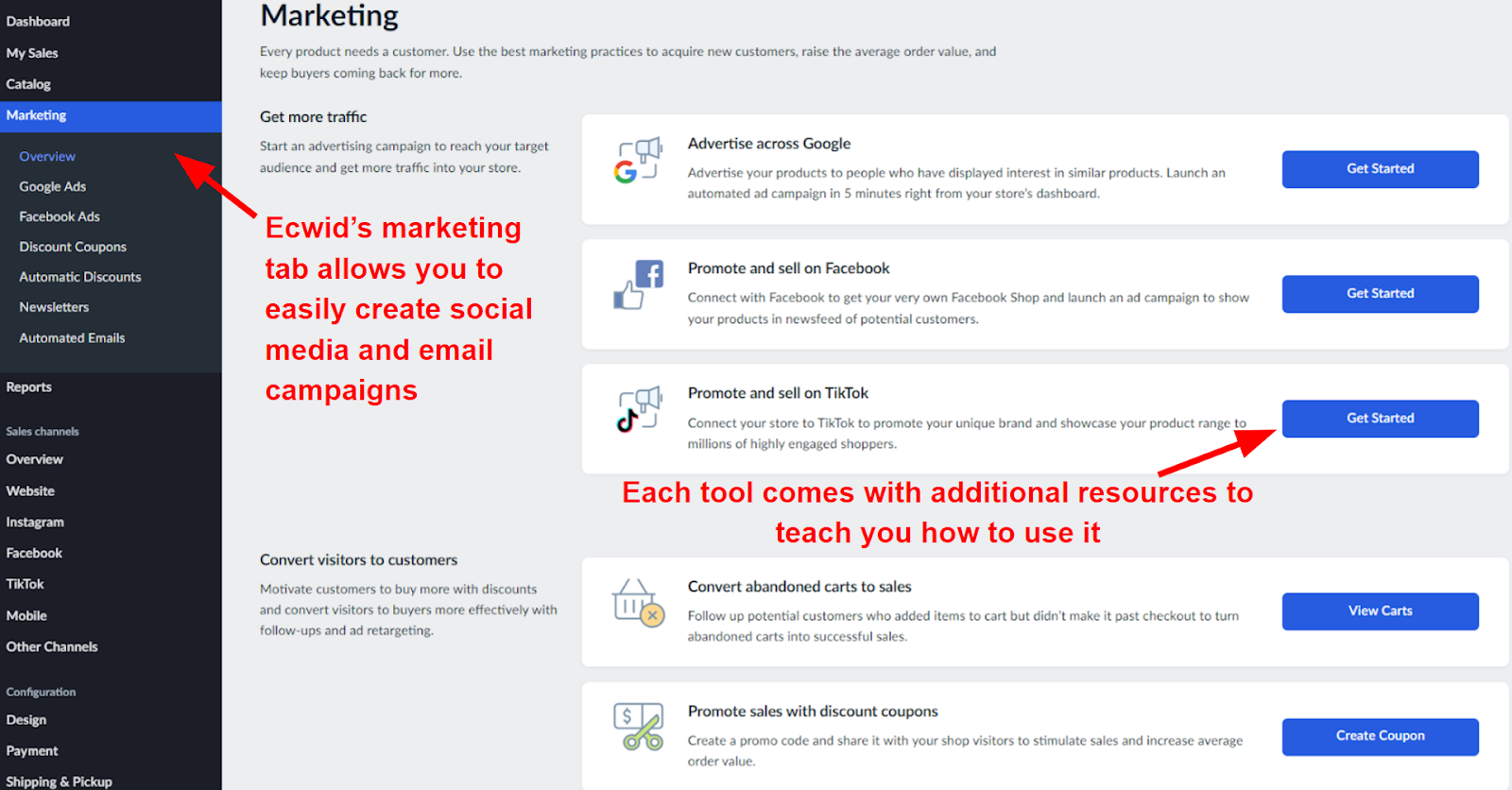 Ecwid, on the other hand, doesn't have any restrictions, but it only offers email marketing on the Business plan and up. The disparity in the number of apps each platform makes available also means there are bound to be some marketing integrations Shopify has that Ecwid doesn't. That being said, unless you have something hyper-specific in mind,
Ecwid's marketing apps collectively offer more than enough functionality for most businesses, and they're also way easier to use
. This makes creating and executing a successful marketing campaign an achievable goal for every business, even if you have little to no prior experience.
SEO
SEO Isn't either Platform's Strong Suit, but Shopify Offers More Tools
I have to be honest, I was a little disappointed when it came to these platforms' SEO capabilities.
Both Shopify and Ecwid offer basic built-in SEO tools
(meta descriptions, URL editing, etc.). Besides that, they offer e-commerce-specific tools like tag editing for products and collections.
These tools aren't bad. In fact, a knowledgeable SEO specialist can do wonders with just these tools.
But they're also pretty standard these days, so nothing
really
stands out. That being said, Shopify's app marketplace is brimming with more advanced SEO tools, and it provides helpful resources and guides to improve your store's search engine ranking. Just for that,
Shopify takes the SEO crown.
Pricing
Shopify Can Be More Expensive, but It Offers Better Value
Right out of the gate,
Ecwid has a huge advantage over Shopify: it offers a free plan, while Shopify only offers a 14-day free trial on its paid plans.
You can theoretically build and run a completely functional online store with Ecwid's free plan, so long as you aren't
too
ambitious. Although Ecwid's free plan is a great way for small businesses to get started with e-commerce,
I wouldn't actually recommend it if you're trying to start a serious business
. Ecwid's free plan gives you access to its full suite of social media marketing tools and a basic online store with a maximum of 10 products. On the flip side,
you can't edit your site's SEO – or even link a custom domain to your site.
Both Shopify and Ecwid offer three paid plans. With Shopify, that's Basic (
$
29.00
), Shopify (
$
79.00
), and Advanced (
$
299.00
), whereas with Ecwid, it's Venture (
$15
), Business (
$35
), and Unlimited (
$99
). If you only look at the equivalent pricing tiers, Shopify definitely seems the more costly option, but that's offset by the fact that even Shopify's Basic plan includes almost every feature that Ecwid's Unlimited plan does. What's more,
Shopify offers 50% off every annual plan, whereas Ecwid only provides a 17% discount.
With
Shopify's fully functional 14-day free trial
, you'll be able to design your store, add products, and connect apps – which is more than enough to take Shopify for a spin and decide if it's the best option for you.
And while Shopify might be more expensive than Ecwid, it offers far more value for your money on every tier.
Still not sure? See how Shopify's Basic compares with Ecwid's Venture plan in the table below.
Shopify
Ecwid
Starting price

$

29.00

$15
Number of products
Unlimited
100
Social media marketing
With Apps

✔

Abandoned cart recovery

✔

✘

Staff Accounts
2

✘

Gift Cards

✔

✔

Fraud Analysis

✔

✘
Support
Ecwid Offers More Support Channels for Premium Plans
Both Ecwid and Shopify offer ticket support 24 hours a day, Monday through Friday. In addition to this,
each platform comes with a comprehensive, easy-to-understand knowledge base
. In order to gauge the quality of support, I sent a ticket with the following questions to both platforms:
I want to build a simple website with an online store to sell 3 products. Which plan should I choose?
Also, if I want to switch to WordPress in the future, will I be able to export my site content?
I sent both tickets fairly late in the day. Shopify and Ecwid each sent me an automated email within a matter of minutes to let me know that they had received my message. Now all I had to do was wait for a reply.
The next day, I received full, comprehensive responses from both support teams, with only a couple of hours in Shopify's favor.
This is the response that I got from Shopify's team: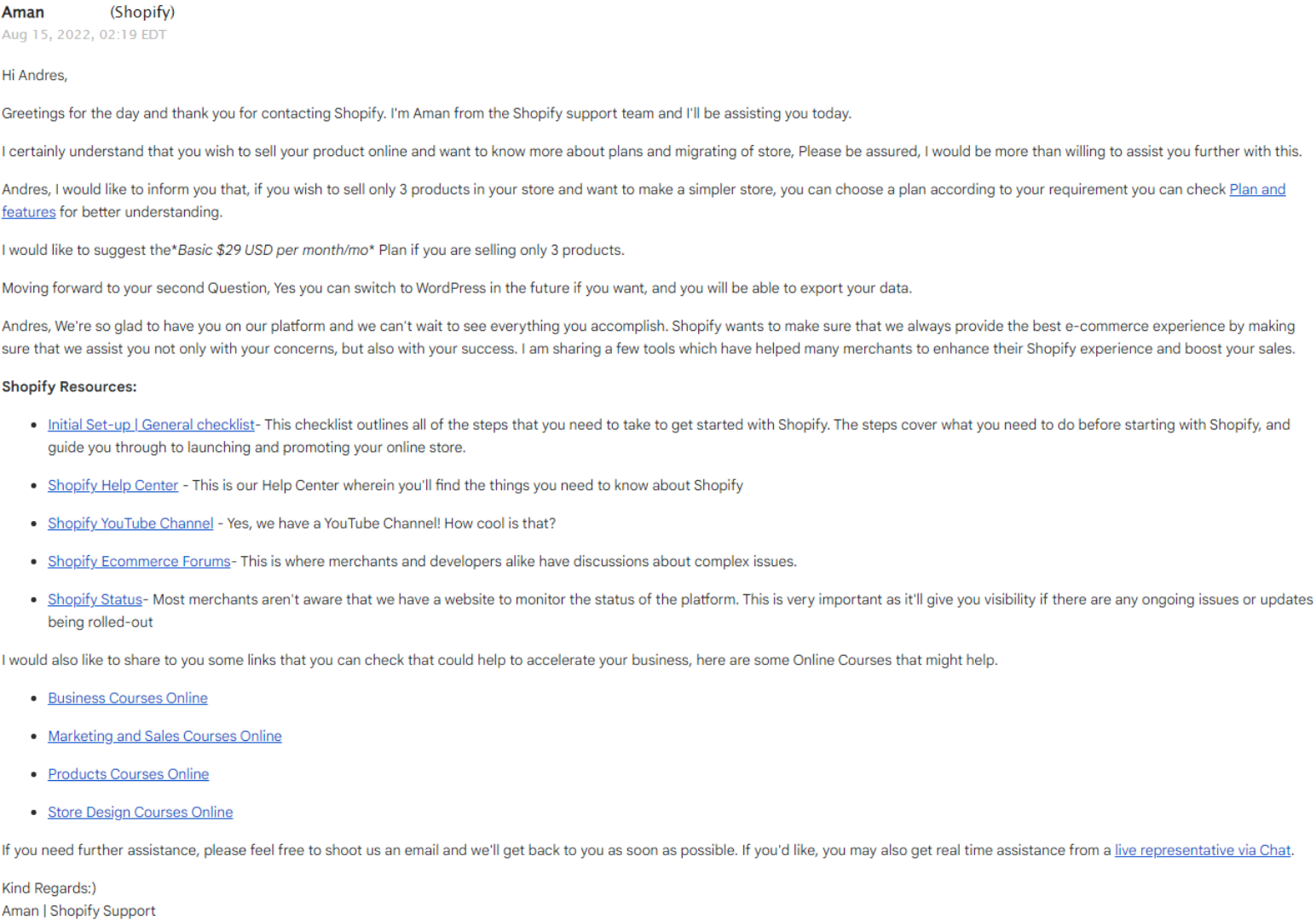 Not only did Shopfiy's agent answer my questions with detailed explanations, but they also included support links to articles I might find useful in the future. Not to be outdone, Ecwid's email support team sent me this message: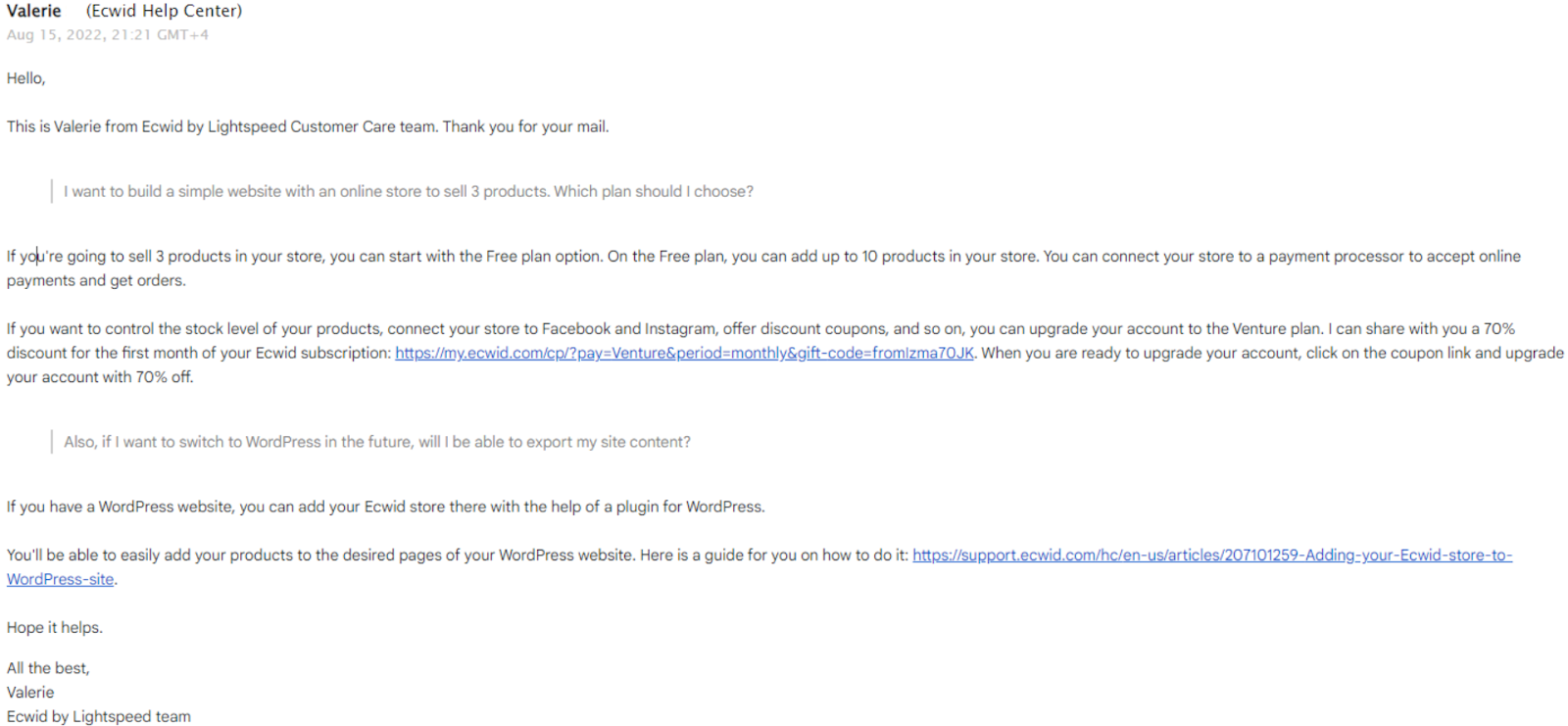 Ecwid's response might not have been as extensive, but it answered all my questions in clear language. I have to admit, I was pleasantly surprised at the quality of responses I got from both support teams, and it put me in a bit of a tight spot. Both platforms gave me prompt, useful, and beginner-friendly answers, which made it a little difficult to declare either one the absolute winner. In the end, I called this one a tie. Rest assured,
you will get precise, useful support, regardless of which of these platforms you choose.
Ecwid Can Help You Get Started, but Shopify Will Help You Grow
Ecwid would have performed significantly better in this comparison if it had been up against nearly any other platform. Its user-friendly e-commerce website building, intuitive interface, and competitive pricing continue to render it a practical choice for individual sellers or small businesses looking to generate additional income by selling products online. However, its streamlined approach is as much of a weakness as it is a strength.
For most, Ecwid is a little too simple, meaning it might not be able to handle your business as you grow and start to branch out.
Shopify, on the other hand, offers a slightly steeper learning curve in exchange for better value pricing, a near limitless capacity to grow with your business, and a more advanced version of pretty much everything Ecwid offers. So,
if you're looking for a long-term solution to expand your online presence, Shopify is undoubtedly the way to go.
If you want to check out how these two platforms performed at a glance, take a look at the table below:
Templates
90+ elegant and customizable templates & hundreds of third-party options
70+ high-quality templates, with few customization options
Features & Ease of Use
Feature-packed with a slight learning curve
Easy-to-use features, but less advanced and fewer in number
Apps
Thousands of high-quality, easy-to-integrate apps
Hundreds of high-quality, easy-to-integrate apps
Marketing
Advanced marketing tools, but a little intimidating to use
Intuitive, easy-to-use marketing tools
SEO
Basic SEO tools
Basic SEO tools
Pricing
Higher price for great value
Cheaper, but offers less
Support
Prompt and helpful support
Prompt and helpful support
FAQ
What's the difference between Shopify and Ecwid?
Both Shopify and Ecwid are e-commerce platforms that let you easily build an online store from the ground up, but there are some key differences between them. Ecwid provides an easier store-building experience, but it comes at the cost of fewer features and customization options. While it can take a little more time to master, Shopify opens up a world of possibilities for managing a successful online store.
Is Shopify better than Ecwid?
To be blunt, yes. Ecwid is a great e-commerce platform in its own right, and it might even be the better choice for the least experienced merchants, but if you're looking to create a thriving e-commerce business, Shopify's extensive feature-set is hard to beat.
Is Ecwid cheaper than Shopify?
It depends. Both platforms offer differently priced plans that grant access to progressively more features. If you compare each plan to its closest-priced counterpart, then Ecwid's plans are slightly cheaper month-to-month than Shopify's. That's not the whole story, though, as every Shopify plan offers more features than Ecwid within the same price bracket. So, although Ecwid looks cheaper on paper, Shopify offers far more for your money.
Is Shopify good for beginners?
Shopify is an intuitive platform that enables users of all experience levels to build and maintain an online storefront. It provides an incredible level of freedom for designing your site and choosing how to present your products. That's not to say it comes with no learning curve. With some many features available, it does take some time to learn all its ins and outs. If you're a complete beginner, I recommend checking out our full guide to building a website in 2023.