Choosing between Shopify and Amazon for your e-commerce platform is like comparing a stall at a farmer's market and half a shelf in a major supermarket.
That's because Shopify is an e-commerce platform and website builder, while Amazon is an online marketplace. There are pros and cons to using either (or both!) platforms.
You have complete control over your Shopify store, but you don't get the same convenience and built-in audience that Amazon sellers enjoy.
On the other hand, Amazon charges a
lot
of fees on its Professional plan, while Shopify's pricing structure is nowhere near as complicated.
Of the two, Shopify is the best choice for your business.
While the convenience of using Amazon's established marketplace may seem enticing, the lack of customization makes it difficult to stand out against competing products. That's not to say that you must choose between these two platforms, though –
you can sell on Amazon directly from your Shopify dashboard (more on that below)
. Intrigued? Read on to see why Shopify's a great choice for your e-commerce business or
set up your Shopify store for free now
.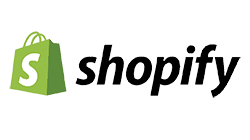 Save up to 25 % on your Shopify plan!
Limited-time offer - Don't miss it!
293 users used this coupon!
Templates
Completely Customize Your Branding With Shopify
When it comes to templates, Amazon can't compete with Shopify.
Shopify's 90+ templates are all clean, modern, and engaging
.
You can customize the layout and content of your homepage, but it's worth bearing in mind that you won't get the same flexibility with the other pages on your site. You'll still be able to customize your font, colors, and content, but you don't have a ton of layout customization for your theme's pages.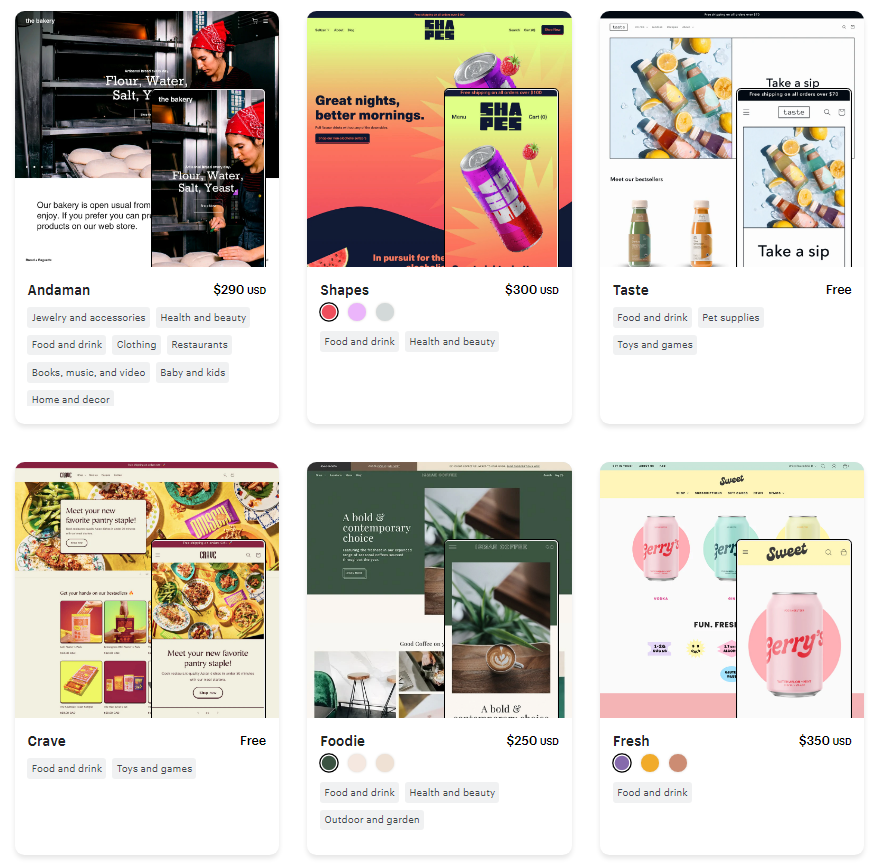 Don't worry if you don't like any of these designs, though.
You can always import a template from a library like ThemeForest or hire a website designer to build you a completely custom design.
It's difficult to compare Amazon on this point because it's not a website builder, but rather an online marketplace. Like most of the other e-commerce marketplaces out there, you won't have a lot of freedom when it comes to the look of your page.
With Amazon's Stores, you'll be able to set up your own store page, but you'll have to use the same store layout as every other business.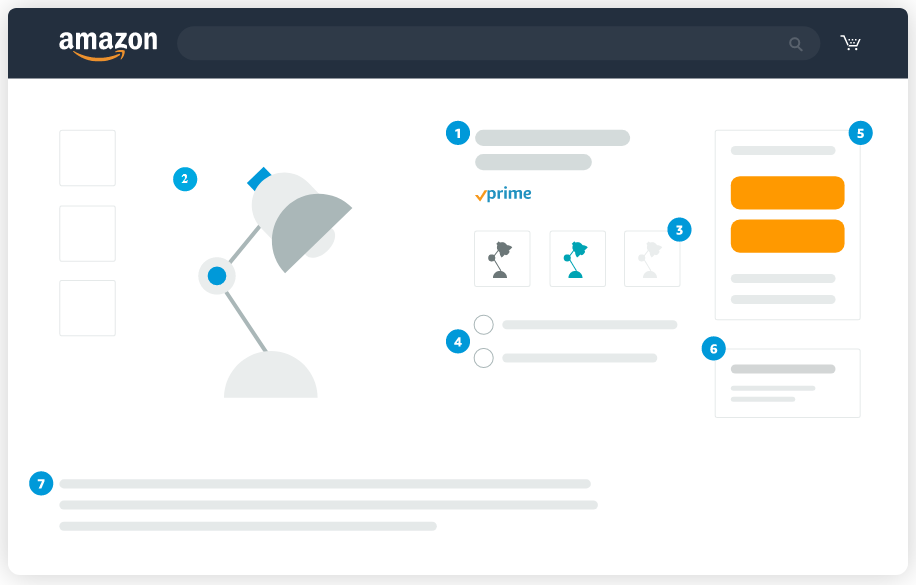 This set layout is part of Amazon's customer experience, and its consistency is a key part of why so many customers trust this marketplace.
However, if you're looking to build a unique customer experience, or even just want to use your own branding, Shopify's your best bet.
Features and Ease of Use
Shopify Gives You Everything You Need to Manage Your Online Store
If you want to get your e-commerce store up and running quickly, then Shopify is your best bet.
All you need to do to get started with Shopify is to create an account, answer a few questions, and start building your website.
If you've only got a few products or services, you could have your store up and running within an hour. Amazon, on the other hand, requires a lot more to get started. Before you can add products to the Amazon marketplace, you'll need to provide your government ID and tax information to verify your identity.
Amazon also states that you may be asked to meet with an Amazon Associate (either in-person or via a video call) as part of this verification process.
It makes sense, really –
Amazon's strength lies in customer trust
, so it needs to ensure that it only accepts genuine sellers. It's not all that difficult to sign up once you've got some basic documentation. But is this extended verification process worth the features you get?
Unless you plan on paying for Fulfillment by Amazon (FBA), not entirely.
As an FBA customer, you'll get some basic tools to help you manage your inventory and improve your discoverability in the marketplace. These inventory management tools aren't bad, per se – they use Amazon's sales data to tell you when it's time to send more inventory to the warehouse and how much you need to send. But if you're fulfilling orders yourself, you're on your own. In comparison,
Shopify makes it easy to manage your inventory thanks to its Shopify Flow automation tool
. You can either use a pre-built template or build a custom workflow that automatically adds tasks to your productivity software of choice when you're running low on stock. If you manage a larger store, you can also use these workflows to alert marketing to stop promoting out-of-stock products.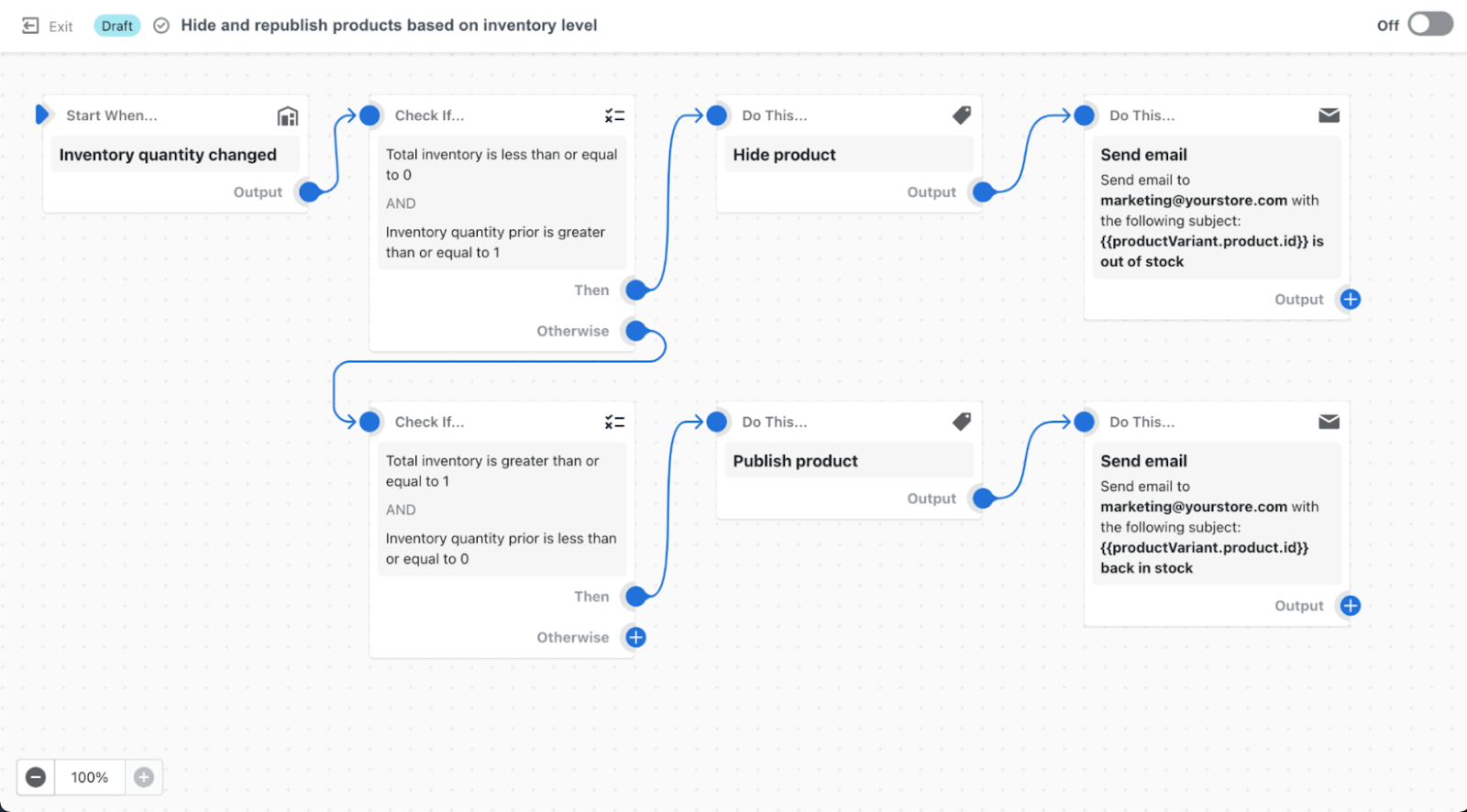 It doesn't matter if you're using Shopify's fulfillment service, either –
as long as you're not on the Basic plan, you can use Shopify Flow.
So, not only is Shopify easier to get started with, but you'll get a lot more business support.
Apps
If You Need a Specific E-Commerce Feature, Shopify's Got You Covered
With over 7000 free and paid apps, Shopify is the clear winner for this section.
No matter your budget or what features you need, you'll be able to find a Shopify or third-party app to extend your website's functionality and give your business an advantage.
As you'd expect, the Shopify app store offers the standard integrations for social media and email marketing.
There's also a broad selection of more niche applications covering features like dropshipping management, print on demand, and even product recommendation quiz builders.
There are even Shopify apps to connect your Amazon sales channel to your e-commerce store.
These let you synchronize your orders and inventory, create Amazon product listings, and track your sales analytics without needing to leave your Shopify account. If you want to build an e-commerce powerhouse that you can manage through a single dashboard, Shopify's app marketplace is a great choice for you.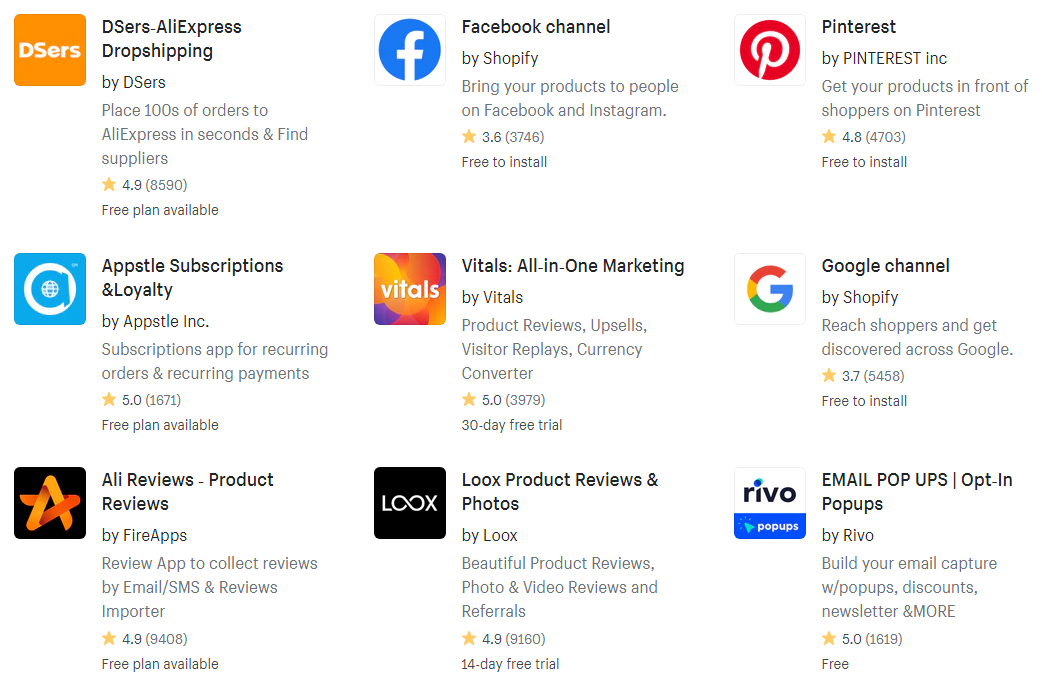 While you'll be able to find over 2000 apps in the Seller Central Partner Network – Amazon's list of trusted third-party integrations – you won't find many free apps.
For example, Shopify's QuickBooks integration is free, but some of the options on Amazon's app store cost more per month than a Shopify Advanced plan.
E-Commerce
Interested in Dropshipping? Avoid Amazon
Both Shopify and Amazon have a complete set of e-commerce tools to help you sell online, but one of the biggest areas where they differ is dropshipping.
Dropshipping on Shopify is simple.
All you need to do is install a dropshipping app and choose the products you want to sell – the app will automatically pull product data from the wholesale merchant and add it to your catalog. When a customer places an order, that order is automatically sent to your wholesaler. The wholesaler then sends the order to the customer, so you don't need to worry about storing any products.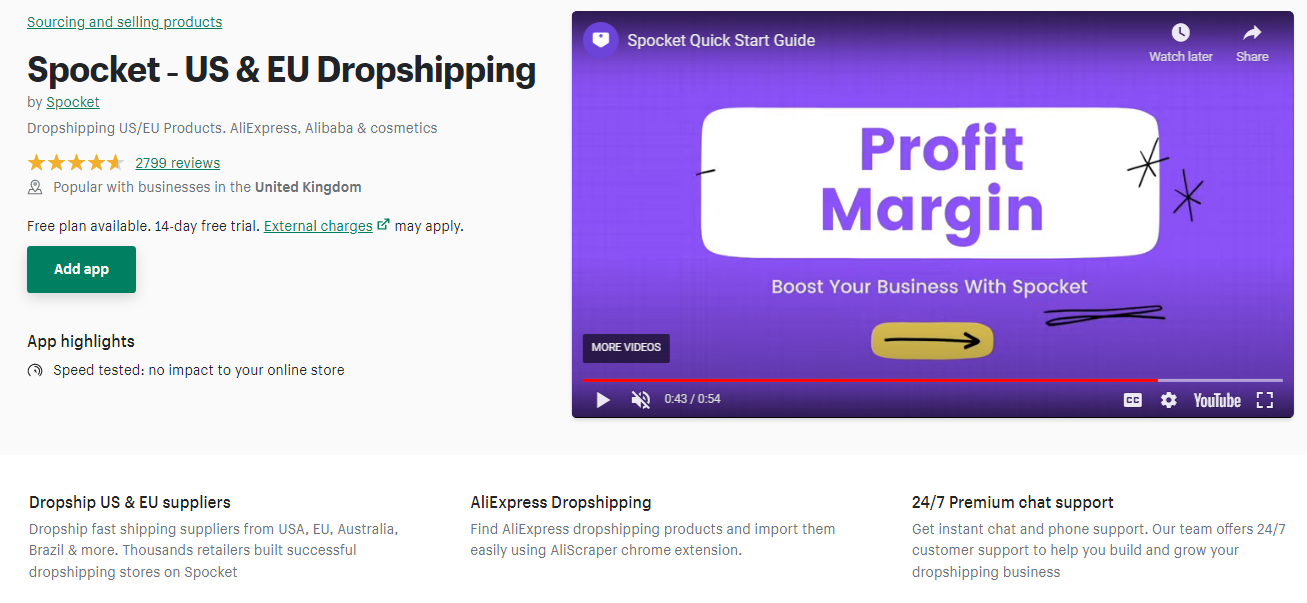 While you can do this on Amazon, there are a few more restrictions.
If you're dropshipping on Amazon, your wholesaler can't ship the product for you unless you are fully represented as the seller on record.
And if you want branded packaging, then you'll have to ship the orders yourself. You can use Amazon FBA to handle this for you, so you don't have to store any products,
but Amazon FBA comes with a ton of additional fees.
You'll be charged a storage fee per cubic foot, which more than doubles in price over the holiday season, plus extra fees for units stored for more than a year. On top of that, you'll have to pay a flat fulfillment fee per unit to cover picking, packing, shipping and handling, and customer service for your products. All of this eats into your profit margins even more, so Amazon FBA isn't always a realistic option for dropshippers. When
Shopify's fulfillment option gives you free storage for the first six months,
Amazon FBA doesn't look like such an enticing option.
SEO
Amazon Handles Your SEO for You
This is another area where it's difficult to determine a winner because of how different Shopify and Amazon are.
Because Shopify is a website builder, you'll have to work on your SEO yourself. On the other hand,
using the Amazon marketplace means
you can benefit from Amazon's SEO power.
Amazon's domain already ranks highly on search engines, so you won't have to work as hard to get your products found through search engines like Google and Bing. With that being said,
you'll still have to compete against other sellers on Amazon's internal search engine.
Amazon offers some advice on how to do this yourself, and it's not too hard to do some basic optimization. For more advanced stuff you'll likely need expert advice, but it's not necessary – just doing the basics should greatly improve your rankings. If this still sounds too complicated, you can pay to put your listing at the top of relevant search result pages as Sponsored content. Even if you don't pay for this,
chances are that you'll still get some decent traffic – after all, Amazon gets billions of unique website visitors every month in the US alone.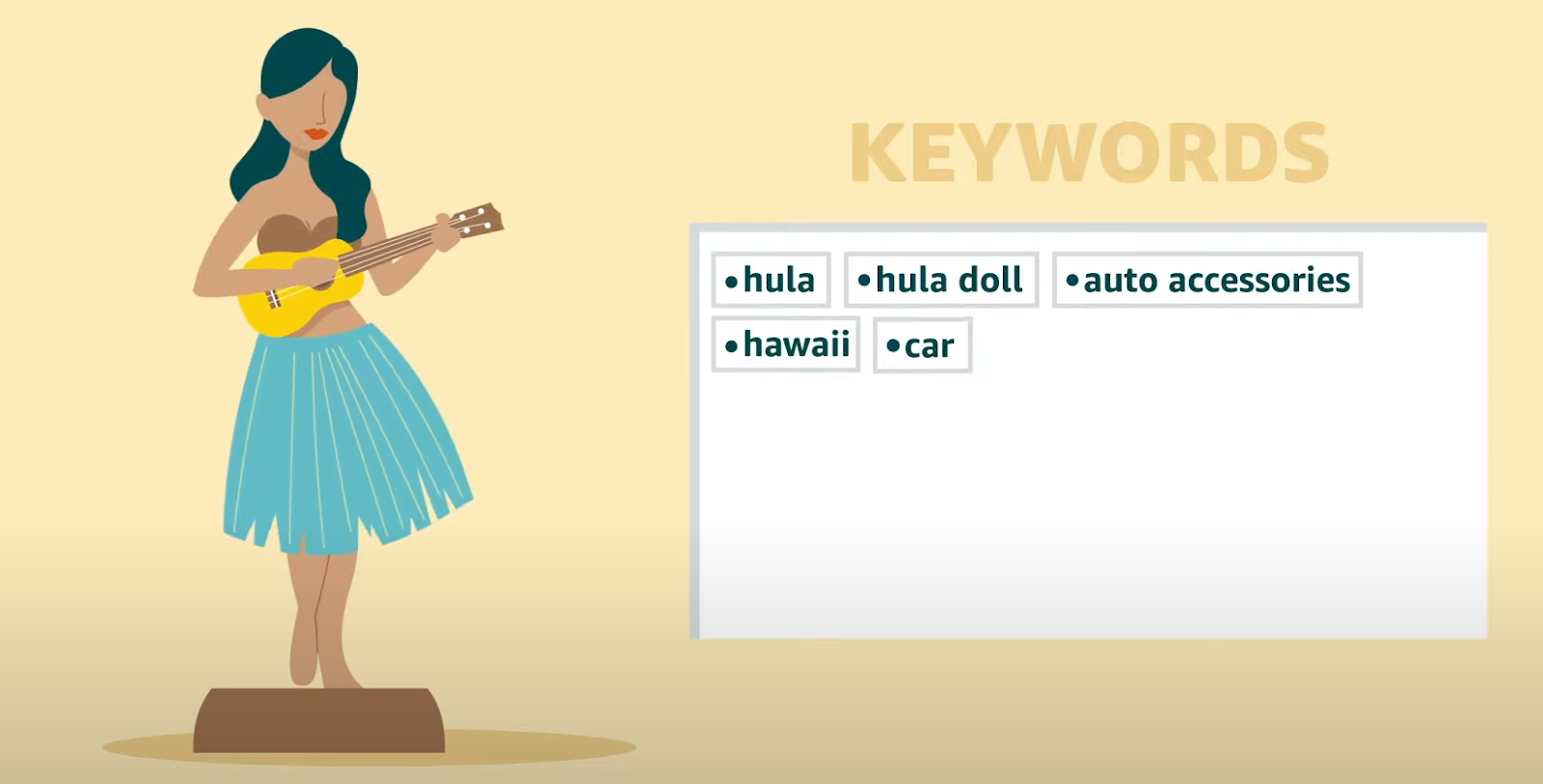 Because Shopify is primarily a website builder, it doesn't come with
the same SEO benefits to e-commerce stores.
Not only will you be using a custom domain that's unfamiliar to search engines, you won't be hosting products on a website that's visited by billions of users every month. Shopify will automatically generate your sitemap and robots.txt files (which Google needs to crawl and index your site) but the rest is up to you.
It's a good choice if you want control over how and where your business is found, but setting up your SEO strategy is a lot more time intensive with Shopify.
Pricing
Shopify Keeps Your Overheads Low
You'll need to spend a lot more to sell on Amazon.
Depending on the plan you choose, there are several other fees you need to consider on top of Amazon's per-item or monthly fee. Whenever you sell a product, you'll pay a percentage of that sale in referral fees, and those fees vary depending on the product category. Amazon also charges refund administration fees and high-volume listing fees.
Shopify's pricing is simpler and more advantageous – there are no hidden fees so it's easier to budget for your overheads.
You'll pay a flat monthly fee to list an unlimited number of products on your website. On top of that, you'll need to purchase a domain name and pay a small percentage on sales not processed through Shopify Payments. This is Shopify's own payment gateway, which you can use on any plan for no additional monthly fee. On top of that,
Shopify's fulfillment service is a lot cheaper than Amazon's.
Amazon charges per cubic foot of warehouse space, and that price fluctuates based on the time of year. Shopify doesn't charge at all for inventory that sells within 6 months and, after that, you're only charged per item based on the product weight.
Overall, Shopify makes it a lot easier to budget for your overheads and set your profit margins.
Here's what you need to know about Shopify and Amazon's pricing:
Shopify
Amazon
Starting Price

$

29.00

$0.99 per item sold
Additional fees
Domain name, third-party transaction fees
Referral fees, refund administration fees, book rental fees
Free trial?

✔

✘

SEO and marketing tools
Built-in analytics, email marketing, and SEO tools, plus hundreds of free and paid marketing apps
Hundreds of free and paid marketing apps
Additional sales channels
20+, including Amazon

✘

Discounted shipping

✔

✔

Customer support
24/7 live chat and ticket system, knowledge base, video tutorials, webinars, community forum
Ticket system, knowledge base, video tutorials
Support
Shopify's Customer Support Goes the Extra Mile
It's a lot easier to contact Shopify than Amazon.
Shopify offers 24/7 support via its ticketing system, live chat, and knowledge base. To contact the support team, you just need to go to the Help Center, click
Contact Shopify support
, choose your help category, and select a contact option. I fired an email ticket off to Shopify from my test account and got a response in around 4 hours.
And, honestly, this is perhaps one of the best customer service interactions I've had in my freelance career.
Not only did the agent answer my questions, but they offered some additional support materials to help my new business get up and running on Shopify.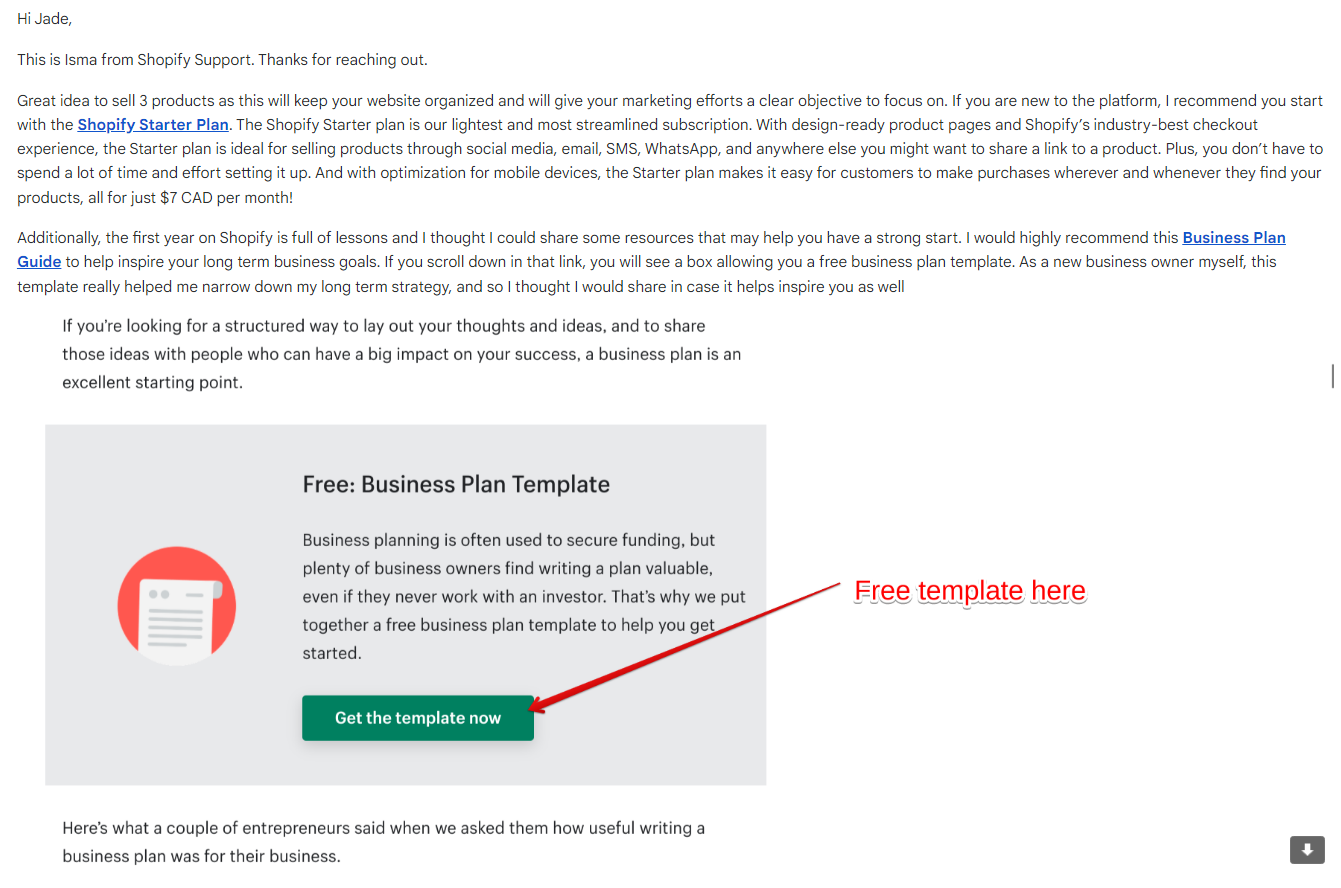 You can access an old-school community forum to seek advice from other Shopify users. If you're a visual learner, Shopify's video tutorials and webinars are available for your benefit. On the other hand,
Amazon has a ticketing system, a knowledge base, and video tutorials
. There are no published hours of support, but once I submitted my ticket, I was told that the average wait time was within 12 hours. Surprisingly, I received a response only a little over an hour after I submitted the ticket.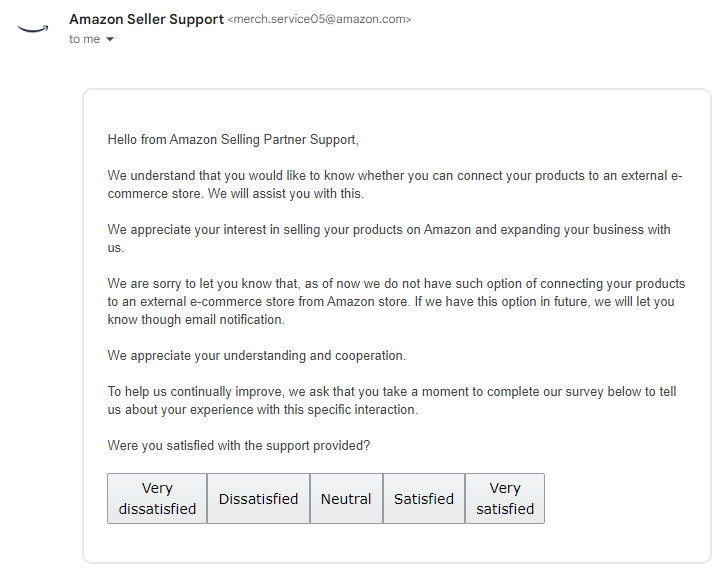 Amazon's customer support answered my question, but it all felt very impersonal.
Sure, it's not an uncommon thing with Amazon, but it doesn't exactly inspire a lot of confidence that there's someone on the end of the line that cares about helping me and my business if I have an issue.
Shopify vs Amazon: There's One Clear Winner
Shopify is my top recommendation for your e-commerce business.
While you'll have to do a lot more to help new customers to find your business, you'll have full control over your branding and 24/7 support. You also won't have to worry about a ton of additional fees eating into your profit margins. It's still worth selling on Amazon, though, because
you'll benefit from its massive SEO power and the trust this marketplace has garnered with its customers.
You can even connect your Amazon Professional Seller account to your Shopify store. However, I can't recommend it for new or small businesses – the limited customization makes it difficult to build your brand. Here are the key points in this comparison between Shopify and Amazon:
Templates
90+ mobile-friendly templates
Fixed store design and product page layout
Features & Ease of Use
7000+ (free and paid)
Great inventory management tools, but they're only available to sellers using FBA
Apps
Great for all kinds of e-commerce businesses, including dropshipping
2000+ (free and paid)
E-Commerce
Great for all kinds of e-commerce businesses, including dropshipping
Works best for traditional retail e-commerce, with restrictions on dropshipping
SEO
Built-in SEO tools and automatically generated sitemaps
High ranking on external search engines for Amazon's brand, plus tutorials on how to improve your listings on its own search engine
Pricing
Per-month pricing with few additional fees
Per-item pricing (Individual plan) or per-month pricing (Professional plan) with several additional fees
Support
24/7 live chat and ticket system, knowledge base, video tutorials, webinars, community forum
Ticket system, knowledge base, video tutorials
FAQ
What's better, Shopify or Amazon?
This depends on your business and what you're looking to achieve. Shopify helps you to build a modern, elegant, and powerful e-commerce store that gives you full control over your business. However, you'll still need to concentrate on marketing and SEO to bring traffic to your store. Customers are more likely to find your products on Amazon, but it's harder to differentiate your brand in this marketplace.
Does Shopify let you sell on Amazon?
Yes! One of the reasons why I recommend Shopify is because when you're ready to grow your business, you can connect your Amazon Professional Seller account to Shopify. This will let you view your Amazon sales statistics through your Shopify account. You can't do this the other way around (as I found out from Amazon's customer support team), so it's worth using Shopify even if you want to sell with Amazon in the future.
How much does Shopify take per sale?
If you're using Shopify Payments, then you'll just pay its standard credit card processing rate. Otherwise, if you're using a third-party payment processor, you'll pay a maximum of 2% on each transaction. Shopify doesn't charge any additional fees per sale, unlike Amazon. If you want to avoid additional fees altogether, then you'll have to build an e-commerce website from scratch.
Who is Shopify's biggest competitor?
Currently, Shopify's biggest competitors in the e-commerce website builder market are Wix, Squarespace, and BigCommerce. All three of these have a place in our top website builders in 2023, so it's worth checking them out if you're still on the fence about Shopify.