Many factors go into determining how well your site will rank with search engines.
Thomas Gareis, CEO of seobility
explains how their online SEO Software analyzes all those factors including auditing your site, checking for backlinks, and establishing the most effective keywords to use for improving your search engine ranking.
This interview was originally published on August 5, 2020.
What is seobility?
Seobility provides tools to ensure your website is optimized for both search engines and your users. The brand name was created by combining "SEO" and "ability."
What does the Site Audit do, and what does it look for?
We started our company with a simple tool called SEO Check, where you could put in a URL, and we'd check page elements such as headings, content, metatags, etc. Because a lot of people liked it and used it to optimize single pages, we enhanced it with a crawler to create another tool, the Site Audit. Site Audit starts at the home page and crawls your entire site running over 300 checks for things like broken links and images, duplicate content, and makes sure everything is up and online, and that response times are good. We also find typos on your pages and do other useful checks, but mostly the Site Audit helps you with On-Site SEO.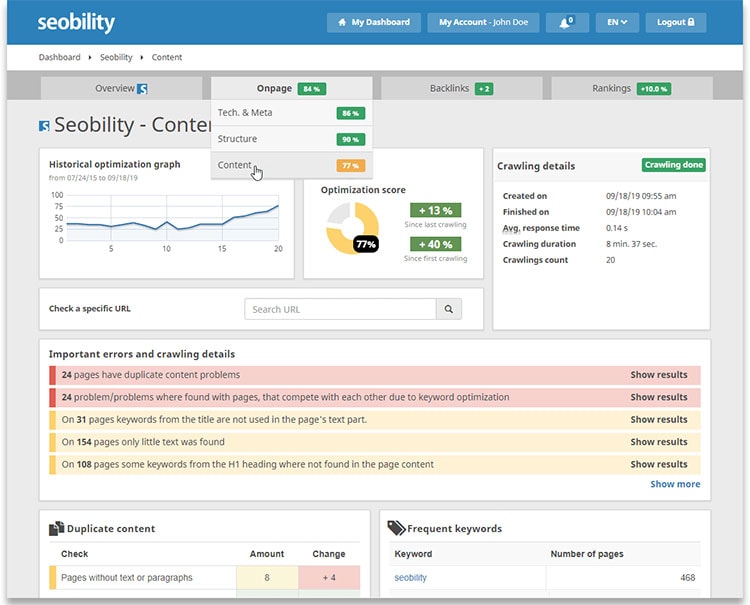 For a better overview, the Site Audit results have three sections. The first is Technical and Meta, the second is Structure, which checks all the links, anchors, site maps, canonical names, etc., and third is Content where we check for example for page duplicates and take your headings and page titles to make sure it fits together with your content. Each section is calculated and rated from 0 – 100%, so it gives an excellent overview to our users since they all aim for 100%.
Along with ratings, does Site Audit also give a list of found issues so they can be corrected?
Yes, absolutely. A task list prioritized by the most important things that need to be fixed is created with every audit. There are also dashboards in every section so you can go through every analysis and see the list of errors and mistakes from the top down. For example, if you only scored 50%, you are obviously going to want to see what is going on. Looking further, you see that you received a 0% in Structure. Then looking at Structure, you see that all your canonical links are wrong as they are pointing to a different domain. That is clearly the most significant issue that needs fixing.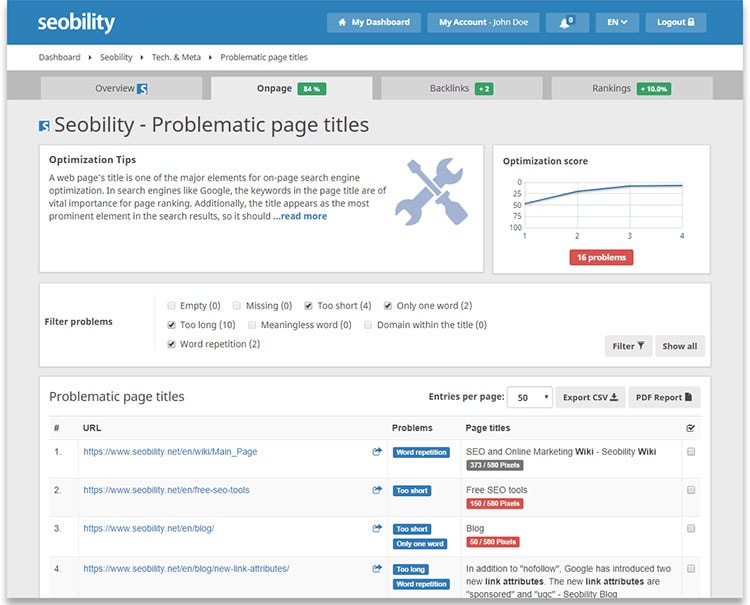 What are some of the features of your Rank Tracking tool, and how does it help with SEO?
For effective SEO, you should monitor not only your success but your competitor's success as well, and our Rank Tracking Keyword Ranking Monitoring tool makes that possible. When you add keywords to the rank tracker, we check the google rankings of those keywords on desktop and mobile every day and collect all the data on the top 100 rankings. You can also add your competitors and see how they are ranked in your defined keyword set.
What is the value of backlinks when it comes to SEO?
Backlinks can make all the difference. If you are in a competitive business like an online seller or a web design agency, backlinks are essential for SEO as they show Google that your site is a source trusted by others. In the backlink analysis dashboard, you can monitor your backlink profile and see every backlink that points to your website. It will also show you when a new backlink is found or if a backlink disappears or is broken. But building links can be difficult, so we offer tools that give you ideas to help you do this.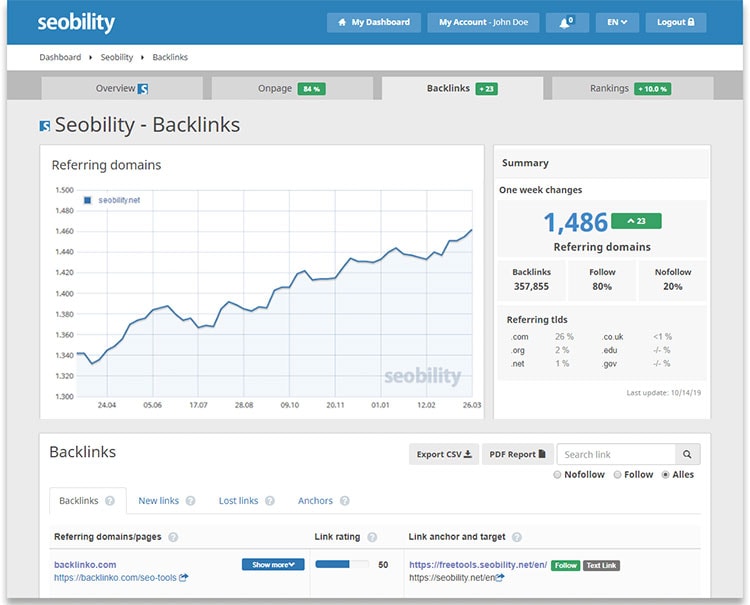 Does the report generated by the Backlink Analysis and Monitoring Tool also give you suggestions of link building opportunities?
We also offer various approaches to find link building opportunities for your website. For example, we check your competitors' backlinks, and if there are pages that have more than one link, you can reach out to that site owner and request a link to your website as well. Or, if you see a broken backlink to a competitor's site, you can write the page owner suggesting your site as a better source since the one they are using is broken.
What is your TF*IDF tool, and what insights does it provide?
The TF*IDF tool analyzes the ranked pages for a given search term. It collects data from the top 10 rankings and checks every keyword on every page. You get the keywords which are contextual important for the search term as well as the numbers how often these keywords should be used in your content.
The formula used by TF*IDF helps writers find keywords for their content by identifying the keywords Google thinks pages should have to answer the given search term. For example, if you write about website builders, you will have TF*IDF analyze the top 10 rankings URLs for the keyword "website builder." Looking at the other keywords these high-ranking sites use like "create a website," "WordPress" or "comparison," you now have a list of additional keywords recommendations for the SEO of your content to help your SEO ranking. It's not a guarantee that you'll rank as #1 in your position if you follow these recommendations, but you now have a better chance to jump in the top 20 and afterward convince Google with positive user signals to rank first.
It looks like you have a lot of free online tools for help with SEO.
Yes, I said before we started with the SEO Check, which is available as a free tool. In fact, most of our tools can be used without registration and free of charge.
Seobility
is here to support small business owners and help them make sure they have a good, optimized website and rank well on Google. Therefore, we continue to offer tools like SEO Checker and Keyword Checker completely free and have free and paid plans for those who want to take their SEO even more seriously.