Website Planet
had the chance to sit down and chat with Trevor Hatfield, CEO of
SendPost
, a transactional email delivery service part of SendWorks, a full suite of tools that help send emails that hit the inbox, which also includes SendHealth (email health analyzer) and SendVerify (email verification software). Trevor has been working with hundreds of SaaS companies from fortune 500 companies to small startups over the last 10 years. He eventually co-founded Inturact Capital, a private equity fund acquiring 100% of B2B SaaS businesses entering the growth stage.
Let's introduce SendPost to our audience. What is it and how does it work?
SendPost is an advanced email sending and validation platform, designed to handle the complexities and frustrations associated with email API/SMTP providers, that stands out in a series of ways:
Target Audience: Developers, businesses, and ESPs, particularly those sending millions of emails per month, will find SendPost immensely beneficial. It tackles the difficulties of managing multiple sending domains, IP-Pools, and IP/Domain reputation.
Features for Agencies: The platform offers IP Reputation & Blacklist Tracking, Smart Alerts & Notifications, and more, making it a compelling choice for agencies dealing with large-scale email campaigns.
Support & Resources: SendPost offers 24/7 support, detailed deliverability stats, and tools for debugging deliverability issues. These resources equip users to efficiently understand and address any problems with their email campaigns.
Scalability & Performance: With features like rate limiting, throttling, and backoff, SendPost handles the demands of scalability without compromising service quality.
Customization Options: SendPost's smart alerting system and power deliverability optimization tools can be tailored to suit individual needs.
Integrations: The availability of API SDKs in 14+ programming languages allows for easy integration with existing tools and systems, further enhancing the benefits of using SendPost.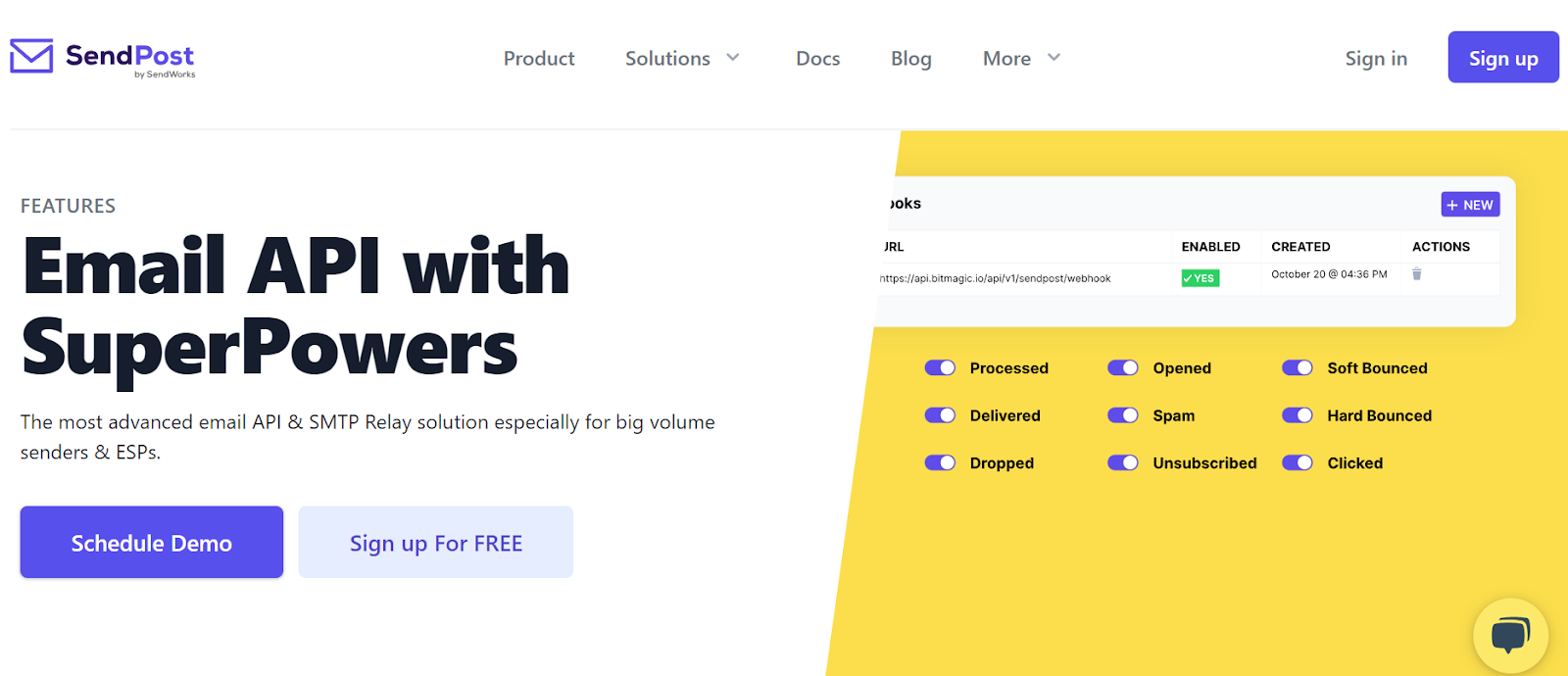 How does your mission differ from the other companies in your niche?
SendPost's mission goes beyond mere product features or technical capabilities.
We want to empower every email sender, regardless of scale, with unparalleled control and transparency over their email communications.
We believe that in this digital age, effective communication is vital, and emails are a significant part of that equation. Therefore, it's essential that these messages reach their intended recipients, without being lost in the clutter of spam or other obstacles.
We envision a world where businesses, irrespective of their size or technical expertise, can be confident that their messages not only reach their customers but also resonate
. Our tools and services are a means to that end, enabling our users to become better senders, drive meaningful engagements, and ultimately ensure their voice is heard. Think of SendPost as not just a service provider but as a champion for clear, reliable, and impactful email communication. In the grand story of email deliverability, if our customers are the heroes, we're their trusty sidekicks, ensuring every email campaign is a success.
Who are your typical clients and what problems do they have when they come to you?
Most of our customers are big senders from the e-commerce, online gaming, SaaS, and crypto worlds. We also work with SaaS platforms that handle email marketing, CRM, landing pages, and Customer Data Platforms (CDPs). For them, we're the go-to choice for sending out emails. Every customer in our field generally expects a few things:
Strong API & SMTP for sending emails.
Dedicated IPs.
Detailed stats on email delivery.
Easy-to-use event logging and search.
Cool personalization options.
Timely alerts and notifications.
However, we've observed a trend among our clients: many have transitioned to SendPost after surpassing the capacities of big players like SendGrid and Mailgun. Their migration can be primarily attributed to the following challenges:
Absence of tools to monitor and report IP & Domain blacklisting and reputation.
Inadequate insights into provider-specific deliverability metrics, which are crucial when dealing with giants like Yahoo, Microsoft, Google, and AOL.
Limited visibility into SMTP-related issues, especially in categorizing them based on their significance and frequency of occurrence.
Missing tools to fine-tune sending speeds and implement throttling solutions, critical in addressing deferral issues.
Absence of advanced routing capabilities, which are indispensable for troubleshooting deliverability challenges.
Subpar Support & Email Deliverability Services: Power senders often encounter intricate deliverability issues. An adept support system paired with expert email deliverability services is paramount for these clients. However, many providers fall short in this area, prompting clients to seek our expertise.
Pricing Concerns: The cost structure plays a pivotal role. As businesses scale, they require a partner like SendPost, which offers not just advanced functionalities but also a pricing model that aligns with their growing needs.
SendPost emerges as a comprehensive solution for businesses that are in pursuit of advanced email delivery solutions, not just in terms of technology but also with support and cost-efficiency.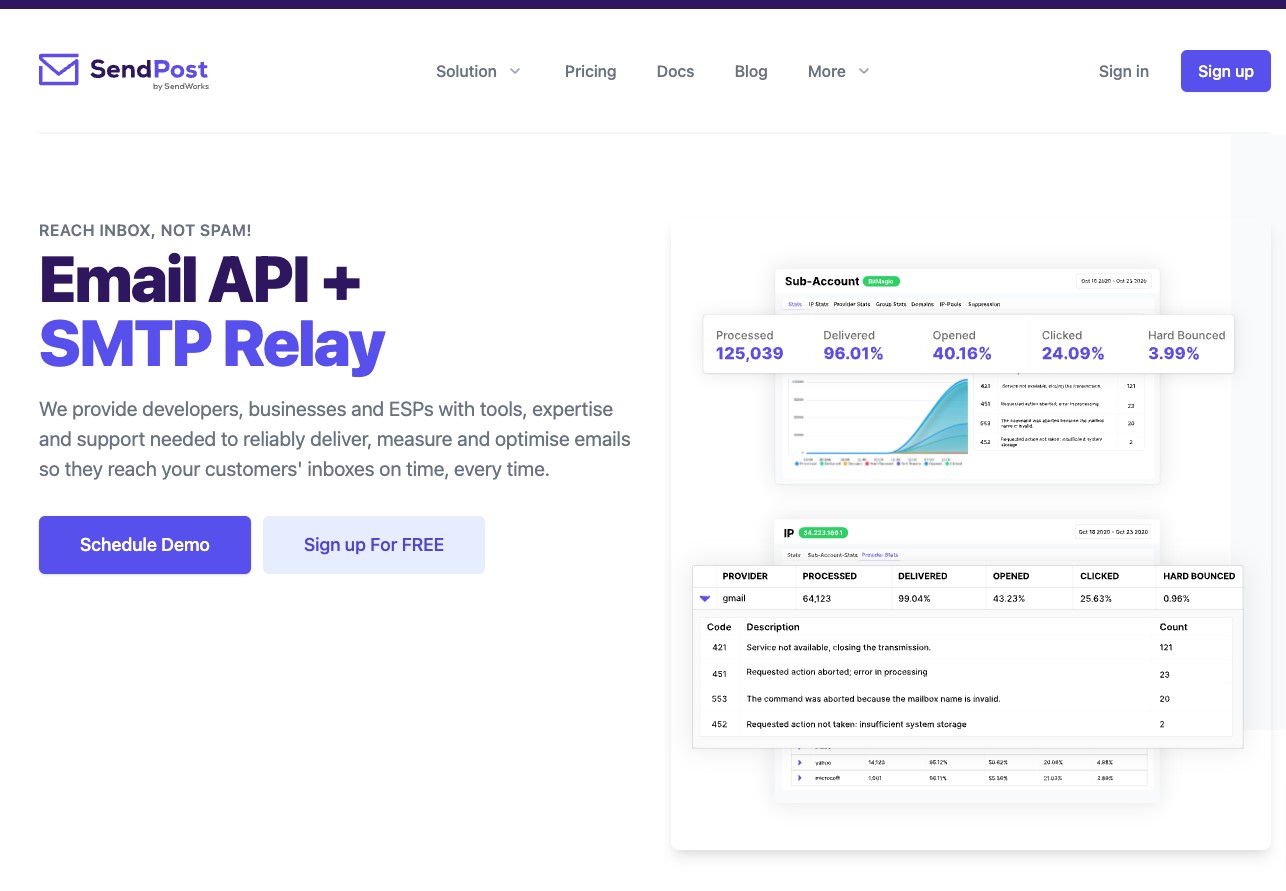 And what makes them eventually choose you over your competitors?
It typically boils down to some compelling reasons based on features, pricing, and our support. In terms of features, we provide:
Advanced Monitoring: We automate the tracking of IP & domain blacklists, ensuring our users stay informed and ahead of potential issues.
Integrated Tools: Our integration with Google Postmaster and the provision of detailed analytics for IPs, domains, and subaccounts mean users get a 360-degree view of their email operations.
Intelligent Analytics: Our platform presents aggregated SMTP stats, offering insights at a glance.
Smart Alerts: Timely notifications ensure our users are always in the know.
Granular Control: Features like adjusting IP sending speeds and advanced IP Pool routing (domain, volume, provider, engager-based, etc.) give our users a higher degree of control over their email flows.
Third-party Sending Support: Beyond aiding in migration, we support third-party sending as a backup. This ensures continuity and flexibility.
Intuitive Integrations: With features like Slack integration for stats visibility and a comprehensive Deliverability CRM, we make monitoring and management seamless.
Big email senders sending anywhere from 5M to 100M+ emails monthly find that we can be 2-7X more cost-effective than many competitors out there.
Our in-house deliverability team, complemented by collaborations with external deliverability consultants, provides unrivaled expertise. Given a significant portion of our team operates from South Asia, we enjoy a cost advantage. This lets us offer high-quality support and deliverability expertise to all our substantial email senders without a hefty price tag.
If you had unlimited funds, what improvements would you make?
In an ideal world with unlimited funds, the pace of our innovation would certainly accelerate. However, we pride ourselves on being a bootstrapped, profitable company with an inexhaustible runway. Our focus has always been on continuous improvement, and here's what we are gearing up for in the upcoming quarters:
Seamless Third-Party Migration: We're optimizing a feature that will allow our users to effortlessly link their Sendgrid, Mailgun, SES, or Sparkpost accounts. Over time, we will handle the transition of volume from these providers to SendPost, ensuring a smooth migration that maintains optimal deliverability. Additionally, our platform is being engineered to provide the flexibility of using any third-party sender as a backup for email dispatch.
Smart Insights & Action Engine: We are pushing the boundaries of actionable insights. Currently, our system highlights critical metrics, such as elevated deferral rates or instances of IP/domain blacklisting. Going forward, SendPost will have the capability to autonomously act on these alerts. For example, should a blacklisted IP be detected, our system will instantly remove it and reroute the email traffic to another reputable IP. If we observe challenges with deliverability on platforms like Yahoo or Microsoft, SendPost will auto-adjust the sending speed or even initiate a delisting request, all without necessitating manual intervention.