Using email as a marketing tool is nothing new. But what if you could send email to your contacts at the time of day they are most likely to open and read it? What if emails could automatically be sent to customers depending on how they interact with your company?
Jimmy Kim, Co-Founder & CEO of Sendlane,
tells us how their unique platform allows you to do all that and more by creating customized, automatic email sequences that target or retarget visitors to best assure higher conversion rates.
This interview was originally published on December 8, 2019.
Please tell us a little bit about your background before co-founding Sendlane.
My first career was in the car industry, where over ten years, I worked my way up from washing cars to running Saturn stores. When General Motors went bankrupt, I changed careers to digital marketing and was president of operations at a company called Lurn. I then started my first company Snaptactix where we were solving simple solutions for small entrepreneurs with content and software. I was then COO of  KNYEW, a retail brick-and-mortar/eCommerce company, which led to my founding of Sendlane in 2013. We initially built the digital marketing platform for our company's internal use but ended up launching it as a software-as-a-service in 2015.
How are emails created and scheduled within Sendlane?
The flow for creating bulk email campaigns or broadcasts is intuitive and simple. We have both an HTML builder for more technical users as well as an email builder for those with little to no HTML experience. With the email builder, emails are created using blocks that can be dragged, repositioned, and customized by changing and adding images, backgrounds, colors, fonts, links, etc. Once the email is complete, you can schedule when to send your campaign. One of the cool features we have for scheduling is our machine learning open predictability feature.
What is the Open Predictability feature?

Our Open Predictability feature takes all the information we've been collecting for you – open rates, conversion rates, website visits, etc., predicts the time a contact is most likely to open your email, and then sends it at that time. So, if we see that Contact 1 typically opens their email at 2 o'clock, we will make sure their email is delivered at that time. It's always learning from your contacts and their interactions with your emails, so it does require a couple of sends before you can activate that feature. We generally see a 20 – 30% percent increase in open rates when using that tool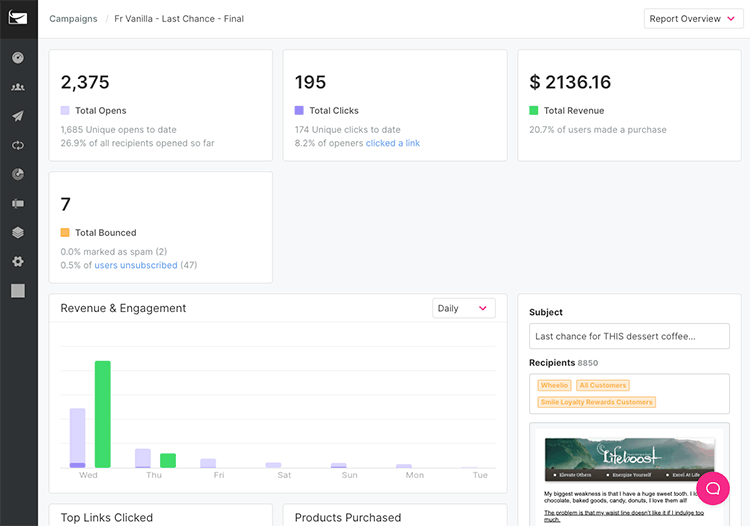 What is marketing automation
? Our marketing automation is how we connect your web presence, social advertising, and communications. It is a visual workflow builder that allows you to create the experience you want for your customers. When building marketing automation, it is essential to do so with your goal in mind, whether it's to result in a purchase, a website visit, etc. Starting with the initial email contact, the automation contains a lot of conditional splits as real-time actions and events start segmenting your users down. It's all about putting contacts down multiple funnels based on events and their behaviors, allowing the customer to drive that experience. We like to say that we want to be the middle funnel. Your work on top of the funnel is lead generation, the bottom of the funnel is the conversion, and we're the middle funnel, engaging nurturing, and automating that entire experience.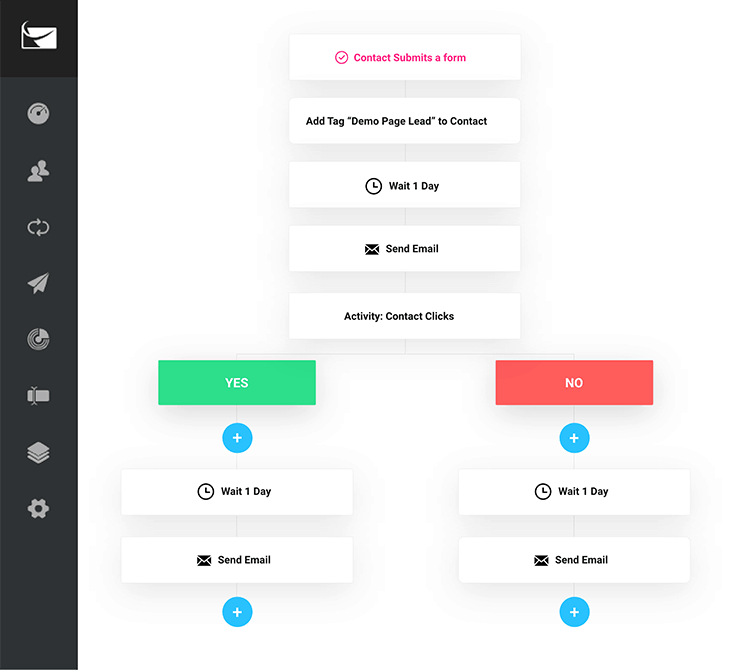 To better clarify how funnels work, can you please take us through a hypothetical example of an Abandoned Cart?
Sendlane is deeply connected to your e-commerce platform such as Shopify, WooCommerce, Magento, etc. so we can identify users who abandon items in their cart before purchasing. The goal of this type of marketing automation is to nurture them into a cycle where they're receiving welcome emails or emails about that product or brand with the hope of driving the sale.
Once an automation has begun, can changes be made?
Yes, we have real-time modification and editing, so you can continue to optimize the automation tree until you hit upon what works best for you. The goal is to always optimize the email sequence based on revenues, open rates, and click rates.
Can you please explain event-based and behavior-based triggers?
Absolutely. An
event
is when a contact purchases a specific product, spends a certain amount of money, abandons their cart, etc. That event then places them into the email sequence you have created. Once they are in the funnel, their
behavior
and how they respond within that automation flow is what drives them down their own unique path.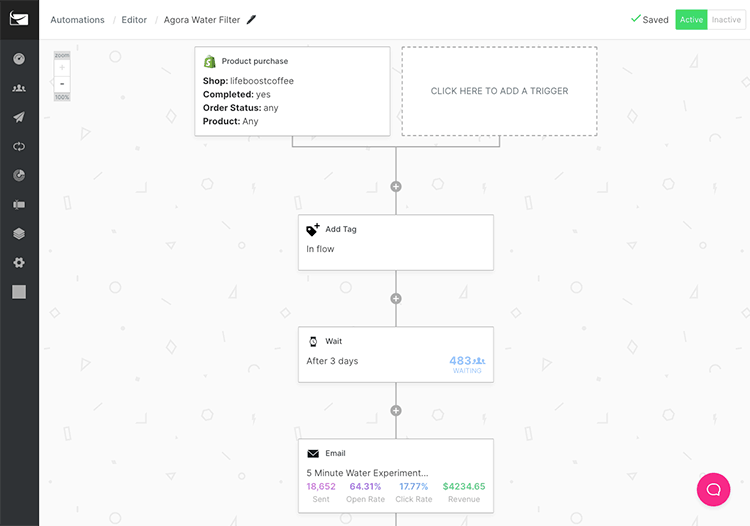 Can SMS notifications and emails be combined in a pipeline?
Yes, we have a communication module inside the marketing automation, so at any point in the pipeline, based on a contact's action, you have three options. You can send them an email, send them an SMS, or have somebody from your team notified to contact them directly.
Do you provide recommendations for creating automated marketing campaigns?
Yes. We provide what we call "recipes," which are pre-built automations based around their use cases. For instance, if an e-commerce company comes in, we know they need an Abandoned Cart, a Welcomes Series, and a Product Recommendation Engine. So, we supply a recommended framework for those events, and they just need to fill in the actual email content. Users can edit these recipes as much as they want, and of course, they can choose to start from scratch as well.
What is retargeting?
Retargeting is getting a customer to come back to your site. Because we track website visits, you're able to automatically send an email or SMS in response to an event-based trigger you specify. For example, if someone purchased an iPhone case from your store, and three days later, they come back, you could automatically have a coupon for phone cases emailed to them.
Can segmenting be done by any field and in any combination?
Yes, they are multi-variant segments, so you can use
AND
s or
OR
s to can get as granular as you want to create that perfect segment. For instance, you could select males who use iPhones, live in Philadelphia, have spent $100, but haven't been on your website in the last six days. These segments can be used in email marketing as well as within marketing automation, where they are then further segmented in real-time as they come down the pipeline.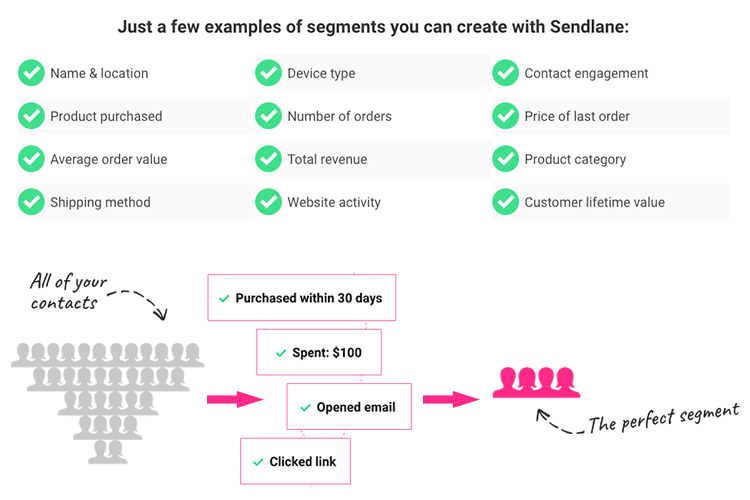 What are intelligent pop-ups, and how do they work?
We have three different pop-up options – an inline webform pop-up, a standard pop-up, and a banner ad. What makes them intelligent is that you can set them to appear based on a visitor's action. For example, you may want people to visit your site three times before receiving a popup. Or you may want to display a certain pop up when a specific product is being viewed, or to visitors using a particular device, or to someone who is about to exit your site. There's a lot of flexibility.
What is the Sendlane Beacon?
Beacon is our tracking tool that does more than just simple site tracking. It tracks the journey of each and every customer at a granular level and displays that information in their profile, allowing you to segment your customers for more targeted marketing.
What information is available in real-time analytics and reports?
Everything from who received, opened, or clicked on your emails, to conversions, email bounces, and spam complaints. You can also see what device they are using, where they are located – we can give you information on just about everything down to the exact date and time that they opened and clicked on an email or converted on your site.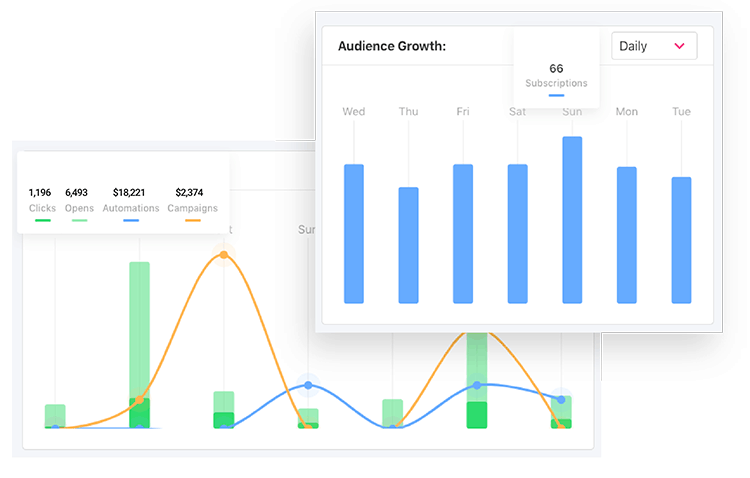 How is knowing a user's device useful?
Should you want to run a marketing campaign that targets mobile users, you can create a segment of users who have generally opened emails on a mobile device, indicating they are more likely to be mobile rather than desktop users.
What support is available?
We offer two tiers of support. There's base support, which is our 24/7 Live Chat and email, with an average response time of 1 minute. Our second tier of support is for our pro users – those who have 5,000 contacts or more. Pro users have a dedicated account manager for assistance with onboarding, migration, as well as ongoing digital support and strategy.